Story highlights
Nearly three times as many Iraqi troops were killed last month as in October, UN figures show
Iraqi forces' advance has slowed since they entered Mosul, where ISIS fighters are deeply entrenched
Nearly 2,000 Iraqi troops were killed across Iraq in November as they battled to force ISIS extremists from the country, according to newly released UN figures.
That's nearly triple the number of military casualties reported in October, when an offensive to retake the city of Mosul from ISIS first began.
The toll for November includes Iraqi army, police in combat, Kurdish Peshmerga fighters and allied militias.
The Iraqi-led coalition forces' advance slowed after Iraqi Security Forces entered Mosul last month, a densely populated urban environment where troops have had to fight street-to-street battles against deeply entrenched militants.
Civilians in the city also are paying a heavy price.
Mosul residents were encouraged by the central government in Baghdad to stay in their homes, forcing a softening of tactics to prevent civilian casualties. The policy, which is meant to avert the potential humanitarian crisis that could be created by a mass exodus, could itself be costing lives.
"In its desperate attempt to cling on to territory it controls in Mosul and Ninevah areas, Daesh has been employing the most vicious tactics, using civilian homes as firing positions as well as abducting and forcibly moving civilians, effectively using them as human shields," the UN secretary-general's special representative for Iraq, Ján Kubiš, said in a statement. Daesh is an alternative name for ISIS.
More than 900 civilians were killed and another 930 wounded in November by terrorism, violence or armed conflict across Iraq, according to the UN report released Thursday.
Another 76,000 people have been displaced by the fighting, according to the UN refugee agency, UNHCR.
And at least half a million people caught in the crossfire inside Mosul now have no access to running water, the United Nations told CNN on Wednesday.
ISIS' toxic legacy: Iraqis battle blazing oil wells
Preparing to converge on Mosul
Iraqi forces have entirely surrounded Mosul and now, 45 days into the battle, their focus is on consolidating recent gains before pressing forward with the offensive.
Seven axes of coalition forces are approaching Mosul from different sides. Some fronts are holding their position while other fronts catch up, to allow the nearly 100,000 troops to converge more or less simultaneously on the city, military officials told CNN.
They face many obstacles.
Some 632 ISIS car bombs, some guided by drones, have been used to attack Iraqi troops, according to Iraq's Joint Operations Command.
ISIS has also used booby traps, homemade bombs and snipers to slow the sweeping gains made by Iraqi forces in the open fields surrounding Mosul into grinding urban warfare.
Iraqi commander: Morale is high
The grueling house-to-house battles are expected to take months and cost hundreds, if not thousands, of lives, but commanders say they are up to the challenge.
"The morale of Iraqi Security Forces is high, we will continue fighting those terrorists to the end until we liberate Mosul from ISIS dirt," counter terrorism Lt. Gen. Abdulwahab al Saidi told CNN on Friday from Mosul.
A sliver of 23 neighborhoods on Mosul's eastern side has been recaptured but Iraqi forces must still wrest many more areas from ISIS' control before troops reach the Tigris River, which divides the city.
Mosul's western side is more heavily populated, with smaller streets and older infrastructure, making it an even more difficult battlefield.
To the south, Iraqi federal police have reached the outskirts of the city and are awaiting orders to storm the strategic al Ghazlani military base and Mosul airport, according to a statement from the police.
Fear of retribution
About 70 kilometers (43 miles) west of Mosul, a battle to recapture the ISIS-controlled city of Tal Afar has reignited simmering sectarian tensions.
The Shiite-led Popular Mobilization Units have taken 130 towns and villages and the Tal Afar air base, and are now fighting to clear and secure the area.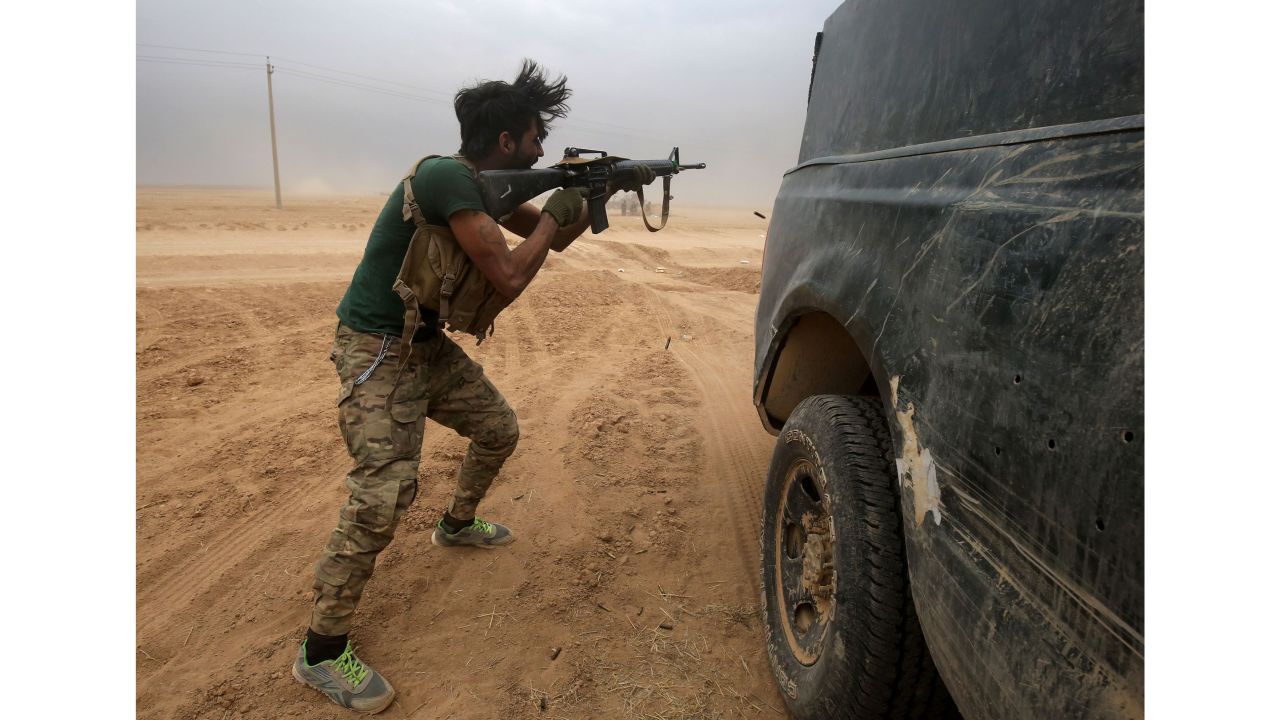 With the Shiite militia on the doorstep of Tal Afar, its 50,000 predominantly Sunni residents say they fear retribution attacks.
Human rights groups have accused the Popular Mobilization Units of extrajudicial killings, torture, and other abuses against the local Sunni population in recent months.
In October, Prime Minister Haider al-Abadi promised that the PMU would not enter Tal Afar, but recent statements by officials have made the matter unclear and opened the door for possible involvement.
Defensive line
To the north of Mosul, the Iraqi army is clashing with ISIS militants near the town of Tal Kayf, the terror group's last stronghold before reaching the northern outskirts of Mosul.
According to Iraq's Joint Operation Command, 23 car bombs have been destroyed by US-led air support and an area of about 100 square kilometers has been liberated in an operation that began November 1.
Northeast of Mosul, the Peshmerga are holding a defensive line against ISIS. The Kurdish fighters will not have a role in retaking Mosul itself, but have been fighting back the terror group in northern Iraq for two years.
The prolonged battle has cost 1,600 Peshmerga lives, spokesman Brig. Gen. Halgurd Hikmat told CNN.
Correction: A previous version of this story misstated the number of Peshmerga killed in the battle for Mosul. There have been 1,600 Peshmerga deaths.