Story highlights
Jayaraman Jayalalithaa has died at 68
The former movie star was universally known as 'amma,' or mother
Jayaraman Jayalalithaa, one of India's most powerful politicians and the only female chief minister to be elected in the southern Indian state of Tamil Nadu, has died. She was 68.
Rumors have swirled for more than two months about the health of the politician, who was better known simply as Jayalalithaa. She was admitted to Apollo Hospitals in Chennai, the capital of her state, on September 22, complaining of fever and dehydration.
Her doctors said she suffered a cardiac arrest on Sunday, December 4. Nearing midnight on Monday, Apollo Hospitals released a statement saying "every possible attempt was made to sustain her," before announcing her death.
Despite the late hour, Indian leaders were quick to offer their condolences.
India's President Pranab Mukherjee took to Twitter to say "her contribution to the progress and development of Tamil Nadu will be long remembered." Prime Minister Narendra Modi also tweeted, saying her "concern for welfare of the poor, the women, and the marginalized will always be a source of inspiration."
Tamil Nadu has declared seven days of state mourning, and shut schools and colleges for three days.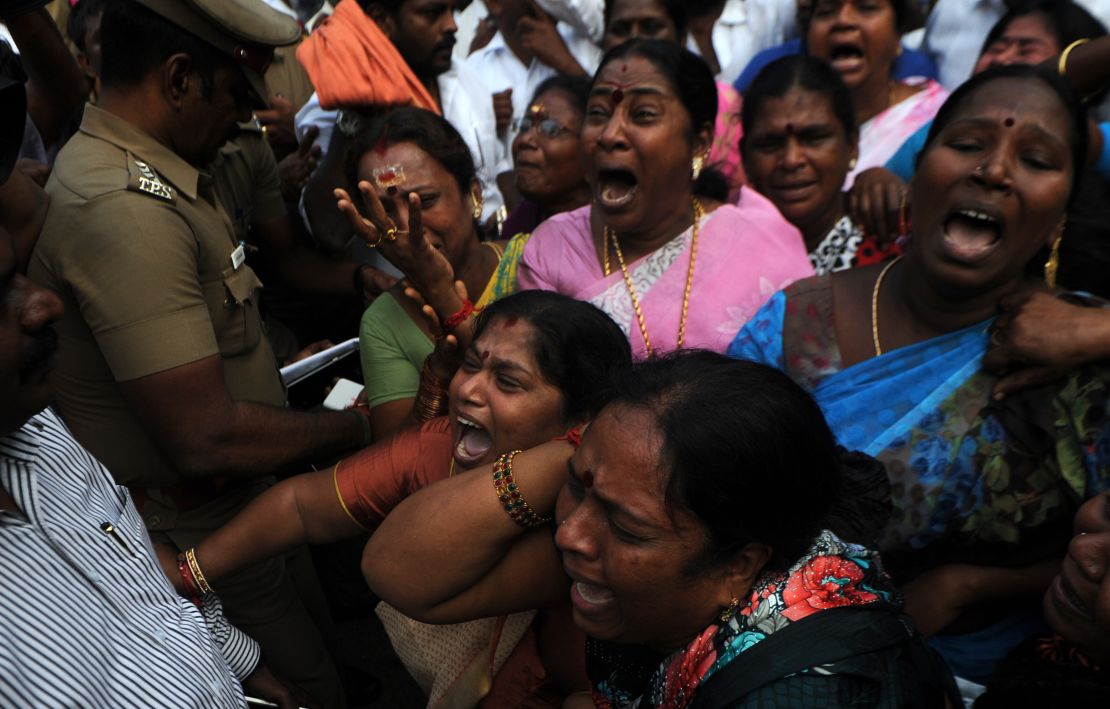 Cinema star
Jayalalithaa, a popular former Tamil cinema star, embodied the blurred lines between celebrity and government that define the state's politics.
For her supporters, she was adulated like a living Hindu goddess.
When she won her most recent election in 2016, they held prayer ceremonies in her honor across the state. On the eve of her death, hundreds of them gathered outside the hospital, desperate to hear about the fate of their idol.
"For all of us women, she is a protector. We can walk boldly on the streets," A. Jaya, a 50-year old housewife standing by the hospital, said. "Girls have greater self-confidence because they see her and get inspired."
Jaya had arrived there Sunday night and spent the whole night outside, sitting with a friend under the awnings of shops located half a kilometer away from the hospital.
But Jayalalithaa was controversial. To her critics, she was a powerful and corrupt politician who abused her privilege.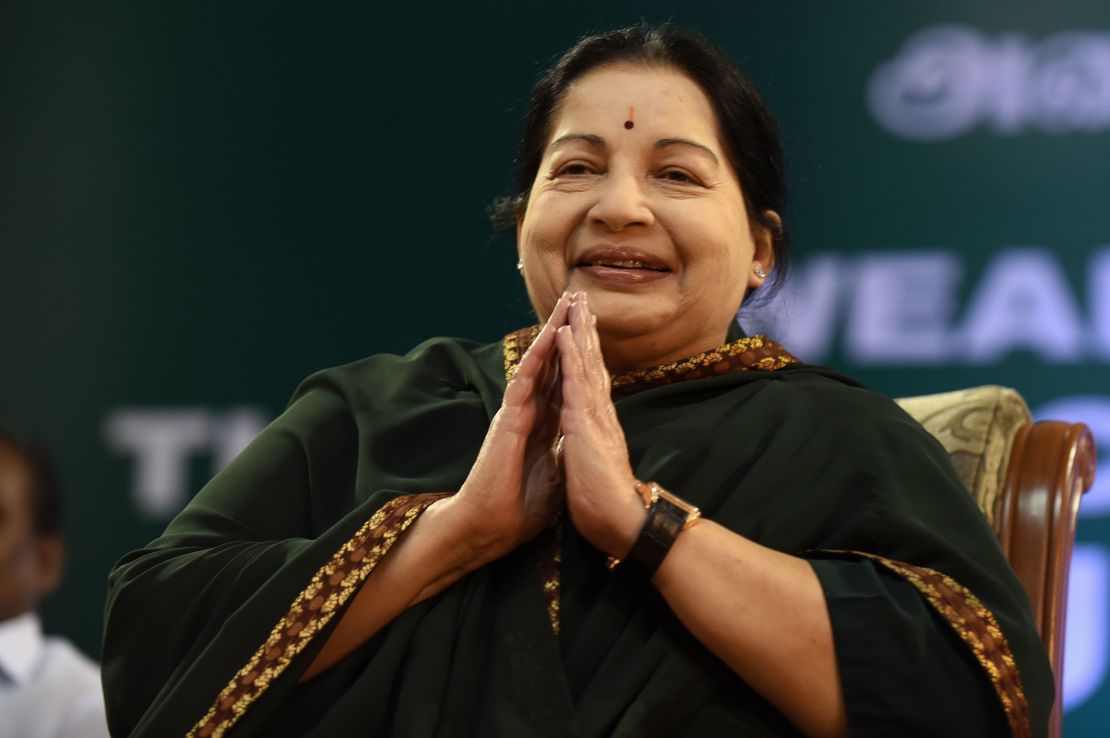 She and those close to her were accused of buying government land at suspiciously low prices and violating environmental laws to give businessmen breaks. She threw a lavish wedding for an adopted son using state resources. Lawsuits would plague her for most of her political career.
She died surrounded by her political party machinery, as thousands of supporters waited outside the hospital.
From film star to leading politician
Jayalalithaa lived much of her life in the public eye, first as an actress and later as the politician. She started acting at the age of 15 and would go on to star in 125 films.
It was on a movie set that she met M.G. Ramachandran, the film actor and politician who dominated Tamil Nadu's political scene in the decades after India's independence. She starred in 28 films with him as his heroine and developed a close relationship with him off-screen.
He also introduced her to politics, making her the propaganda secretary of his political party, the All India Anna Dravida Munnetra Kazhagam or the AIADMK, when he later became chief minister.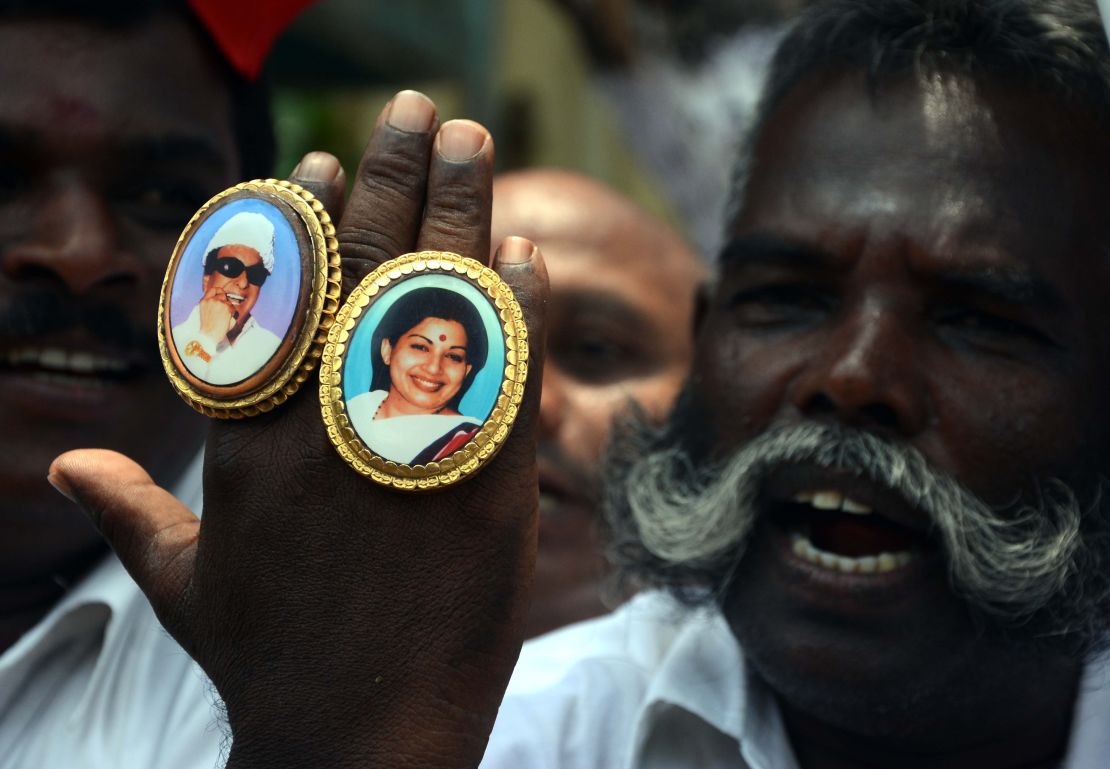 After Ramachandran's death in 1987, there was a vacuum in the party. Jayalalithaa struggled to claim the spot as his political heir against his widow, Janaki. It was to be a fight marked with public humiliations.
At Ramachandran's funeral procession, Jayalalithaa climbed on to the carriage meant for family and those who were close with him, only to be pushed out by one of his family members. Jayalalithaa fell to the ground.
The humiliating moment was captured and broadcast on TV and became her turning point in the public eye, said R. K. Radhakrishnan, an editor at Frontline magazine in Chennai. It generated a lot of sympathy.  
Within four years of that incident, Jayalalithaa campaigned and consolidated her support among the party, emerging as their candidate for Chief Minister in 1991. She was easily elected that year.
A practiced politician
Her win was historic as the first elected female Chief Minister. Her governance, however, was often criticized. Jayalalithaa regularly filed defamation suits against journalists and opposition politicians.
All the same, she could be very charming to those who she liked, Radhakrishnan said. "The thing is if she wants to turn the charm on … You're going to melt."
Jayalalithaa was voted out of office after her first term. Her chief political rival Karunanidhi became Chief Minister and his government filed several cases against her in court alleging massive corruption. In 2014, she was convicted of a corruption charge, before a higher court overturned the verdict on appeal. She spent a few weeks behind bars, which only increased her appeal among her followers who believed her prosecution was a political witch hunt.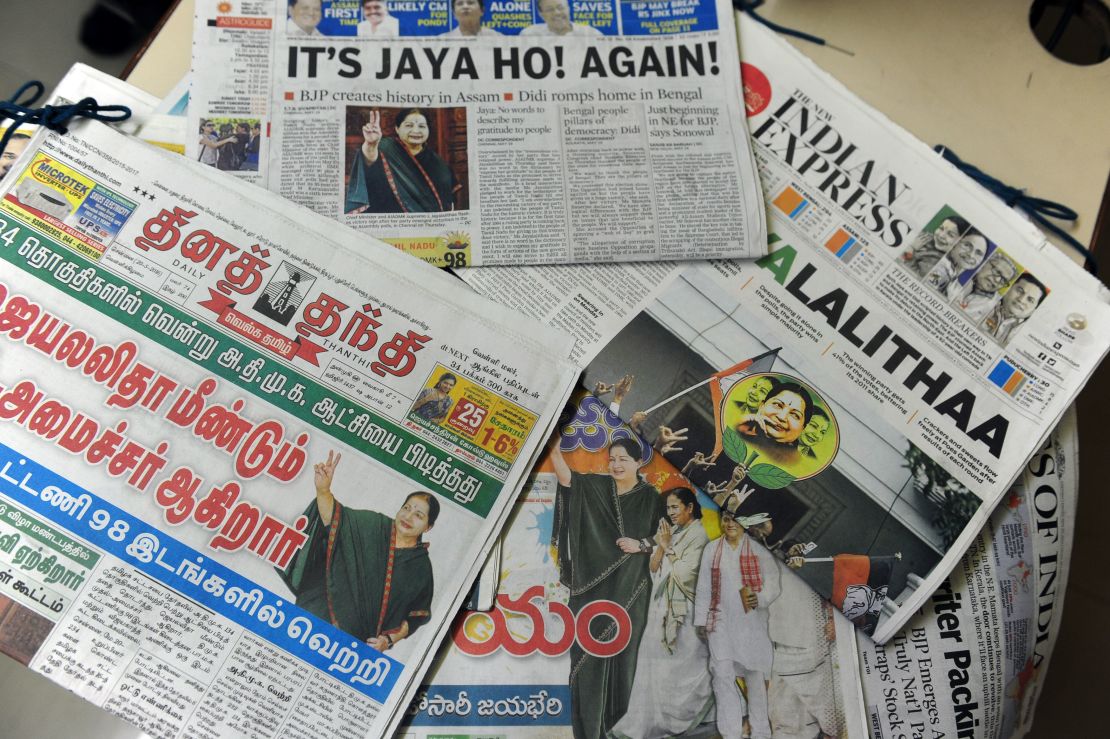 Over the years, she became a larger-than-life figure. Her most recent win was during the elections in 2016, which her party won with an overwhelming mandate. With her death, the party named a top functionary, O. Panneerselvam, as the new Chief Minister.
Tamil Nadu's mother
Jayalalithaa's popularity can perhaps be gauged by the fact that she was almost universally known by her a nickname: "Amma," or mother. Her sari-clad image projected a caring, warm maternal figure – someone who could take care of the people.
That image was is in large part fueled by her welfare schemes, where the state doled out everything from cement to laptops to bicycles. She also started a chain of Amma canteens, where a person can get a full meal for less than five rupees ($0.08 USD).  
"We have got everything because of Amma," said Kannika, a 53-year old housewife who was waiting outside the hospital on Monday. "Without her, there's nobody for us."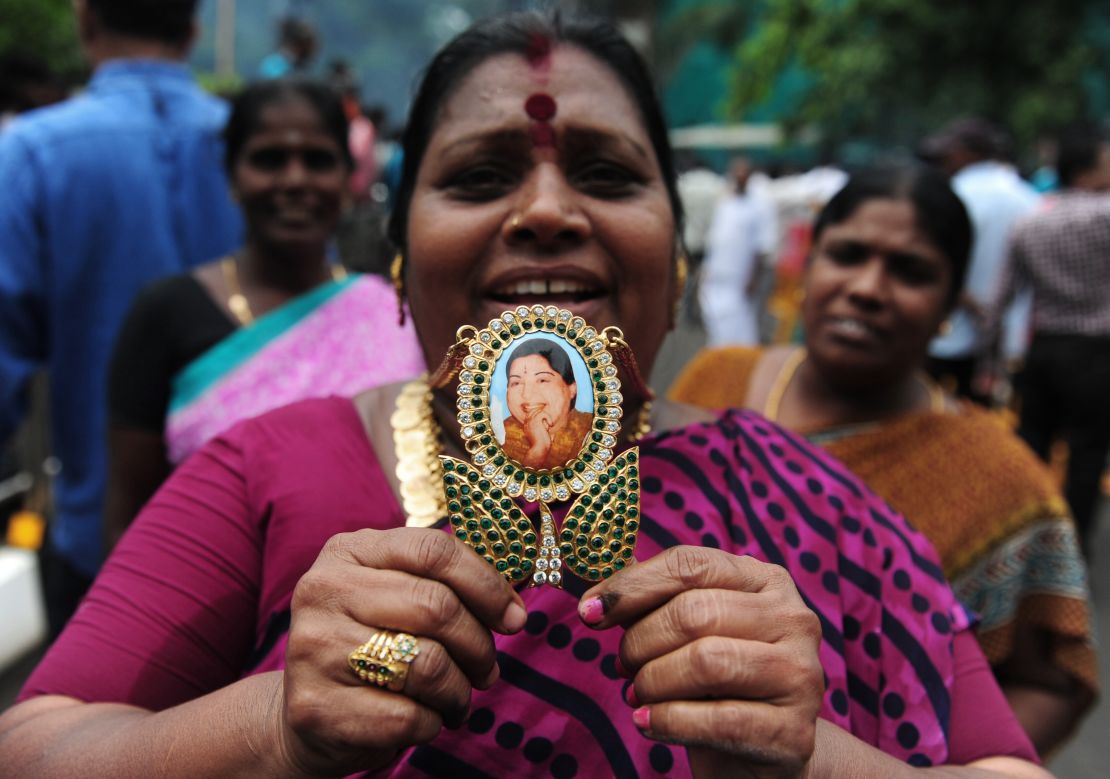 Yet, Jayalalithaa's private life was rarely on display in contrast to her familial reputation in public. She never married or had children. Both her mother and brother have died, leaving her without any close relatives.
She would recall in later interviews that she did not have much warmth in her childhood. "I've never really been satiated with the kind of love I expected and wanted and needed from my mother," she said in a 1999 interview with Simi Garewal on a popular talk show. She later added in the same interview, "I don't think there is anything as unconditional love."
She was, nevertheless, very successful in building an image as the people's mother – and it seemed to be her life's work.
Upon winning her last election in 2015, she said: "My life has been dedicated to the people all of these years. It will continue to be so. I will continue to strive for the betterment of this state and the people of the state until my last breath."
Journalist Deepa Balakrishnan contributed reporting from Chennai