Story highlights
NEW: Renzi gave his official resignation to the President on Wednesday evening
Almost 60% of Italians voted against Renzi's constitutional reforms
Italian Prime Minister Matteo Renzi officially resigned Wednesday after a crushing defeat in a referendum on constitutional reform.
Sunday, Italians voted decisively against changes to the constitution put forward by Renzi, a vote that became a poll on the prime minister's leadership.
Renzi addressed his center-left Democratic Party Wednesday evening, giving a speech on his short term as prime minister that marked his government's achievements.
"I'm leaving this country with less taxes to pay and more rights, and our party should be proud of that," he said.
One of Renzi's hallmark pieces of legislation was the legal recognition of same-sex unions.
"When I resigned, I know that some people in this party celebrated enthusiastically and not very elegantly. But I won't blame them because when you are the prime minister of the most beautiful country in the world, you have no right to sulk."
Renzi then met with President Sergio Mattarella to officially step down.
Mattarella asked Renzi to carry on in a caretaker capacity while he consults with the political parties about next steps, the President's office said in a statement.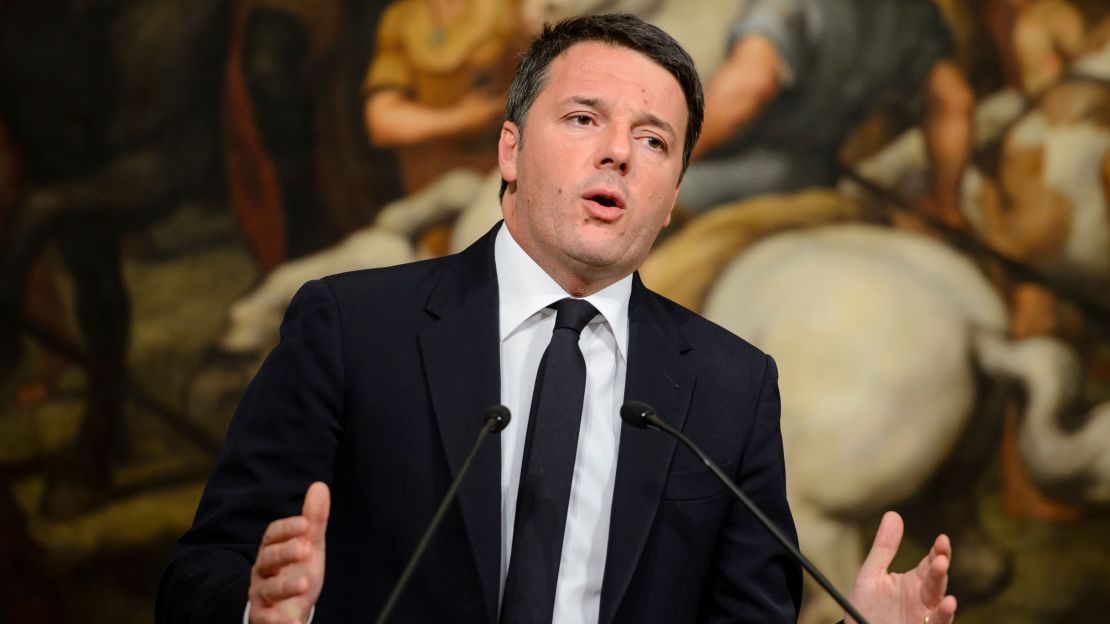 The 41-year-old Renzi, who was appointed to office in 2014, said Monday that he would resign and arranged to meet with the President after close to 60% of voters rejected his proposals.
But Mattarella asked Renzi to delay his resignation until Parliament passed a law on the state budget, which it did Wednesday.
What did Renzi propose?
Renzi's intention was to change the 1948 constitution by reducing the power of Parliament's upper house, the Senato, through a reduction in members – cutting it from 315 to 100, making it more of a consultative assembly.
Supporters of the referendum said the goal was to make the job of governing Italy less complicated and to be able to pass legislation more easily to help revive the nation's lethargic economy.
But critics said it would transfer too much power to Renzi's party.
The outcome, with a 70% turnout, was considered a notable victory for euroskeptic populist and nationalist parties, which campaigned heavily against Renzi and his promise to stimulate the economy.
The "no" campaign was spearheaded by the anti-establishment Five Star Movement party, led by Beppe Grillo, which is expected to make substantial gains if a general election is called.
Grillo – an entertainer-turned-politican known for his unruly language and mop of silver hair – made a name for himself on Italian TV in the 1970s and 1980s. He capitalized on his show-business bravado to promote an anti-establishment movement spanning both the left and right of politics.
Foreign observers fear that if Grillo comes to power in an early election, he'll call a referendum to scrap the euro, go back to the Italian lira, and perhaps even follow Britain out of the European Union.
But Renzi was also accused of running a populist campaign, touting the reforms as a way to have "less politicians." Renzi said in an interview before that vote that a "yes" vote was the true "anti-establishment choice."
In a tweet before meeting with his party, Renzi posted a note on his office letterhead reading: "Bye all!!! And thank you."
Speculation has begun to swirl in Italian media on who will take Renzi's place.
Economy and Finances Minister Pier Carlo Padoan and senate speaker and former Mafia magistrate Pietro Grasso are both tipped as favorites.
Mattarella could ask Renzi to remain as a caretaker prime minister, or he could name another interim leader, who would need to be approved by Parliament.
Alternatively, Italy could call a snap election if the President and Parliament are unable to form a caretaker government. Italy is not scheduled to hold legislative elections until 2018.