Story highlights
Exhausted Syrians wait at a checkpoint to cross into regime-held western Aleppo
Rebel forces only control about a quarter of eastern Aleppo, residents and activists say
Syrian government troops now control most of the neighborhoods in the old city of Aleppo after days of fierce fighting against rebel forces, with only small pockets remaining in opposition hands.
Overall, the rebels hold only about a quarter of war-ravaged eastern Aleppo, residents and activists inside the city told CNN on Wednesday.
As of Wednesday morning, the Syrian army had retaken the key area of al-Shaar and most of the neighborhoods in the old city, including Agheour, al-Farafrah and Bab al-Hadeed, they said.
Activists with the Aleppo Media Center said some parts "fell by default because the rebel fighters withdrew."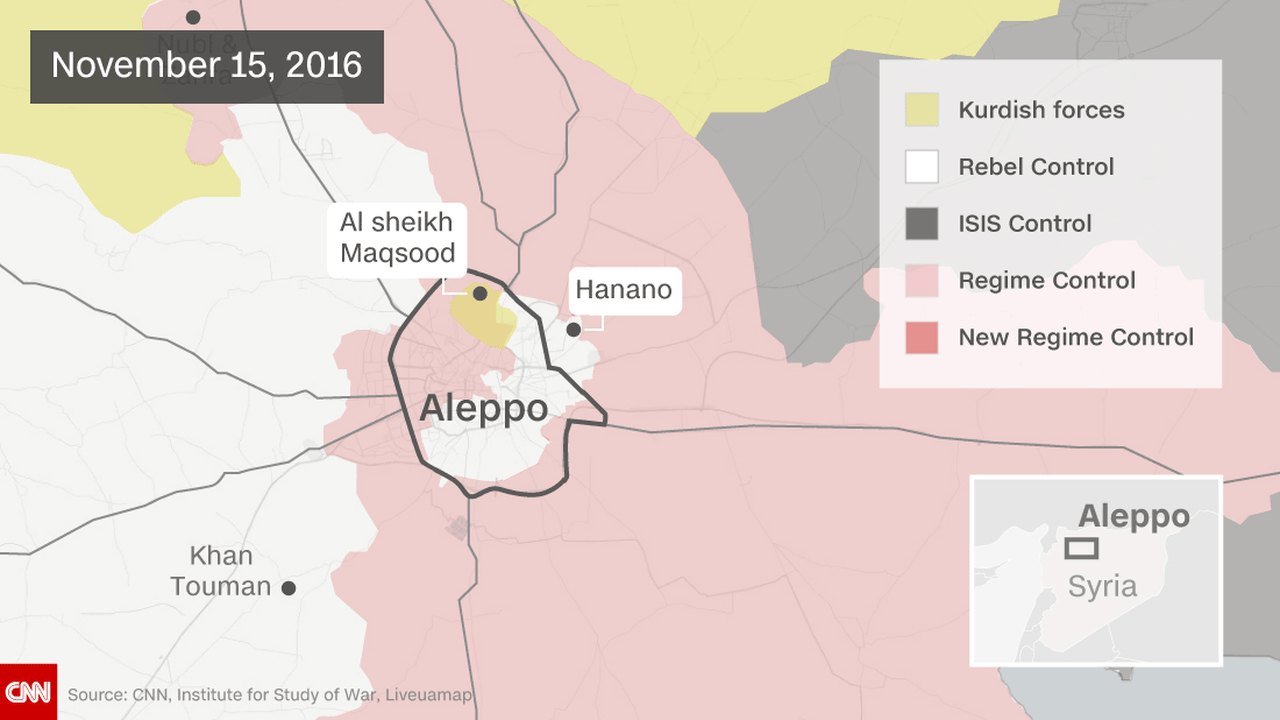 Other neighborhoods had already fallen in recent days as government forces, backed by a brutal aerial bombardment, pushed into areas held by the rebels for more than four years.
Meanwhile, many civilians remain trapped in the shrinking rebel-held portion of the devastated city. Food, fuel and medical supplies are almost exhausted with no safe route out.
One activist in eastern Aleppo told CNN as many as 200,000 people – including rebels and their families – were crammed into 10 rebel-held neighborhoods, some having fled from other areas under fire.
He described the situation as "apocalyptic," saying the few hospitals still operating were packed with injured civilians and resembled "slaughterhouses," with no medical supplies or proper facilities.
Dozens of people have been killed daily in the strikes and crossfire between the regime and rebels since the Syrian forces began their push into eastern Aleppo on November 26, activist groups said.
Though their territory is shrinking, rebels are also inflicting losses.
At least 12 civilians were killed and 64 others wounded Wednesday in rebel shelling of government-held neighborhoods in western Aleppo, Syrian state media reported.
The report said rebels fired dozens of rockets on residential neighborhoods and that the death toll was expected to rise.
Fleeing Syrians line up at crossing
Hundreds of exhausted Syrians pushing carts and carrying suitcases and plastic bags filled with their life's possessions waited Wednesday morning for buses to take them from eastern to western Aleppo.
Some who spoke to CNN in the Agheour area, by the main Maysaloon crossing, described appalling conditions – days gripped by hunger and fear of airstrikes.
A CNN crew saw 25 people cross on foot in 20 minutes, with more coming all the time, while others waited for buses to the town of Jibreen, on the southeastern outskirts of Aleppo, where many of those fleeing are being housed.
A Syrian commander told CNN that more than 2,000 people had passed through the Maysaloon crossing point since 10 Tuesday night.
"We have suffered a lot," said a man in his early 60s who was traveling with eight relatives and asked not to be named.
"We've been deprived of food – the amount of bread we were being given wasn't enough to feed my family," he said. "My vision has been affected by the lack of food."
His family received one loaf of bread between two people every three days, which wasn't enough to feed them, he said.
Shrapnel from an airstrike hit one of his sons, but the man said he was mainly concerned that family members would starve if they stayed in eastern Aleppo.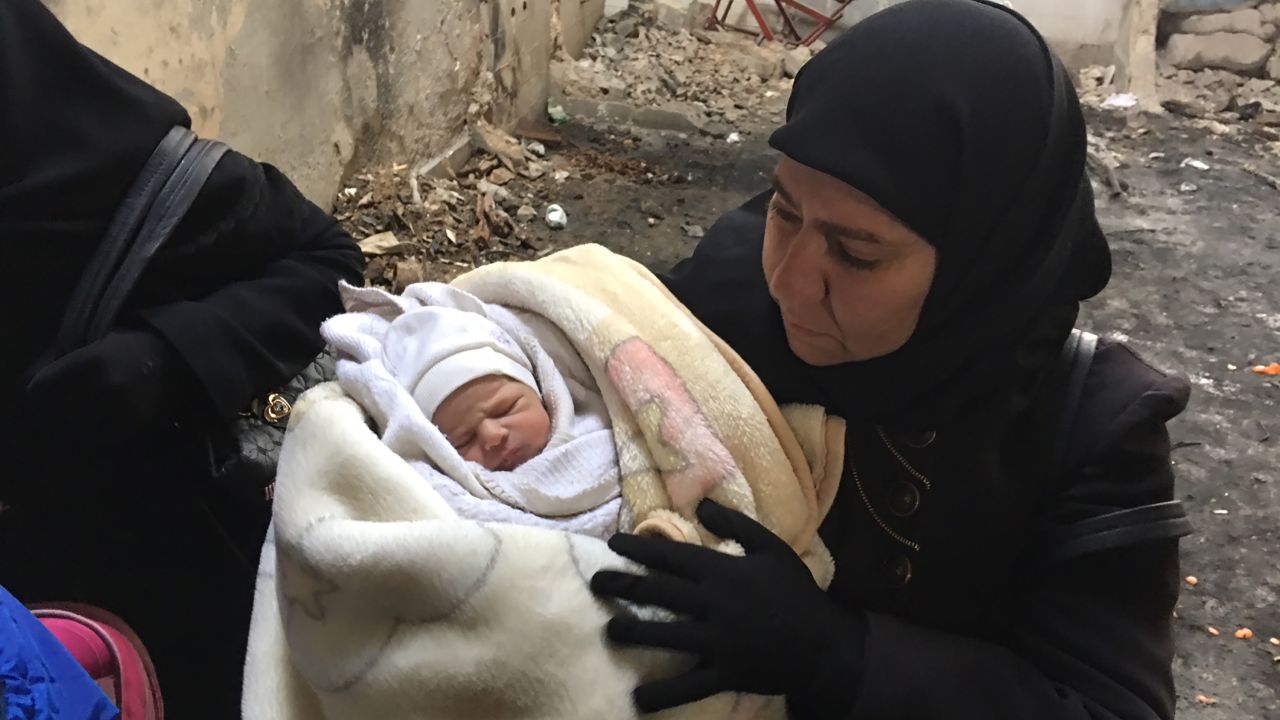 The CNN crew also saw Syrian soldiers carrying old and weak people out of Agheour. There were also families with small infants, the youngest a girl named Ghazal who was 7 days old. Two men helped carry an elderly woman on a chair.
Rebel forces controlled the Agheour area for at least 3½ years before it was retaken by Syrian government forces Tuesday night.
UNICEF said in a statement Wednesday that some 31,500 people had been displaced from eastern Aleppo in 10 days. Estimates indicate at least half are children, it said.
A joint statement Wednesday by the leaders of Canada, France, Germany, Italy, Britain and the United States called for an "immediate ceasefire" and condemned the Syrian regime and Russia for their actions in Aleppo.
It called on the United Nations to hold accountable those who have committed "war crimes" and said "only a political settlement can bring peace for people in Syria."
While it is difficult to estimate how many people are still in eastern Aleppo, according to the statement some 200,000 civilians – including many children – are cut off from food and medical supplies there.
Opinion: After Aleppo falls, Syria's bloodshed may continue
Resident: Death better than fleeing to regime
Abdulkafi al-Hamdo, a teacher and father of a 9-month-old baby, is one of those trapped in the remaining rebel-held area under heavy bombardment.
"I get up (to) the sound of planes, feeling cold, not finding suitable food for breakfast and no clean water to drink. I go out to see my people in pain and fear," he told CNN via text message.
Many people "are dying without finding someone to bury them," he said.
Asked if he and his family would leave, he replied, "Where? Regime area? Death is much better. How can we go back to someone who killed our brothers, sisters and children?"
Hamdo said his wife could no longer breast-feed and their baby is hungry and crying all the time. They feed her some crushed rice and bread dipped in tea, he said.
Intense, continuous shelling
Activists inside besieged eastern Aleppo told CNN that heavy artillery shelling and airstrikes were pounding the area Wednesday. The shelling is intense and doesn't show any signs of ceasing, they said.
Activists with the Aleppo Media Center said the regime "was able to capture the neighborhood of Tareeq al-Bab after capturing al-Muwasalt neighborhood, as well as al-Shaar, Karm al-Jabal and several neighborhoods in the old city of Aleppo such as Bab al-Hadeed, Agheour, Bab al-Nasser, al-Bayada and Qadi Askar" after rebel forces withdrew.
Aleppo Media Center activists said regime forces had reached the Citadel in the old city of Aleppo but not the main gate.
Rebels call for humanitarian ceasefire
Rebels in eastern Aleppo have called for an immediate five-day humanitarian ceasefire and for the evacuation of about 500 emergency cases under UN supervision, according to a statement released in the name of the Aleppo City Leadership Council.
The rebel group urges any civilians who wish to leave Aleppo be allowed to flee to the northern countryside, calling the northwestern province of Idlib "not a safe area" due to recent airstrikes on towns and villages.
"Once the humanitarian situation has been alleviated in Aleppo city, the parties concerned can negotiate the future of the city," the statement said.
The state-run Syrian Arab News Agency reported Wednesday that the Syrian army had "restored security and stability" to more than a dozen Aleppo neighborhoods in the past two days. It also said repairs had begun on the Aleppo airport road after the Syrian army captured the area.
Syrian President Bashar al-Assad, whose forces are backed by Russia, has said "terrorists" must be driven out to protect civilians.
UN resolution vetoed
Russia and China on Monday vetoed a UN Security Council resolution calling for a ceasefire in Aleppo to allow desperately needed aid into the war-ravaged zone.
The United Nations has repeatedly called for safe passage for its humanitarian staff, but it said the Syrian government and Russia have failed to guarantee it.
Russia's Defense Ministry reported Wednesday that a Russian military officer, Col. Ruslan Galitsky, had died from injuries sustained when rebel fighters shelled a residential area in western Aleppo, according to Russia's state-run Tass news agency.
CNN's Frederik Pleitgen reported from Aleppo, Eyad Kourdi from Gaziantep, Turkey, and Jomana Karadsheh from Amman, Jordan, while Laura Smith-Spark wrote from London. CNN's Kareem Khadder, Schams Elwazer and Samantha Beech contributed to this report.