Editor's Note: An earlier version of this article incorrectly described the status of the retail economy in Ghana. Stores are generally well stocked, and food shortages are rare. The earlier version also erroneously said Nana Akufo-Addo ran for president in 1998. Ghana did not have presidential elections in 1998.
Story highlights
Nana Akufo-Addo, a president's son, has run for the top office three times
He has promised to improve the economy by building an integrated aluminum industry
Ghanaian President John Mahama has conceded defeat to Nana Akufo-Addo in the recently concluded elections, a spokesman for the President-elect told CNN on Friday.
Akufo-Addo, of the New Patriotic Party, won 5,716,026 (53.85% of the votes) to 4,713,277 a 44.40% share reported representatives at the EC National Collation Center.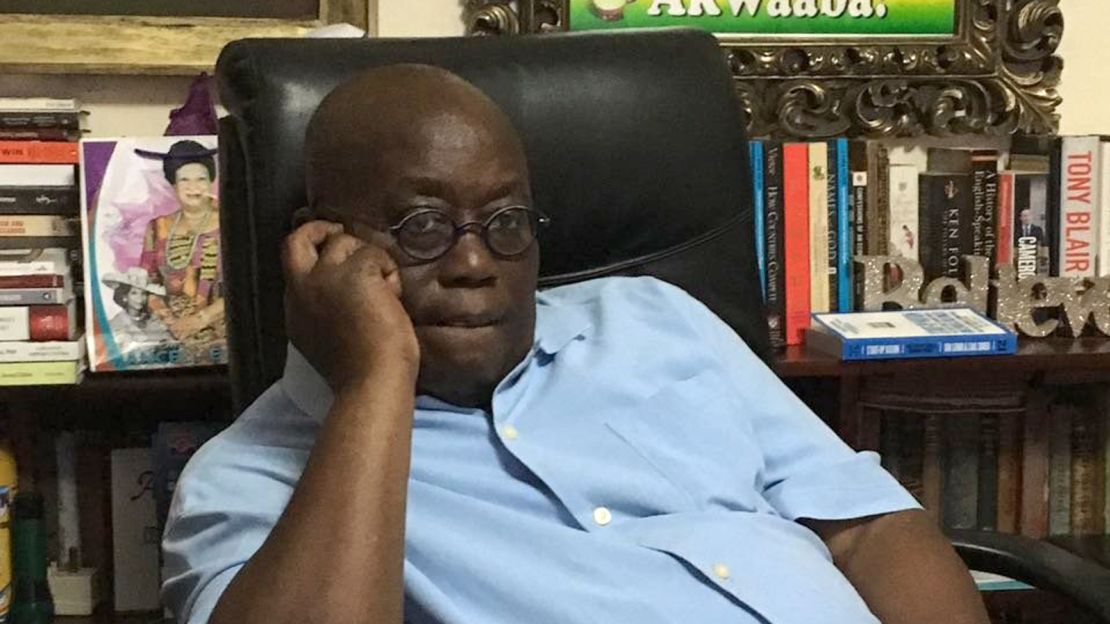 Akufo-Addo, the son of a former president, had lost prior runs for the presidency in 2008 and 2012.
He alleged voter fraud after the 2012 loss to Mahama. The Supreme Court spent more than a month deliberating before declaring Mahama the winner by a narrow margin.
A lawyer, Akufo-Addo has been elected to the national parliament and served as attorney general and foreign minister, his website said.
He tweeted his victory, saying: "A few minutes ago, I received a call from President @JDMahama congratulating me on winning the 2016 Presidential Election. #ChangeHasCome"
In an interview with CNN before his victory was assured, Akufo-Addo expressed confidence.
"We won it," he said. "We won both the parliamentary and presidential contests so we're in a good shape. The parliamentary contest has been won by a very, very big margin; we increased our presence in parliament by an extra fifty seats."
Mahama, of the National Democratic Congress, has led the West African nation of 27 million people since July 2012. As the vice president, he first took office after the death of President John Evans Atta Mills.
According to his campaign website, Akufo-Addo has promised to improve the economy by overseeing the mining of untapped bauxite deposits and building an integrated aluminum industry.
Part of a former British colony, Ghana was among the first African countries to gain independence, in 1957. It endured a series of coups before a military dictator, Jerry Rawlings, took power in 1981. Rawlings led Ghana through a transition to democracy about 10 years later.
CNN's Stephanie Busari contributed to this report.