Story highlights
Terror groups like ISIS are not included in the plan
A ceasefire could give way to political talks in Kazakhstan
Turkey and Russia have reportedly agreed on a draft nationwide ceasefire in Syria, the Turkish state-run news agency Anadolu said Wednesday.
The report cited an unnamed source saying that Ankara and Moscow would try to bring a ceasefire into effect at midnight.
Foreign Minister Mevlut Cavusoglu confirmed that Turkey had prepared an agreement, Reuters reported, but it was not immediately clear if the Syrian rebel groups involved in the conflict were aware of the draft plan.
CNN has contacted all parties for comment.
The Anadolu report said that unspecified "terrorist organizations" would be excluded from the deal. In past agreements, "terrorist organizations" have included ISIS and the Al-Qaeda-linked Jabhat al-Nusra.
Turkey also considers some Kurdish groups fighting in Syria terrorist groups, some of which have been armed and supported by the US. Washington describes those groups as moderate rebels.
Moscow has not confirmed the deal, and when asked by journalists about it Wednesday, Kremlin spokesman Dimitri Peskov said: "I don't have enough information."
Political negotiations?
A successful nationwide ceasefire hinges on many fighting factions laying down arms – forces from Iraq, Iran and Lebanon are also fighting alongside Syrian President Bashar al-Assad's regime.
Some rebel groups have been openly armed and supported by the United States and Turkey, and sectarian divisions still run deep in Syria.
Many attempts at ceasefires have crumbled over the years.
If the ceasefire succeeds, the regime and the opposition parties will start political negotiations led by Turkey and Russia in the Kazakhstan capital, Astana, the Anadolu report said.
Russia slams US policy shift in Syria
Russia and Turkey are wielding increasing influence over Syria's fate. Iran also expressed willingness to play a part in brokering a ceasefire last week in Moscow after talks with Russian and Turkish officials.
The trio's talks have sidelined the US, which has led an international coalition to fight ISIS in Syria and has vehemently opposed Assad remaining in power.
A turning point
The Turkey-Russia draft ceasefire comes six days after Syrian regime forces regained control of the key city of Aleppo – a major turning point in the country's civil war that has raged for nearly six years and has killed an estimated 400,000 people.
Tens of thousands of civilians and rebels were evacuated from the city's east under several deals brokered by Turkey and Russia.
Rebels had held eastern Aleppo for more than four years, and losing the territory has made a military an political opposition to the Assad regime less likely, analysts have said.
After the regime seized Aleppo, Russian President Vladimir Putin had said that a nationwide ceasefire was the next step in resolving the war.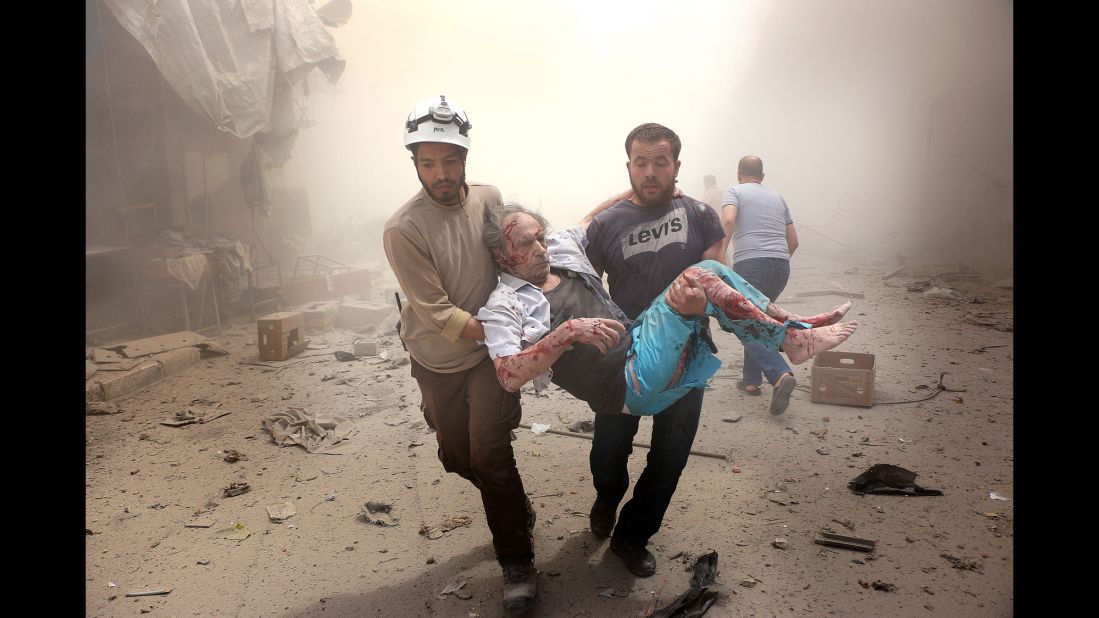 The battle for Aleppo in 20 photos
The UN Security Council has failed several times to find a political solution to end the brutal war.
Russia shot down at least seven UN resolutions on Syria using its veto power as a permanent member of the Council. China vetoed six of those seven. Many of them were aimed at getting desperately needed aid into Aleppo.
Turkey has insisted on playing a significant role in negotiations as it hopes to keep any territorial gains by Kurdish forces far from its border with the war-torn country.
Russia has been the closest and most powerful ally of Syrian President Bashar al-Assad. It has carried out airstrikes against rebel groups opposed to the leader's regime since September 2015.
CNN's Onur Cakir reported from Istanbul and Angela Dewan wrote from London. Marilia Brocchetto and Eyad Kourdi contributed to this report.