Story highlights
Air pollution causes one in nine deaths worldwide
Air cleaners, face masks and cleaning your home can help reduce exposure
More than 90% of the world's population breathes in air that violates air quality guidelines set by the World Health Organization, increasing their risk of lung cancer and respiratory infections, but also conditions including stroke, cardiovascular disease and chronic obstructive pulmonary disease.
The situation has reached a tipping point, despite efforts to curb the issue. "People have tried," said Sumita Khatri, co-director of the Asthma Center at the Cleveland Clinic. "But it's continuing to be an ongoing problem."
This week, air pollution alerts were issued in Sydney, Australia, due to an excess of ozone gas within the city. Annual air pollution limits have already been breached in London for 2017. Pollution levels became dangerously high in Paris at the end of 2016 and countries such as China continue to face ongoing concern over smog, which, at its peak, led to the shutdown of schools and factories.
Air pollution causes one in nine deaths worldwide, according to the BreatheLife campaign led by WHO and the Climate and Clean Air Coalition. The campaign provides information on how air pollution impacts health and death rates in most cities and countries worldwide. Death rates in individual countries vary dramatically, with more than 1 million deaths from diseases related to air pollution in China each year, and about 38,000 in the United States.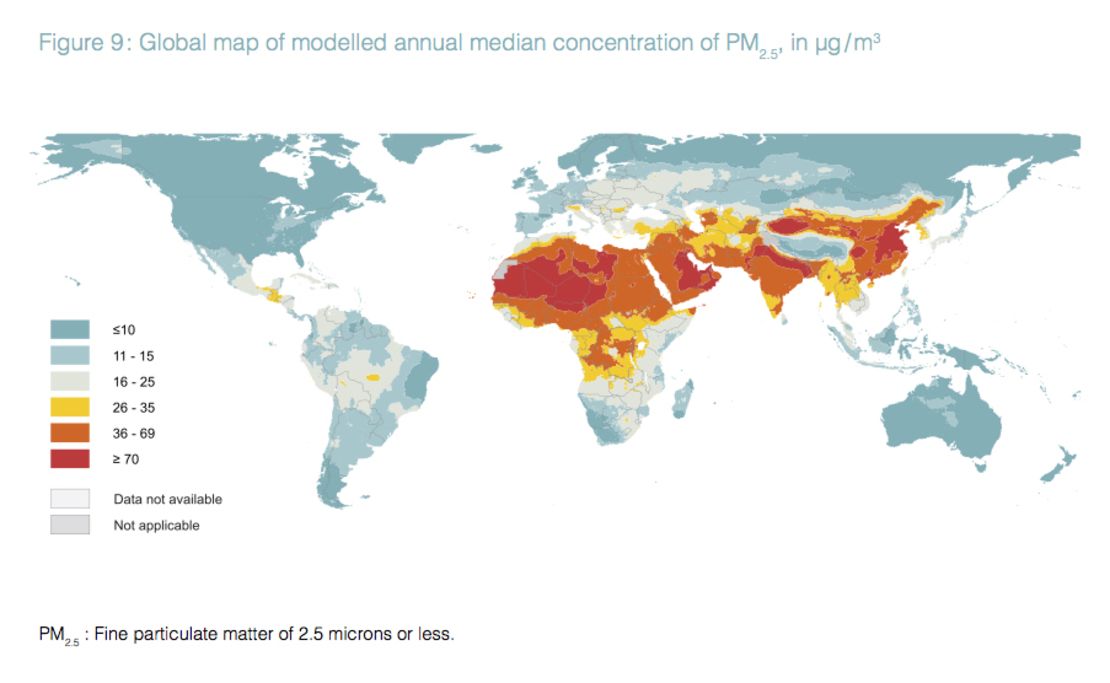 While heads of state and government officials set policies to address the problem on a national and global level, the US Environmental Protection Agency has a range of tips for individuals to make the air in their immediate environment more breathable, stating that "everyone needs to take steps to protect themselves when pollution levels are hazardous and above."
The air quality index is calculated using levels of five pollutants: ground-level ozone, particle pollution (also known as particulate matter), carbon monoxide, sulfur dioxide and nitrogen dioxide. The scale ranges from one to 500, with scores above 150 considered unhealthy to everyone and scores above 300 classed as hazardous, with entire populations likely to be affected.
"Lots of apps will tell you the pollution level in your city today," said John Holloway, professor of allergy and respiratory genetics at the University of Southampton, adding that information on air quality levels is "very accessible now." Holloway recently authored a report on the lifelong impact of air pollution. By monitoring your air quality, you can alter your movements, and behaviors, accordingly.
So when the air quality is low – or the index score is high – here's what you can do.
Surround yourself with clean air
According to the EPA, staying indoors, in a building with filtered air, is one of the best ways to reduce the levels of pollutants entering your lungs.
"We suggest people stay indoors, close windows and use air conditioners," said Khatri, who offers advice to allergy sufferers on a regular basis. For people without air conditioning, air purifiers are another option.
Last week, Chinese state media reported that education authorities in Beijing will include air purification systems as a standard feature in new schools in order to alleviate exposure to toxic gases and harmful particles.
These technologies can be used to filter both outdoor and indoor pollutants, such as exhaust emission particles as well as pollen, mold, spores and other allergens and infectious agents. They are not considered to be 100% effective, according to Khatri, but any reduction may prove beneficial. "Some studies show a 50% reduction," said Khatri.
Other studies looking at systems that used a combination of filters have shown as much as a 70% reduction of particles as small as 0.3 microns – which is just a tiny fraction of the width of a human hair.
Pollutants such as fine particulate matter are less than 2.5 microns in size, known as PM 2.5., and are known to be harmful to human health. These are particles that reduce visibility in the air when their levels are high.
Types and designs of air cleaning devices vary greatly, from traditional high-efficiency particulate arrestance (HEPA) filters placed in a range of devices, to more complex systems installed into the duct work or air conditioning systems in a building, as well as portable air cleaners and the use of UV light to destroy pollutant particles.
While studies have found cleaners to be effective – to a certain extent – in removing particles, evidence of them reducing adverse health effects is weak, according to one EPA report, partly because particle pollution from outside air can easily get inside. But during high periods of exposure – such as when AQI levels are hazardous – the agency still advises their use.
"Anything you can do to reduce exposure can help," said Holloway, adding that "people spend most of their time indoors."
Choose effective face protection
Personal protective equipment, including face masks, may seem an extreme measure, but when out on the road where exposure is at its highest, they may prove beneficial.
In general, experts advise people to avoid going outside unless they have to when air quality is low. So you can feel guilt-free about not exercising in the park, though things like commuting to work are unavoidable. "Think about what you're doing on days when levels are high," said Holloway.
But if there is no choice but to venture out, "some personal protective measures can help, particularly for people who are at risk," he said. "But the routes you walk outside will affect your pollution." Side roads and walking through parks, instead of main roads, for example, can help reduce exposure.
The EPA advises people not seek protection only with dust masks, such as paper masks designed to trap large particles, or scarves or bandanas. Small, harmful particles can still slip through.
"The masks designed for industrial use are the most effective," said Khatri, who believes that covering up your nose and mouth when outside is beneficial, despite any debate. Masks can include disposable respirators, known as N-95 or P-100 masks, often used by doctors and researchers to avoid contamination from contagious bacteria.
But Khatri noted there there is no quick fix. Instead, it's "good to have a combination" of measures in place. she said.
Clean your home – properly
It's about "protecting what you're exposed to," said Khatri, who offers advice to allergy sufferers on the best ways to clean their homes, which will remove more potential pollutants.
Carpeting should be avoided where possible and a "moist wipe down" is advised instead of sweeping. "It's so you're not recirculating what you're trying to remove," she said.
The EPA also advises wet mopping of floors to reduce dust and to avoid vacuum cleaners that do not have a HEPA filter. It's also advised that people sleep in a clean room, with as few windows and doors as possible to further reduce exposure as you sleep.
Strip soon after hitting your doorstep
In addition to cleaning your home, Khatri has one additional piece of advice: clean yourself.
"When you return home, change and shower to reduce ongoing exposure," she said. That may seem obvious, but not something everyone does as soon as they get home.
It's about "protecting (against) what you're exposed to," she said, as all pollutants – from lead and carbon monoxide to ozone and particulate matter – have an innately inflammatory effect on the body, she said, which are what in turn cause long-term health effects.
But while these measures can help to some extent, Holloway and Khatri ultimately believe these are temporary steps, or stop-gaps, to mitigate the effects of pollution exposure while larger policies are set in place to solve the root of the problem.
"People shouldn't have to protect themselves," said Holloway. "Where the change needs to come from is in the form of policies."
Countries need to adhere to guidelines they signed on to, he said, and should further promote the use of electric and hybrid cars and reducing – or banning – the use of diesel fuel.
"These things have long-term consequences," said Holloway. "Reducing pollution benefits us all."