Story highlights
Some parents have discovered mold inside their toddlers' Sophie the Giraffe teething toy
Any child's toy that has air in the center of it can develop mold if water gets inside
Mold is everywhere; it grows wherever there is moisture. Hidden inside a toddler's favorite toy, though, it can deliver quite a shock to an unsuspecting parent.
A month ago, pediatric dentist Dana Chianese decided to clean Sophie the Giraffe, the favorite toy of her two toddlers, according to Good Housekeeping. Noticing a musty smell coming from the toy, she cut into the plastic and discovered mold living inside the friendly faced giraffe.
After Chianese's story made the rounds on social media, parents responded by cutting open their children's beloved giraffes. Some found similar evidence of mold, others discovered their mangled Sophies remained internally sound.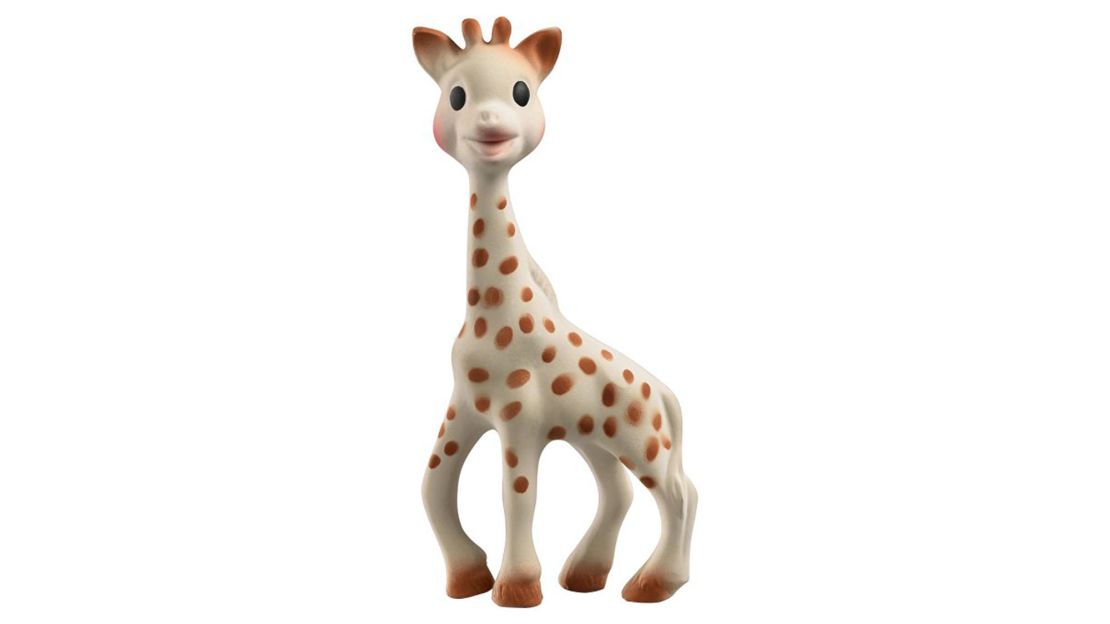 "Sophie la girafe" is an "undisputed star among toddlers," according to her maker, Rumilly, France-based toymaker Vulli. The company website claims more than 50 million units have been sold worldwide since she debuted in 1961. The giraffe is still "traditionally" produced from 100% natural rubber derived from the latex of the Heavea tree. Vulli did not respond to CNN's request for a comment in time for the publication of this article.
The problem with Sophie could be true of any squeaky toy or rubber duck that had a hole and spent some time in water.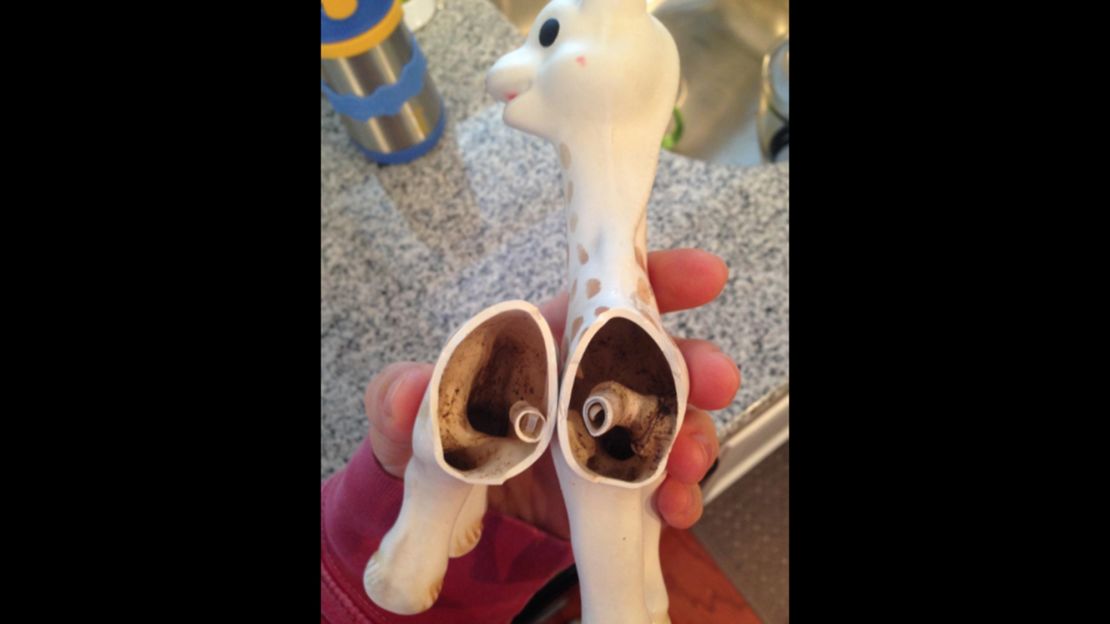 "I'm almost positive since this little toy was made of rubber that the only way there would be mold inside is if there was a hole in the toy and water got inside," said Dr. David Carpenter, director of the Institute for Health and the Environment at State University of New York, Albany. "Mold grows in wet circumstances.
"It's a good piece of information for parents. When you have any child's toy that has air in the center of it, if you get a leak and water gets inside – especially if it's a toy children play with in the bathtub and that sort of thing – there's a danger that mold will develop."
But how dangerous is mold?
The health effects of mold
Though the majority of people are not allergic to mold, a lot of people do react and children are no exception to this rule.
However, parents need not fear because for most kids, any problem would likely be minor, said Dr. Ellen Dutta, associate physician in the allergy and clinical immunology unit at Mass General Hospital and an instructor in medicine at Harvard Medical School.
"So mold can be a problem as an irritant or an allergen in the air and the types of problems we see can usually be respiratory – so nasal symptoms, sneezing, congestion, nasal drip, cough and asthmatic type of symptoms," said Dutta.
The current online fracas about Sophie bears similarities to last year's Tommee Tippee sippy cup hullabaloo, when parents posted snapshots of mold growing inside their children's plastic drinking cups.
When it comes to ingesting mold – whether from a teething toy or a sippy cup – Dutta said more than a small amount would have to be swallowed to see any kind of reaction. "But, logically, there could be some stomach upset or something like that," she said.
Though some research has shown exposure to mold in infancy might lead to allergies in later childhood, Dutta remains unconcerned. There's been research "into what kind of childhood exposure can actually help prevent allergy versus what kind of allergen exposure might promote allergy," she said, but scientists have not yet reached a definitive conclusion about mold.
Damp and moldy environments may cause coughing, wheezing, or other problems – or none at all, according to the Centers for Disease Control and Prevention. It's a matter of sensitivity, with some people developing irritated throats whenever they go near mold and others who don't even seem to notice.
People allergic to mold may have more severe reactions, while immune-compromised people and patients with chronic lung illnesses may get serious infections when they come into contact with mold.
"We know about this from things like the FEMA trailers," said Carpenter, referring to trailers where people lived after hurricanes Katrina and Rita in 2005. "A lot of the houses in Louisiana after the hurricanes dampness caused mold to grow and people who went back into their homes without removing the mold got respiratory infections and allergies."
What to do about moldy toys
The US Consumer Products Safety Commission recommends consumers report mold in toys to the commission at its website, saferproduct.gov.
"Definitely report it … make sure you tell us what it is," said Patty Davis, spokeswoman for the commission. "Did it come with mold on it? Those types of things." The commission has conducted recalls of products with mold in the past, however if a toy becomes moldy "over the years because you've had it in the basement, that's a different story," she said.
"In general, we recommend keeping toys as clean as possible," said Davis. Follow the instructions, she added. Toys that aren't intended to be submerged in water should remain clear of the bath tub.
According to Dutta, whenever "there's visible mold or contamination in the home or on an object, that would clearly need to be remediated." In general, though, "the normal levels of mold we encounter in the environment are not harmful," said Dutta.
When it comes to a moldy toy, the advice of both Davis and Carpenter is simple: Move on.
"I don't think there's really a way you can clean a toy that has mold on the inside," said Carpenter. "It just should be tossed and you go buy a new one."