Story highlights
Adama Barrow is in Senegal while West African troops prepare for his return
He's unable to confirm allegations his predecessor looted state coffers
Gambia's new president Adama Barrow told CNN that he intends to go home "within a week" now that ousted long-term president Yahya Jammeh has finally left the country after a tense standoff.
Barrow also said he will start announcing his cabinet later on Monday, beginning with his vice president.
Responding to a question from CNN, Barrow said he could not confirm a claim by one of his aides that Gambia's treasury had been looted by outgoing president Jammeh.
"This is the information I'm also getting, but we want to get to the bottom of it, we want to get the documents in my hand and we will elaborate on it, I have to be in contact with the Central Bank to confirm," Barrow said.
A large contingent of West African forces from the regional grouping Economic Community Of West African States (ECOWAS) are in Gambia to pave the way for the new government.
On how long he intends to have the foreign forces in the country, Barrow said: "They will be there until we stabilize, for now we want them there until we feel we have that security to establish our government."
Barrow also hinted at dismantling the Gambian army, loyal to Jammeh for so long: "We intend to have a reform of the army, so that we can give them more training to be more professional, and we need ECOWAS troops to coordinate this for us."
Jammeh, who took power in a military coup in 1994, left the country on Saturday after stepping down as president following tense negotiations amid the prospect of West African military intervention.
He arrived in Conakry, Guinea according to a Gambia Civil Aviation Authority official who did not want to be named.
Jammeh suffered a surprise election defeat in December to Barrow, a property developer who won with more than 45% of the vote. Jammeh originally conceded the presidency but then announced his "total rejection of the election results."
The UN Security Council backed an effort by regional states to remove him as president.
ECOWAS troops were greeted by cheering, dancing crowds when they entered the Gambian capital, Banjul, on Sunday to provide security for the new president's arrival.
Barrow was sworn in in Dakar, in neighboring Senegal, Thursday.
Gambians 'just want to get on with it'
After weeks of turmoil and uncertainty, Gambians are looking forward to getting the country "back on track," according to one human rights campaigner.
Jeffrey Smith is the executive director of Vanguard Africa, a nonprofit organization that provides support to pro-reform political candidates and backed Barrow's campaign.
Smith told CNN: "The priority right now is getting the country back on track. Gambians just want to get on with building the country back up again."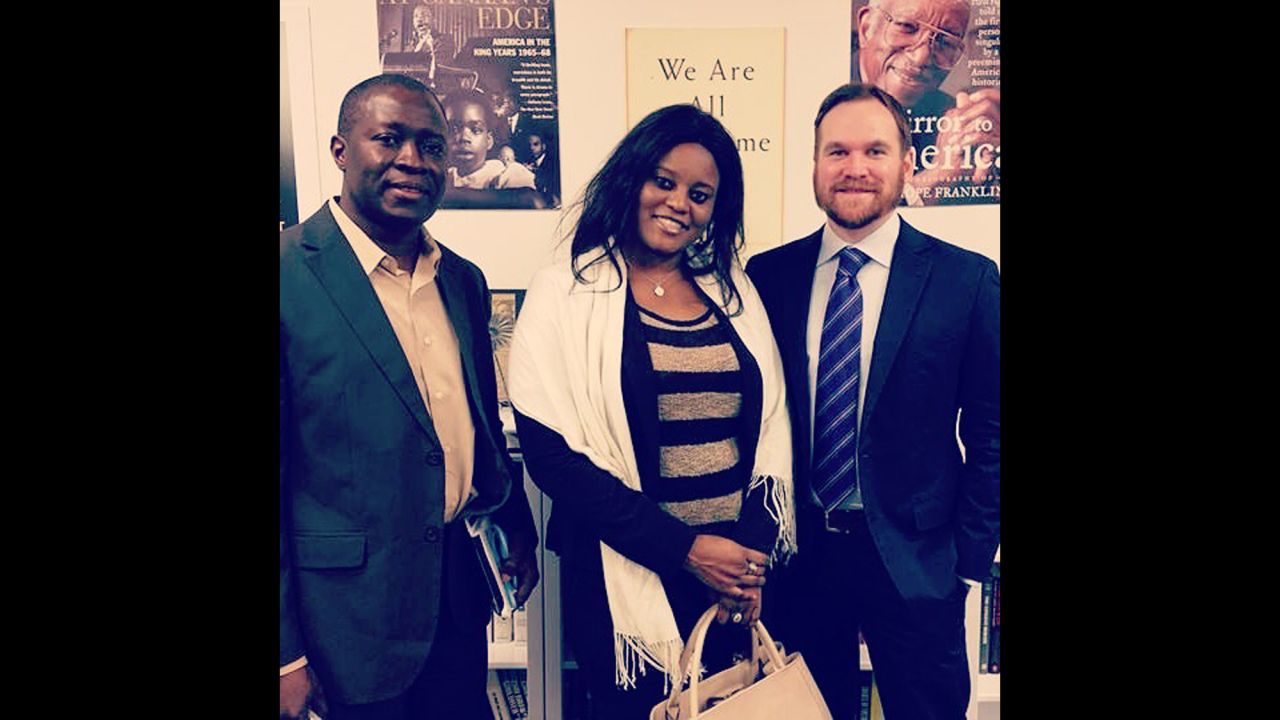 Smith, an American based in Washington, DC, has been widely thanked via social media by Gambians who credit him with playing a key role in highlighting the situation in the country before and since the election.
Smith said the reaction to his work – which has seen him quoted by major international media outlets including in Spain, Nigeria, and the US – "has been humbling, to be quite honest."
"All credit entirely goes to the Gambian people – they never gave up hope that change was possible. That's what inspired me."