Story highlights
An Ontario mom with cystic fibrosis struggled for years with a lung infection
When she went into septic shock, doctors tried an experimental procedure
She now has two new lungs, and her prognosis is good
Given the choice between his wife possibly dying in her bed or on an operating table, Chris Benoit chose an experimental, first-of-its-kind surgical procedure. The surgeons would remove not just one but both of Melissa Benoit's lungs.
The Burlington, Ontario, woman was was so sick, she could not speak for herself.
"I was unconscious at this point and had been for some time," Melissa Benoit said. "So (my family) made the decision based on my previous wishes – just knowing who I am."
Chris Benoit remembers the moment of decision in April. He, Melissa's mom, dad and uncle all spoke at once. "It didn't take very long for us to insist that Melissa would want to go right to the end and fight with experimental surgery," he said.
In fact, Melissa Benoit, then 32, had been suffering for years. A cystic fibrosis patient, she had been struggling with an on-again, off-again infection that had ravaged her lungs over the course of three years. An inherited disorder, cystic fibrosis affects the cells that produce mucus, sweat and digestive juices, and causes damage to the lungs, gastrointestinal system and other organs of the body.
She'd been taking antibiotics intravenously, but then she came down with the flu, which triggered coughing fits so terrible, she fractured her ribs.
In mid-March, she landed in St. Michael's Hospital in Toronto.
"They thought they'd just do a quick switcheroo with antibiotics," she said. "Unfortunately, that didn't happen. The last day I remember was Easter Sunday 2016, where I was waiting for an ICU bed."
While she was unconscious, the infection could not be controlled, so in early April, she was transferred – sedated and on a ventilator – to Toronto General Hospital's Surgical Intensive Care Unit.
She was suffering from "severe bacterial infection involving her lungs, and the bacteria was very drug-resistant, so despite being on antibiotics, it was not very well-controlled," said Dr. Atul Humar, director of the transplant program at Toronto General Hospital and president of the Canadian Society of Transplantation. Humar was not directly involved in Benoit's care.
Drowning in the blood and pus that filled her lungs, she had been gasping for breath – grasping for life – for days. It was clear Benoit needed a lung transplant, but a conventional ventilator was not enough to help her breathe until donor lungs became available.
To help her breathe and to gain more time, physicians placed her on Extra-Corporeal Lung Support, a temporary life-support medical device often used to help bridge patients waiting for a transplant.
Amanda Spriel, a perfusionist at Toronto General who was involved in the procedure, explained that this machine functions as the lungs normally do. It drains blood from the body, oxygenates it and removes the carbon dioxide, and then pumps the cleaned blood back into the patient.
For other patients waiting for a lung donor, this machine is enough to help them survive. In Benoit's case, her condition only worsened.
The infection took over her lungs, spilled into her bloodstream and caused septic shock, she said, adding that it "meant they couldn't do a lung transplant. You cannot transplant someone who is in septic shock."
She would die if nothing was done.
Conferring with her family, a "radical decision" was made, said Dr. Shaf Keshavjee, surgeon-in-chief at University Health Network. "Because her lungs were so infected, we took both lungs out … and that had never been done before."
Historic and historical
Though radical, the idea "makes scientific sense," Humar said. "We know that when you have infections anywhere in the body, if you can remove the source of the infection, it's often a good way to treat the infection."
These days, because excellent antibiotics can deal with most infections, doctors no longer resort to this practice, he explained: "Certainly, in historical times, surgery was used for treatment of severe infections."
Despite the experimental nature of this surgery, Toronto General was certainly the perfect place to try it. The world's first successful single lung transplant and the world's first successful double lung transplant had both been performed there in 1983, Humar said. He explained that the hospital had a big investment in transplantation and "a very large multidisciplinary team of talented people."
In fact, the surgical team had been discussing the possibility of such a procedure for several years before Benoit landed in their ward. They'd seen how patients with cystic fibrosis sometimes developed lung infections and septic shock while waiting for a donor lung.
In Benoit's case, once her lung infection became resistant to all medications, it was clear this hypothetical surgery would be her only chance.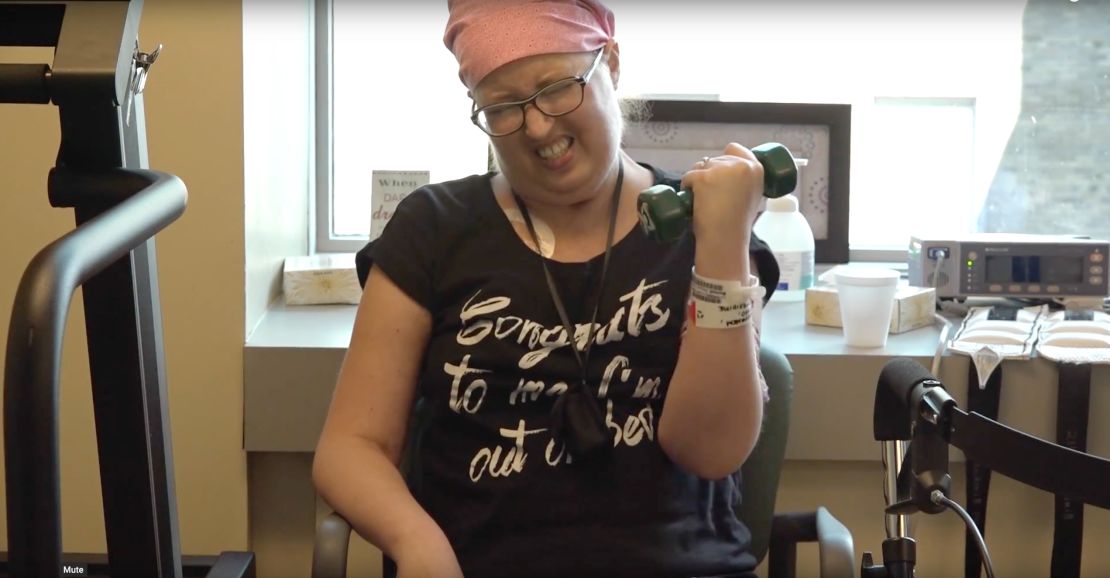 A team of 13, led by Keshavjee, entered the operating room and removed her lungs in a nine-hour procedure.
Engorged with pus and mucus, her lungs had become as hard as footballs, Keshavjee said.
Once they'd removed her lungs, the surgical team put a Novalung in on the right side of her heart to work with the Extra-Corporeal Lung Support machine in replacing respiratory function, Keshavjee said. Novalung is a lung support system that oxygenates the blood and is typically used to support patients with failing lungs before they've been removed.
"Obviously, it was a very difficult and a very challenging decision, because there were a lot of unknowns as to whether it would even be technically possible, but theoretically and physiologically, it made sense that it should work," he said. "We were happy that we could pull it off – the first step of getting her stabilized on the devices and the second step of getting her to and through a lung transplant, which is not a small operation."
A 'night and day' change
"I was … brought back up to the ICU with an empty chest cavity, except for my heart," Benoit said. Yet, within hours of the radical surgery, she began to improve. No longer needing blood pressure medication, most of her organs showed signs of repair.
"The sepsis got better," she said, and she was put back on the lung transplant wait list.
"I waited six days before receiving my perfect pair of donor lungs," said Benoit, who describes her new lungs as "night and day" compared with her original lungs.
"I've never had the experience of breathing before," she said. "I was always feeling like I was breathing through a straw."
Cystic fibrosis will not recur in her transplanted lungs, according to her doctors, who say this is significant since many people with the disease die from infected lungs. However, she still has the genetics of cystic fibrosis, which can affect other systems in her body, including the digestive system.
"She has a very good prognosis," Keshavjee said. "The lungs are working well, she's gone through rehabilitation, and now she's walking around and living a more normal life and taking her daughter to school."
"When you measure success of something this dramatic, I think it's important to show that it is a success. Prolonging somebody's life for 20 days isn't really a meaningful thing in the long run, but really getting them back to where they're being a mom and really doing things, that's the more important part."
As far as Humar is concerned, the surgery is nothing less than "a remarkable achievement … and the world's first."
Surgery, but also rehabilitation, was an achievement for Benoit, who could not lift her arms, her head or even a finger after being immobile in a hospital bed for so many days. She is thankful that her physiotherapists – who brought her back so she is able to walk again – did not give up on her.
Oddly, Benoit's worst moment came after she went home: She saw a video clip of her husband and her daughter, Olivia, 2, in the ICU. In order to do a transplant, doctors needed Benoit to give a sign that she was still alive.
"They needed to show that there was somebody in there," she said.
"And my daughter … was sitting on the edge of my bed yelling, 'Mummy, wake up!' Repeatedly, over and over again, and my husband's there telling her, 'You tell Mummy – wake up Mummy!' And I think that was the hardest part of the entire process – knowing that that had to take place," Benoit said through tears.
In that moment, she showed she was alive by sticking out her tongue, a little movement that enabled her doctors to go forth with the radical plan.
Benoit has more medical procedures ahead, and no specific plans for the future. She's just happy to have one. "Things are starting to get back to normal, and it hasn't been normal, in a very long time so it's nice," she said.
Her husband also feels thankful for her renewed health, and is urging people to become organ donors. In Canada, people can sign up online, while residents of the United States can check each state's donor procedures here.
"She's here with us today, and it's just a fantastic day," Chris Benoit said at a news conference Wednesday. "I urge you … go on the (organ) donor's site and register or update your consent."