Story highlights
Canadian authorities release the name of the suspect in mosque shooting
Suspect faces murder and attempted murder charges
The suspect charged with murder in Sunday's shooting that left six people dead at a Quebec City mosque was a "lone wolf," Canadian Public Safety Minister Ralph Goodale said Monday.
Alexandre Bissonnette was identified as the person who opened fire at the Quebec Islamic Cultural Center, according to a source with the Royal Canadian Mounted Police and a Quebec City court clerk.
Bissonnette faces six counts of first-degree murder and five attempted murder charges, according to the verified Twitter account of the Quebec Royal Canadian Mounted Police. He was a student at Laval University in Quebec City, according to the school.
Goodale, speaking to reporters at an Ottawa news conference, said the attack was one that would have been difficult to prevent. The terror threat level remains unchanged, he said.
"At this time, the National Terrorism Threat Level for Canada remains at 'medium,' where it has stood since 2014," Goodale said, referring to the threat level after the October 2014 incident in which Michael Zehaf Bibeau killed Cpl. Nathan Cirilloan, an army reservist, as he stood sentry at Canada's war memorial in Ottawa.
Witnesses said the mosque gunman fired indiscriminately into the crowd of worshipers, which included men, women and children.
Laval officials said they "strongly and unreservedly denounce the unacceptable and terrible acts" at the mosque.
Bissonnette, who was a student in the university's school of social sciences, has been barred from any study or research activities until the end of the current judicial process, the school said.
Between 2002 and 2004, Bissonnette also participated in the Cadet Program, a nationwide youth program affiliated with the Canadian Armed Forces that focuses on developing skills such as leadership and citizenship, said Maj. Doug Keirstead, spokesman for the Canadian Armed Forces.
"Cadets are not members of the Canadian Armed Forces and they do not receive military training," Keirstead said.
No other information was immediately released on Bissonnette, who is in custody.
The province's premier, Philippe Couillard, called the attack an act of terror.
Many questions remain, and some details have changed as the investigation evolves. Here's what we know so far:
The attack
It was originally thought two gunmen dressed in black opened fire at the center in Quebec City on Sunday.
Authorities on Monday identified the six slain victims. Mamadou Tanou Barry, 42; Abdelkrim Hassane, 41; Khaled Belkacemi, 60; Aboubaker Thabti, 44; Azzeddine Soufiane, 57; and Ibrahima Barry, 39.
Five wounded people remained hospitalized Monday, said a spokeswoman for Hôpital de l'Enfant-Jésus.
The National Police of Quebec said 39 others inside the mosque were not hurt.
The investigation
Of the two people arrested Sunday night, only one is now considered a suspect, said Surete de Quebec, the police organization investigating the shooting.
The other person who was arrested is now considered a witness and not a suspect, as originally believed, police told CNN.
Authorities have not released a possible motive, but police are investigating the attack as an act of terrorism. They're also trying to determine if the shooter had accomplices.
CNN partner CBC reported that an attacker called 911 and said he was armed, but said he was willing to cooperate with police.
The mosque's response
The mosque urged the public to not jump to conclusions or spread unsubstantiated rumors.
"Please wait for preliminary result (of the investigation) before circulating rumors," the Quebec Islamic Cultural Center said on Facebook. "The situation is very critical."
Another post showed the center's gratitude for the "hundreds of messages of compassion coming from all over."
On Monday night, a procession of candle-holding marchers spilled quietly into the snow-packed streets during a vigil and a gathering at the mosque. Two young women stopped as many people as they could and asked mourners if they wanted pins that said "Welcome to all refugees," in French on the top of the pin.
Milena Babin, a volunteer with the Intercultural Center of Quebec, handed the pins out one by one, explaining that the design was by a local artist.
Babin said the inscription in Arabic at the bottom means welcome to Quebec.
"(The buttons) were originally designed to welcome refugees to Quebec," Babin said. "But we had some leftover, and thought it was a good idea to distribute them tonight."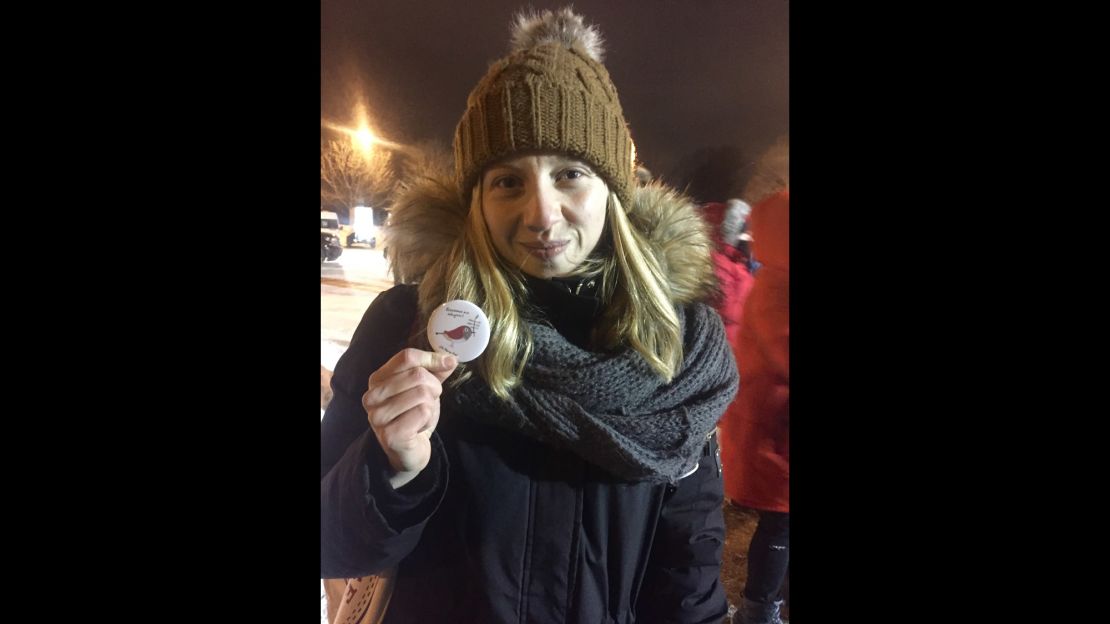 Prime Minister Justin Trudeau was among the throngs of people who attended the vigil. He carried a bouquet of flowers.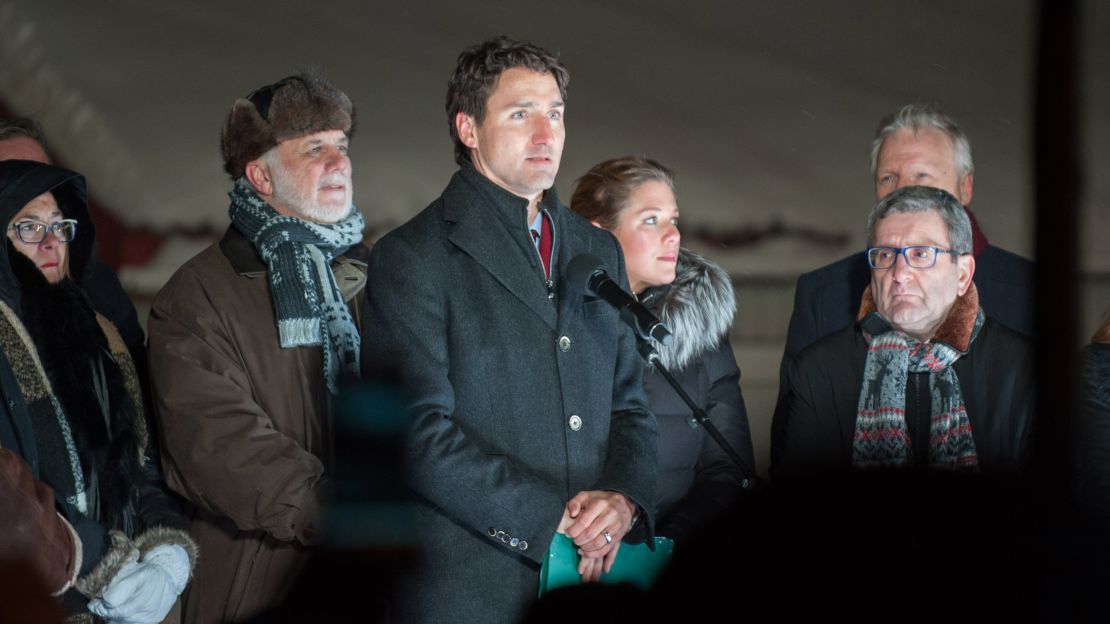 Some people said they came to support the city's Muslim residents.
Louis Tardif, 15, said he was horrified when he learned his friend's father was among the victims.
"I didn't see him at school today," the teenager said. "I don't know when I'll see him again, but I'll be here for him if he needs me."
His message to Muslims around the world: "To stay strong and to do what you want to do"
Mary Christine Miller, 31, who lives nearby, not far from another mosque, struggled to understand why the attack happened.
"Why?" she said. "They didn't do anything to us, they were just praying."
Mosque was previously targeted
This is not the first time the mosque has been targeted.
Last year, the cultural center received a wrapped pig's head and a magazine with a pig on its cover, saying "Bonne Appetit," according to a post on its Facebook page. The post reads:
"We just learned that a gesture of hate towards our Great Mosque took place Sunday morning (14 Ramadan) around Salat Al-Fajr! Police was made aware and opened an investigation!"
Under the Quran, pork is prohibited and pigs are considered unclean.
Quick condemnation
Canada's leaders condemned the attack on social media.