Story highlights
As the Trump era begins, the war in Ukraine is nearing its third year
Fighters, civilians on both sides wonder how or if the Trump administration will affect them
Spartak and Avdiivka, Eastern Ukraine
CNN
—
It is noisy, for something so forgotten. Each evening, we are told, as the sun sets on the grim snowy plains around Spartak, a separatist-held village near the hotly contested airport of Donetsk, the chill is pierced with countless artillery explosions.
As the Trump era begins, the war in Ukraine is nearing its third year. The artillery explosions around the Donetsk airport matter (we don't know who is firing at whom, but it's pretty intense) as there is meant to be a ceasefire and heavy weapons are supposed to be far from, not active in, the front line. And that's relevant as the question of whether the United States should keep sanctions against Russia is back on the table, under the new White House, over a war still very much being fought.
Read more: Fighting flares in eastern Ukraine
But the Trump administration, and the sea change in foreign policy it represents, is perhaps good news to those on the separatist side of the lines.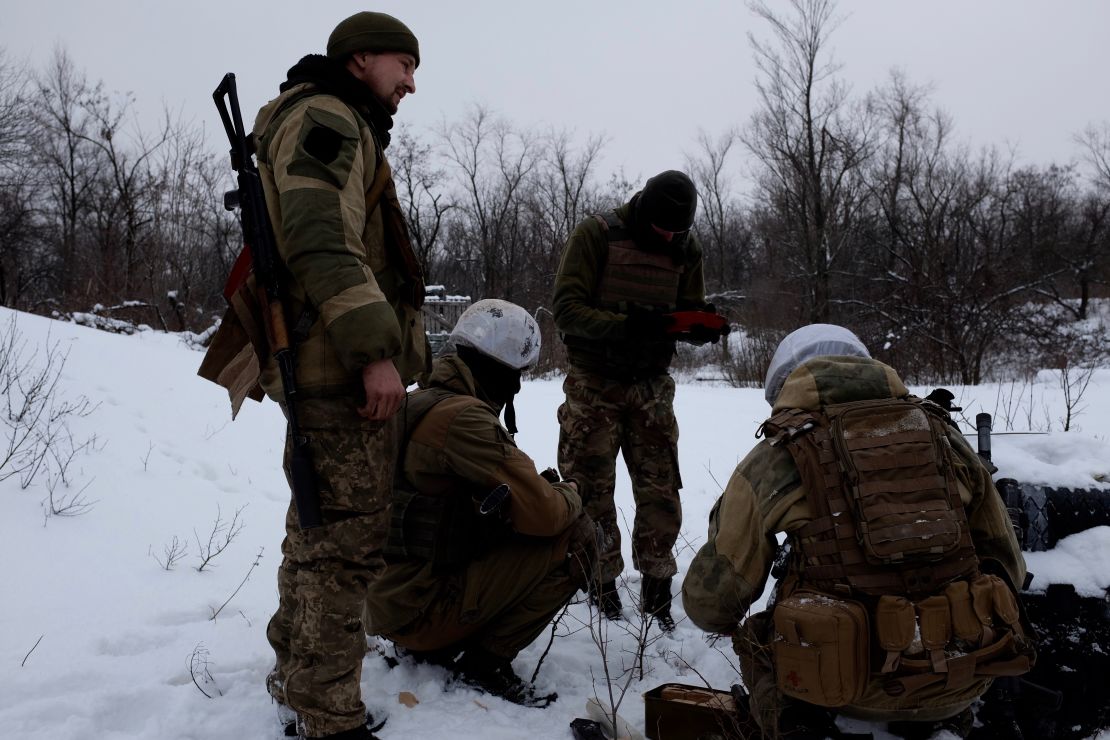 Called terrorists by the Ukrainian authorities, the Donetsk People's Republic began taking control of government buildings in mid-2014, and quickly fought a full-on war to take parts of Ukraine with what the US said was clear Russian military support and participation in the fight. Now the war is more of a stalemate, fought near tight and pockmarked areas like Spartak.
'Obama to blame'
Victoria, a young local mother who has lived near this front line for months, blames Washington for supporting the Ukrainian authorities, who she says are bombing Spartak.
"Obama was to blame for this war. He sponsored with arms and this is why they bomb us," she says, hoping changes may come under the new White House. (The US has provided training and nonlethal aid.)
Lyuba, who lives in a nearby apartment blocks, believes Trump when he says he will change US policy toward Russia.
"I think they will befriend Russia, and change," she says. "We don't have Russian forces here, just locals who've lost people in the war and fight. With Trump it could be better."
The empty shelves of the local store where Lyuba shops speak to the problems this separatist area has finding basic supplies.
The truth still matters here. There are repeated and serious incidents over the past two years of Russian military personnel and equipment being spotted fighting for (or alongside) the separatists. This is the basis for US and European sanctions, and the Trump administration has denied claims of its critics that it is too close to the Kremlin. The Russian assistance doesn't appear to have stopped, nor has the violence.
Read more: Former Ukraine finance minister says Russia wants to upend Western democracy
So, when White House aides talk of sanctions being under discussion – albeit not in the immediate future, according to their most recent statements – that isn't a reflection of a changed situation on the ground, but a change in the ideology or priorities of those in Washington.
There is supposed to be a ceasefire, but there were 300,000 violations of it in 2016 alone, said Alexander Hug, the head of the Organization for Security and Co-operation in Europe's Short-term Monitoring Mission here.
'Make Ukraine make peace'
The separatists take us to the front lines, near where we hear the cacophony of shellfire. They show what they say are fresh holes made by mortar blasts and take us into a smoky bunker where we meet two men – both called Vitali, both there for months. Yet even here, they have heard of Trump.
"Trump is far, and I am here," says Vitali. I ask if he would be pleased if Trump recognized Donetsk as part of Russia. "It would be good if he did. Time will tell, people change."
The second Vitali, another chain smoker in his forties, adds if Trump: "does what he said, then our life will be easier."
"Make Ukraine make peace, in reality, not on paper," he adds.
Across the separatist area, most seem to have an opinion on Trump, likely fed by Russian state TV's overwhelmingly positive coverage of him.
Eduard Basurin, a top spokesman for the separatists, says he's never seen an American politician like Trump, who knows how to talk to the people.
"I have only one thing to suggest, that he listens to himself and not his aides. He will answer for the country, and his aides may pursue the agendas of those who put them in place. He should listen to himself and his family," he adds.
Trump 'looks like an improvisor'
It is an equally tough and impoverished world on Ukraine's side of the lines.
A few hundred meters from the front, on the edges of Avdiivka, a local resident trudges through the snow, a sled for her shopping behind her.
Tatyana moved here about a year ago. She lives next door to empty houses where on old lady occasionally returns only to feed her dog.
"He looks like an improvisor," she says about Trump. "He says what he thinks. He doesn't make things look pretty, just says what he thinks."
The fight goes on
Pass a minefield, and you reach the tip of Ukraine's spear against what it calls terrorists. The 72nd Brigade – young men, mostly in their late twenties, and from other parts of Ukraine – who have all received American training as part of the Pentagon's contribution to Joint Multinational Training Group-Ukraine.
They put on a show for us, firing live rounds at a nearby slope, as they advance on foot in a column, a bid to show the resolve for what they see is the fight ahead. A soldier who gives his name only as Igor says: "Regardless of American politics we will continue to fight for our homeland. And for the return of our land that enemy occupiers have tried to steal and make part of another country."
They do not want to show us the front line, and there is a sense of anger and concern about what lies ahead. Many in Ukraine have long felt abandoned by the West in this fight, that the sanctions and slight military training were not enough.
On the other side of the lines, another new emotion was palpable. Before, separatists would talk about a closer union with Russia, perhaps even becoming part of it like the other annexed Ukrainian territory absorbed by their larger neighbor, Crimea.
But now, at the start of the Trump era, the rhetoric is emboldened and has changed.
Many I spoke to talked not about how they could become part of Russia, but how Ukraine could become closer to them, that they might change the rest of the country and its government.
It is a farfetched ambition, distant, and one that doesn't recognize the fervent anti-Russian feeling in Ukraine that Moscow's interference has created. But it shows the new bold, pro-Russian sentiment of the Trump era.
The US President says he doesn't know if he'll like Vladimir Putin. But out here, in the wastelands of what's now Europe's longest ongoing war, the perception of a Moscow-Washington detente has made life more volatile yet again.