Story highlights
Following high school, Hogan played lacrosse at Penn State
He played for the Buffalo Bills before joining the Patriots in March
Chris Hogan is the latest in a long line of wide receivers who have reaped the benefits of catching passes from NFL legend Tom Brady.
In the AFC Championship Game, the 28-year-old from Wyckoff, New Jersey, set a Patriots playoff record with 180 receiving yards and he caught two touchdown passes.
"It'll be something that definitely I'll remember for the rest of my career, and probably for the rest of my life," Hogan said. "Someone told me that this was going to be a game that you'll look back on 30 years from now and you'll remember exactly what happened."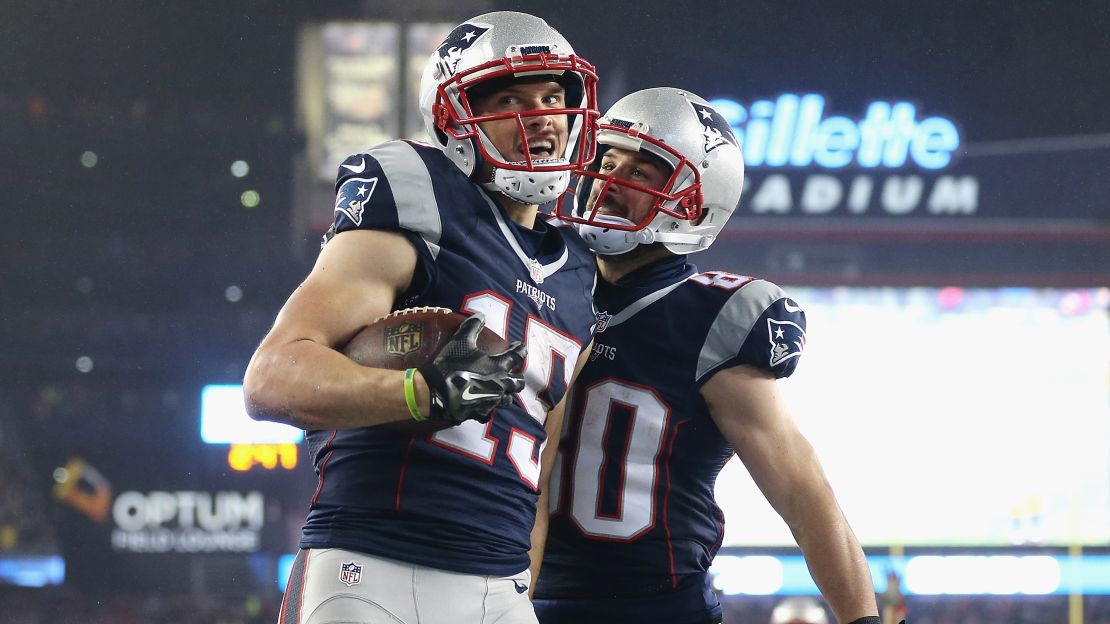 What a journey it's been. Hogan's path, which now has led him to Sunday's Super Bowl, is unorthodox. Before he reached the NFL, Hogan spent four years away from football, opting to play college lacrosse at Penn State. He later squeezed in a season at a nontraditional football powerhouse before turning pro.
"It takes a special human being to be able to make that transition," Patriots wide receiver Matthew Slater said. "Chris is a very gifted athlete. He does a lot of things well and can't speak enough to his toughness, his physical and mental toughness. I think, here's a guy who's pretty much willed himself into being a great NFL receiver after having not played a tremendous amount of college football. I can't speak to how tough the transition may have been, but I would imagine it wasn't an easy one."
This week in Houston, Hogan said he hopes that he has brought attention to the other sport he loves.
"College lacrosse can be pretty brutal at times, so that definitely helped me with the toughness," Hogan said. "It's a fast-paced game, so that helped me kind of translate over to the game speed of playing in the NFL. I think just the one-on-one aspect of trying to beat the guy in front of you definitely helped me as being a receiver."
Brady: 'I'm glad we got him'
Hogan was a standout player in football and lacrosse at Ramapo High School. And while he was recruited by schools in both sports, it was the latter he chose to pursue, playing as a midfielder on the Penn State lacrosse team.
During his sophomore season in 2008, Hogan's season lasted just three games because of injury, but there was a silver lining. He was granted a redshirt season, meaning he would have another year of college eligibility. In 2009, his final season, he led the Nittany Lions with 29 goals and received first team All-ECAC honors.
Hogan graduated from Penn State in 2010, and he wanted to give football another shot. He went back to his home state to suit up for Monmouth University, and made the most of his one season. In 11 games, Hogan split time on both sides of the ball. He started eight of them at cornerback and tied for the team lead with three interceptions. He also caught 12 passes for 147 yards and three touchdowns, averaging 12.2 yards per reception.
The next step was trying to make it in the NFL, which looked liked a long shot.
"I didn't really have a plan B," Hogan said. "My plan B was work harder and try to make it in the NFL, and that's what I want to do. I put everything I had into making it in this league, and that's why I'm here."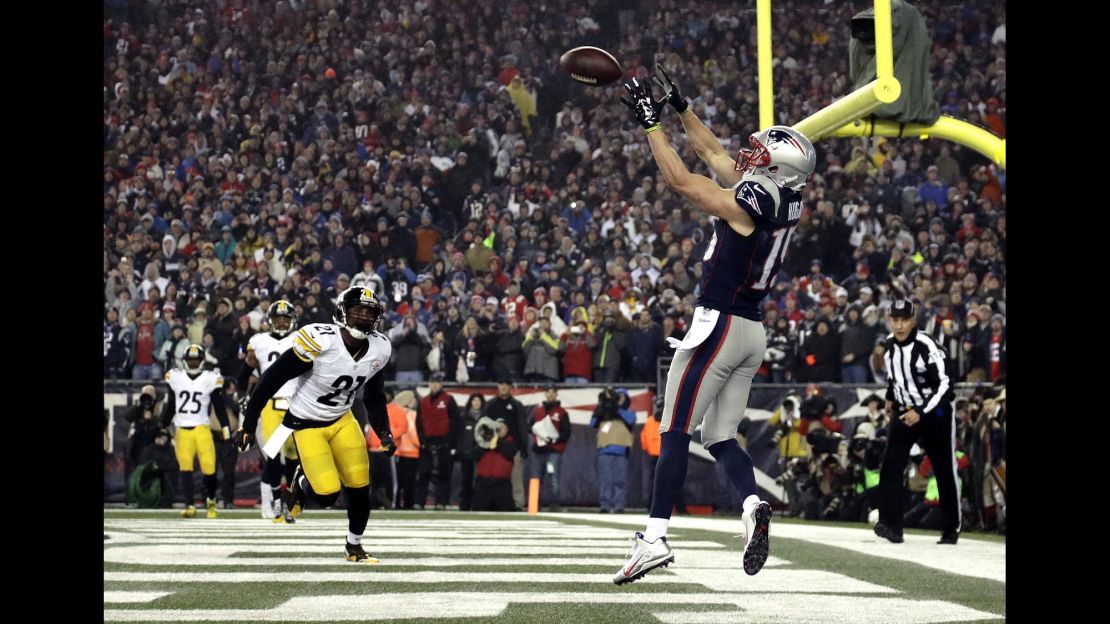 It was a bumpy road. He signed with the San Francisco 49ers as a rookie free agent on July 27, 2011, and was released shortly after, on September 3. The New York Giants signed him to their practice squad on September 13, 2011, but released him 10 days later. He landed on the Miami Dolphins practice squad on December 27, 2011, and was released September 11, 2012.
The breakthrough came later that season, when the Buffalo Bills signed him to their practice squad in November and then signed him to the 53-man roster that December. From 2013 to the end of 2015, Hogan played in every Bills game, catching 10 touchdowns.
The Patriots signed him in March. Immediately, he made an impact on safety Devin McCourty.
"I got to train with him in March, and as soon as I started training with him, I knew this guy was going to be a great receiver for us, he's going to really produce, and that's what he's done," McCourty said. "He works hard at everything – running routes in the offseason, lifting hard. It's been great just to be around him and learn from him, and his work ethic is unbelievable, so I'm extremely happy for him."
Brady took notice as well.
"I obviously followed up because you see a lot of those games, and he was a great player for them," Brady said. "They can't keep everybody, but I'm glad we got him."
Reaching Super Bowl 'obviously a long shot'
Hogan started 14 games for New England during the regular season, finishing with 680 receiving yards and four touchdowns. He averaged 17.9 yards per reception, tied for first in the NFL.
"He's been incredible," Brady said. "I mean, to lead the league in average yards per catch is spectacular. He's made big plays for us all season, he made big plays in the biggest game of the year for us."
After the AFC Championship Game, CNN's Hines Ward asked Hogan if he had ever thought back in his lacrosse days that one day he would reach a Super Bowl.
"No, it definitely didn't ever cross my mind," Hogan said. "But you know, once I started this journey, this was obviously a long shot, a goal that I had in mind. When I got here, I just kept working hard and taking advantage of everything."