Story highlights
Internet shutdown in Cameroon's English-speaking provinces
Blackout causing economic damage and hitting start-ups
Anglophone provinces have longstanding grievances against largely-francophone government
A crippling Internet shutdown is entering a third week in the English-speaking region of Cameroon.
The government suspended services for Southwest and Northwest province after a series of protests that resulted in violence and the arrest of community leaders.
The shutdown has proved particularly damaging in the city of Buea, the capital of Southwest that has been lauded as Cameroon's "Silicon Mountain," where dozens of successful start-ups have been launched.
"(The ban) has affected us very badly," says Otto Akama, community manager of Activspaces, a tech hub and incubator that serves many of the city's young entrepreneurs.
"We have empty offices all over the city. All tech companies are down. Most banks are down and ATM machines are not working so people don't have access to cash."
With no resolution in sight, conditions are likely to deteriorate further.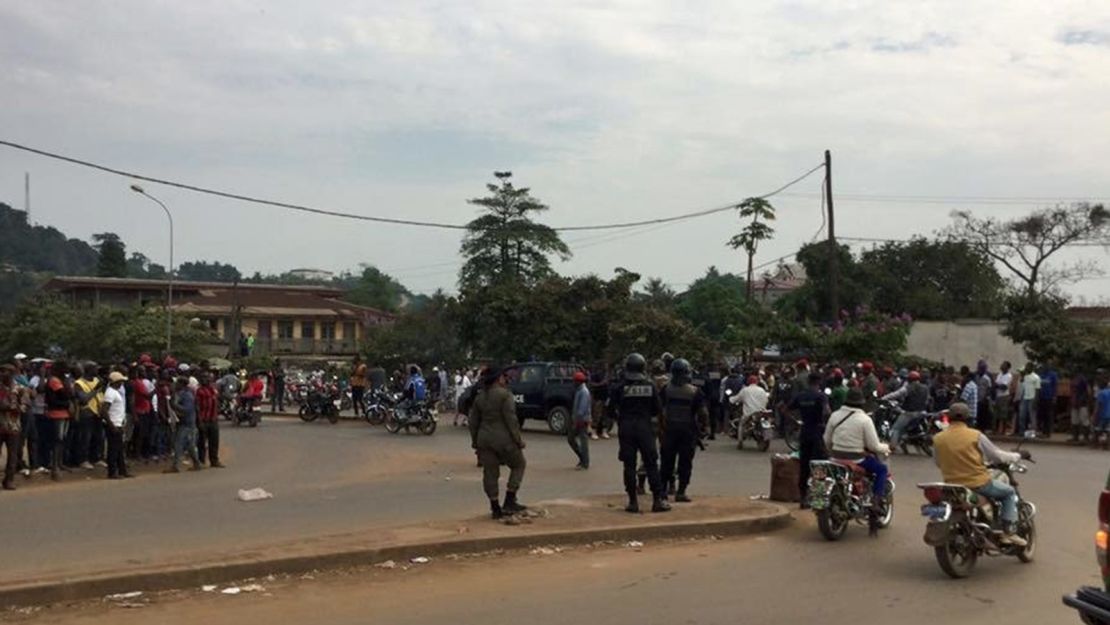 Survival mode
The shutdown is occurring at the worst possible time, says Akama, as fledgling companies struggle to scale up.
"January is the month when businesses start employing new strategies (and) this will kill energy in many companies," he says. "The cash-flow issue might lead to poverty in the next weeks if this does not stop."
Entrepreneurs are having to adapt to survive now. Akama makes a two-hour commute to work in the French-speaking city of Douala. Others stay in hotels or offices.
ActivSpaces is playing a supportive role during this crisis, offering free office space to tech workers and fundraising to cover their hotel bills. But the company cannot maintain this arrangement much longer, and Akama fears that hard-earned gains could be lost.
"People have taken the last seven years to build the Silicon Mountain community with their bare hands and no government support" he says. "But the government's one move is about to crush all that. It is so frustrating."
Leading entrepreneurs will soon flee Cameroon, he believes, and the nation will be poorer for their loss.
Cameroon's Ministry of Communications did not respond to a CNN request for comment, and has made no statement on the shutdown.
A divided country
The current crisis has deep roots.
Residents of Cameroon's two English-speaking provinces have longstanding grievances against the largely-francophone central government, complaining of economic marginalization and the imposition of French legal and education systems upon them.
"We have problems with water, roads and healthcare not being delivered," says Edna Njilin, secretary general of the opposition Cameroon People's Party. "We don't want our teachers delivering lessons in French."
In November and December 2016, anglophone lawyers led protests against the use of French in courts that resulted in clashes with police in which protesters were killed.
The Cameroon Anglophone Civil Society Consortium (CACSC) and Southern Cameroons National Council (SCNC), two influential activist groups, responded with a series of strikes and "Operation Ghost Town" – an instruction to all supporters to stay at home as a mode of nonviolent resistance.
On January 17, the government banned both groups, holding them responsible for the protests. The CACSC President Nkongho Felix Agbor-Balla and Secretary General Dr. Fontem Neba were arrested on charges relating to terrorism, according to state media.
"The groups…are declared null and void for their purpose and activities which are contrary to the Constitution and liable to jeopardize the security of the State, territorial unity and national integration," the Ministry of Territorial Administration announced.
This crackdown was answered with more protests in anglophone regions, and Internet service was promptly suspended there.
Amnesty International and the African Bar Association issued statements of condemnation for the government's actions.
Backlash
The shutdown appears to have emboldened rather than crushed dissent.
The hashtag #BringBackOurInternet spread rapidly in Cameroon and beyond, with Edward Snowden among the high-profile supporters. Many users shared menacing text messages from the Cameroon government warning them of imprisonment for sharing misinformation.
The campaign also attracted the support of campaign groups such as Internet sans Frontieres (ISF), which has been seeking to quantify the economic damage.
"We receive daily reports from people who cannot receive money from abroad," says Julie Owono, head of the Africa desk at ISF. "There are transactions that are blocked, customer orders that cannot go through…and if money does not transfer someone has to pay charges."
The group conservatively estimates that businesses in the anglophone provinces have lost over $700,000 during the shutdown so far.
Disturbing trend
This episode highlights a disturbing trend of governments using Internet shutdowns for political purposes, according to Owono.
"This is unfortunately not a surprise as two neighboring countries – Chad and Gabon – both resorted to this radical solution to suppress opposition during elections," she says.
Egypt, Sudan, Niger, and the Democratic Republic of Congo have also cut access in recent years.
ISF has sent an open letter to the Cameroon government demanding the restoration of Internet services. The letter cites a recent United Nations Human Rights Council (UNHRC) resolution against shutdowns, and stresses the economic damage being caused.
In a high-profile speech last year, President Paul Biya hailed the "Android generation" and Cameroon's rising digital economy.
"I urge the entire nation to resolutely mobilize and support the numerous initiatives undertaken by our youths in this area," he said. "It is through such collective commitment that we will be able to rise to the challenge of digital transition."
But while the anglophone provinces remains offline, this vision of a united and prosperous future is in jeopardy.