Walking barefoot, armed with knives, sticks and a few stolen guns, dozens of young men march through the muddy fields of Myanmar's Rakhine State.
"We will not rest, these are our fighters, come and join us," one says on the video uploaded to YouTube.
Together, they represent the first armed insurgency to emerge from the Muslim minority Rohingya in decades.
They call themselves Harakat al-Yaqeen, or "Faith Movement," and they have claimed responsibility for a deadly attack on Myanmar border posts in October, which killed nine police officers.
Is genocide unfolding in Myanmar?
Fighting back
In his first ever interview with the media, the group's leader, Atah Ullah, says they decided to fight back against the government after 70 years of repression.
"We, the vulnerable and persecuted people, have asked the international community for protection against the atrocities by the government of Myanmar, but the international community turned its back on us," Atah Ullah says in an exclusive interview obtained by CNN.
"Finally, we cannot take it anymore."
Who are the Rohingya?
The Rohingya are a stateless Muslim minority in Myanmar's Rakhine state thought to number about one million people
Myanmar does not recognize them as citizens or one of the 135 recognized ethnic groups living in the country
Much of this is rooted in their heritage in East Bengal, now called Bangladesh
Though many Rohingya have only known life in Myanmar, they are widely viewed as intruders from across the border
According to Human Rights Watch, laws discriminate against the Rohingya, infringing on their freedom of movement, education, and employment
They are denied land and property rights and ownership, and land on which they live can be taken away at any given time
An estimated one million Muslim Rohingyas live in Rakhine State, where they are a persecuted, stateless ethnic minority in Buddhist-majority Myanmar. The government of Myanmar, also known as Burma, does not officially recognize the Rohingya, regarding them as illegal immigrants from neighboring Bangladesh, despite many being able to trace their roots back in Myanmar for generations.
"In the October 9th attack, we did not have any sophisticated weapons," Atah Ullah says. "We attacked them using our machetes, swords, and knives, and we seized their weapons to use against them."
In response, the Myanmar military launched what it calls "clearance operations" in the Rohingya villages to find the suspects involved in the attack, and to retrieve their weapons.
In early November, the military deployed helicopters which opened fire during clashes with Rohingya militants.
State media reports that in the process, more than 100 Rohingyas described as "violent attackers" have been killed, although activists tell CNN the number is far higher. Nearly 500 Rohingyas have also been arrested.
To escape the violence, at least 69,000 people have fled across the border to Bangladesh, the latest figures from the UN's Office for the Coordination of Humanitarian Affairs (UNOCHA) show.
Tales of misery
Many of the refugees arriving in Bangladesh, including several who spoke to CNN, have reported mass killings, rapes and burning of villages by government forces.
"The military took away my son," says Hamid Hossain, a refugee in Teknaf, Bangladesh. "The military took away 89 boys from our villages."
"The military has been torturing us since 2012. They are killing Rohingyas and raping women," he says.
CNN cannot independently verify the accounts from inside Rakhine State, because access to journalists and aid agencies is heavily restricted.
Amnesty International says the government's actions "may amount to crimes against humanity."
Yanghee Lee, the UN Special Rapporteur on Human Rights, visited Myanmar last month and said she saw with her "own eyes" the burnt houses in Rakhine State.
In a news conference in Yangon at the end of the trip, she concluded that if the population felt like the new government was "addressing their situation," then "extreme elements would not have easily been able to hijack their cause."
She added that the government's response seems to be to "defend, dismiss and deny," and is "counterproductive."
In a 4,000-word written statement to CNN, Myanmar government spokesperson Aye Aye Soe denies human rights abuses.
"What is happening in Rakhine now is only security clearance sweeps being carried out with restraint and within rules and regulations against armed perpetrators," Aye Aye Soe says. "The instigators are using this situation to portray a disproportionate picture of 'genocide' and 'ethnic cleansing.'"
Myanmar Police filmed beating Rohingya
'Immediate action'
The government has acknowledged wrongdoing in one incident, after a video emerged of a Myanmar police officer kicking a Rohingya man in the face.
"The government took immediate action against the responsible police personnel for acting on emotion and against rules and regulation," Aye Aye Soe says.
Atah Ullah says the video is one of many examples of police brutality during the recent government crackdown.
"We are not embedded in Rohingya communities," he says. "But the government is using false propaganda to commit atrocities."
Atah Ullah insists that al-Yaqeen are not "terrorists," saying they will never attack civilians.
"Atrocity, violence, and injustice against any innocent civilians is not in the principles or policy of al-Yaqeen," he says. "It is not in our moral values to cause harm to innocent Burmese Buddhists or Rakhine people."
Their only target, Ullah says, are government forces.
"We will continue to attack the oppressor, the government, until our citizenship is reinstated," Ullah says. "We appeal to the international community to help us in reclaiming our rights, so that we will not have to resort to bloodshed, but until we get all our basic rights back we will continue to fight."
Aye Aye Soe says there is no excuse for the group's actions.
"There should not be any justification for taking up arms against peaceful legitimate governments and the people of the country," she says.
"If they are allowed to justify the killing of police personnel … then the sovereign government of the country has a more legitimate right and duty to protect the people, enforce law and order, maintain peace and stability and rule of law."
Atah Ullah says he feels no remorse for the fallout of the October 9 attack, saying that the Rohingya people support them because "it is their hope and aspiration for reclaiming all their rights."
'Not a good move'
CNN visited the Rohingya refugee camps in Bangladesh, to find out how those who have borne the brunt of the violence feel about al-Yaqeen.
"The leader is trying to give freedom to the oppressed Rohingyas in Rakhine State," says Amir Hossain, a refugee in Kutupalong Camp, Cox's Bazar.
"But they didn't have enough arms to fight against the military. That's why they could not fight back."
Pormina Begum, a refugee in the Leda refugee camp in Teknaf, supports al-Yaqeen.
"They (al-Yaqeen) are working to save our dignity," Begum says. "Maybe they have failed initially. But they will be successful in the future."
Hamid Hossain, another refugee in Teknaf, thinks the attack was a bad idea.
"I think it was not a good move by al-Yaqeen," Hossain tells CNN. "Their attack on border guards was a premature step."
But, he says, the conflict has at least raised attention to their plight.
"Had they not been attacked the Myanmar police, no one would talk about the suffering of Rohingyas," Hossain says. "Now everyone knows about the crisis."
Another refugee, who did not want to be identified, said many Rohingyas are scared to disagree with al-Yaqeen for fear of reprisals.
"We can't debate with al-Yaqeen members. If someone does, they think he is taking the side of army," he says. "They might even kill people if anyone is suspected of supporting the government."
"The sad situation is that the community lives in fear of both the security forces and the violent extremists," Myanmar government spokesperson Aye Aye Soe says.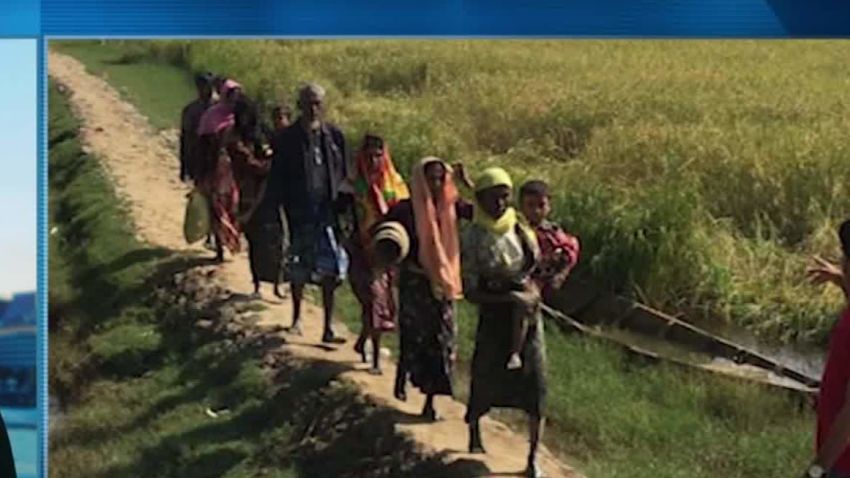 Are Myanmar soldiers raping Muslim women?
'Game changer'
As the humanitarian crisis grows on both sides of the border, there is growing concern among security analysts about the future of the nascent rebel movement.
In a lengthy report released in December, security experts at the International Crisis Group (ICG) described al-Yaqeen as a "game-changer" for Myanmar.
"The threat is not because of their military strength, it's because of what they represent, the potential of the country facing a very well organized, violent jihadi movement," Richard Horsey, the ICG's Myanmar Consultant tells CNN.
"It's clear that's not the case so far, but it seems that is what the military and government appear to be worried about."
Atah Ullah insists al-Yaqeen does not receive foreign funding and will never align with terror groups such as ISIS, but Horsey says the group "could in the future potentially be taken advantage of by global jihadist activists."
The Rohingyas have "never been a radicalized population," with the majority seeing violence as "counterproductive," Horsey says. "The fact that more people are now embracing violence reflects deep policy failures over many years rather than any sort of inevitability."
16-month-old dies fleeing Myanmar violence
Looking to The Lady
The blame for these apparent failures is partly being directed at Myanmar State Counsellor Aung San Suu Kyi, whose National League for Democracy party swept to power in a landslide victory in 2015.
The Nobel Peace Prize winner has been criticized for not doing enough to protect the Rohingyas. In response she has asked for more "time and space" to resolve the problems.
The government says Aung San Suu Kyi's creation of the Kofi Annan-led Rakhine Commission in September, and efforts to begin a new process to give citizenship rights to the Rohingya people, shows its intention to resolve the problems in the region.
"The State Counsellor has instructed the process to continue in areas where there's no opposition and to issue citizenship cards as soon as possible to the Muslims," Aye Aye Soe says. "These actions are a testimony of the government's seriousness to tackle this issue."
Despite these assurances, there is still huge disappointment in the new administration among Rohingyas.
Under Myanmar's constitution, which was written and approved by the military junta in 2008, Aung San Suu Kyi and her elected government share authority with top generals, who maintain control over large parts of security policy.
Aye Aye Soe insists that the government has the "full support" of the military.
But Atah Ullah says this power structure means their dreams of change were unrealistic.
"We had hopes that (Suu Kyi) would also justly stand up for the rights of the Rohingya people," he says.
"Now it turns out that the Myanmar military has completely controlled her. That's why we no longer have confidence in her."
"Whatever respect and love we had for her, that's all gone."
CNN's Manny Maung and Aung Naing Soe contributed reporting.