Story highlights
El-Hadary oldest player in AFCON history
Goalkeeper aiming for record fifth title
Egypt plays Cameroon in Sunday's final
Some of the world's best footballers have graced the Africa Cup of Nations, but this year's tournament has produced an unlikely hero.
At the age of 44, Essam El-Hadary became not only the oldest player to take part in the continent's soccer showpiece, but the oldest to compete at any major international championship.
The Egypt goalkeeper now has the chance to win a record fifth AFCON title, following his heroics in Wednesday's semifinal penalty shootout.
Should Egypt beat Cameroon in Sunday's final, El-Hadary will claim sole ownership of the record he shares with former teammate Ahmed Hassan.
"If we win the title, then the record will pass to me and I will be grateful," he told reporters this week.
"But I've never worried about my personal records. The country comes first, then the record book."
READ: Essam El-Hadary breaks tournament record
READ: Egypt through to final after El-Hadary's heroics
Super-sub
When the tournament started in Gabon last month, El-Hadary was on the substitutes' bench for Egypt's first appearance at an AFCON since winning the 2010 title.
Days after celebrating his 44th birthday, the player – who former Chelsea and Ivory Coast great Didier Drogba once described as his finest opponent – replaced injured teammate Ahmed El-Shenawy after just 25 minutes in the game against Mali.
El-Hadary kept a clean sheet in the 0-0 draw and didn't concede a goal until the semifinal – the first put past him at the tournament since 2010, spanning nearly 11 hours of action.
The 150 caps he has accumulated since his debut more than two decades ago make him Egypt's most capped goalkeeper.
Only Italy's Gianluigi Buffon, Spain's Iker Casillas and Mohamed Al-Deayea of Saudi Arabia have played more international games between the sticks.
Regardless of the outcome of Sunday's final, he is already widely regarded as one of Africa's great goalkeepers.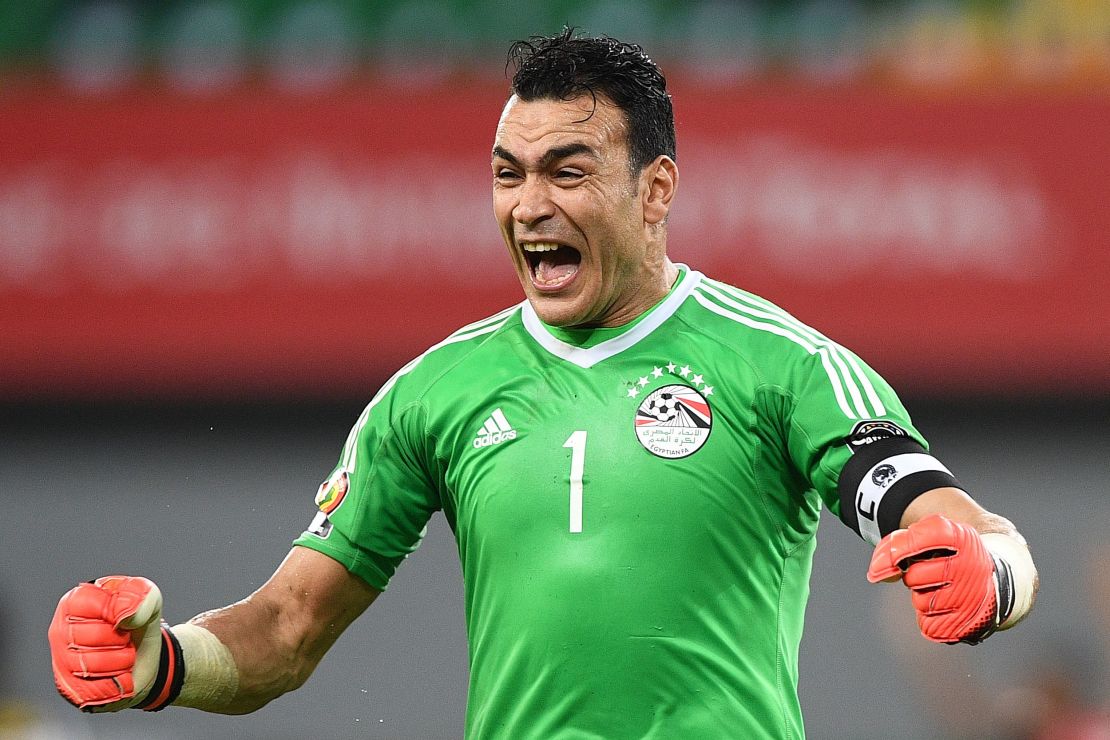 'The country comes first'
As seven-time champion Egypt progressed in Gabon, its backup goalkeeper became a vital cog. When he saved two penalties in the semifinal shootout against Burkina Faso, he further enhanced his status as a national hero.
El-Hadary – part of Egypt's winning sides in 1998, 2006, 2008 and 2010 – has attributed his longevity to hard work and good genes.
He certainly showed no signs of age or fatigue at the end of the semifinal as he sprinted towards the touchline to celebrate with teammates, one of whom was just one when El-Hadary made his international debut in 1996.
Indeed, he has a daughter almost the same age as his youngest teammate, 20-year-old winger Ramadan Sobhi.
Who knows how the goalkeeper will react should the Pharaohs, back in the tournament after failing to qualify for three successive tournaments, beat Cameroon to win a record-extending eighth title.
He is a man who is accustomed to collecting medals, having won Egypt's league title eight times and the domestic cup and African Champions League on four occasions each.
Will retirement beckon for the veteran once this tournament concludes? Certainly not, he said.
"I've got more objectives beyond playing in my seventh Cup of Nations," El-Hadary told football's governing body FIFA this week.
"I want to play at the 2018 World Cup too. We have the chance to qualify for the biggest competition of them all for the first time since 1990. I want to be a part of that and wear my country's jersey there."
Who will win the final? Have your say on our Facebook page
'We don't feel the age gap'
El-Hadary's desire to continue performing acrobatic saves between the sticks beyond his 45th birthday means his largely inexperienced teammates will continue to be entertained by tales which have also inspired this tournament.
"I tell them the stories of our past success, on how we did it, how we won," he told reporters.
"I find they like to hear the stories. It gives them a kind of motivation, but this team is so determined they don't need me to motivate them.
"We all have a loyalty to our country, we want to serve our country. It's in our nature. We have all vowed to make it happen so I treat them all as an elder brother would.
"We are a team and I'm always hanging around with the others. It's my job to give them advice but as my job as captain of the team, not because I'm a much older person. I don't make them feel the gap in age and they don't either."
An Egypt victory will be significant not only for El-Hadary, but for his country too because this is the first time the Pharaohs have competed at AFCON since 2011's Arab Spring swept across the Middle East and North Africa.
Visit cnn.com/football for more news and videos
The national team suffered when the 2011-12 and 2012-13 domestic seasons were canceled following the Port Said stadium disaster and the 2013 coup d'etat.
Their return to the top is as remarkable their goalkeeper's longevity.