Story highlights
Lady Gaga to perform Super Bowl halftime show
Activist supported Hillary Clinton in election
Has been publicly critical of Donald Trump
Considering she will command one of the biggest TV audiences of the year, speculation is brewing on whether Lady Gaga will use her performance at the Super Bowl halftime show to call out President Donald Trump.
The 30-year-old pop star will take center stage for 13-minutes during Sunday's showdown between the New England Patriots and Atlanta Falcons, and bookmakers are not convinced she won't use it to make a statement against the 45th President.
Lady Gaga, who stumped for Hillary Clinton in last year's election, is as politically active as they come in the pop world. The New Yorker, born Stefani Germanotta, is a vocal supporter of gay rights, and launched an anti-bullying foundation in 2012.
Days before the election, she lashed out at Melania Trump in a tweet, calling the president "one of the most notorious bullies we have ever witnessed."
Both the NFL and the singer's representatives have denied reports that the league has contractually prohibited Lady Gaga from making a political statement at halftime. "This is unsourced nonsense from people trying to stir up controversy where there is none," NFL spokesperson Natalie Ravitz told CNN in January.
Nevertheless, oddsmakers are only narrowly predicting that controversy will be skirted on Sunday.
Betting site Sports Interaction is offering a payout of more than double – a return of $2.10 on a winning $1 bet – that the singer will mention either the word "president" or "Trump" during her performance, and $1.67 on a $1 bet that she will not.
Other wagers include whether she will wear a pink hat in spirit with the recent global Women's March (offering a higher payout of $3.25), whether she will wear an "I voted Hillary" T-shirt ($26), whether her hair will be a color other than blonde ($3.4) and finally whether she will show up on stage stark naked (a long shot at $101).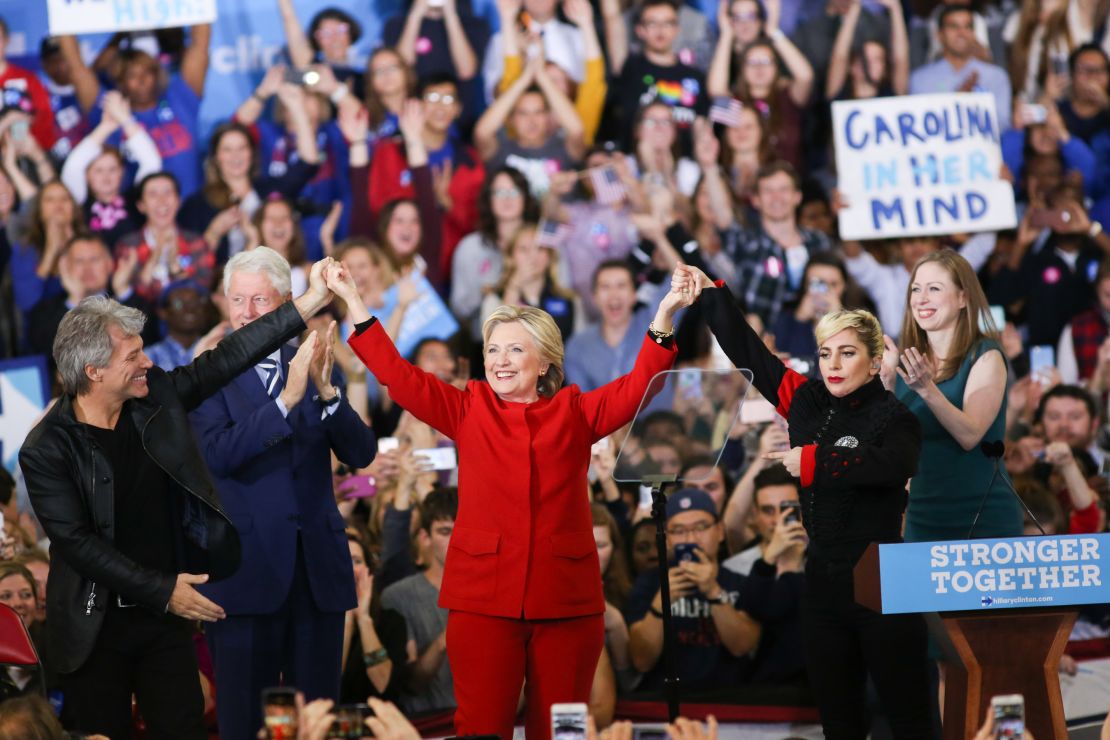 For the most part, the NFL halftime show has avoided controversy, save for Janet Jackson's notorious "wardrobe malfunction" in 2004, and more recently M.I.A's offensive hand gesture to the cameras during Madonna's performance in 2012.
The NFL reportedly sued the Sri Lankan rapper for over $16 million for the offense, and settled out of court for an undisclosed figure.
Lady Gaga will likely want to avoid a legal battle with one of the most powerful sports league in the world – especially during a performance for which she is not even getting paid. But it remains to be seen how she weighs that up against the opportunity to cement her legacy as an activist in the wake of a controversial first two weeks in charge for the new president.
For her part, the singer is not revealing details about her performance, but did deny a rumor that Beyonce, who just announced her pregnancy with twins, would join her.
"The only statements that I'll be making during the halftime show are the ones that I've been consistently making throughout my career," she said at her press conference on Thursday.
"I believe in a passion for inclusion. I believe in the spirit of equality, and that the spirit of this country is one of love and compassion and kindness. My performance will uphold those philosophies."
"I don't know if I will succeed in unifying America," she added. "You'll have to ask America when it's over."
Last year's Super Bowl between the Denver Broncos and Carolina Panthers drew nearly 112 million viewers in the US, the third most watched broadcast in the country's history. It followed a record-breaking 2015 Super Bowl, which also featured the New England Patriots in their win over the Seattle Seahawks, and drew over 114 million.