Story highlights
Belichick and Brady enter their 7th Super Bowl together, the most for any head coach and starting quarterback duo
They are finishing their 17th season together
The greatest NFL head coach-quarterback combination began 17 years ago. But before Bill Belichick and Tom Brady could get started, Brady was going to need some directions.
Belichick was hired as the New England Patriots head coach on January 27, 2000. Shortly after, on April 16 – which happens to be Belichick's birthday – the Patriots selected Brady 199th overall in the 2000 NFL Draft.
"When they picked me, I had to look on a map to see where the New England Patriots played, because I had never been this far east," Brady, a California native, said. "But it was a magical day in my life, and I know for Patriot fans having Coach Belichick come to this team was the best thing for this franchise."
The rest, at least for Patriots fans, is glorious history. Sunday will be Belichick and Brady's seventh appearance together in the Super Bowl, a record for both a head coach and player.
Should they win their fifth Super Bowl together, Belichick and Brady will surpass another legendary head coach-quarterback duo: Pittsburgh Steelers head coach Chuck Noll and quarterback Terry Bradshaw, who have four.
"I have been very fortunate to coach Tom," Belichick said. "Tom is a tremendous player. He is a tremendous competitor. He prepares extremely hard. He comes to work every day and gives his very best effort. I am fortunate to have the opportunity to coach Tom for these years. … I have a lot of respect for him. There is a mutual respect there."
Belichick, 64, has coached in the NFL for 42 years. Brady turns 40 later this year and is the longest tenured Patriots player, tied for the most by an NFL quarterback with John Brodie (San Francisco) and Dan Marino (Miami).
But this partnership – of a kind that may never be seen again – can't last forever. How much longer can the pair keep going? And who is going to retire first?
"That's a good question," Brady said. "I don't know what (Belichick) plans on doing. You know, he's the best. I've been very lucky to play for him."
No signs of slowing down for Brady
What a run it's been.
Dating to the 2009 season, the Patriots have won eight straight division titles, moving them past the Los Angeles Rams (who had seven from 1973-1979) for the most consecutive winning seasons since the 1970 AFL-NFL merger.
The Patriots have 16 straight winning seasons (though Brady missed the 2008 season with a knee injury) to tie the San Francisco 49ers (1983-1998) and the Dallas Cowboys (1970-1985) for the most consecutive wining seasons since the merger.
The Patriots also have played in the last six AFC Championship Games, the longest streak in the league.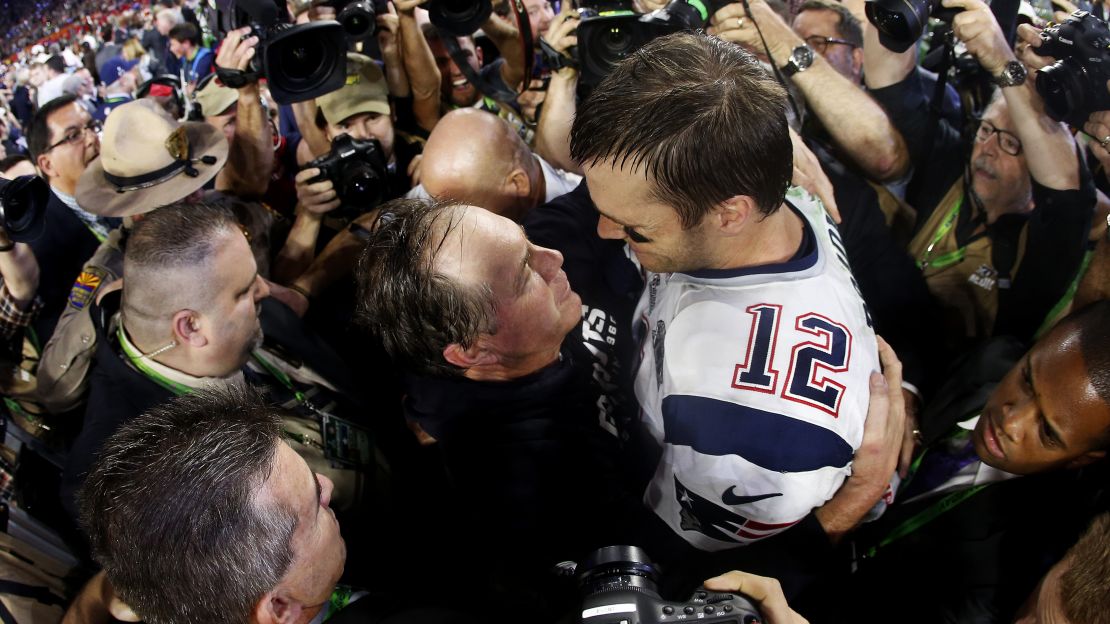 The constant on the field has been Brady. He is fourth in NFL history with 61,582 passing yards and is the all-time leader for the most wins overall by an NFL quarterback, with 207 (183 in the regular season and 24 in the postseason).
"He has had a tremendous career," Belichick said of Brady. "He has had a great year this year. I think Tom's record and his performance speaks for itself. We have talked about it many times. There are a lot of superlatives. He deserves all of them."
And his quarterback has no intention of stopping. Brady – who is renowned for his commitment level, particularly his diet – is still playing at a high level, with plenty of zip on his passes. After his four-game suspension this season, he threw for 28 touchdowns to just two interceptions in the regular season.
When asked how long he could play, Brady responded: "I think as long as I'm willing to make the commitment to taking good care of myself. I got a good routine. It has gotten better as the years have gone on. …To be an older player and have the mental experience and then to also feel great physically, I think it's a great benefit for me. Hopefully I can keep going. I don't see any end in sight."
A special Super Bowl for Belichick
Belichick, meanwhile, has been doing this for so long – "It actually beats working," he said – both his sons are coaching with him now, making this Super Bowl a family affair. Steve Belichick is the Patriots' safeties coach. He previously spent four years as a coaching assistant, including when the Patriots won Super Bowl XLIX. Brian Belichick is a scouting assistant who was hired before the 2016 NFL season.
Belichick said there "will certainly be a time to reflect" on reaching the Super Bowl for the 10th time in his career, and he hasn't thought about retirement. Right now, he says he's just trying to put all his energy into preparing his team for the Atlanta Falcons.
"At some point I'll take a look back," Belichick said. "It's certainly an honor to be in this game. It's a privilege to represent the AFC in this championship game and to have done it that many times. It's special this year because Brian and Steven are on this staff as well. It's special to be here, there's no question about that."
As for his legacy?
"I really don't think about any of that," he said.
As long as Belichick has the command and trust of his players, he can do this as long as he wants. And Brady will stay with him for as long as he can.
"Coach, he commits his life to coaching football and to coaching this team," Brady said. "I commit my life to playing football for this team and playing quarterback. … It is not a sacrifice, because I love to do it. … Playing football is so important in my life, and I love to do it.
"I know Coach loves to coach, and I love to play, and I love playing for him."