Story highlights
Paper alleged corruption involving Fillon's wife and children
Fillon denies the allegations
French presidential hopeful Francois Fillon has rejected allegations of corruption that have dogged his campaign and said he would fight on.
At a news conference in Paris, Fillon said he had been attacked with "incredible violence which has never been seen in the Fifth Republic."
The 62-year-old conservative candidate has come under increasing pressure over the past week. The investigative newspaper Le Canard Enchainé published new allegations that Fillon's wife, Penelope, and two of his adult children were paid hundreds of thousands of euros for work they did not do.
Fillon, chosen in November as the Republican party candidate for the presidency, told a news conference Monday that he had "nothing to hide". He promised to publish a document online showing payments to his wife.
"I am the only candidate to put France right," he said. "Maybe the violence of the attacks has strengthened my determination."
READ: Why investors are very afraid of Marine Le Pen
What's the investigation about?
Le Canard Enchainé has claimed Penelope Fillon and two of the couple's adult children were given no-show jobs that earned them nearly 1 million euros ($1.08 million).
French prosecutors have already begun an investigation and questioned the couple last week. Both have denied the allegations and no one has been charged.
Last Tuesday, police raided France's lower house of parliament as part of the financial prosecutor's preliminary inquiry into potential misuse of public funds.
Such raids are highly unusual and require the permission of the parliament's president. It's unclear where police searched in the building.
Investigators said they were looking for evidence that Penelope Fillon had worked in exchange for her salary.
And the scope of the investigation could be widened, a source close to the inquiry told CNN.
Investigators are currently probing Penelope Fillon's work going back to 1998 but could push the inquiry back to 1990, the source said. They could also decide to look into the work of the children.
What has Fillon said?
In his speech, Fillon stated his wife Penelope's salary of over 3,500 euros a month was "perfectly justified."
He insisted that Penelope worked for 15 years, as his "deputy", carrying out several roles, including managing his schedule and representing him at cultural events.
Fillon also said that his daughter and son were also employed in similar positions for 15 months and six months respectively.
While adding that employing his family was not illegal, he did acknowledge that it was an "error of judgment" and offered an apology to the French people.
Asked why it took him so long to apologize, he added: "This accusation hit me like thunder. It took me some time to react because the ceiling fell down on me."
Last Monday, investigators questioned the couple separately about the case.
François Fillon initially dismissed the allegations as baseless and recently told reporters that "the stink bomb season has started."
Penelope Fillon's attorney, Antonin Levy, told CNN last Tuesday that "the fact that Penelope Fillon's work is real was proven to the investigators."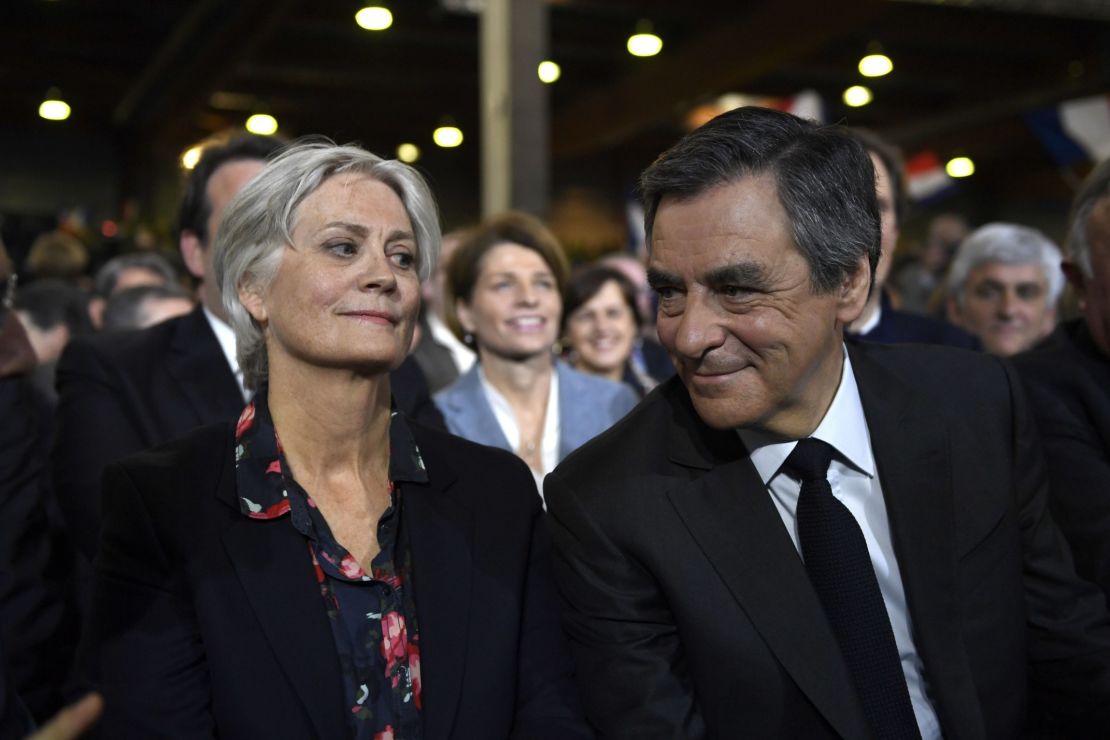 "Every detail of her work had been provided," Levy said. "The judiciary now has to acknowledge that this case is empty."
New allegations published last Wednesday suggest that Penelope Fillon was paid 900,000 euros (about $970,000) – not only as a parliamentary aide but also as a literary consultant for a publication owned by a family friend.
The paper also reported that two of the Fillon children were employed as parliamentary assistants, together earning 84,000 euros (about $90,000).
The paper reports it could find no evidence that any work had been carried out.
How big is the Impact?
The accusations dealt a huge a blow to Fillon, who was already facing a fragmented political field in a bitter presidential campaign.
Marine Le Pen of the far-right National Front and independent candidate Emmanuel Macron are both ahead of him in several of the latest surveys.
The first round of the election will be held on April 23, with a runoff on May 7 if no candidate gets more than 50% of the vote.
Lindsay Isaacs contributed to this report.