Story highlights
NEW: 26 arrested in protests on Wednesday night
Victim calls for calm after visit from French President
Violence has erupted on the edge of Paris and spread to at least five nearby towns amid a public outcry over the alleged rape of a young black man by police.
Several nights of clashes have broken out after four police officers purportedly forced a 22-year-old man to the ground, beat him, and anally raped him with a baton at a housing estate in the northern Paris suburb of Aulnay-sous-Bois.
The officers were suspended pending an inquiry into accusations that they used excessive force while arresting the young man, identified only as Théo, during an identity check last week.
All four officers involved in the February 2 incident have been charged with aggravated assault, while one was also charged with rape, according to the Interior Ministry.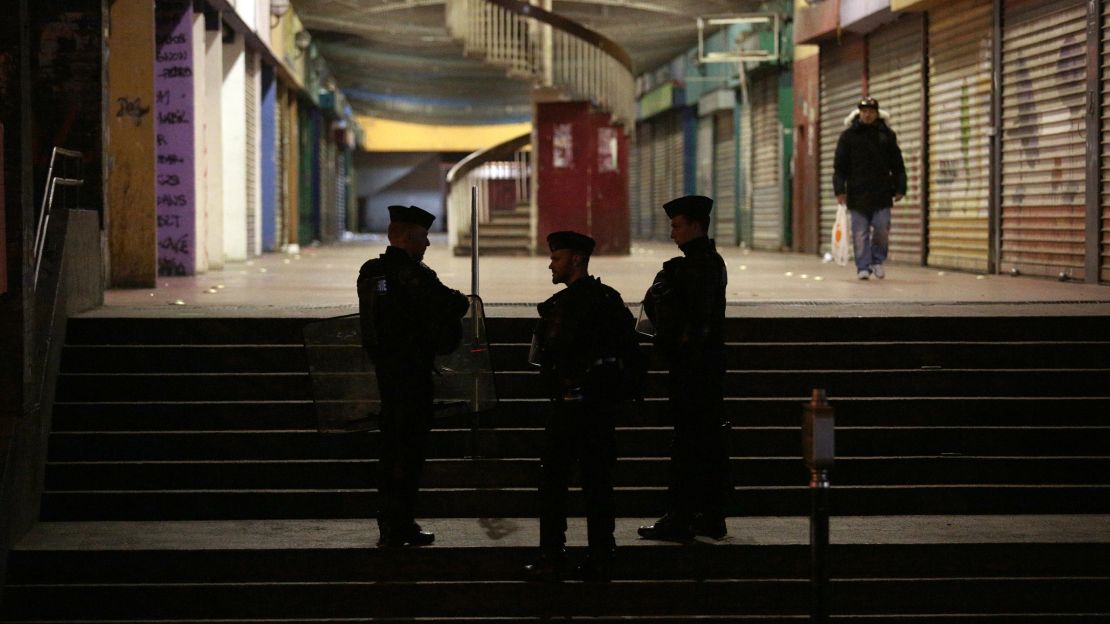 Victim describes the incident
Théo said that he was walking with his headphones on when he was approached by the police.
"When I realized how violent their tone was, I said to myself 'they seem pretty serious.' So I stood against the wall, and then, one of the policemen beat me," Théo told France's BFM television channel on Tuesday.
"I saw one of them take his baton and stick it into my bum. As soon as he did that, I fell on my belly. I felt weak. It was as if my body had given up on me. Then, they handcuffed me."
Théo appealed for calm, telling BFM he had faith in the justice system.
"I call to calm my city because I love it very much," Théo said from his hospital bed. "Violence is not the way to support me. Justice will do its job."
'Justice for Théo'
The incident has roiled the working class Paris suburb where Théo was allegedly assaulted, igniting racial tensions.
Another night of violence gripped Seine-Saint-Denis, a region northeast of Paris with a large migrant population, on Wednesday. Twenty-six people were arrested, a spokesperson for the local prefecture told CNN. A few miles away, near Paris' Ménilmontant metro station, several hundred demonstrators gathered to protest police violence.
Authorities say 17 people were arrested in Aulnay-sous-Bois on Tuesday night, after protesters torched garbage bins and vehicles. Videos shared on social media showed clashes between riot police and youths as fires burned in the streets. Police fired warning shots into the air to disperse the crowd, according to French reports.
On Monday, hundreds of peaceful protesters marched in the same northern suburb. Demonstrators carried banners reading "Justice for Theo" past a nearby building that had "police, rapists" written on it in graffiti.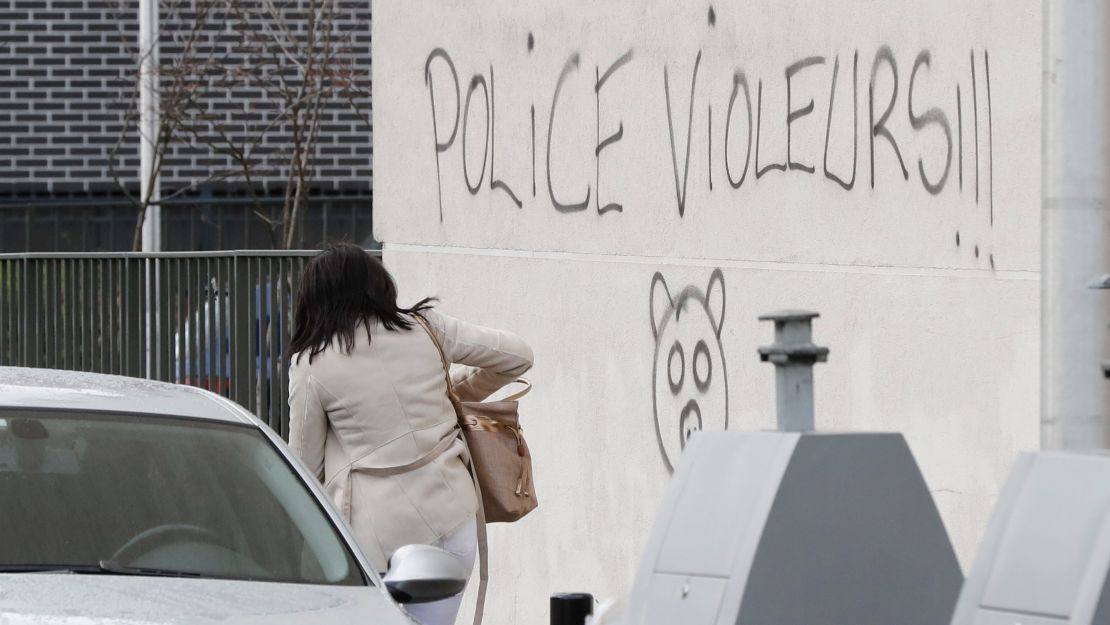 People shared images of the young man with the hashtag #JusticePourTheo on social media, and a photograph of Théo with bruises under his eyes and a bandage on his cheek was also circulating online.
Bruno Beschizza, the mayor of Aulnay-sous-Bois, released a statement about the violence on Facebook, saying that he was not worried about a repeat of riots in 2005, which were sparked by the death of two teenagers while being chased by police in the nearby neighborhood of Clichy-sous-Bois.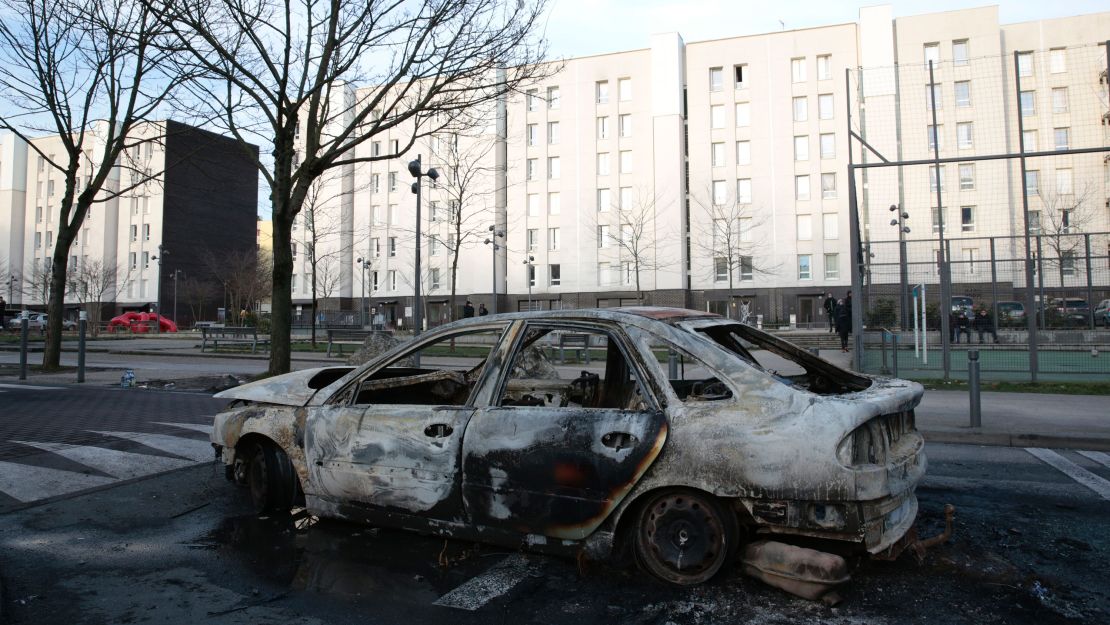 "Obviously we are angry," the Mayor's office said in a statement on Wednesday. "Sometimes the anger was expressed peacefully, sometimes not."
Beschizza, who had called for a strong reaction from the government, said President Francois Hollande's visit to Aulnay-sous-Bois on Tuesday showed that the state supported the community.
Hollande visited Théo at the suburban hospital where he has been treated since the incident. In a photo shared by Hollande on Twitter, the President can be seen standing at Théo's bedside. In the tweet, Hollande said Théo "reacted with dignity" and urged him to trust in the justice system.
Benoit Hamon, the Socialist presidential candidate, has demanded a diligent and transparent investigation. In a tweet he stated that police "represent the Republic that protects" and said that "trust must urgently be restored."
Théo: A fun-loving soccer fanatic
Friends have described Théo as a fun-loving person who never spoke out of hate.
"He is a sociable person, who loves to laugh with everyone," Hicham, who has played soccer with Théo, told CNN. Théo, who plays at the Institute of Private Football in Aulnay-sous-Bois, is a soccer fanatic.
That athleticism runs in the family. Théo's sister, Aurélie, is a professional handball player on Le Havre AC, a French women's club.
In an interview with BFM on Tuesday, Aurélie said her brother is still in critical condition. It is still unclear what the consequences of the attack may be, she says, but doctors are talking about incontinence.
CNN's Margaux Deygas contributed to this report from Paris.