Story highlights
It is the farthest north the Russian spy ship has ventured
The vessel is outfitted with a variety of high-tech spying equipment
A Russian spy ship sits 30 miles off the coast of Connecticut, a US defense official told CNN, while an armed Russian warplane recently carried out a "mock attack" against a US ship.
This is the farthest north the Russian spy vessel has ever ventured, according to US defense official.
CNN reported that the Leonov, which conducted similar patrols in 2014 and 2015, was off the coast of Delaware Wednesday, but typically it only travels as far as Virginia.
The ship is based with Russia's northern fleet on the North Sea but had stopped over in Cuba before conducting its patrol along the Atlantic Coast and is expected to return there following its latest mission.
The vessel is outfitted with a variety of high-tech spying equipment and is designed to intercept signals intelligence. The official said that the US Navy is "keeping a close eye on it."
The Leonov is a Vishnya-class spy ship, as is a Russian vessel that trailed the US ship that encountered close-flying Russian aircraft in the Black Sea on Friday. 
The USS Porter was sailing in the Black Sea when it had three encounters with Russian aircraft Friday. They were deemed unsafe and unprofessional because of how close the Russian planes flew to the American destroyer, according to a senior defense official. The Pentagon later released pictures of the encounter.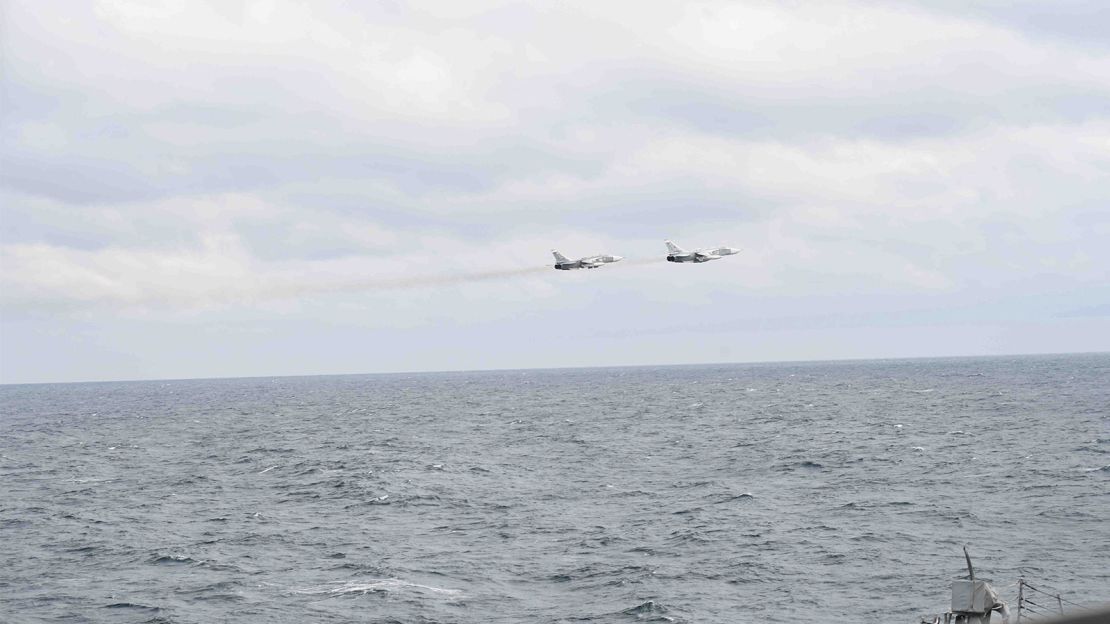 Another defense official said that one of the planes, an armed Su-24 attack jet, flew within 200 yards of the Porter, traveling at a speed of 500 knots (about 570 mph) and flying 300 feet above the water.
The Navy said the aircraft did not cross the deck of the Porter but assessed that the Su-24 was carrying out a "mock attack" on the American ship, according to the official.
Two additional Russian aircraft, an IL-38 maritime patrol plane and another Su-24 jet, also flew nearby. The Porter's crew attempted to radio the Russian planes but received no response.
Moscow denied Tuesday that its aircraft had made any unsafe moves. Russian Defense Ministry spokesman Igor Konashenkov told Russian state media, "There has been no incident on February 10 involving flybys of Russian military planes in the Black Sea next to USS Porter."
The development coincided with reports that Russia had deployed a land-based intermediate range cruise missile, a move that one official labeled a violation of the 1987 arms control treaty.