Story highlights
Hargreaves retired from rugby age 30
Suffered five concussions in two years
Describes it as "being in a fog"
Governing bodies tackle concussion
Alistair Hargreaves' rugby career ended with a bang.
Not the "packed stadium, trophy hoisted in the air" sort of bang – that had already happened. This one was more ominous.
When the towering South African accidentally clashed heads with a teammate during a training session last year, it was the fifth concussion he had suffered in two years. For the sake of his long-term health, Hargreaves took the decision to retire from the game aged 30.
On the touchline of a quiet, North London sports pitch, it was hardly the ending any athlete dreams of.
"It was a strange one because you don't see your career ending on the side of a field on a Monday afternoon," Hargreaves, who won four caps for the Springboks before joining English Premiership side Saracens, told CNN.
"A pass came and we were both looking at the ball, and just bang – a clash of heads, a bit of dizziness.
"I got home that evening and was straight out for the count at about five o'clock. I fell asleep until 10 and woke up with a raging headache, and was in a dark room for the whole weekend. The writing was on the wall."
READ: Crippled by ALS, Springboks legend 'broke the mold'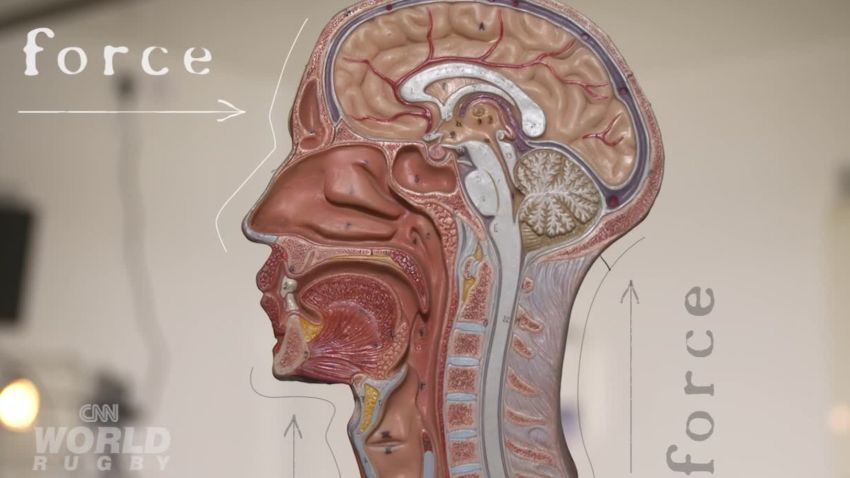 'Like being in a fog'
Concussion is a brain injury that results from force either being directly applied to the brain, or transmitted up to the brain as a whiplash effect. Doctors believe this causes nerve cells to become stretched, releasing chemicals that can alter, among other things, consciousness, memory, mood, or sleep.
In rugby terms, it can result from a big tackle, a heavy fall to the ground, or simply – as Hargreaves found – an accidental blow to the head. The symptoms vary from case to case, something that the former Saracens captain readily acknowledges.
"Sometimes it's very obvious – you're dizzy and you've got a headache for three or four days; you feel like you've got vertigo every time you get up off the couch," he says.
"For me there's a lot of things that occurred, like when I was defending I felt that my peripheral vision just wasn't there. Guys would just be running past me.
"Other times it's just a lingering feeling that you're a little bit off, 5% off. Like being in a fog. That sounds ridiculous, but you do feel that something's not quite right."
Hargreaves: 'Concussion ended my career'
Despite his premature retirement, Hargreaves has few complaints about his career. Having won two Premiership titles and the European Champions Cup with Saracens, he admits that he's "incredibly privileged to have done what I've done." He now runs a craft beer business – Wolfpack lager – alongside former teammate Chris Wyles.
His concussion story is by no means unusual. Like Hargreaves, Wales international George North suffered his fifth concussion in two years earlier this season. In a decision that has been criticized by leading doctors, the winger was allowed to play on despite being knocked unconscious – reason to remove a player permanently from the game.
All Blacks great Richie McCaw, who suffered six bouts of concussion, has admitted that he was "lucky" to end his career unscathed from long-term damage.
Rugby players aren't the only athletes at risk. In the US, former NFL players suffering from the effects of concussion later in their lives are now eligible to claim up to $5 million each in compensation if they retired before July 7, 2014.
A five-year law suit between the NFL and retired players concluded at the end of last year after ex-players claimed that the NFL had hidden the risks of brain injuries.
As of January 7, former players are eligible to claim settlements to help treat debilitating brain injuries – which in some instances include Alzheimer's and the degenerative brain disease ALS. The sport also announced a $100 million initiative intended to support engineering advancements and medical research surrounding concussion in September last year.
In soccer, recent research has found a link between concussion and the heading of a ball.
READ: Man arrested in Australian hotel bugging case
READ: The double life of England rugby's 'Super Maro'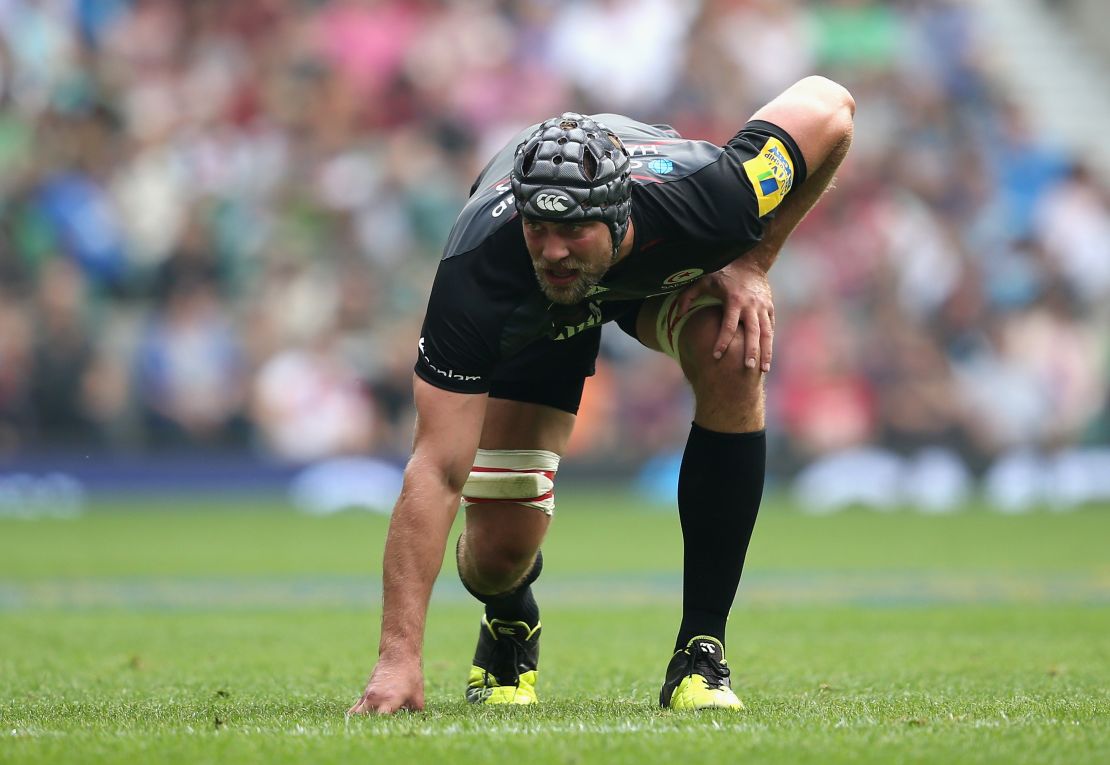 Tackling the issue
In rugby as in NFL, protocols that identify and treat concussion during games are constantly being honed and rewritten, but much of the issue owes to the fact that concussion treatment is still in its early stages of medical development.
"It's recognized to be the most difficult sports injury to consistently recognize and diagnose," England Rugby's chief medical officer Simon Kemp told CNN.
"This is the No. 1 player welfare issue in collision and contact sports at the moment … The science around head injury and particularly around concussion in sport is relatively immature and evolving very rapidly."
In 2012, World Rugby introduced the Head Injury Assessment, an in-game protocol intended to help identify and manage concussion as soon as a knock to the head occurs.
"The average assessment of a player in the 2015 World Cup was 64 seconds and done on-pitch where the player couldn't engage in the assessment," Kemp says. "We now have a 10-minute, off-pitch assessment informed by video review with a structured assessment.
Technology helps to reduce rugby concussions
"If a player has any abnormal results, they don't return. But even if they have all normal results, if in the opinion of the team doctor that they may be concussed, they still don't return … It's not pass or fail. The HIA supports the doctor's decision-making."
The HIA has received criticism from some leading officials, most notably when players (including North and Ireland international Conor Murray) were suspected to have been knocked unconscious but allowed back on the field. Hargreaves, however, praises the protocol, having experienced it first-hand.
"It's a good system," he says. "I think they could probably improve what it actually entails, what questions you get asked in the changing room, how you deal with this, what's the prognosis for coming back to play, for recovery – all those kind of things could be tweaked.
"But it's a great starting point, and I'm really glad to see that they're taking this seriously."
READ: Rugby's knight takes on island challenge
READ: Blitzboks try machine leaves sevens on a high
Breathalysers, proteins, and head gear
The science surrounding concussion is still evolving, and how it is applied to rugby is likely to shape how the game is perceived in the public eye. Players are getting bigger, hits are getting harder, but solutions are being sought out.
Alex Corbisiero, for example, a former England international who took a sabbatical following multiple injuries and surgeries, has been working to develop the N-Pro – a head guard he hopes will manage and reduce the effects of blows to the head in rugby.
But the N-Pro hasn't been medically certified and World Rugby has released a statement prohibiting its use because of insufficient trials in a playing environment.
Corbisiero played professional rugby for 10 years. Born in New York but raised in England, the pinnacle of his career was the 2013 British and Irish Lions' tour of Australia where he played in two games of the 2-1 series win.
Alex Corbisiero: Rugby injuries' mental toll
But after multiple knee operations and a shoulder operation, the accumulative wear-and-tear of injury – not to mention the mental stress of being sidelined – began to take its toll.
Corbisiero thinks his plight is symptomatic of the way modern rugby has developed.
"There's more hits, more tackles, more carries, more collisions, people are bigger, fitter – all those are starting to add up," the 28-year-old told CNN.
"There's tons of games, I don't know how long the season is, forty-odd weeks of the year? It's a tremendous accumulative load. As the game keeps evolving player welfare needs to be addressed.
"(The N Pro) is just a consequence to understanding that the reality of the sport is big blows and impacts to the head. And if there's any way to manage it, reduce it, and take an edge off it, then that's something that should be explored."
READ: China's $100M 'olive ball' mission
READ: Princes take rugby rivalry to new level
New technology is frequently being applied to the game to help battle concussion.
Quanterix, a Massachusetts biotech company, has developed Simoa, which analyzes protein levels that are released from the brain into the blood system after a blow to the head.
Kevin Hrusovsky, CEO of Quanterix, told CNN that the company's work is like "rocket-science on the blood.
"Our technology uses objective science to accurately tell an athlete not only whether or not they've suffered a concussion, but how severe it is."
According to England Rugby's Kemp, eye screening is being tested by medical officials in the English Premiership. He also knows of companies working to develop a breathalyser that measures chemical levels in a player's brain to assess whether they've sustained any damage.
But the problem won't go away anytime soon, and Kemp admits that officials will "still be looking at this problem in five, 10, 15 years."
As for Hargreaves, his experience won't stop him sharing his love for the game with his son – who was an important factor in his decision to retire. But the former second-row forward does accept that work still needs to be done.
"I don't want to be in a position in five years' time where I have to turn around and say to my kid, 'Actually, I think it's safer for you not to play,'" he says. "I think that would be devastating.
Have your say on our Facebook page
Visit cnn.com/rugby for more news and videos
"I love the game: I love its physicality, I love that it's aggressive, and I love that it's competitive. You don't want to take away from that … we've got to be responsible for this. We really have to speak about issues that occur and we have to find problems to solve."