Story highlights
Melania Trump is forging her own path as first lady
She has a longtime adviser and friend -- her sister, Ines
Melania Trump is beginning to forge her own path as America's first lady, assembling a team of aides and advisers. But the name of one longtime confidante, and perhaps her most trusted friend, won't be announced with a news release or statement or a new title: her sister, Ines Knauss.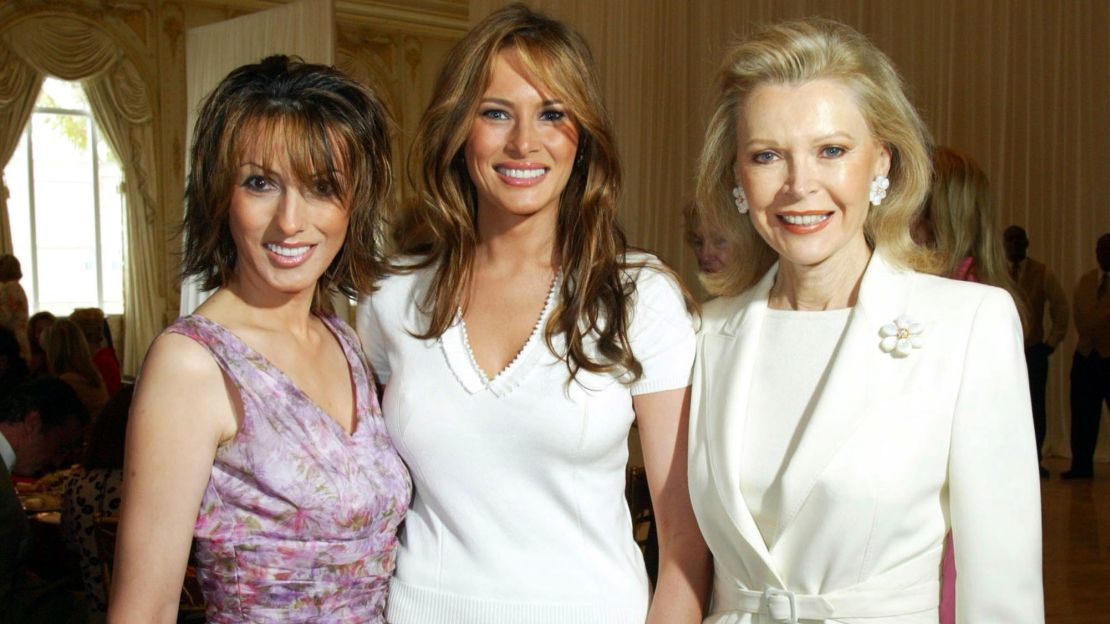 Knauss, Trump's older sister, lives just blocks from Trump Tower in the Trump Park Avenue property, public records confirm. She was Trump's maid of honor at her 2005 Palm Beach wedding, People magazine reported at the time. And the first lady called Knauss "an incredible woman and a friend" in her July speech at the Republican National Convention.
And the sister of the famously private Slovenian-born first lady is equally private. There are no known appearances of Knauss on the 2016 campaign trail. There are almost no images of Knauss, save for a 2005 appearance alongside her sister at the Mar-a-Lago club on the occasion of a Valentino fashion luncheon for Boys Club of New York. The resemblance between the sisters is unmistakable.
Her Twitter account is private. The office of the first lady declined comment. But many of her Facebook posts are publicly accessible, showcasing a devoted, close relationship between the two. (The New York Post's Page Six first reported on Knauss' account.)
Knauss has shared intimate behind-the-scenes images: a photo of the first lady, whom she refers to as simply "M"; their mother in 1972; early snaps from Melania Trump's modeling career; and the soccer-themed table setting from nephew Barron's 10th birthday party.
She touted her brother-in-law's primary victories last spring. When her sister cast her ballot in the April New York primary, Knauss proudly posted a screenshot of CNN's coverage.
When her sister was on the cover of Slovenian tabloid "Suzy" last March, Knauss posted in all caps, "NE LAZI PETER." Translation: "Do not lie, Peter."
And when a GQ profile of Trump published news of the existence of a now-50-year-old half-brother, Knauss was on the offense. She shared a link to the story, sarcastically writing: "Did not know ! till reading this right now," later adding of the child's mother, "spread the news - i just find out why the tests were needed ! Marija fooled around."
Knauss, an artist, has also shared throwback images of her own fashion designs. In the same profile, GQ reported that a young Melania would sketch clothing designs that her mother and Ines would sew. The sisters later attended design school together in Slovenia's capital of Ljubljana. (Trump collaborated on her own Inaugural Ball gown last month with designer Hervé Pierre.)
Trump tweeted a photo of her artwork in 2014 – what appears to be a sketch of the sisters together. "art of gossip #courtesy of #artist ines knauss," Trump wrote.
When the first lady joins her husband at the White House at the conclusion of the school year, she's not only leaving her home of over 12 years, she's losing the proximity to her sister – who has lived close by nearly her whole life. Unless, of course, Knauss makes her way south, like the President's eldest daughter, Ivanka Trump, who moved to DC after her father's election.