Story highlights
Ukraine calls for a minute of silence but blocks more formal condolences for Churkin
Russia slams Ukraine over stance on Churkin: 'It's beyond good and evil'
The UN Security Council paid public tribute to late Russian Ambassador Vitaly Churkin on Tuesday – but tensions simmered behind the scenes, as Ukraine blocked a more formal statement of condolences.
The 15-nation Security Council stood for a minute of silence in honor of the popular and combative Russian diplomat, who died Monday after suffering from cardiac arrest. Tuesday would have been Churkin's 65th birthday.
The Security Council also issued a press statement marking the sudden loss of Churkin, the longest-serving ambassador on the council. But Ukraine – which holds this month's rotating presidency on the body – blocked a more formal statement of condolences for Churkin.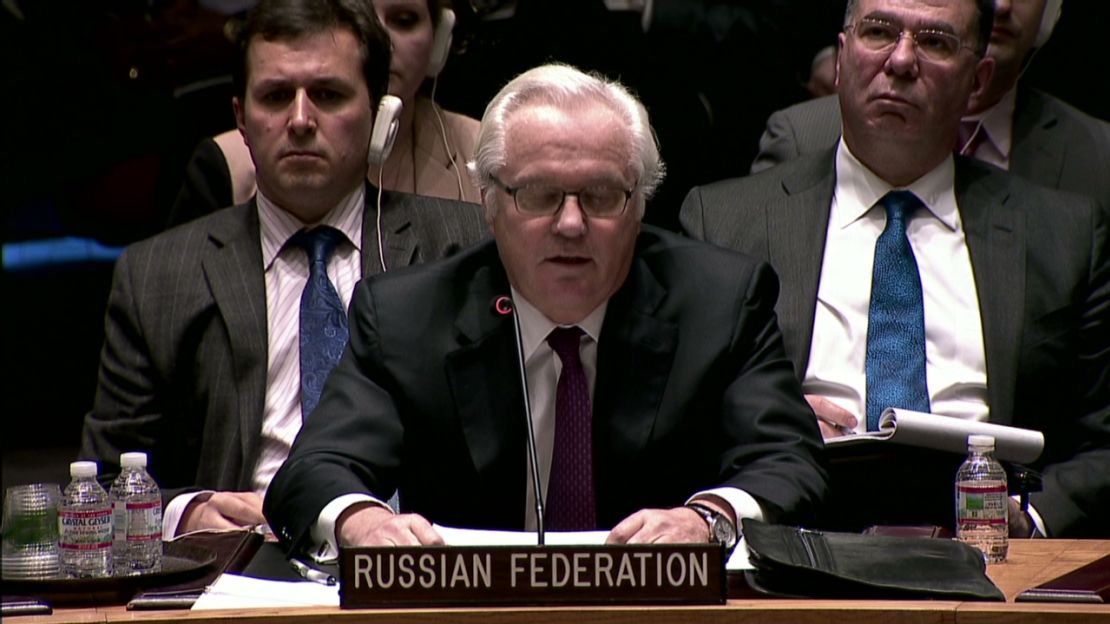 Ukrainian Foreign Minister Pavlo Klimkin said the press statement on Churkin was "appropriate," and defended his country's refusal to allow a more formal council statement on Churkin's passing.
Russian, eastern Ukrainian ceasefire holding – for now
He said Ukraine did express condolences and asked the full Council to stand for the minute of silence. But Ukraine was the only council member that did not give formal remarks about Churkin.
Klimkin told reporters Ukraine had fundamental differences with Churkin's political positions and how he presented them. He said in Ukraine, if someone passes away, it's customary to say something positive or nothing at all.
UK Ambassador Matthew Rycroft said he believed the press statement was a traditional way of publicizing the death of a notable diplomat, rather than than a more formal "presidential statement."
But Russian Foreign Minister Sergey Lavrov slammed Ukraine, saying, "This goes against Christian values. It's beyond good and evil."
Tributes from friends and adversaries
Even ambassadors and governments who were frequently at odds with Churkin still lauded the man Tuesday.
A statement from President Donald Trump called him an "accomplished diplomat."
"While American officials sometimes disagreed with their Russian counterparts, Ambassador Churkin played a crucial role in working with the United States on a number of key issues to advance global security," the President said. "The President offers the condolences of the American people to the Russian people and government."
Rycroft said he also had his disagreements with Churkin.
"But I always found him to be an honest and decent colleague and truly remarkable man," Rycroft said.
French Ambassador Francois Delattre's voice broke as he told reporters,"I mourn a friend, and we will miss a master of diplomacy."
The Russian Foreign Ministry said "the outstanding Russian diplomat died while he was in his current working role." And President Vladimir Putin "expressed sympathy to the friends and family as well as to the staff of the Russian Foreign Ministry," the Kremlin said.
What Vitaly Churkin's death means for the United Nations
On Monday, members of the UN General Assembly stood for a moment of silence in memory of their colleague.
UN General Assembly President, Peter Thomson, said Churkin will be remembered for "his great intellect and his consummate diplomatic skills, and for his good humor and consideration for others."
A gracious, formidable colleague
Churkin spent more than 40 years at the Russian Diplomatic Service and headed the Russian Mission to the United Nations for more than a decade.
"Ambassador Churkin was a uniquely skilled diplomat, a powerful orator with great wit, and a man of many talents and interests," UN Secretary-General Antonio Guterres said.
Churkin was often at odds with the United States, the United Kingdom and France. China would often take its cue from how Russia would vote.
For a decade, it was Churkin who raised his arm to veto numerous resolutions ranging from the Syrian crisis to the Malaysia Airlines crash over eastern Ukraine.
He stood firm in supporting Syrian President Bashar al-Assad's regime against Western attacks. And he cited US policy in Libya as a symbol of failure by Western countries who favored regime change.
Nikki Haley, US ambassador to the United Nations, called Churkin "a gracious colleague."
"We did not always see things the same way, but he unquestionably advocated his country's positions with great skill," she said in a statement.
Susan Rice, a former US envoy to the United Nations, said Churkin was "a formidable adversary, but always a friend."
Another former US Ambassador, Samantha Power, said she was heartbroken by Churkin's death and credited him with trying to help improve Russian-US relations.
"Devastated by passing of UN ambassador Vitaly Churkin," Power tweeted. "Diplomatic maestro & deeply caring man who did all he (could) to bridge US-RUS differences."
And Gérard Araud, a former French ambassador to the United Nations, said Churkin was an "extraordinary colleague" during Araud's five years on the Security Council.
"Abrasive, funny and technically impeccable," Araud tweeted about Churkin. "Sincere condolences."
Authorities have not announced how Churkin died. A spokeswoman for the New York City medical examiner, Julie Bolcer, said further tests were needed before a cause and manner of death could be cited. A law enforcement official told CNN that Churkin died of cardiac arrest.
CNN's Emma Burrows, Milena Veselinovic, Shimon Prokupecz, Bijan Hosseini, Darran Simon, Rob Frehse and Ellie Kaufman contributed to this report.