Story highlights
Sutton backup goalkeeper Wayne Shaw indulged in a pie during FA Cup match
2 gambling probes are now underway -- and Shaw has reportedly resigned
It started as a hilarious highlight to an otherwise lackluster soccer match: Sutton United's "roly-poly goalie" Wayne Shaw caught snacking on a pie during the second half of the club's FA Cup match against Arsenal.
But what began as a lark has ended with gambling investigations and the reported resignation of the much-loved reserve goalkeeper.
The Monday game was billed as the ultimate in David v. Goliath matchups. The Premier League's fourth-place team, Arsenal, were set to travel to Gander Green Lane (capacity roughly 6,000 with a temporary stand to accommodate the Premier League club's fans) to take on non-league Sutton United, a squad that sits 105 places beneath the Gunners in the standings.
In the second half of the fixture, after Theo Walcott put Arsenal up 2-0 and Sutton had exhausted its substitutions, cameras caught Shaw on the sideline unabashedly – enthusiastically even – scarfing down what the commentators said was a pie.
Perhaps not since the New York Jets' Mark Sanchez ate that hot dog on the sideline have sports and cuisine collided in such a high-profile way.
Shaw would later clarify on Twitter that it was a pasty, not a pie. Meat and potato, to be exact. (A pasty is a baked pastry similar to, and in some cases, indistinguishable from, a pie. It has nothing – repeat, nothing – to do with strip clubs or tassels.)
Of course, none of this should have caught anyone off guard. Shaw had already made a trip to the bar at halftime, where a BBC reporter captured him hanging out with fans.
It was all fun and games until England's Football Association and the UK's Gambling Commission stepped in.
In a statement sent to CNN, an FA spokesman said, "We are investigating to establish whether there has been any breach of The FA rules relating to betting."
The Gambling Commission also launched a probe, its enforcement and intelligence director Richard Watson said in a statement.
"Integrity in sport is not a joke and we have opened an investigation to establish exactly what happened. As part of that we'll be looking into any irregularity in the betting market and establishing whether the operator has met its (license) requirement to conduct its business with integrity," he said.
The commission added in an email that it had warned bookmakers in June about potential integrity issues involving "novelty markets," which include off-the-wall bets on things like pie eating.
Hold on, bets on pie eating???
Yup, pie eating.
You see, Sun Bets – which controversially replaced Sutton's normal sponsor just for the Arsenal game – had 8/1 odds on Shaw being caught munching on a pie on the sideline.
So when the big fellow began chowing down, the betting service had to pay up. To the tune of at least £10,000 (around $12,500), according to a Sun Bets tweet.
Compounding matters is that Shaw told reporters after the game that he was aware Sun Bets had laid odds on his mid-game snack, according to multiple reports.
"A few of the lads said to me earlier on: 'What is going on with the 8-1 about eating a pie?' I said, 'I don't know, I've eaten nothing all day, so I might give it a go later on,'" he said. "I thought I would give them a bit of banter and let's do it. All the subs were on and we were 2-0 down."
"I went and got it at halftime from the kitchen. I had it all prepared and ready to go. It was meat and potato. … It was just a bit of banter for them. It is something to make the occasion as well and you can look back and say it was part of it and we got our ticket money back," he added.
Strict rules on gambling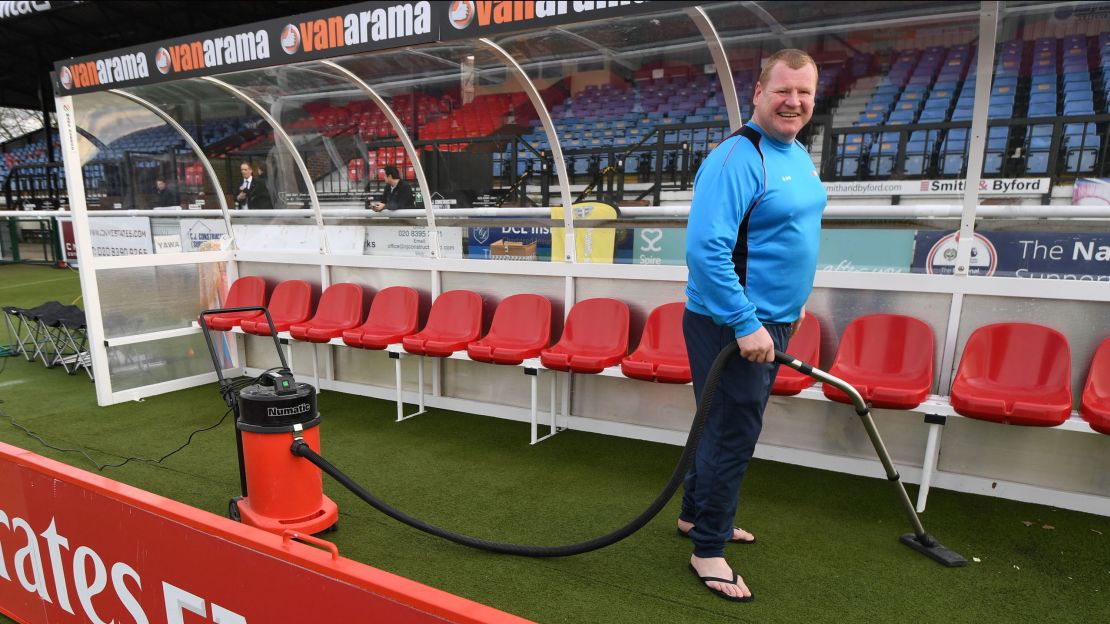 A 2014 edict forbade footballers from gambling, and the rules state that players cannot instruct someone else to bet on a soccer-related matter or pass on information that could assist someone in betting.
Asked if he knew anyone who placed a wager, Shaw replied, "I think there were a few people. Obviously, we are not allowed to bet. I think a few of the mates and a few of the fans."
On Tuesday morning, it seemed like the hullabaloo would blow over. Tales of Shaw's joviality spread widely, and the 45-year-old shot stopper seemed to be enjoying the spotlight during an appearance on "Good Morning Britain."
Shaw, who also serves as Sutton"s goalkeeping coach and stadium caretaker, laughed along with the talk show hosts as they showed a picture of him vacuuming Gander Green Lane's field turf in slippers ahead of the Arsenal match.
But soon, the bad news arrived, as Sutton manager Paul Doswell told Sky Sports News HQ that he "woke up this morning and a mini-crisis had started."
"We realized the implications of what had happened, with regards to the FA and the Gambling Commission, and unfortunately Wayne has resigned from his position on the back of that," Doswell said.