Story highlights
26 arrested in protests
Hundreds of demonstrators take to Paris streets
Hundreds of students on Thursday blockaded the entrances to their schools in Paris, demanding justice for a young black man who was allegedly raped by French police earlier this month.
Student protesters barricaded the entryways of at least 16 schools, using trash cans. A dozen more were partially blocked, the Paris Board of Education said.
At the Lycée Charlemagne and Lycée Dorian, doorways were papered with signs reading: "No justice, no peace" and "F*** the police."
The demonstration is the latest in a string of anti-police protests that have swept Paris, and its northern suburbs, since a 22-year-old black man, known publicly as Théo, was purportedly raped with a police baton during a February 2 arrest.
The incident, which took place in an area north of the capital with a large immigrant population, has ignited simmering tensions between minorities and the police.
'Revenge for Theo'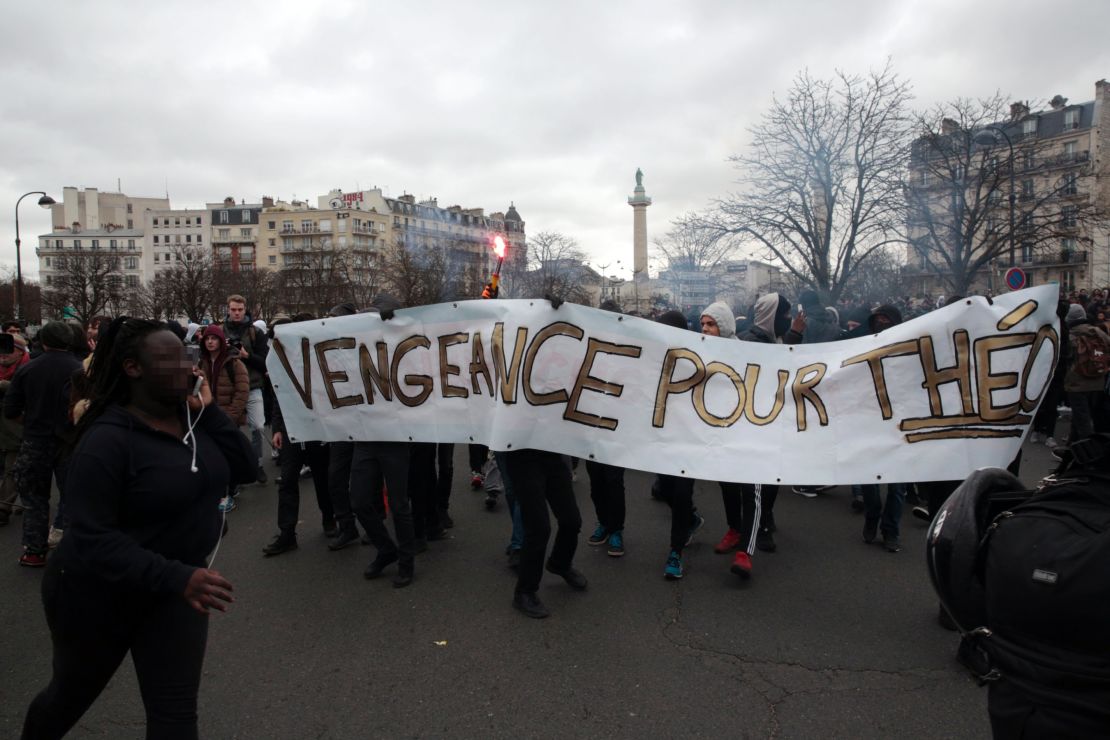 A banner reading "Revenge for Théo" was one of many signs carried by students who gathered for a largely peaceful rally in Place de la Nation square.
Clashes later broke out with riot police, according to photos and videos shared on social media. Protesters rallying on social media behind the hashtag #BlocusPourThéo (#BlockadeForTheo) posted videos showing fires alight in the streets and police launching tear gas at the crowds.
Police confirmed to CNN that 21 people were arrested during the protest in Paris, which drew 800 to 1,000 demonstrators. The metro station at Place de la Nation was shuttered during the unrest. A total of 26 people were arrested in clashes across Paris and its suburbs.
The vice principal of one school was hit by a fire extinguisher thrown by a protester, according to the Paris Board of Education, which condemned the violence.
"Blockages are not a legitimate way to protest. They endanger staff and students," Gilles Pécout, head of the Paris Board of Education, said in a statement.
Weeks of unrest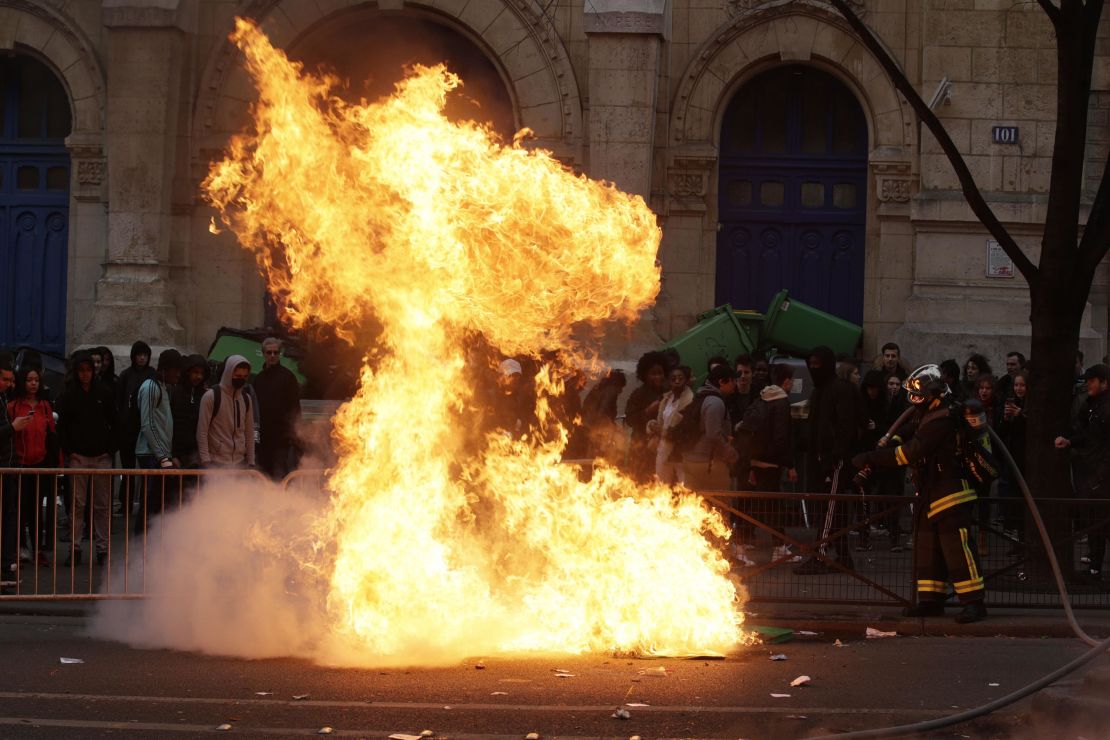 Weeks of clashes have broken out since four police officers purportedly threw Théo to the ground, beat him and anally raped him with a baton, leaving him with injuries so severe that he required surgery.
The officers were suspended pending an inquiry into accusations that they used excessive force while arresting the young man during an identity check at a housing estate in the northern suburb of Aulnay-sous-Bois.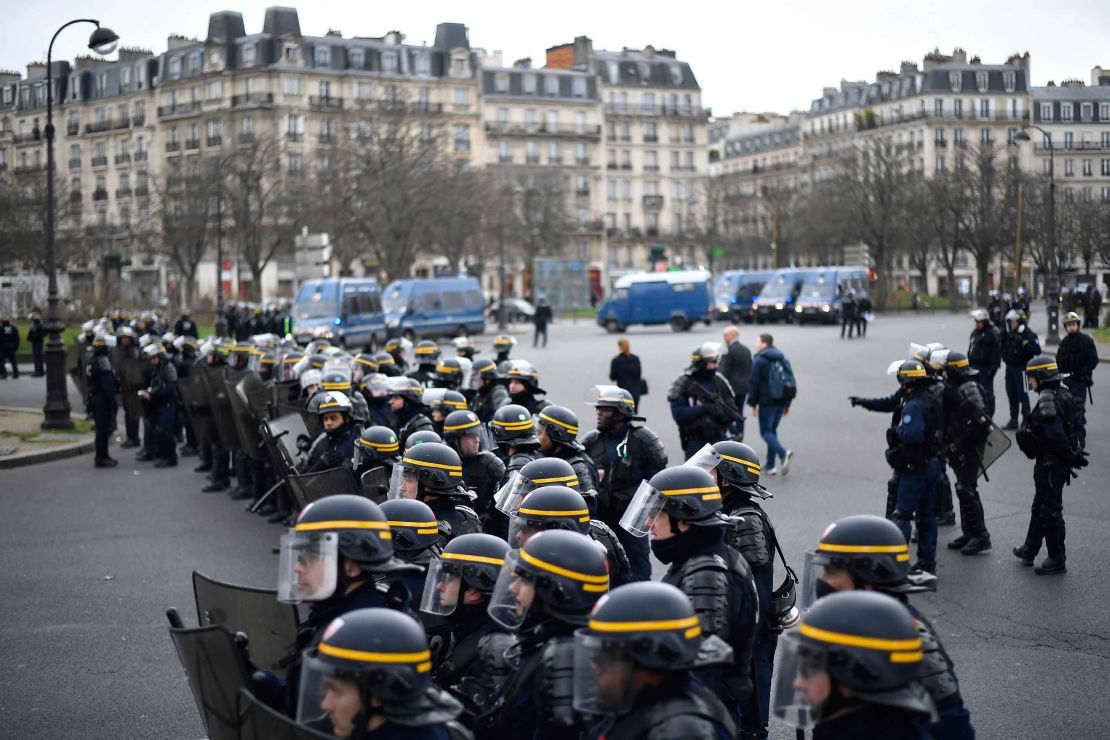 All four officers have been charged with aggravated assault, and one was also charged with rape, according to the Interior Ministry.
According to the Agence France-Presse news agency, an internal police investigation found that the officer who allegedly sodomized Théo with his baton did so unintentionally. CNN was unable to obtain a copy of the police report.