Story highlights
Ronaldo most influential footballer in China
Study finds Man Utd to be most popular team
Germany's Bundesliga still reigns supreme
He is one of the greatest players in history and now Real Madrid star Cristiano Ronaldo reigns supreme not only on the football pitch but in the digital world too.
The 32-year-old Ronaldo has been named the most influential footballer online in China, beating rivals such as teammate Gareth Bale and England captain Wayne Rooney to the top spot.
With around 806 million monthly active users on social media and a government edict to make the country a worldwide force in football, China is increasingly regarded as an important economic market for European clubs.
Shanghai-based consultancy Mailman's sixth annual Red Card report found Ronaldo's online engagement in China to be 10 times higher than any other footballer, while he is also among the top five most dominant world sports stars in the country.
The report analyzes the influence of 53 European clubs and their players in the country using eight different metrics, such as followers, engagement and digital presence.
The report also concluded that English Premier League side Manchester United has this year toppled Bayern Munich as the most influential team, while Germany's Bundesliga – the only league to launch a live stream in China – is deemed to have the best digital presence of all the European leagues.
READ: Ronaldo China rumor kicks off 'silly season'
READ: Real's Ronaldo wins FIFA award
Bundesliga CEO on the Chinese digital market
'Ronaldo has the X-Factor'
Despite being on Twitter since 2010 and accumulating 50 million followers during that period, Ronaldo only launched online in China last May.
The Portugal captain's popularity can be attributed to having played for two of the most popular European clubs – Real and United – and his character "resonates strongly" with supporters.
Not forgetting the unmarried star is also much sought-after by female fans, according to the report. His attractiveness to female supporters is particularly significant given the sport's popularity with women in China.
He is also, of course, one of the most successful players in history, winning the Champions League with Real and leading Portugal to Euro 2016 success. and his exploits on the pitch in 2016 brought more recognition off it.
Ronaldo won the prestigious Ballon d'Or award for a fourth time in December, while in January he was named "The Best FIFA Men's Player" of 2016.
READ: Inside China's quest for world football domination
READ: Chinese Super League flexes financial muscle
READ: Chelsea midfielder to join Chinese Super League
It also helps that Ronaldo's agent, Jorge Mendes, is extremely well connected in China. Last year, Chinese conglomerate Fosun formed a strategic partnership with Mendes' player representation agency, Gestifute.
"With increased access to the sports industry out here, we expect to see more sponsorship and activation in China for Cristiano, which will strengthen his position as number one," said Tom Elsden, Mailman's senior client manager.
Messi missing
Barcelona's Lionel Messi – Ronaldo's great rival in the battle to be recognized as the world's best player – was not among the report's top five most influential stars.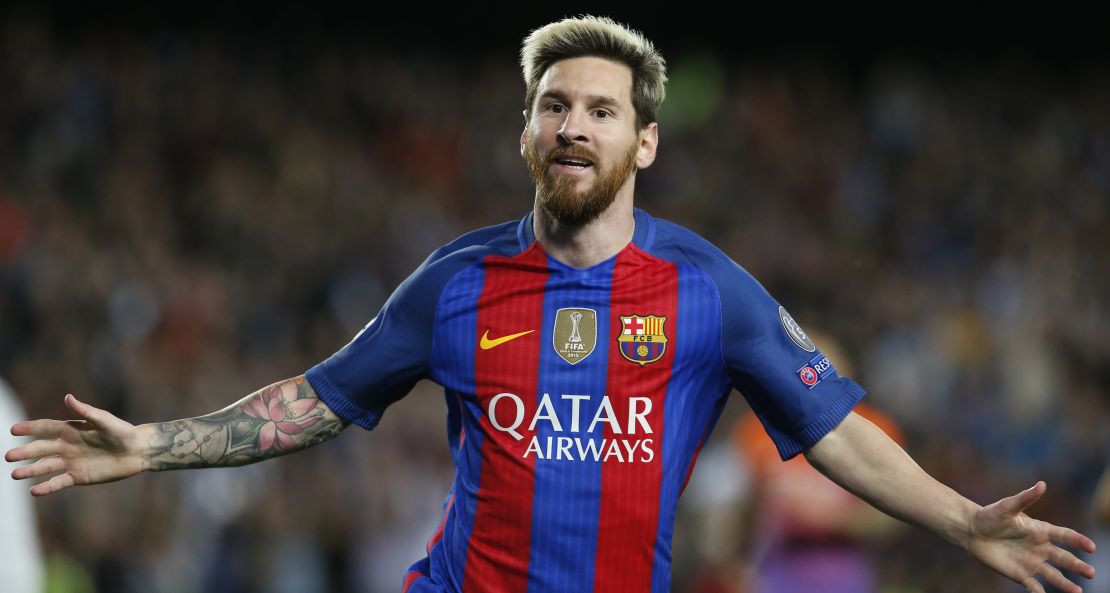 The 29-year-old, who has no official Twitter account, does not have an active social media presence in China.
In 2013, the Argentine signed as an ambassador for WeChat (an app which started as China's equivalent of WhatsApp but has developed into an ecosystem for multiple services and platforms), but the partnership ended without much success.
Despite having won the Ballon d'Or a record five times, the four-time Champions League winner's absence on social media has seemed to stifle his online popularity.
"Social media is the first port of call for fans to interact and grow their relationship with a player or club," explained Elsden. "By not being online, he's falling at the first hurdle."
But the difference between Ronaldo and Messi's social media approach in China reflects the differing paths they have followed throughout their careers.
Simon Chadwick, Professor of Sports Enterprise at the UK's University of Salford, tells CNN: "Messi has long positioned himself principally as a football player. Ronaldo, on the other hand, has always actively sought to take advantage of market opportunity, with a view to generating revenues."
Real & Man Utd players dominate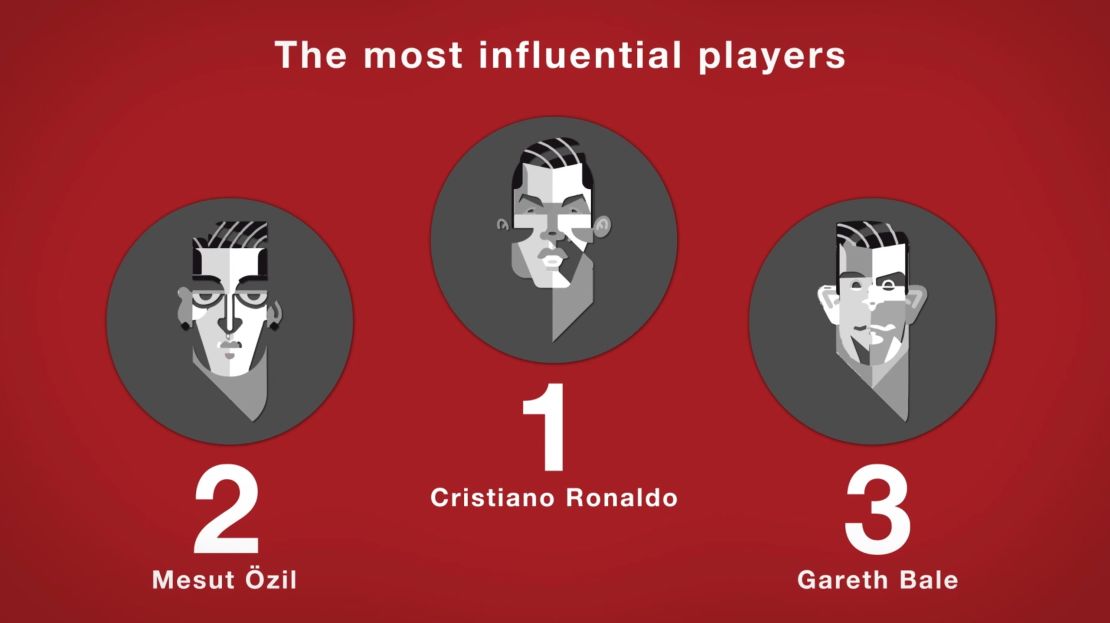 The only man to break the Manchester United and Real Madrid's player hegemony online is Germany and Arsenal midfielder Mesut Ozil, who is second on the list.
Other players occupying the top five are Wales' Bale in third, followed by Manchester United duo Anthony Martial and Rooney.
Many of the most followed footballers on Twitter did not have an official presence on Weibo (a platform similar to Twitter which has around 300 million monthly active users) when Red Card's last survey was published in January 2016.
But football fans in China select their teams based on players, often switching teams and supporting multiple sides, and, according to the authors of the report, clubs now understand the online value of their stars.
"The players have become digital savvy in this market and have actively targeted Chinese fans," Elsden says.
Man Utd beat Bayern and Liverpool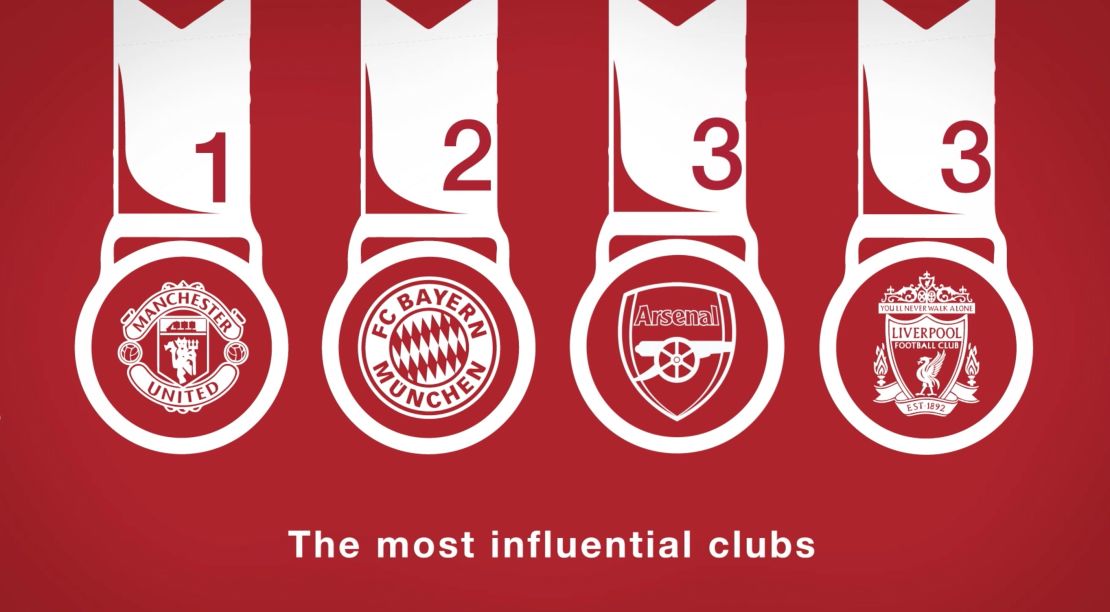 Despite having not won the English Premier League since 2013, Manchester United has usurped last year's leader Bayern as the most influential football team.
The Bundesliga champion slipped to second, while Premier League sides Liverpool and Arsenal jointly occupy third place.
United is the most followed club on Weibo, although Bayern engages followers the most and has the largest active fan base on WeChat.
Spanish side Barcelona – the most successful European team in recent times – is ninth, trailing the likes of Manchester City, AC Milan and Tottenham.
The Catalans have yet to reach their potential in China, while their rivals have been "more innovative online," Elsden says.
Bundesliga is No. 1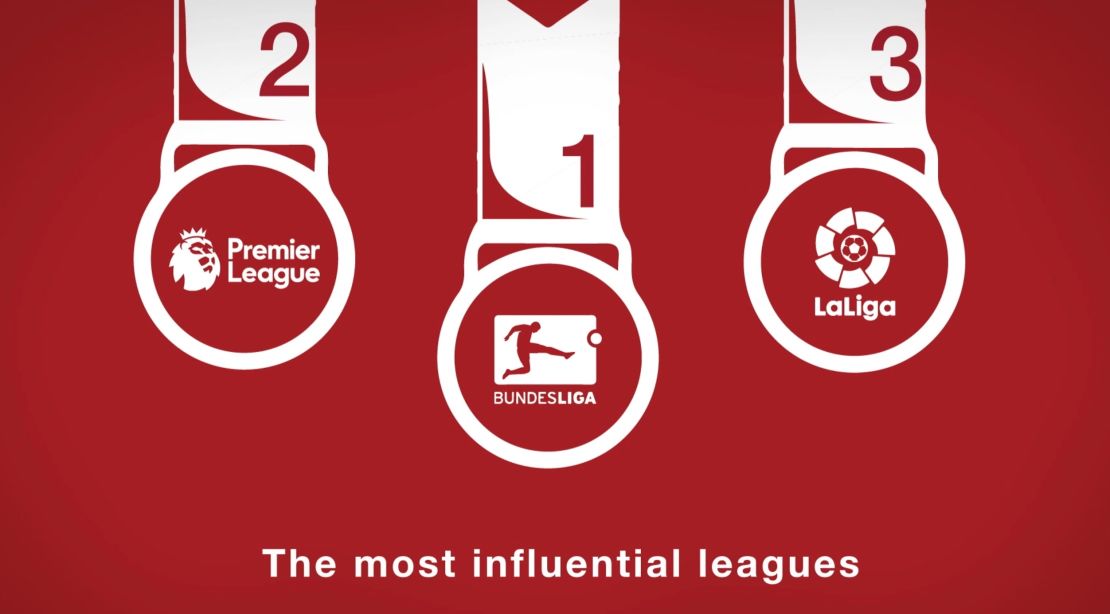 The Bundesliga remains the most popular league in China, with the German league's decision to sell its rights to a number of free-to-air broadcasters, as opposed to a more lucrative pay-TV deal, a significant reason for its dominance.
Bundesliga games are widely available and the league's partnership with CCTV5, one of the world's most powerful sports networks, over the last two decades has strengthened the league's position.
Live streaming has been the biggest digital trend in China over the last 12 months.
Germany's Borussia Dortmund was the first club to successfully live stream in the country, with over 500,000 people watching a single stream during its preseason tour.
The Bundesliga has also, the report says, developed "a comprehensive strategy" to promote all of its 18 clubs online.
"The Voice of Bundesliga" campaign, which featured each team's stadium experience, reached over 16 million social followers.
Why is football a hot topic in China?
The Chinese government has said it wants the country to be a world football superpower by 2050.
In the national league's drive to achieve this, a record $451.3 million was spent by Super League clubs on overseas players in 2016.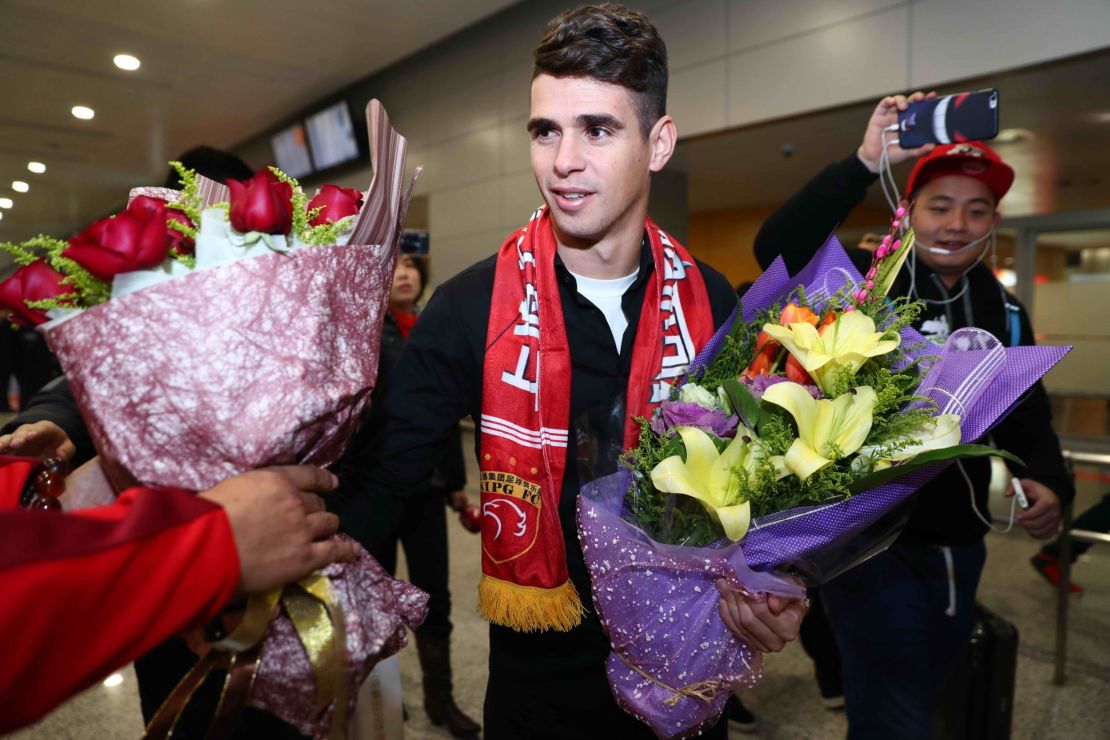 Foreign players – such as former Manchester United striker Carlos Tevez of Argentina and ex-Chelsea midfielder Oscar of Brazil – are helping to increase interest in the sport across the country.
In December, Ronaldo's agent Mendes said his client had rejected a deal from an un-named Chinese club that would have involved a world record €300 million ($316 million) transfer.
China offers an opportunity for clubs and players in Europe to not only build their profile, ultimately leading to increased revenues, but also gives Chinese fans a chance to express themselves.
Have your say on our Facebook page
"They can freely express their opinions, which they can't in everyday life," Chadwick says.
"And they like to garner peer attention by posting content that is new, different or concerns a particular status on them.
Visit cnn.com/football for more news and videos
"Posting messages about globally successful football clubs and players is one of the ways in which people can do these three things hence European clubs, which are among the world's most successful, are often an important topic of conversation."