Para leer en Español, haz clic aqui
Story highlights
Latin America has the highest rates of violence against the LGBT community
But it also has some of the most progressive laws for LGBT equality and protection
Same-sex marriage is legal in Argentina, Brazil, Uruguay, Colombia and in several Mexican states
Fourteen Latin American countries have anti discrimination laws
On a February night in 2008, Luis Alberto Rojas Marin says, his life changed forever.
At 26 years old, the Peruvian gay man was arrested by police officers while heading home shortly after midnight. Throughout the six hours he was in police custody, he says, he was stripped, raped with a baton and verbally abused by police officers before being let go.
All of this, he says, because of his sexuality.
Peruvian authorities investigated the incident and reported that Marin was taken into custody after neighbors reported unfamiliar people in the vicinity of the highway. The authorities also told the Organization of American States (OAS), which has been looking into the allegations, that they conducted an extensive investigation and found no indication the acts described by Marin had occurred.
In the nine years since, Marin has complained, but few have listened. After multiple failed attempts to have his case heard in Peru, Marin took it to the OAS Inter-American Commission on Human Rights (IACHR), which monitors and protects human rights in the Americas. The commission heard his case December 1.
Marin says he hopes to have an answer soon – it's not clear when the commission will issue its ruling – but mostly he wants justice for anyone else that may have been raped or tortured because of their sexuality.
"I would have liked to be able to turn the page on this, and to put this behind me. But I am putting my face out there for everyone (who has been a victim)," he says. "I'm not doing this for me. I'm doing this because I am a human being who pleads for and begs for justice for all the people who have been victims and anyone that might have died."
His case is not isolated. Nearly 600 people died across Latin America from anti-LGBT violence between January 2013 and March 2014, according to a 2015 report by the IACHR.
The IACHR report, and other reports from the region, show that violence against LGBT individuals is becoming more extreme. They are often stoned, tortured and raped before they are killed, and crimes often go unpunished.
Many times, crimes against the LGBT population go underreported because of fear of reprisals and skepticism of the justice system.
Violence despite progressive LGBT protection laws
Latin America offers a contradictory narrative: The region has the highest rates of violence against the LGBT community, according to research done by Transgender Europe, a non-governmental organization, but it also has some of the most progressive laws for LGBT equality and protection.
While many LGBT rights in the United States are tied up in legal wrangling in individual states, in Latin America, laws about same-sex marriage and adoption, changing gender on national ID cards, and anti-discrimination laws all went into effect in the past decade – many of them before the US Supreme Court legalized same-sex marriage.
Chilean President Michelle Bachelet recently promised to continue to push for a law allowing same-sex marriages. Chilean law already allows same-sex couples to enter into civil unions and the country's hate crime laws include sexual orientation protections.
However, LGBT youth in Chile say they still feel scared.
Sebastián Urrutia Lutz, a gay man, was attacked in 2012 by a group of men while leaving a party in a gay neighborhood in Santiago. Sebastian says witnesses stood by while he was savagely beaten on the street. He tells CNN no one has been held accountable for the events of that night.
After his attack – and after seeing the wave of anti-LGBT violence that's spreading in the region – Lutz says he doesn't feel safe at all.
"I have heard stories of other people who have died, and friends telling me that others have been beaten up by other gangs," he says. "It's frustrating. You hear this every day and no one does anything about it."
He adds, "We live here, so we have to deal with it, but it's heartbreaking."
Lutz argues that while more LGBT people have been coming out of the closet in Chile, some of the violence is a backlash to society's increasing acceptance of the LGBT community.
"That has made a lot of people that dislike (LGBT people) become more frustrated that our society is accepting us and considering us normal people," he says. "They are really angry and they want to express that."
Today, same-sex marriage is legal in Argentina, Brazil, Uruguay, Colombia and in several Mexican states plus Mexico City. Mexican President Enrique Peña Nieto signed a proposed measure in 2016 to make it legal countrywide, but the congressional commission that deals with changes to the constitution voted to strike down Peña Nieto's proposal.
Chile and Ecuador allow same-sex civil unions.
Fourteen Latin American countries have also passed laws that prohibit discrimination in the workplace based on sexual orientation. Many countries such as Argentina, Brazil, Colombia and Uruguay now allow same-sex couples to adopt.
In Bolivia, transgender and transsexual individuals are allowed to change their national ID cards, but the country – along with Paraguay – has instituted a constitutional ban on same-sex marriages.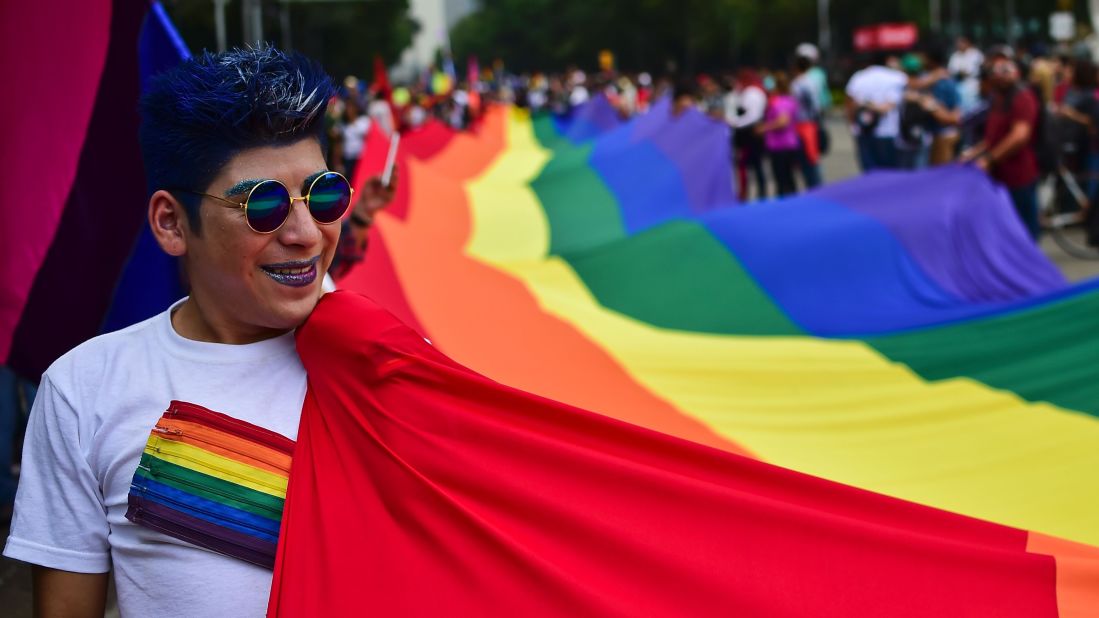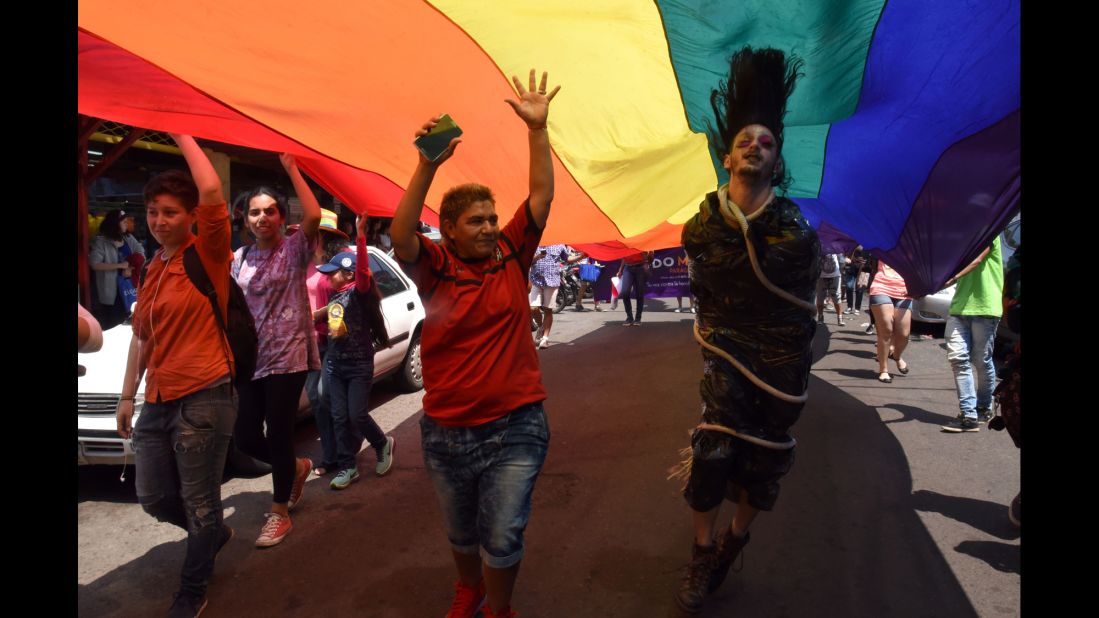 LGBT parades across Latin America
Advancement in LGBT acceptance is a spectrum
For Javier Corrales, a professor of political science at Amherst College, there are positive trends in the region. But he says it's hard to know whether violence is increasing or whether victims are simply more comfortable speaking out against their aggressors.
"Fifteen years ago, 20 years ago, the region probably looked somewhat hopeless – and yet we have seen progress, so one could draw lessons from it," he says.
Corrales adds that one of the most important lessons from the region "is that in Latin America, LGBT movements were able to connect with human rights defenders, and that alliance proved very fruitful."
Luis Larraín, president of the Chilean LGBT group iguales, says his country may not be as advanced as others in Latin America, but it has made progress.
"In the last few years there has been a very notable shift by the people, with their support, and at the political level, with a government that has approved civil unions," he says.
On the other hand, Venezuela tops the list when it comes to the lack of rights for same-sex couples or members of the LGBT group, says Omar Encarnacion, a political scientist at New York's Bard College and author of Out in the Periphery: Latin America's Gay Rights Revolution.
The traditionally leftist-leaning government has made almost no significant progress in recognizing or protecting members of the LGBT community. The situation "dismisses this idea that the farther to the left you are the more likely you are to be pro-gay," Encarnacion says.
Same-sex couples have no protections or rights under Venezuelan law, and there are currently no mechanisms for a transgender or transsexual person to change their name and gender on their legal documents.
A 2015 report prepared by Venezuelan LGBT associations for the United Nations said members of the community "constantly live situations of discrimination," and that lack of protection for LGBT citizens "makes them defenseless citizens in an atmosphere of alarming growth of homophobia and transphobia."
In December 2016, Isabella Saturno and her partner were reprimanded at a Tony Roma's restaurant in Caracas for being "overly affectionate."
"The manager brought us our check and asked us to not be so affectionate. My partner and I were behaving like a normal couple, a hug or a small kiss. A normal level of affection for a couple in love."
Saturno's experience spurred protests and Tony Roma's Venezuela hit back, saying the type of actions that led to the incident "are inappropriate in public places and go against morality and respect to others." They added the restaurant "proudly serves people of all races, religions and sexual preferences."
"Venezuela unfortunately is in the back of Latin America," says Ana Margarita Rojas, who works for an LGBT organization in Venezuela. "The situation is very bad. We are always in limbo."
Rojas' group, Reflejos de Venezuela, aims to change that by educating and creating a census of LGBT people living in Venezuela. She says she hopes her efforts will help change people's perceptions.
But, she tells CNN, despite all the marketing and effort that her organization and others throughout Venezuela have put in the past few years, they have very little to show for it.
"My partner and I are a lesbian couple with a child looking for recognition," she explains, adding there are very few other couples that make themselves known because they fear retaliation against them or their children.
Cultural, religious roots
Catholic and evangelical churches also play a large role in shaping societal and political opinion in the region.
"If you look at religion as a variable, what you find is that the more Catholic the country, the more likely they are to be accepting of homosexuality and vice versa," Encarnacion says. "The more Protestant they are, the less likely they are (to be) accepting, and the less likely they are to have an active gay rights legislation."
Encarnacion adds that LGBT people living in countries dominated by evangelical churches tend to be the ones that have the hardest time.
The Catholic and evangelical churches have similar views on homosexuality, although there are notable differences.
While both oppose homosexuality, "the Catholic clergy tends to be less opposed to anti-discrimination statutes than the evangelical clergy," explains Corrales. "Sometimes, the Catholic clergy has come out in favor of civil unions while still opposing gay marriage."
Crissthian Manuel Olivera Fuentes, who works for MHOL, the Homosexual Movement of Lima, says some evangelical priests in Peru have come out strongly in the past few months preaching that homosexuality is a disease that can be cured.
Activists who spoke to CNN say Latin American LGBT youth also continue to struggle with a culture of "machismo" and sexism. Boys and men are pushed to be manly and have an exaggerated masculine pride. Women are pushed to be submissive to their husbands and act very feminine.
Regional outlook: Still work to be done
According to analysts, the picture as a whole in Latin America is encouraging, but there is still plenty to worry about.
Marin says that regardless of the outcome of his case at the Inter-American Commission on Human Rights, he will never stop fighting.
"We all should be treated equally," he says.
The activists CNN spoke to all say they would like to see more recognition of same-sex partnerships as well as the legalization of marriage across the continent. They would also like to see less impunity for crimes against LGBT people and broader access to health care and counseling for members of the LGBT population.
In the region, public opinion seems to be shifting toward tolerance. A survey by ILGA showed that 81% of people in the Americas have no concerns about their neighbors' sexuality.
LGBT activism is also on the rise. More and more activists have taken to the streets to stand up for their rights and demand investigation and punishment for crimes against LGBT people.
But activists say changing the law alone isn't enough.
Alex Bernabe, founder of Igualdad in Bolivia, says even though there have been some strides in creating anti-discrimination laws, those are not always enforced.
"You have to have educational campaigns, sensitization campaigns and education or else your progressive laws will sit in the drawer, unused."
CNN's Kelly Chen and Anastasia Beltyukova contributed to this report.