Story highlights
Hordes of elderly women meet to dance together while blasting loud music
From March 1, Beijing will levy fines on dancers who disturb public order
Wherever there is open space in China, you find grannies strutting their stuff.
The women, usually retirees, meet at dusk and dawn in public squares, plazas or parks and perform synchronized dance routines to deafeningly-loud music – often with costumes or props.
Public dancing has exploded in popularity in China as these women – and a few men – look for low-cost ways to stay fit and socialize.
"Our main purpose is to get some exercise," said Ma Lijun, 56, a square dancer. Since 2012, she has shown up religiously at 8 p.m. in the square in front of Beijing's Raffles shopping mall.
"All the songs we dance to are the one we like, the ones we grew up with."
She said she has tried walking and running alone in the past, but that can't compare to the the happiness of being in a group.
"It's like a big family here. I feel free," she said.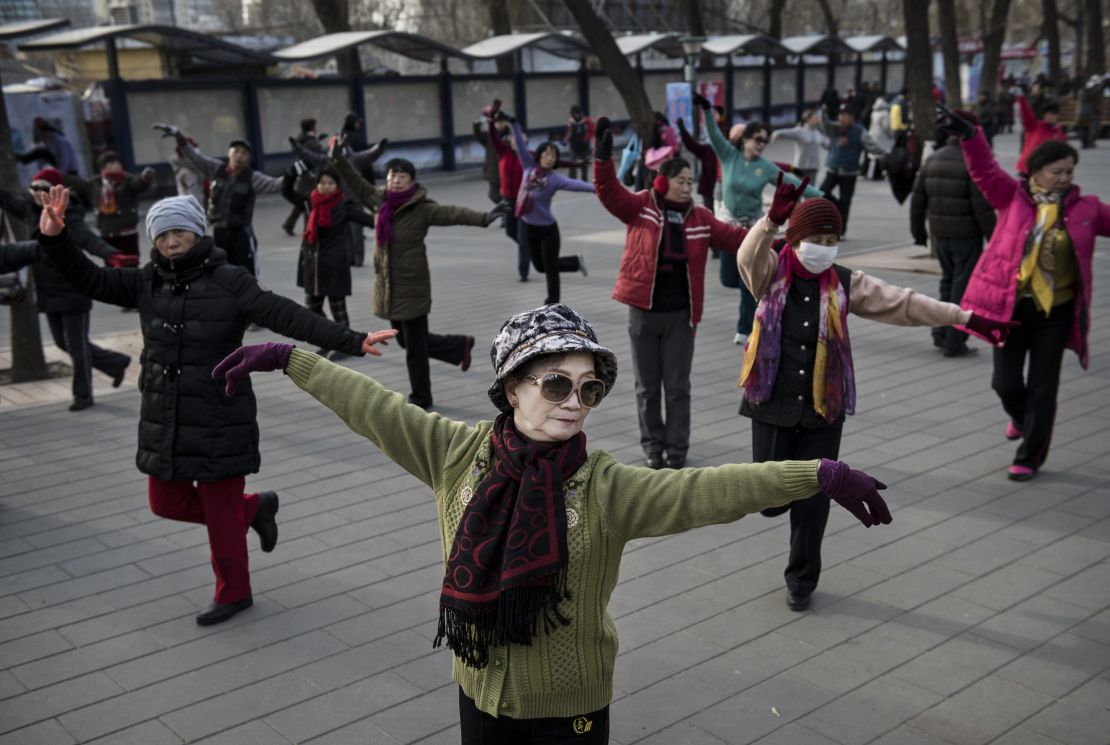 Backlash
State-run news agency Xinhua estimates Ma and her counterparts may number as many as 100 million and these "dama" as they are called in Chinese, have even taken their hobby overseas.
In 2014, groups of dama were photographed dancing en masse outside the Louvre in Paris and shimmying in Moscow's Red Square – much to the consternation of some, who thought they were giving China a bad name.
The dancing grannies have also faced a backlash at home.
Irritated by the music blasted out of loudspeakers, residents who live in the vicinity of popular dance spots have unleashed dogs on them and even thrown faeces.
To rein in the rowdy retirees, authorities have tried to introduce approved routines and pop songs. One park in the southwestern city of Chengdu installed a decibel counter.
China's 80-year-old model
Restrictions
From March 1, dancers in Beijing will be subject to fines and other penalties if they're found to have disturbed public order.
The new citywide regulation reads: "People must organize fitness activities without disturbing public order."
Zhang Jinsu, choreographer of the group that performs outside the Raffles mall, said the troupe has loyal fans and makes passersby happy. She's confident they won't fall foul of the new regulation.
"If we can't dance here due to pollution or bad weather, we feel uneasy just staying inside," she said.
Other dancers agreed that they look forward to the routine every day. For them, it's one of the rare moments where they can enjoy themselves.
The bigger problem, Zhang said, is a lack of public amenities for the elderly.
According to the UN, China is aging faster than anywhere else in the world. By 2030, there will be an estimated 360 million Chinese over the age of 60. It remains a challenge for the government to provide the old with public sports facilities.
"We hope the government can provide us healthier public spaces," Zhang said.