Story highlights
Yucel had reported on leaked emails from Turkish energy minister's emails
Yucel's detention sparked protests in Germany
A Turkish court on Monday arrested a German newspaper's correspondent on charges of terror propaganda and inciting hatred and enmity, the paper said.
The prosecutor questioned Die Welt journalist Deniz Yucel for four hours Monday in Istanbul before he was formally arrested, according to Turkey's private Dogan news agency.
Die Welt announced that Yucel – a dual German-Turkish citizen – was detained on February 14 after presenting himself at an Istanbul police station for questioning over his reporting in the country.
His detention sparked protests in Germany, while a number of European newspapers – including Spain's El Pais, France's Le Figaro, and Italy's La Repubblica – condemned the treatment of Yucel by Turkish authorities in a statement last week.
Die Welt posted its Tuesday edition front page, which carries Yucel's photograph and news of his arrest, along with the hashtag #FreeDeniz, on Twitter.
Yucel had reported on leaked emails from Energy Minister Berat Albayrak, which were hacked by leftist collective RedHack and made available on Wikileaks.
Albayrak is also the son-in-law of President Recep Tayyip Erdogan. Three Turkish journalists were arrested in January for reporting on the leaks and charged with "membership in a terror organization," according to media reports.
The state-run Anadolu news agency reported details from the prosecutor's file that included questions about Yucel's interviews with a top leader of the Kurdistan Workers' Party, or PKK.
'Violation of press freedom'
The prosecutor's file said Yucel interviewed PKK leader Cemil Bayik "under the guise of being a journalist" and reported on security forces' operations in Turkey's southeast against Kurdish militants by "undertaking propaganda by expressing the discourses of the armed terror organization."
The PKK is considered a terrorist organization by Turkey and its Western allies, including the US.
Yucel holds German and Turkish citizenship and is the first German journalist to be arrested under the ruling Justice and Development Party, according to his employer.
Ulf Poschardt, editor-in-chief of Welt N24, expressed his dismay in a written statement to CNN: "I find it incomprehensible that a journalist can be jailed for doing his job. We are appalled at this violation of the freedom of press as a fundamental human right."
Poschardt also said he was in close touch with Yucel's attorneys.
German chancellor Angela Merkel described the news as "bitter and disappointing" late Monday night. She said her government "expects that the Turkish justice system keeps in mind the great importance that the freedom of press has in any democratic society in its treatment of the Yucel case."
'Dramatic times'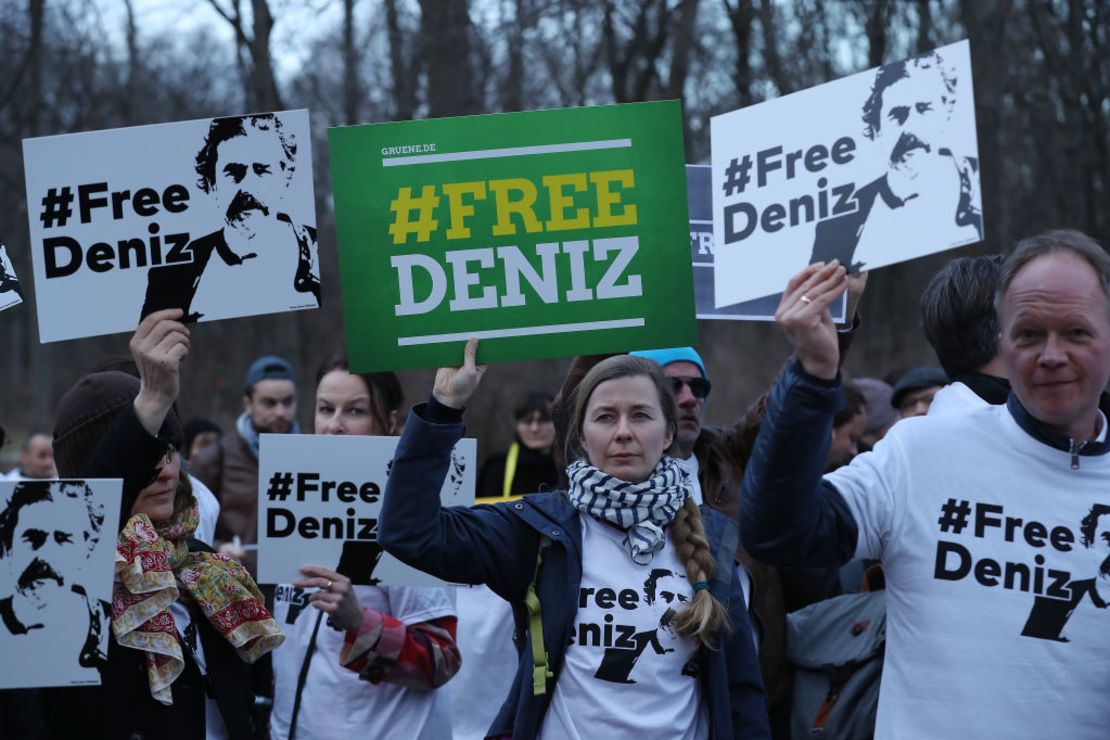 Foreign Minister Sigmar Gabriel called the decision for Yucel's arrest "far too harsh and inadequate" and vowed to work for his freedom.
"These are dramatic times for Turkey. The case of Deniz Yucel casts a harsh light on the different way in which our two countries appear to apply the principles of rule of law and the way we assess press freedom and freedom of speech," Gabriel said in a statement on Monday night.
"We have every reason to speak with Turkey in great clarity. We are determined to work hard to ensure that Deniz Yucel quickly regains his freedom and that the court case will come to an end with a good result."
Germany and Turkey were at the forefront of a deal signed last March to curb the number of migrants crossing from Turkey to the European Union.
Reporters Without Borders ranked Turkey at 151 out of 181 countries in its 2016 World Press Freedom Index.
According to P24, a platform for independent journalism, 154 journalists are in Turkey's prisons. The Committee to Protect Journalists says Turkey jailed more journalists in 2016 than any other country.
Read more: Record number of journalists jailed for doing their job
Nearly 140 media organizations have been shuttered after the July 15 coup attempt on alleged terror links. More than 41,000 people have been arrested and 100,000 people dismissed from their public service jobs since then.
CNN's Simone Egarter in Abu Dhabi contributed to this report.