Story highlights
Many of the 66 Democratic women in Congress wore white clothing to Trump's address
"Tonight, our Democratic #WomenWearWhite in support of women's rights -- in spite of a @POTUS who doesn't!" Nancy Pelosi tweeted
Democratic women in Congress made an impression Tuesday evening as they sat in the audience for President Donald Trump's joint address to Congress.
Many of the 66 Democratic women representatives and delegates who make up the House Democratic Women's Working Group wore white clothing, dubbed "suffragette white" in a nod to the women's rights movement in the early 1900s, which encouraged its supporters to dress in white as a representation of purity.
"We wear white to unite against any attempts by the Trump administration to roll back the incredible progress women have made in the last century, and we will continue to support the advancement of all women," Florida Democratic Rep. Lois Frankel, the chair of the working group, said in a statement.
The members are wearing white to show support for Planned Parenthood, affordable health care, reproductive rights, equal pay, paid leave, affordable child care and "lives free from fear and violence," the statement also said.
"Tonight, our Democratic #WomenWearWhite in support of women's rights – in spite of a @POTUS who doesn't!" Minority Leader Nancy Pelosi tweeted.
Republican Rep. Cathy McMorris Rodgers, the chair of the House Republican Conference, responded to her Democratic colleagues' statement by calling for unity.
"You know, I think this is an important time for us to be coming together," she told CNN's Erin Burnett on "OutFront" when asked about the movement by the Democratic women.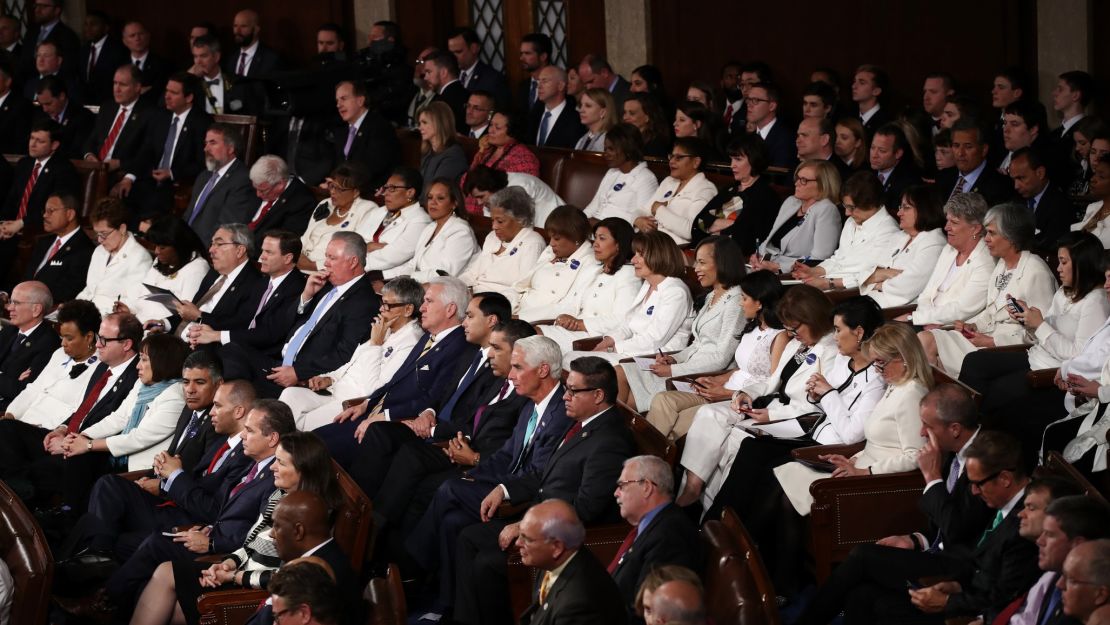 "Typically, when a president is elected, you have that coming together as a country, which we haven't had, and I'm hopeful that people will listen to his message tonight and that they'll be willing to come together, find the common ground, so that we can do the important work that the people expect us to do," McMorris Rodgers added.
White has become the go-to color for celebrating women in politics at many points throughout history. There was a #WearWhiteToVote movement on Election Day 2016 as a tribute to the suffragettes, who fought for women's right to vote. And on the night Hillary Clinton accepted the Democratic presidential nomination at the Democratic National Convention, she wore a white suit.
Many women who disagree with Trump have been pushing back in the weeks following the President's inauguration, holding women's marches across the globe in January and planning more efforts to protest in the months to come.