Story highlights
Trump adopted a statesmanlike cadence
Trump gave little quarter on the substance of his policies
President Donald Trump reached for poetry and conjured a vision of common national purpose Tuesday during his first address to Congress, shifting his tone from the dark, searing approach of his previous big speeches to the nation.
Trump adopted a statesmanlike cadence, hitting notes of inspiration. For once, this most unorthodox of politicians struck a conventional presidential posture as he sought to stabilize his administration after a tumultuous five weeks in office.
Though his language was more lofty and unifying than normal, Trump gave little quarter on the substance of his policies on issues ranging from trade, defense, immigration and counterterrorism. The result was a populist, nationalistic prescription that he said would yield "a new chapter of American greatness."
7 in 10 Speech-Watchers Say Trump Boosted Optimism
"From now on, America will be empowered by our aspirations, not burdened by our fears, inspired by the future, not bound by failures of the past, and guided by a vision, not blinded by our doubts," Trump said, from the Speaker's rostrum in the House of Representatives.
During a vitriolic campaign and a raucous start to his term, Trump has done little to reach beyond his base of deeply committed voters who revile the kind of political elites that the President was staring down as he spoke on Tuesday.
But, beset by the lowest approval ratings of any new commander-in-chief of modern times, Trump made a palpable effort to court voters who didn't support him with an offer to lay down the battles of the past. In fact, his address ticked almost all the boxes of a traditional State of the Union style appearance.
'Embrace this renewal'
"I am asking all citizens to embrace this renewal of the American spirit. I am asking all members of Congress to join me in dreaming big, and bold, and daring things for our country," Trump said. "I am asking everyone watching tonight to seize this moment. Believe in yourselves. Believe in your future. And believe, once more, in America."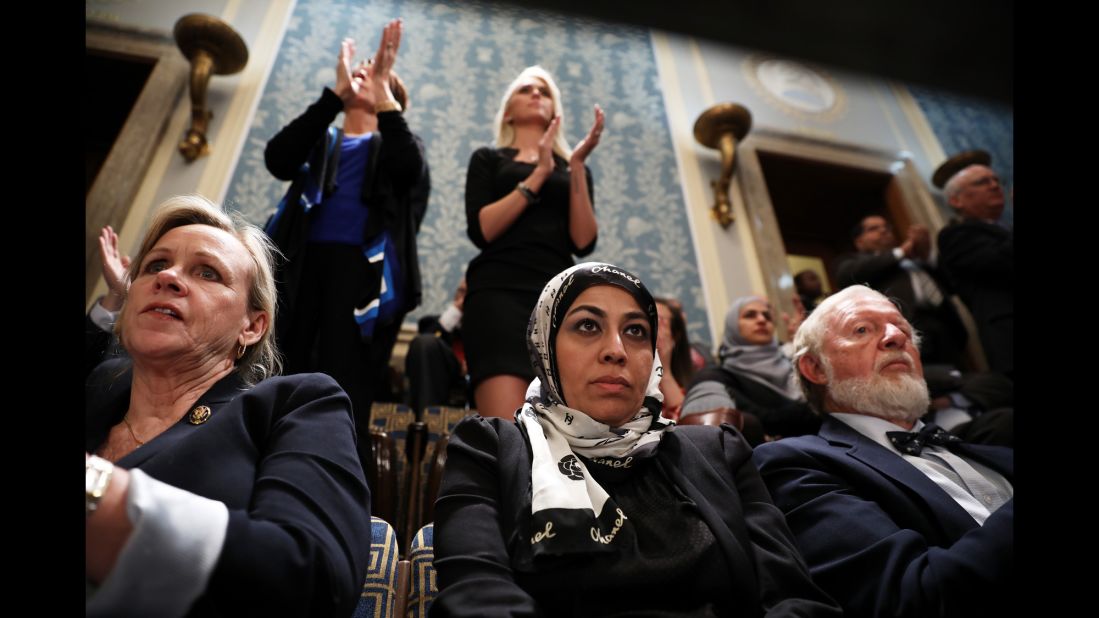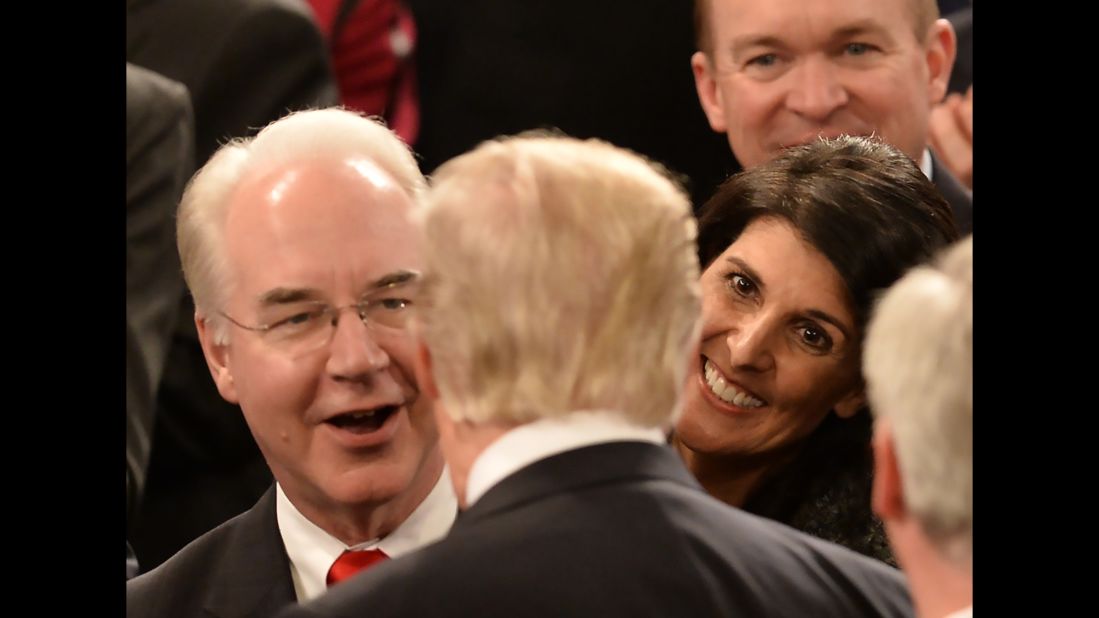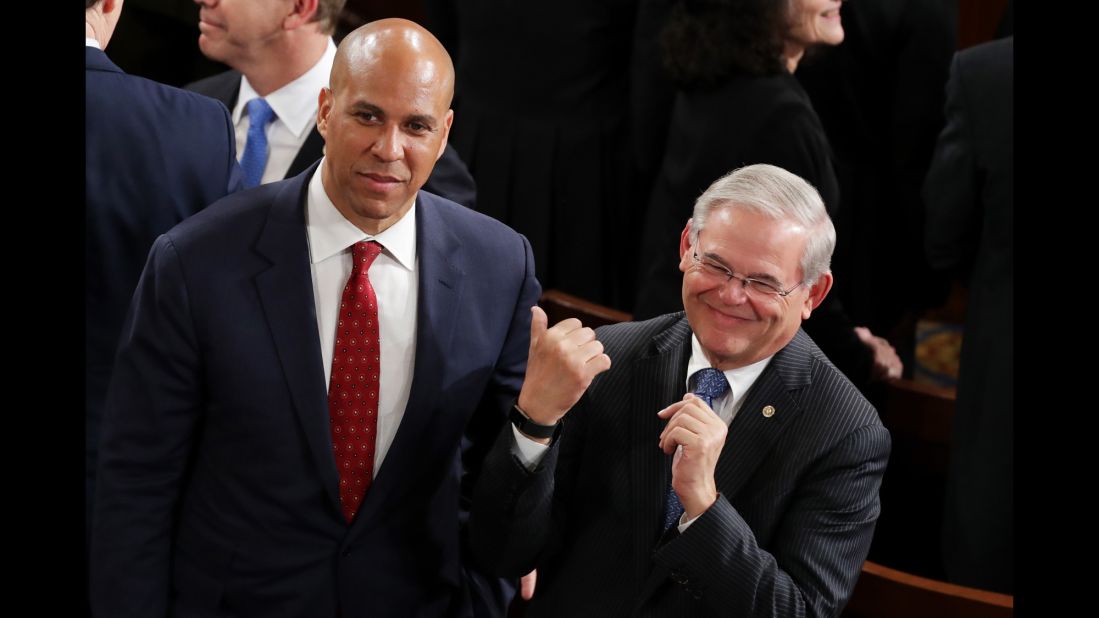 President Trump's first address to Congress
It was an uplifting and unifying message that many Americans have rarely heard from Trump, who argued "the time for trivial fights is behind us."
While Trump is not solely responsible for the coarsening of political life, his brash, Twitter-fueled approach has rocked the nation's politics. The question now is whether the President was previewing a new, more sober political persona or whether he will return to his old habits.
The change in his tone was evident from the first moments of his speech when he condemned the recent spate of threats against Jewish community centers, vandalism at Jewish cemeteries and the shooting of two Indian men in Kansas.
Donald Trump's Congress speech (full text)
He said the violence was a reminder that "while we may be a nation divided on policies, we are a country that stands united in condemning hate and evil in all its very ugly forms."
The comment followed heavy criticism of Trump for not addressing such violence.
The new President entered the House chamber to thunderous applause and spoke of the "renewal of the American spirit."
A senior White House official said Trump wrote the speech himself with input from almost every member of his presidential team of advisers.
In the emotional high point of the speech, Trump turned to the first lady's box and acknowledged Carryn Owens, the widow of a US Navy Special operator, William "Ryan" Owens, who was killed in an anti-terror raid in Yemen in the first major military engagement of the new administration.
Van Jones: The moment Trump became President
"Ryan died as he lived: a warrior, and a hero – battling against terrorism and securing our nation," Trump said as the House floor erupted in a prolonged standing ovation. Owens, with tears streaming down her face, looked to the Heavens and joined in the applause.
Less explosive style welcomed
His less explosive presentation style was welcomed by many lawmakers.
McConnell: Americans expect Obamacare repeal
"Donald Trump did indeed become presidential tonight, and I think we'll see that reflected in a higher approval rating," Senate Majority Leader Mitch McConnell, R-Kentucky, said on CNN after the speech.
"The Donald Trump I heard tonight was a lot more focused and disciplined and subdued, and it was a lot more uneventful in a good way," moderate House Republican Charlie Dent told CNN's Tom LoBianco. "There were not a lot of distractions tonight, this speech was much better than the inaugural speech."
North Dakota Democratic Sen. Heidi Heitkamp, who is up for re-election next year in a state that Trump carried, said the President delivered a "very good speech."
"It was delivered with a sense of 'this is who I am, this is what I want to accomplish' and I think the goals are great," she said. "How we get there is the $10,000 question."
Senate Democratic Leader Chuck Schumer said on CNN that Trump's "speeches and the realities are very, very far apart."
"Until his reality catches up with his speeches, he's got big trouble," Schumer said.
The looks on lawmakers' faces during Trump's speech
Though his rhetoric was soaring, Trump still struck hardline notes. He overruled national security adviser H.R. McMaster, according to a senior administration official, to warn of "radical Islamic terrorism." Hitting themes familiar from his campaign, Trump vowed to restore "integrity and the rule of law to our borders."
"We will soon begin the construction of a great, great wall along our southern border," Trump said, drawing Republican cheers even as he didn't mention his earlier promise that Mexico would pay for construction.
"As we speak tonight, we are removing gang members, drug dealers, and criminals that threaten our communities and prey on our very innocent citizens. Bad ones are going out as I speak, and as I promised throughout the campaign"
Sending shockwaves through Washington
While such language could please conservatives, Trump sent shockwaves through Washington earlier Tuesday by telling reporters he wants to pass an immigration reform bill that could grant legal status to millions of undocumented immigrants living in the US.
"The time is right for an immigration bill as long as there is compromise on both sides," Trump said at the White House. But he did not provide further clarity on that position during his address.
So far there is little sign that the new President's legislative agenda, which includes repealing and replacing Obamacare, a big tax overhaul, and a $1 trillion infrastructure program, is anywhere near coming to fruition.
That explains why he devoted a considerable portion of the address to touting his achievements so far. He argued that his election alone had convinced big firms like Ford, Sprint, SoftBank and Intel to invest billions of job-creating dollars in the US. He noted that stocks have put on $3 trillion in value since his election and claimed to have saved hundreds of millions of taxpayer dollars, including on the new F-35 jet fighter.
Trump said he also kept his word by cutting government regulations, clearing the way for the Keystone and Dakota Access pipelines and pulling out of the Trans Pacific Partnership trade deal.
The President also laid down clear principles for the repeal and replacement of Obamacare, a key policy goal that is threatening to become overwhelmed by the complications of writing health policy. A new system, he said, must retain coverage for Americans with pre-existing conditions, should offer plans backed by tax credits and expanded health savings accounts and should preserve Medicaid expansion in the states. Trump also vowed to bring down the high price of drugs "immediately."
'Obamacare is collapsing'
"Obamacare is collapsing – and we must act decisively to protect all Americans," he said, "Action is not a choice – it is a necessity."
House Democratic Leader Nancy Pelosi, who was instrumental in passing the law, shook her head as Trump condemned it.
The President also signaled action on another key piece of his agenda – tax reform, promising "massive" relief for the middle classes and cuts in corporate tax. Yet Trump also pushed for his $1 trillion infrastructure plan and spoke of his effort to boost military spending. Given that he has also said he will protect entitlements, questions will be asked about how the administration can finance its ambitious plans.
Trump's speech was closely watched around the world, given that his pronouncements on foreign policy have caused alarm and confusion. There were, however, few details on national security policy to clear up misconceptions.
Trump recommitted himself to a strong "America First" foreign policy, but also backed NATO – as long as its members pay their dues – while bemoaning trillions of dollars the US has spent in foreign wars abroad.
"My job is not to represent the world. My job is to represent the United States of America," said Trump. "But we know that America is better off when there is less conflict, not more. We must learn from the mistakes of the past. We have seen the war and the destruction that have ravaged and raged throughout the world."
Despite some positive reviews for Trump in the room on Tuesday, the official Democratic response by former Kentucky Gov. Steven Beshear accused the President of deserting the working people who voted for him by picking a cabinet of millionaires and billionaires.
"That's not being our champion. That's being Wall Street's champion," Beshear said.
"Real leaders don't spread derision and division. Real leaders strengthen, they unify, they partner, and they offer real solutions instead of ultimatums and blame," said Beshear, accusing Trump of waging war on refugees and immigrants and endangering US security by reaching out to Russia.
CNN's Ted Barrett contributed to this report