Story highlights
Tornadoes rip through the Midwest and Southeast over two days
Nearly 30 twisters reported in seven states
Severe thunderstorms left swaths of destruction for a second straight day in parts of the Midwest and Southeast after a string of tornadoes ripped through several states.
At least three people were killed in Illinois and Missouri in Tuesday's storms. Others were injured, and cars were left scattered on highways.
The National Weather Service said that 26 tornadoes ripped through parts of Iowa, Missouri, Illinois, Indiana and Tennessee on Tuesday, and there was one tornado each in eastern Kentucky and West Virginia on Wednesday. No fatalities or injuries were reported in Wednesday's twisters.
Damage near Nashville
Strong storms stripped siding and roof tiles off homes and damaged a bank in the area of Franklin, Tennessee, a city south of Nashville, authorities said.
The weather service was trying to determine whether a tornado hit near the CoolSprings Galleria mall, CNN affiliate WSMV-TV reported.
A woman in Brentwood, just across the city line from the mall, recorded video from a convenience store showing rain and wind furiously pushing small debris outside. About 18,000 utility customers in the area were without power at one point Tuesday, WSMV reported.
In Clarksville, about an hour's drive northwest of Nashville, a tree fell on a mobile home, leaving a boy with several broken fingers, WSMV reported.
Junked cars blown across highway
A tornado wreaked heavy damage Tuesday night in eastern Missouri, where one person was killed as the twister blew as many as 20 vehicles from a junkyard onto Interstate 55, authorities said.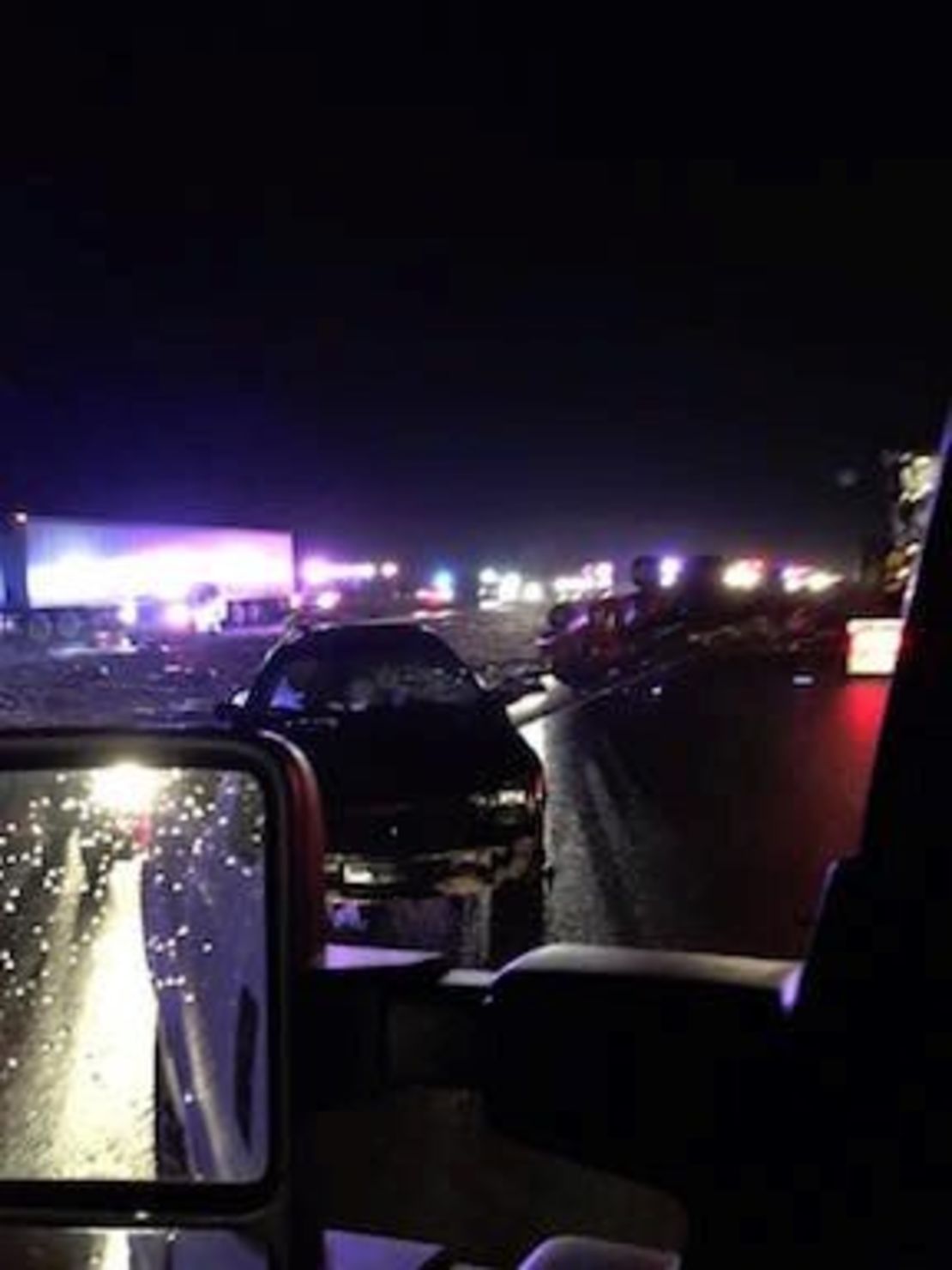 The man driving on I-55 near Perryville was killed as a result of the twister, Missouri State Highway Patrol Sgt. Al Nothum said, without elaborating. Nothum said there were also several injuries, mostly among drivers and passengers in three tractor-trailer rigs struck by debris.
"This tornado picked up about 15 to 20 of these old cars, picked them up, blew them out of the junkyard, across the county road and into Interstate 55," he said. The injuries to the other drivers were minor, "which is amazing when you see how far these tractor-trailer units were pushed," Nothum said.
The tornado had a 13-mile path and destroyed some houses in the city, leaving about 60 families who have "lost about everything," Mayor Ken Baer said.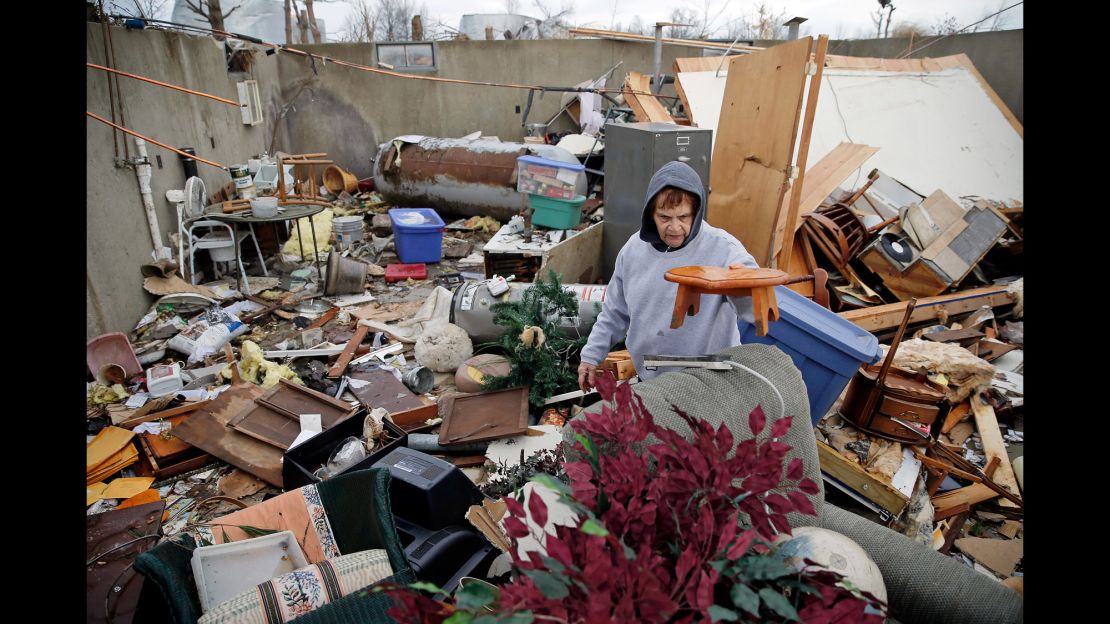 J.R. Wright told CNN affiliate KTVITV in St. Louis that he was driving through Perryville when he saw what he characterized as "a disaster zone." He said when he got out of his car all he heard were "people screaming and crying. There were two or three women running up and down the road looking for their husbands."
Linda Maguire had also been on the highway when the storm hit. "I was driving back to school in Murray, Kentucky, and the wind was blowing something fierce," she said.
Maguire told CNN her dad alerted her to the storm.
"Right as he told me, I saw a tractor-trailer was flipped over right off the side of the road. I saw two or three of them, and two cars in front of me were at a complete stop. The tornado had just passed," she said. "There were cars scattered all over the highway, and the hills looked like a scrap yard."
All residents in the area south of Perryville affected by Tuesday night's tornado have been accounted for, Perry County Sheriff Gary Schaaf said.
"We're now just trying to clear the roads the best we can so we can start cleaning up in the morning," he said.
Deaths, destruction in Illinois
Storms killed at least two people in Illinois on Tuesday, authorities said, including one in Ottawa, a city of about 18,000 people about a 90-minute drive southwest of Chicago.
A tree fell on two people in Ottawa, killing Wayne Tutland, 76, and seriously injuring his companion, authorities said. A tornado was reported in the area.
Tutland and the other person were burning debris in his yard when someone warned them a storm was approaching, said Rich Ploch, chief deputy with the La Salle County coroner's office.
"It looks like they were in the process of returning to the home, and unfortunately the tree came down on him," Ploch said.
A storm, and possibly a tornado, heavily damaged parts of the nearby village of Naplate, where about 60 homes were destroyed Tuesday, Gov. Bruce Rauner said.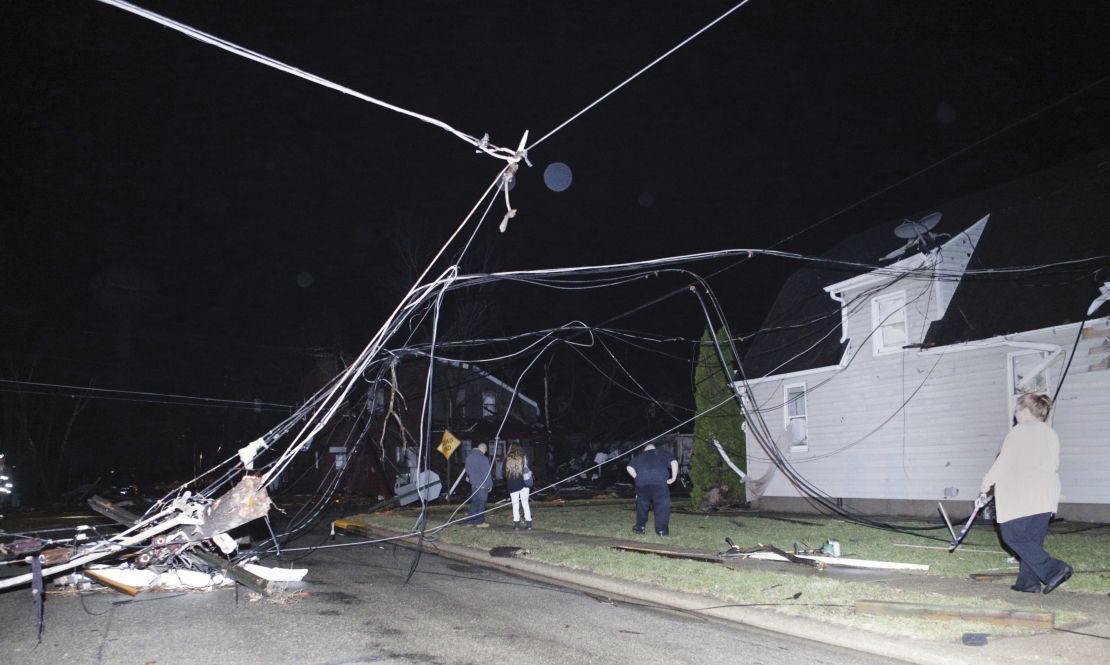 The storm damaged a nursing home, where five residents were injured, Rauner said as he toured the village of about 500 people.
A Pilkington glass manufacturing plant there was extensively damaged, temporarily postponing operations at the facility that employs around 200 people, plant manager Chris Miller said.
The cost of the damage wasn't immediately clear, but "we will be able to restart the site" eventually, Miller said.
"We've got to count our blessings. This could have been way worse," the governor said.
Near the southern Illinois village of Crossville, a man was found dead in a field behind his heavily damaged home, said public works supervisor Mark Pierce. A tornado was reported in the area.
The man's wife sustained injuries in the storm and was taken to a local hospital, Pierce said.
Along with tornadoes and strong winds, the Storm Prediction Center reported substantial hail throughout the region.
In Arkansas, the White County Office of Emergency Management said four people were injured after a possible tornado touchdown. The county experienced widespread power outages.
CNN's Deanna Hackney, David Williams, Michael Guy, Amanda Jackson and Dave Alsup contributed to this report.