When 20-year-old undefeated female professional mixed martial arts (MMA) fighter Angela Lee walks into the room it's a slightly strange moment.
With a white frangipani flower behind her ear and her highlighted hair bouncing around her shoulders, the smiling 5 foot 4 inch Lee cuts a friendly figure.
Is this the same woman who appeared on pay-per-view TV around the world last May, punching, kicking and grappling to defeat experienced Japanese fighter Mei Yamaguchi?
The same fierce fighter who, aged 19, secured the inaugural ONE Championship (ONE) women's atomweight title, becoming the world's youngest MMA champion, earning her comparisons with boxing legend Mike Tyson, who achieved his first world title aged 20?
"As a small child growing up, I always wanted to be a world champion," Lee tells CNN in Bangkok, where she is training for her next big fight.
Since achieving that goal, she has become one of the most popular MMA fighters in Asia – male or female. She has thousands of followers on social media and is constantly cited by MMA journalists as one of the top athletes in the game.
Undefeated with six wins, five by submission – including an ultra rare "twister" spinal lock submission – Lee's ground game is notoriously slick.
As that frangipani hints, she has a style of her own.
A family of fighters
Meet the world's youngest MMA champion
Born in Canada to a Singaporean father and a South Korean mother, Lee comes from a family of fighters.
Her three younger siblings – two brothers and a sister – all practice martial arts, while her parents are both highly decorated martial arts competitors and instructors.
Lee says she's been training since she could walk.
And while it's her dad, Ken, and her 18-year-old brother Christian – also a professional fighter with ONE Championship – that fans see in her corner on fight night, Lee credits her mother for teaching her to be a strong and independent woman.
"Growing up with my mom as a martial arts instructor, and also the additional values that I learned from mixed martial arts, really shaped me into the kind of person I am today," she says.
Her dad, meanwhile, gave her a versatile grounding in MMA, a sport that has evolved dramatically over the last 20 years and entails using a combination of moves from different martial arts disciplines to defeat an opponent.
"Growing up with my dad, I was able to learn all those styles and incorporate them into the new style of MMA that is fought today," says Lee.
"(I learned to use) everything from striking, boxing, kickboxing and Muay Thai to things like wrestling and judo on the ground. I think that's the beautiful thing about this sport. It's constantly forcing you to evolve and improve in all areas."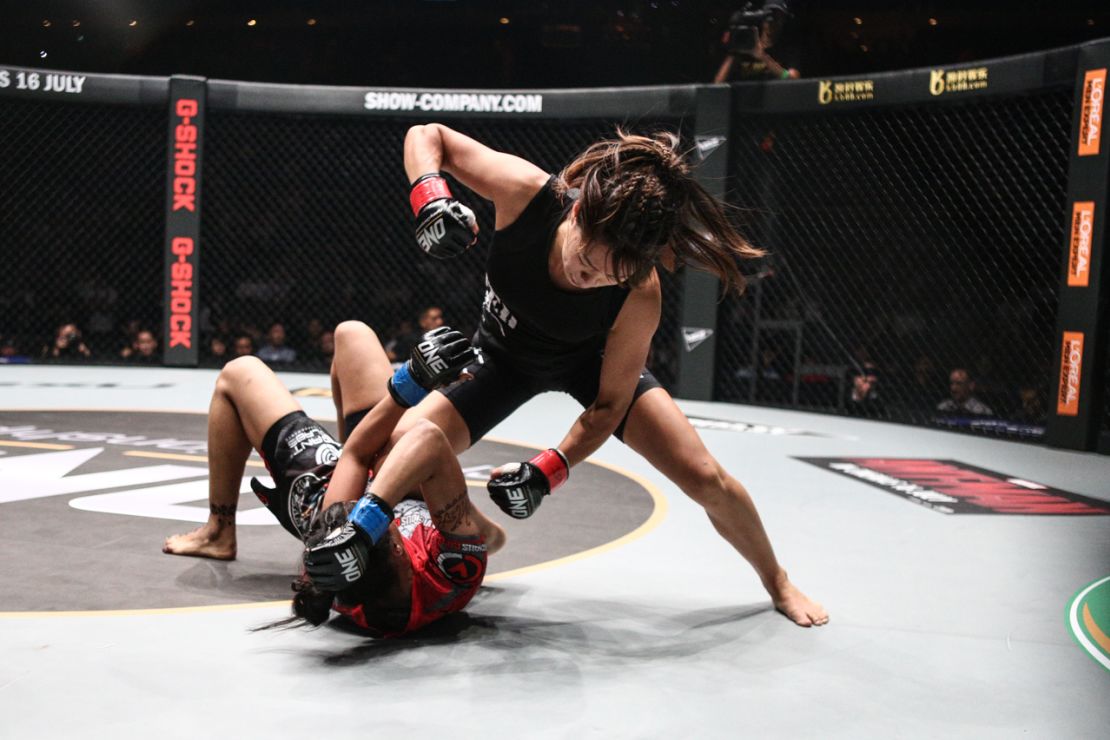 Making a man's world her own
Today Lee divides her time between Hawaii, where the family moved when she was young, and Singapore, where she's a member of the Evolve fight team and competes with the ONE Championship organization – considered by many to be the Asian equivalent of the Ultimate Fighting Championship (UFC), an American organization and the largest MMA promoter in the world.
When Lee emerged victorious from her championship fight last May, her new contract with ONE reportedly made her one of the highest paid females in the history of any MMA organization in the world.
Though specific details about her contract haven't been released, ONE founder Chatri Sityodtong has publicly said that Lee is now one of the top five best-paid fighters in his organization.
He wrote in a post on his Facebook page: "I believe in meritocracy and that is how all of my companies are run. Everyone should be afforded the equal opportunity to be the master of his/her own destiny through his/her thoughts, words, and actions.
"At my companies, we don't care about paper qualifications, CVs, race, gender, religion, sexual orientation, social status, nationality, color."
Indeed, the fact that Lee's upcoming battle against Taiwanese MMA fighter Jenny Huang, on March 11 in Bangkok, is currently the next major event on ONE's calendar highlights a global shift in the level of respect afforded to women in MMA.
Lee recognizes the rare position she's in.
"I think that it's really important because I'm competing in Southeast Asia and in these countries I understand that a lot of women don't have the same opportunities the men do," she says.
Career defining moment
When asked to pick the one fight that has meant the most to her in her short career, Lee points to her first professional fight with promoter ONE Championship – a moment that still gives her chills.
Lee overtook her opponent Aya Saber in the first round, in just one minute and 43 seconds via arm bar, a submission move that involves hyper-extending an opponent's elbow joint so that they're forced to tap out.
Having just graduated from high school when the fight took place, Lee says it opened her eyes to a whole new world, and a life she'd always dreamed of.
"From there, it just seems like everything was super speed. Everything went perfectly."
Indeed, four more fights and less than a year later Lee was given her shot at the title.
"I was walking out to the cage, I kind of had this blank look on my face and all these thoughts were coming in my head, all these doubts, and I just couldn't shake off," she says of the May 2016 fight against Yamaguchi.
That was the first time Lee had to go a five full rounds.
After an epic battle against a woman considered one of Asia's top fighters, she was declared victorious in a unanimous decision. Some sports media dubbed it ONE's top fight of 2016.
"I owe (the win) to my preparation and my training for the fight but also I was very happy that I was able to overcome all those doubts and insecurities that I had and come out victorious. It was a very emotional moment for me."
Lee commemorated the win with a tattoo – a pocket watch surrounded by a lotus, featuring the time and the date of her win.
"I'm a very sentimental person," she says as she shows off her ink.
Fighting back against MMA criticism
Lee acknowledges MMA has its critics, with many dismissing it as a violent and barbaric sport due to the fact fighters are, essentially, aiming to injure their opponent to keep them from continuing.
Though in recent years MMA has introduced a series of rules to protect fighters from risking serious injury, many continue to associate MMA with its original no-holds-barred format.
"There are so many misconceptions about MMA," she says.
"Luckily, it's a sport that's evolving so fast, it's becoming widely accepted around the world and people are starting to realize it's so much more than what it appears to be.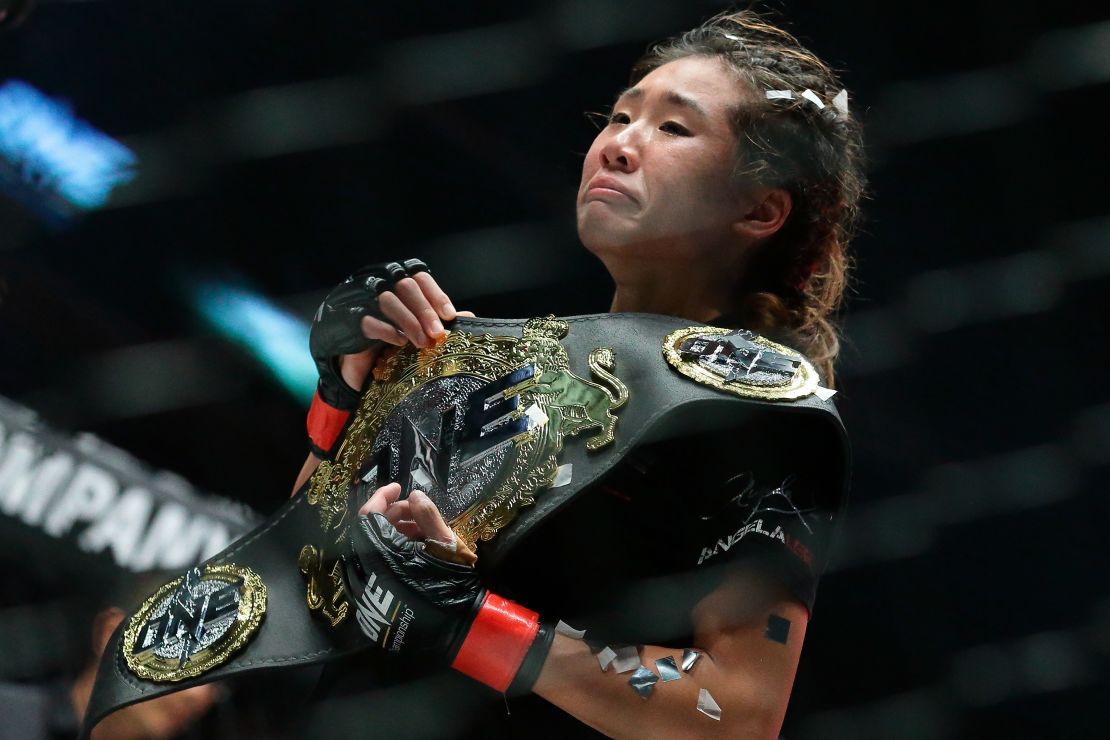 "If you take me, for example. I'm just a kid, practically. A 20-year-old girl. I'm a professional MMA fighter and a world champion. I'm pretty much a living testimony to breaking these stereotypes that fighters are supposed to look a certain way, act a certain way."
But regardless whether a woman wants to step into a cage and fight, Lee says it's important for females to know how to defend themselves.
"Martial arts is so much more than (fighting)," she says. "It really gives you self-confidence, it promotes a healthier lifestyle and definitely there's the self-defense aspect. It's a crazy world out there and I think everyone should be able to defend themselves."
It's all about confidence
It's one thing to see Lee in the cage, where you expect a fighter to give their all, and quite another to watch her up-close in training. She's frighteningly fast, has the reflexes of a mongoose, and her focus is absolute.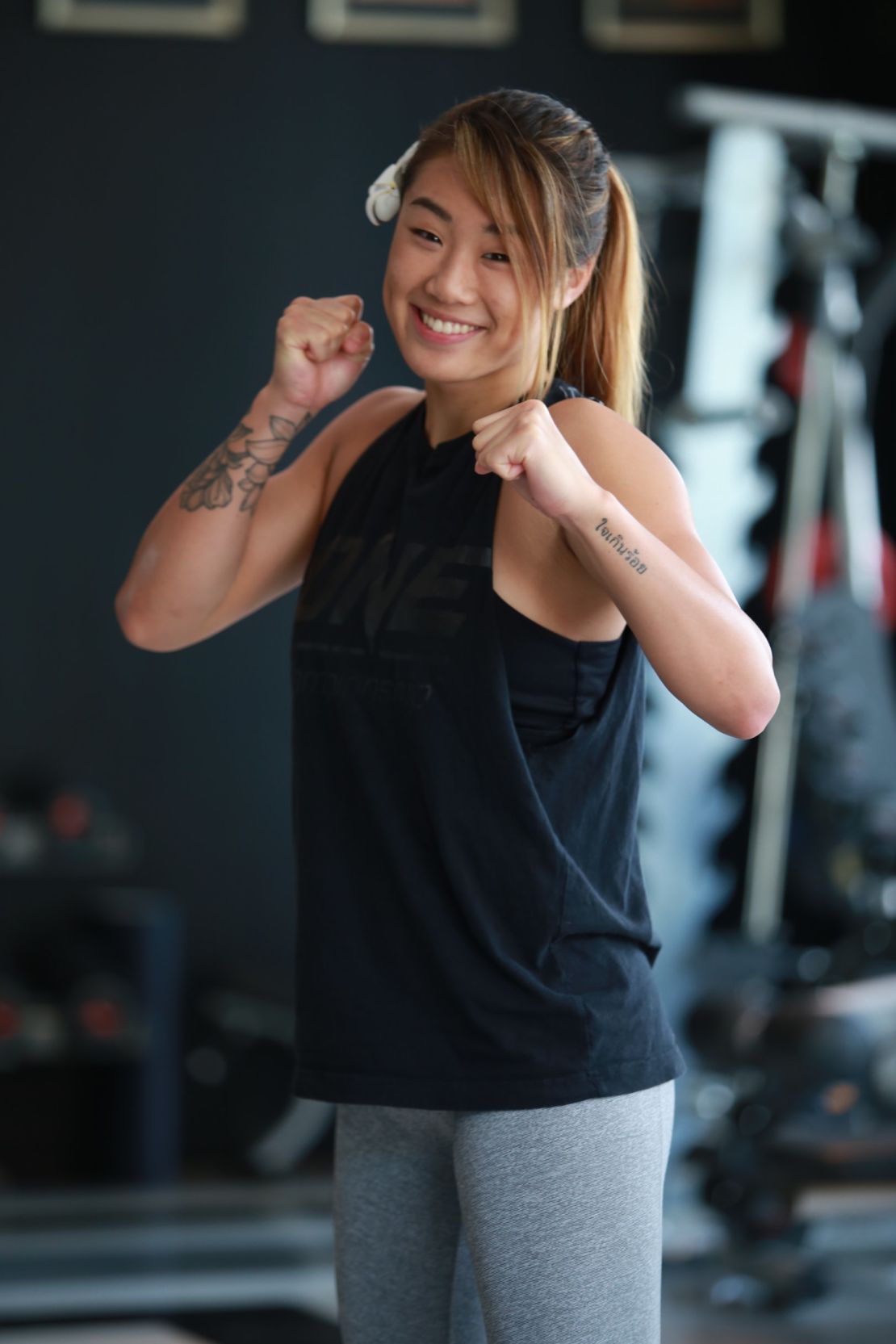 "How you perform is directly related to your training and your preparation," says Lee.
"In the moment what makes all the difference is how quick your reaction time is. That's why I train so hard, so that it comes out extremely naturally during the fight."
For now Lee is focused on defending her title against Huang on March 11, but what's next for the young star?
"It's hard to put an end date on it," she says, "because I really just got started.
"I want to fight for as long as I can."
Graphics by Wafa'a Ayish and Sofia Ordonez.