Story highlights
NEW: Fillon tweeted Sunday that he will not withdraw from the race
Candidate faces an investigation into possible criminal wrongdoing
A defiant François Fillon says he will not end his bid for France's presidency.
The embattled Republican candidate tweeted Sunday that he would not withdraw after it was announced that a "respectful exit plan" will be discussed at a party meeting on Monday.
"No one can stop me from being a candidate in this race," Fillon said in an interview with CNN-affiliate France 2 television. Fillon faces speculation that he could be replaced by the man he beat in the primaries – former Prime Minister Alain Juppe.
Fillon has been heavily criticized for failing to quit the race after becoming embroiled in a parliamentary scandal over claims that he paid his wife and children for work they did not do.
Fillon has apologized for the affair but has hemorrhaged support over the past week and now faces being stripped of his candidacy by the party. He also faces an investigation into possible criminal wrongdoing.
On Sunday, senior Republican Christian Estrosi told CNN-affiliate BFM that he and others were looking to initiate a way for Fillon to stand down respectfully. Estrosi said that not taking action could allow National Front leader Marine Le Pen to take power and added that he would not allow voters to commit "collective suicide."
But Fillon said standing down would be a political dead-end for his party and make way for the far-right Le Pen. "We won't be able to convince the French not to elect Marin Le Pen if we present a center-left project," he said.
Le Pen herself is also under scrutiny. Several of her staff members are accused of being paid for fake European Parliament jobs.
Addressing supporters at a rally in Paris on Sunday, Fillon remained defiant, telling the crowd that his accusers will "feel shame." Ahead of Monday's party meeting, Fillon said he wants to reconstitute his campaign team after several staffers resigned last week.
Rash of allegations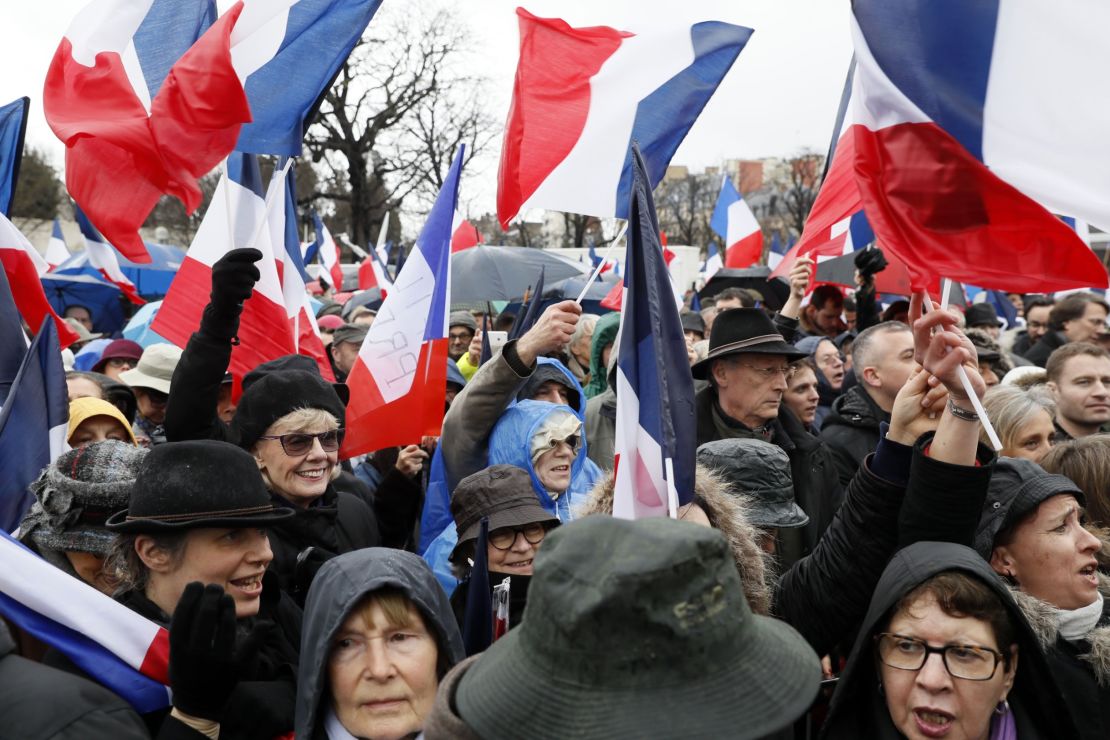 Fillon's problems began when French newspaper Le Canard Enchainé published reports that his wife and and two of his adult children earned nearly 1 million euros ($1.08 million) as parliamentary assistants but didn't show up for work.
The 62-year-old Fillon has rejected the claims and insists that he has "nothing to hide."
He has said his wife worked for 15 years, as his "deputy," carrying out several roles, including managing his schedule and representing him at cultural events.
Fillon, who was prime minister from 2007 to 2012, said that his daughter and son were employed in similar positions for 15 months and six months respectively, which he said is not illegal, but was an "error of judgment."
He did offer an apology to the French people on February 6.
His lawyer, Antonin Levy, has accused the prosecutor's office of failing to prove any wrongdoing in an initial inquiry and complained about the timing of the probe, which comes mere weeks before the April 23 presidential election.
The investigation will look at allegations of embezzlement of public funds, misuse of public assets, complicity and concealment of such objects, traffic of influence and noncompliance with the reporting obligations before the High Authority, according to the financial prosecutor's office.
The allegations have hit Fillon hard. Three recent polls all have National Front leader Marine Le Pen in the lead in the first round of voting, with independent centrist Emmanuel Macron and Fillon fighting for second place.
On Sunday, Le Pen added more pressure on Fillon, claiming the electorate deserved clarity on his stance.
"With the elections 50 days away, the French still don't know if Mr. Fillon will be the right wing's candidate," she wrote on Twitter.
'Crazy rumors'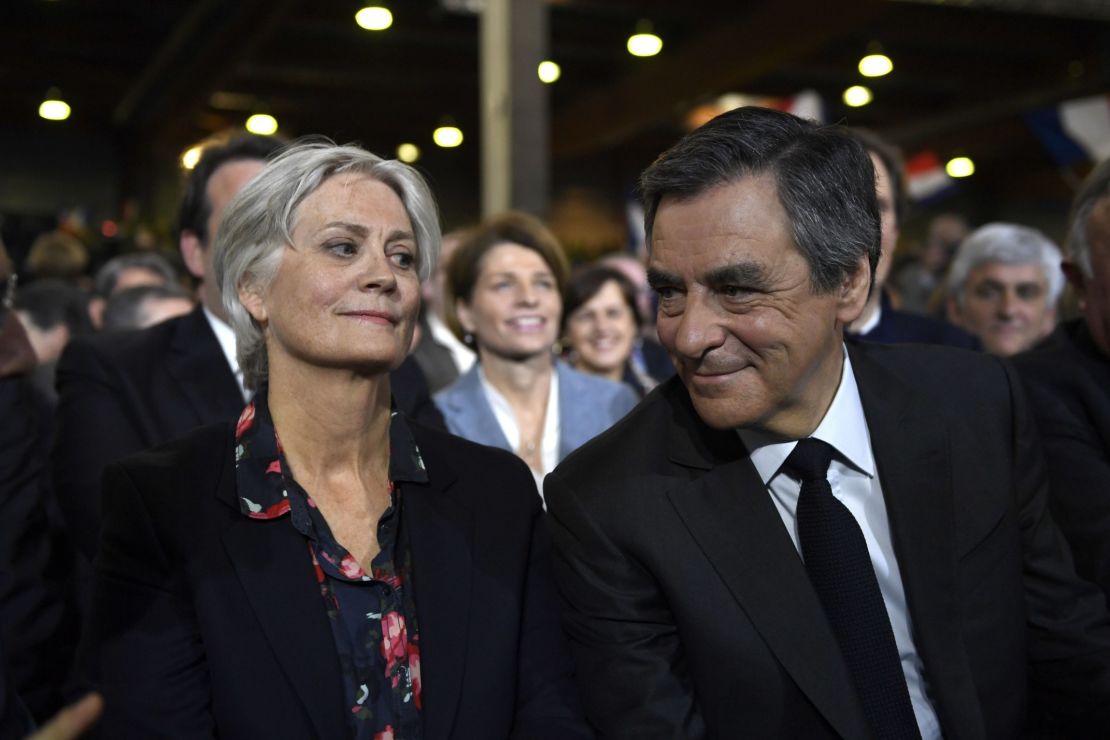 On Sunday, Fillon's wife lashed out at those spreading "crazy rumors" and insisted her husband would "go on until the end" in his bid for the presidency.
Speaking to the French newspaper Journal du Dimanche, Penelope Fillon rejected allegations that she received payment without working.
She said her work entailed preparing her husband's notes on local gatherings and protests so he could match them up with his speeches.
"I did not consider that it was political. I was working for my husband and the people of the Sarth region," she said. "I was always involved in his political choices. He totally trusts me for my discretion and my loyalty, which is not the case for every one of his collaborators."
If no candidate gets more than 50% of the vote on April 23 there will be a runoff election on May 7.