Story highlights
At least 3 million Syrian children under 6 "know nothing but war," report says
Official: Children "suffer acute psychological distress, even after they have left Syria"
Syria's children are overwhelmingly suffering "toxic stress" from the country's brutal civil war, with possible long-term effects on their psychological and physical health, a report by a children's welfare group concludes.
The report, which the British charity Save the Children published Tuesday, says that almost all children it interviewed say they suffer from war-related stress, brought on by bombings, the loss of family and friends, and near-constant insecurity.
At least 3 million Syrians under age 6 "know nothing but war," says Save the Children, which characterizes the conflict one of the biggest humanitarian crises since World War II.
Read the full report: "Invisible Wounds"
"My son wakes up afraid in the middle of the night," a father named Firas is quoted as saying about his 3-year-old son, Saaed.
"He wakes up screaming. This is how children have been affected. He has bad dreams and wakes up crying and sometimes runs out onto the street. He has nightmares because of the war and air bombardment. Because of fear. A child was slaughtered in front of him, so he started to dream that someone is coming to slaughter him. When a child witnesses a beheading, how could he not get afraid?"
Syrian boy cries for father after losing legs in bombing
Syrian boy cries for father after losing legs
Toxic stress leads to a number of problems, including "bed-wetting, self-harm, suicide attempts and aggressive or withdrawn behavior," says Marcia Brophy, Save the Children's senior mental health and psychosocial support technical adviser for the Mideast and Eurasia.
For the report, 450 children and adults inside seven of Syria's 14 governorates were interviewed about "how the conflict has affected children's daily lives, their main causes of stress and fear, who they turn to for help and how they cope with constant war," Brophy says.
Little boy in Aleppo a vivid reminder of war's horror
Shelling and bombing compound the stress
The researchers, who were trained in mental health care, offered psychological first aid to the children. The interviews were conducted in rebel-held areas of Syria, but the charity was unable to operate in government-held and ISIS-controlled parts and had no access to children there.
A critical shortage of mental health and psychosocial support in Syria and "little community or institutional support" are exacerbating the children's problems, the report says.
"I always feel angry, all the time," Aboud, a child from Idlib, estimated to be 12 to 14, is quoted as saying.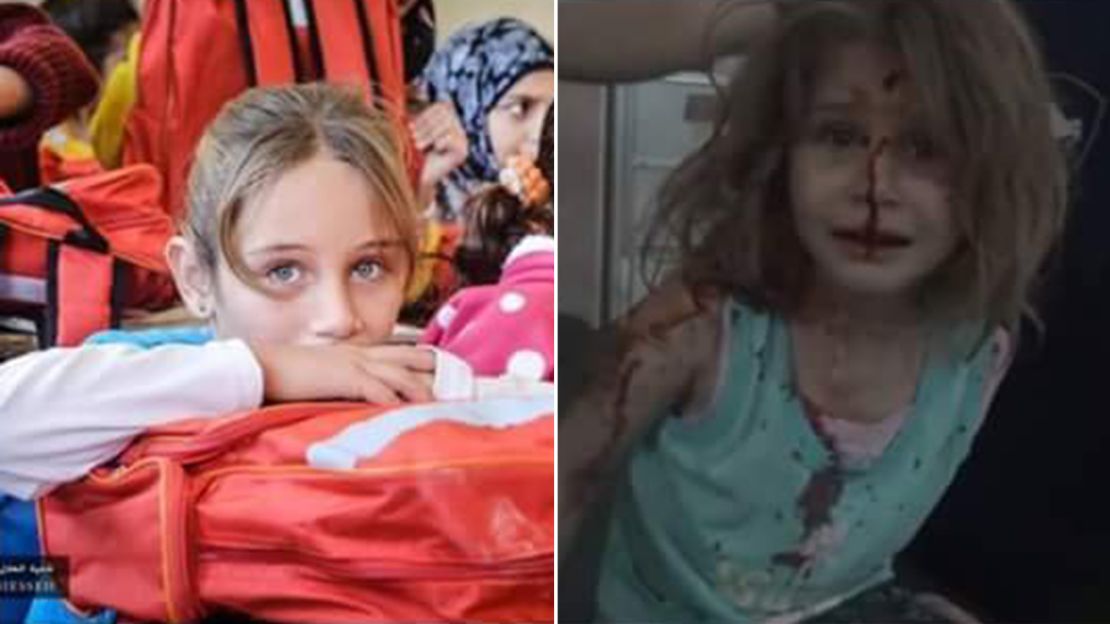 A major cause of stress includes "threats such as physical and verbal abuse, exposure to violence, fear of abduction and deprivation."
Drowned toddler Aylan Kurdi laid to rest in Syrian city he fled
Doctors Without Borders recognizes "the uniquely devastating effect" of the civil war on children, said Pablo Marco, operations manager for the group in the Middle East.
"Our teams providing mental health support for Syrian refugees in Turkey and Jordan are treating children and families who continue to suffer acute psychological distress, even after they have left Syria," Marco said in a statement to CNN.
While those who remain trapped behind in Syria must confront chronic problems, refugee children also have to cope with "dire economic conditions and poverty facing refugee families," the report says.
The report cited shelling and bombing as the biggest causes of stress. In some focus group sessions, the sound of airplanes flying above left children "too terrified" to continue.
Powerful images of wounded Syrian girl go viral
'I lost out on two years of school'
A lack of education is compounding the problems that Syrian children experience, the report says. Bombed out schools and a lack of security in many parts of Syria are putting millions of youths at risk of missing out on essential developmental targets.
Older children are forgetting what they have learned, and many younger ones have never had regular, uninterrupted education.
"A lot of children don't even know the letters of the alphabet, it's all gone. They've been affected by the violence," the report quotes 11-year-old Zainab.
"I lost out on two years of school, and my brother has grown up and has hardly studied at all."
Even when schools are open, around half of the children interviewed for the report say they don't feel safe there.
Inside rebel-held Syria, where children beg to die
Many are forced to work to support their families, and the threat of exploitation – largely recruitment into armed groups for boys and sexual exploitation for girls – is rife. Child marriage is also on the increase, with some families rationalizing the practice as offering their children a safer, more secure environment.
The report says that many of the children interviewed were resilient and that the impact of stress could be reversed.
However, the effects of six years of brutal civil war will never be erased completely for the young people who have lived through it.
"I feel sad when we have a (public) holiday but my parents are not here because I have already lost them, and I am alone because everyone is dying," Zeinah, a teenage orphan from outside Aleppo, told the report's authors.