Story highlights
Barcelona 6-1 PSG
First leg: PSG 4-0 Barca
Spanish club wins 6-5 on aggregate
Dortmund also through to quarterfinals
Its motto is "More than a club" and Spain's Barcelona produced more than a result Wednesday routing France's Paris Saint-Germain 6-1 to qualify for the Champions League quarterfinals.
Having lost the first leg 4-0 in Paris, few had given Barca a chance of reaching the last eight given no side had previously overturned such a deficit in the history of the competition.
But Luis Enrique's side made a barnstorming start in the Camp Nou and led 3-0 early in the second half through Lionel Messi's penalty.
The home side was coasting, but just past the hour Uruguayan striker Edinson Cavani's volley seemingly put PSG back in control with a crucial away goal, meaning Barca needed to score three more times.
However, with two minutes of normal time remaining Neymar's exquisite free-kick gave Barca renewed hope, and two goals in stoppage time completed the most incredible of comebacks.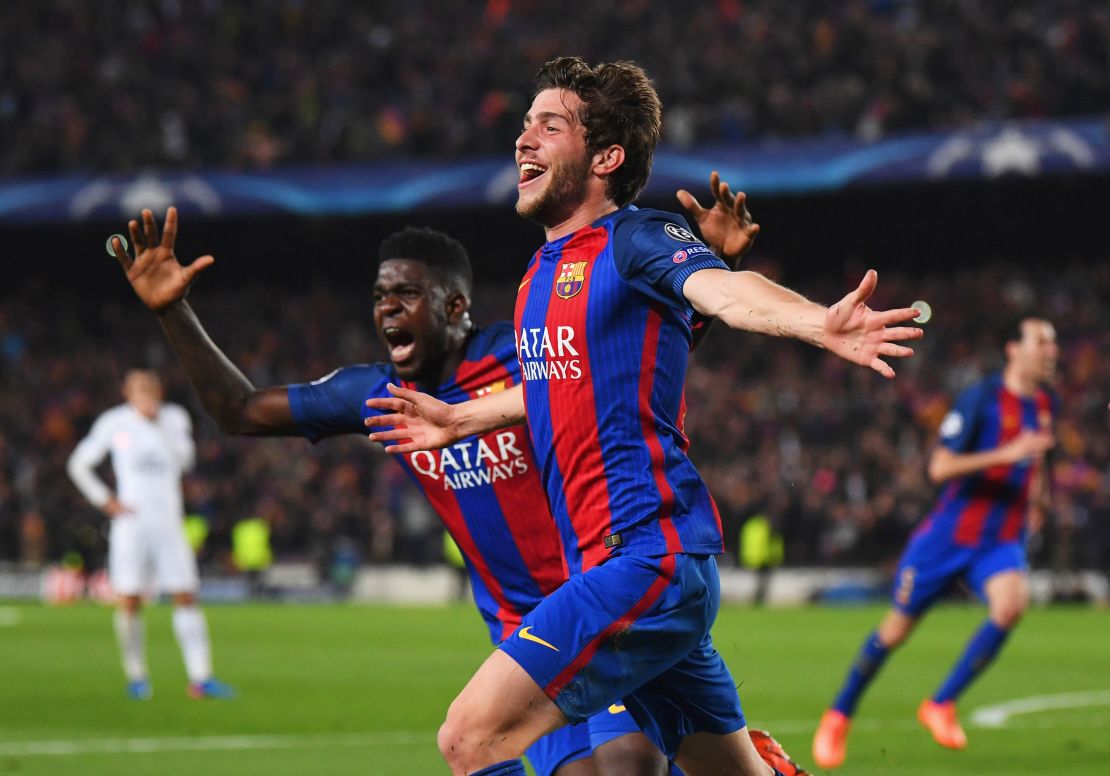 'Unbelievable'
Those five minutes of stoppage time almost defy description.
In the 91st minute Luis Suarez, who had given Barcelona an early lead, won a penalty, which Neymar converted.
With time running out Barcelona threw everyone forward – even goalkeeper Marc-André ter Stegen.
And almost with the last kick of the game the decisive goal came from the most unlikely of sources – not the club's famed South American strikers Messi, Neymar or Suarez – but defender Sergi Roberto, who was born in Catalonia and is a product of Barca's youth academy.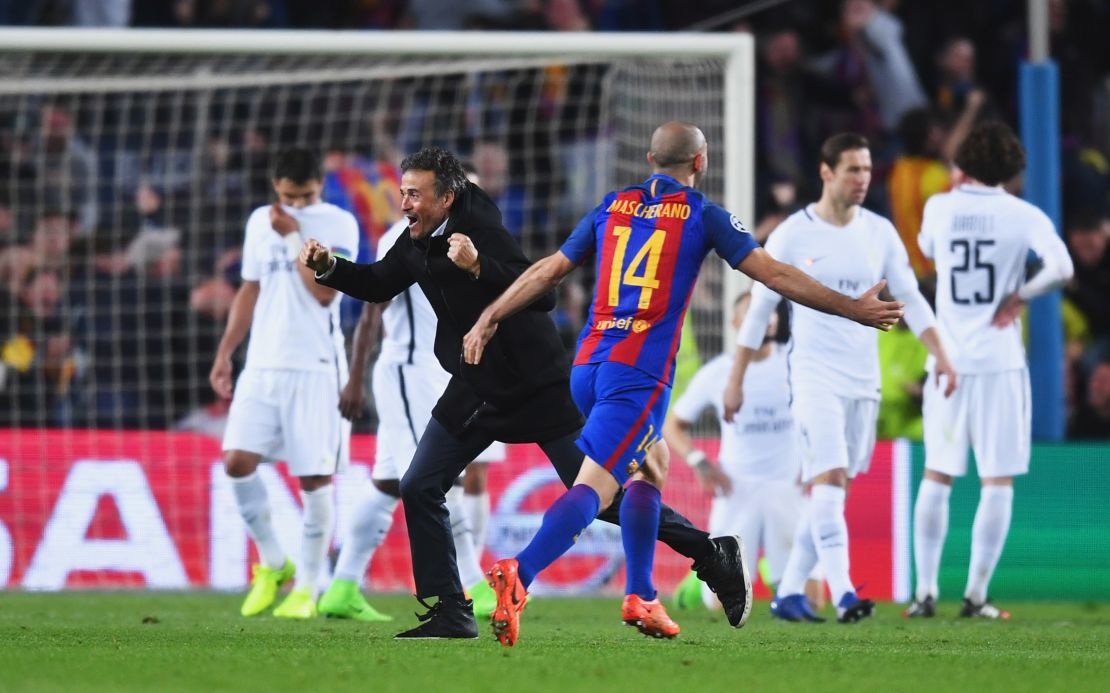 Bayern Munich's France international Franck Ribery, who played for the German club in Tuesday's 5-1 thrashing of Arsenal, described the game as "unbelievable."
Former Bayern and Chelsea star Michael Ballack tweeted: "That's Champions League," followed by a series of fire emojis.
In the 2005 Champions League final, Liverpool came back from a 3-0 halftime deficit to beat AC Milan on penalties, but Barca's victory is arguably the greatest comeback in the history of the Champions League, given those frantic and frenetic final seven minutes.
READ: 'I never thought Zidane would coach," says Raul
READ: David Villa – from broken legs to breaking records
READ: U.S. soccer stars must stand for national anthem
READ: Is Tottenham's Harry Kane 'world class'?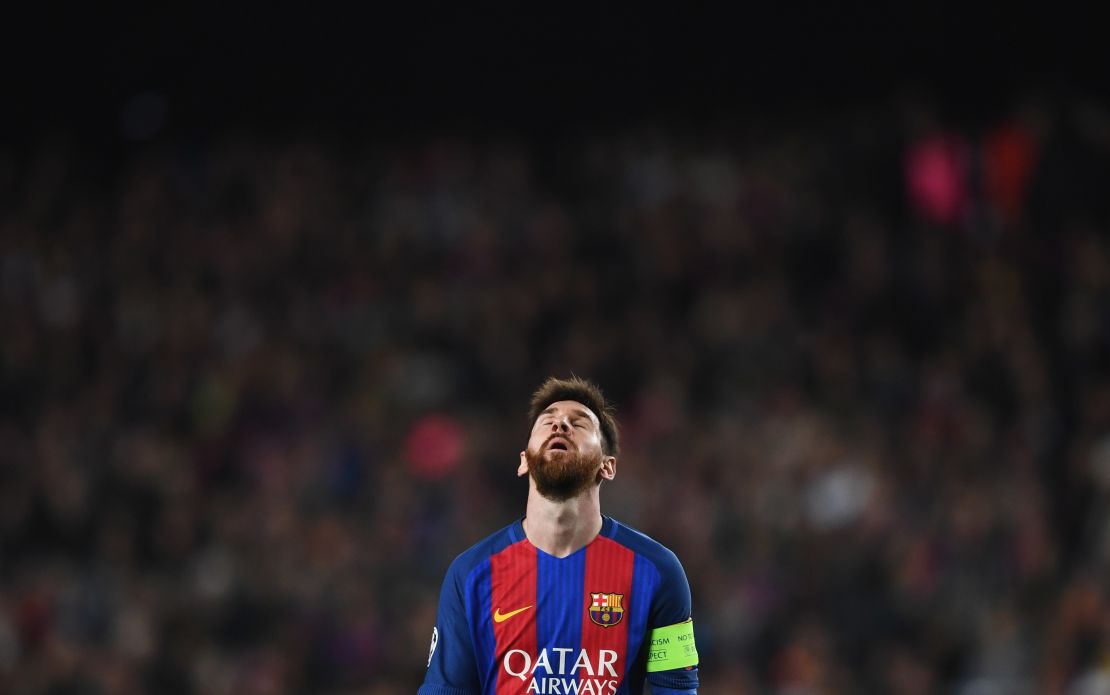 Historic
Barca's president Josep Maria Bartomeu said on the club's Twitter feed it was an "historic achievement that will be remembered forever."
Ahead of Wednesday's game, Enrique – who is leaving the club at the end of this season – had remained quietly confident his team could achieve the unthinkable.
"We arrive in good form and we have to be confident," Enrique told reporters, referring to Barca's two previous league victories, where his team had beaten Sporting Gijon 6-1 and Celta Vigo 5-0.
"We are in the middle of the tie, we have nothing to lose and a lot to win – if they scored four, we can score six," he added, in comments which proved to be prophetic.
PSG's English Twitter feed had just one word to sum up the defeat: "Gutted." Its website used the word "speechless" for its headline for a report of the match.
In June 2016, PSG's Qatari owners had appointed Spanish coach Unai Emery, who had led Sevilla to three consecutive Europa League triumphs.
INTERACTIVE: Build your Ultimate Football Player
The hope was that Emery's tactical nous would help PSG's billion-dollar quest to win Europe's top club prize, and in the first leg the six-time Ligue 1 champion had run ragged a strangely subdued Barca.
Luck certainly wasn't on PSG's side on Wednesday – Barca's second goal came from a Layvin Kurzawa own goal, Cavani hit the post, while the home side's first penalty derived from Thomas Meunier's slip, causing Neymar to tumble over the Belgian and win a foul.
Even so PSG's owners, management, players and fans will all be left wondering just how they exited the Champions League given their commanding first-leg performance and big lead.
"I haven't spoken to the players yet, it's not the right time," PSG's CEO and chairman Nasser Al-Khelaifi told the club's website."Everyone is annoyed, it's normal. We're going to calm ourselves down."
"In five minutes, we lost everything," Emery said. "We weren't able to defend. It's an experience. A negative experience, but an experience all the same. I'm learning for the future."
Have your say on our Facebook page
The scenes in the Nou Camp press area looked as chaotic as events on the field, with journalist Reshmin Chowdhury tweeting a video of his astonished media colleagues trying to come to terms with what they had just witnessed – let alone report it.
"This is a crazy, unique sport," Enrique said. "I dedicate this win to all Barça fans who kept faith in us.
"No one stopped believing," he added. "The team were spectacular. We were rewarded in the end."
Visit cnn.com/football for more news and videos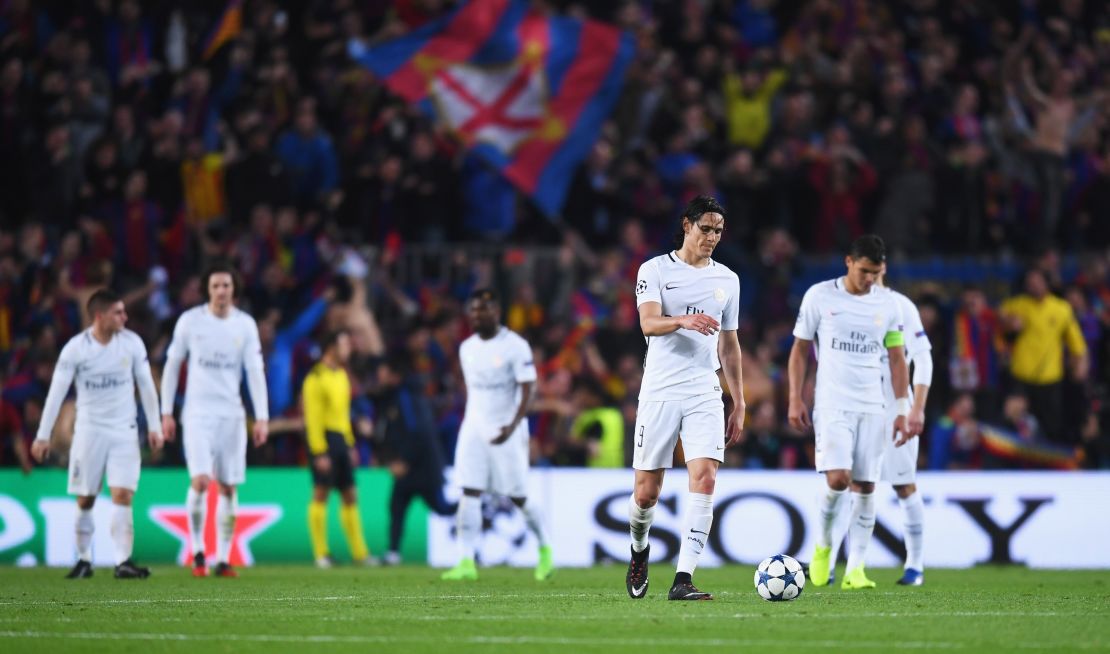 In Wednesday's other quarterfinal, Germany's Borussia Dortmund beat Portugal's Benfica 4-0 to win their tie 4-1 on aggregate.