As women around the world wore red in solidarity with International Women's Day, crowds in Ireland donned black and went on strike to protest against the country's restrictive abortion laws.
Traffic ground to a halt in parts of Dublin Wednesday as women and abortion rights activists sang along to Cyndi Lauper's "Girls Just Want to Have Fun" and the Spice Girls' "Wannabe" during a raucous dance party on O'Connell Bridge.
After sundown, a second, separate demonstration – also in protest against Ireland's abortion laws – commenced, with Irish police estimating 10,000 to 12,000 people on the capital's streets.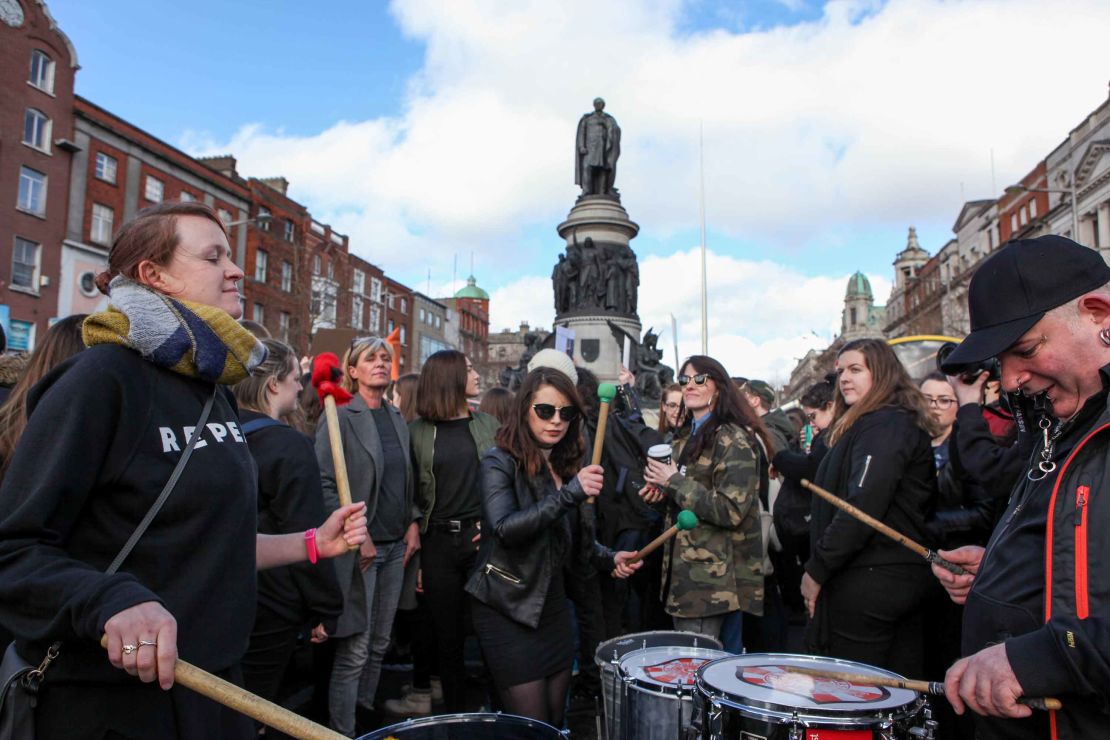 Earlier in the day, demonstrators banged pots and pans and chanted "Same struggle same fight, women's rights are workers rights." Others carried signs saying "Get your rosaries off our ovaries" and "Yes I took a holiday for this, I'm that annoyed" as they marched through the streets of the Irish capital.
People across the country walked out of their offices and joined a day of action dubbed "Strike 4 Repeal," urging the government to hold a constitutional referendum to scrap Ireland's eighth amendment – a measure that places the right to life of an unborn child on equal footing with the right to life of the mother.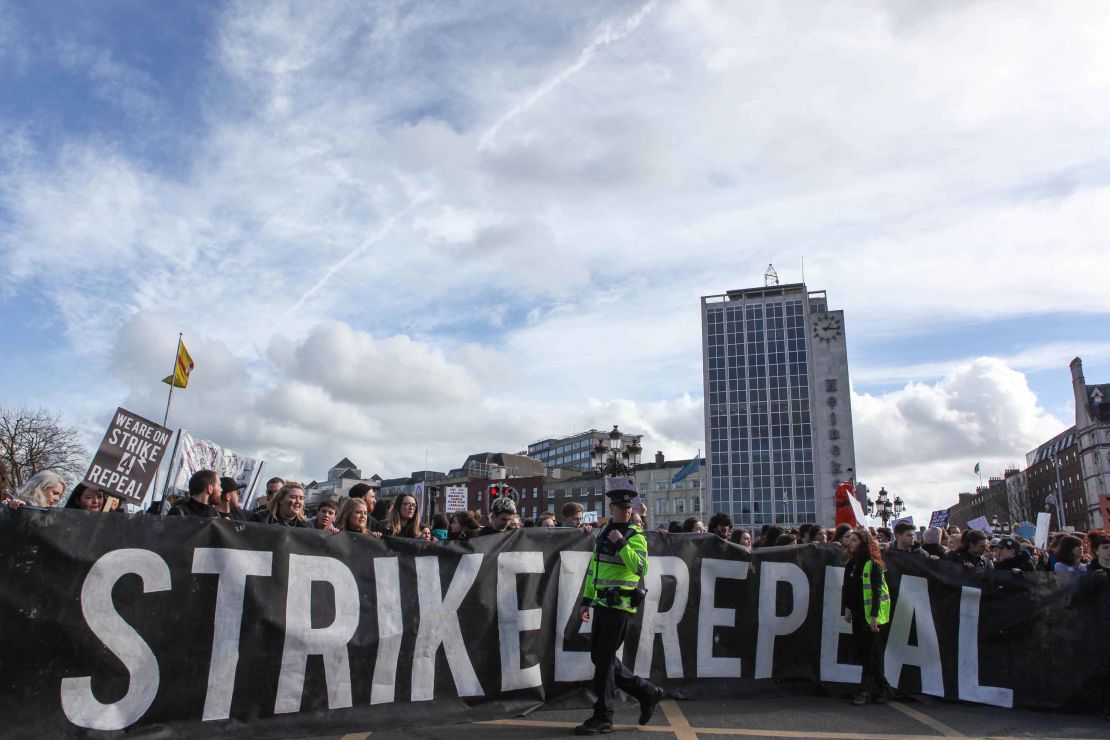 The amendment, passed in 1983, prohibits abortion even in cases of rape, incest, or ill health of the mother, allowing it to be considered only when a woman's life is in immediate danger. There has never been a referendum put forward to repeal the amendment since it was instated.
At least nine Irish women on average traveled to England and Wales each day for abortions in 2015, according to UK government statistics.
While Ireland has voted before on the question of whether abortions should be legal, the restrictions remain in place. But a landmark ruling last June by the UN's human rights committee called on the government to reform the laws.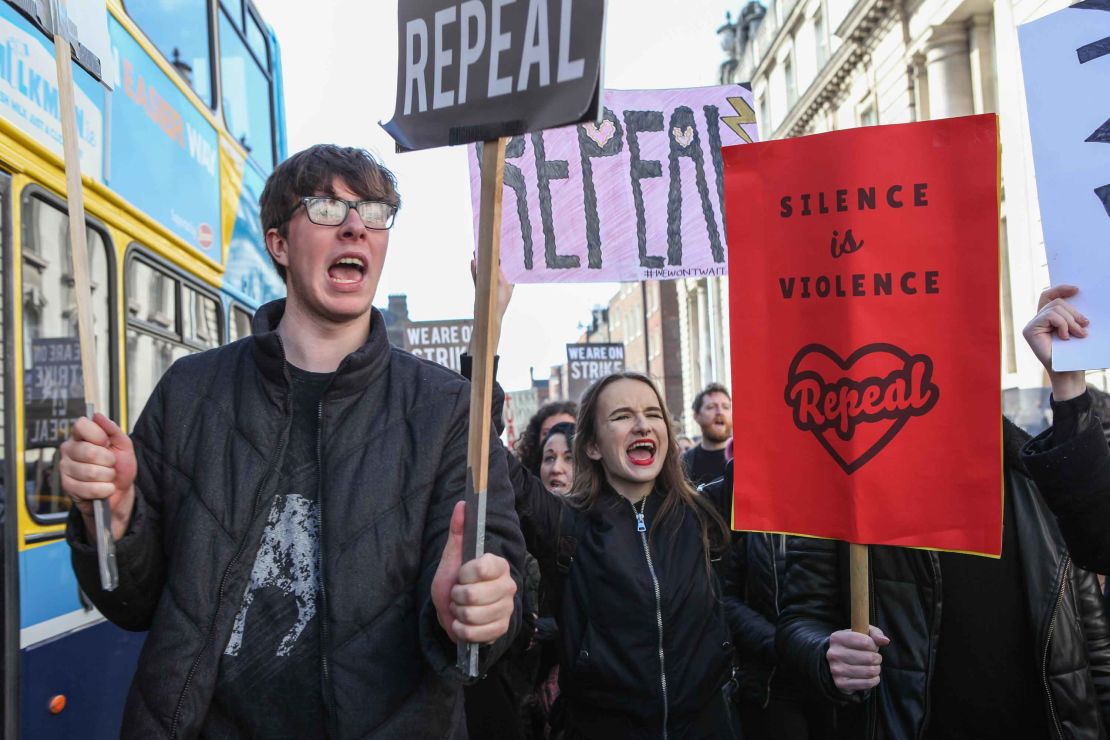 A Citizen's Assembly – which heard harrowing testimony from Irish women– will make non-binding recommendations to the government in April.
For now, the government has not yet decided whether to call another referendum.
Here are some of the voices from Wednesday's strike in Dublin.
Alice Maher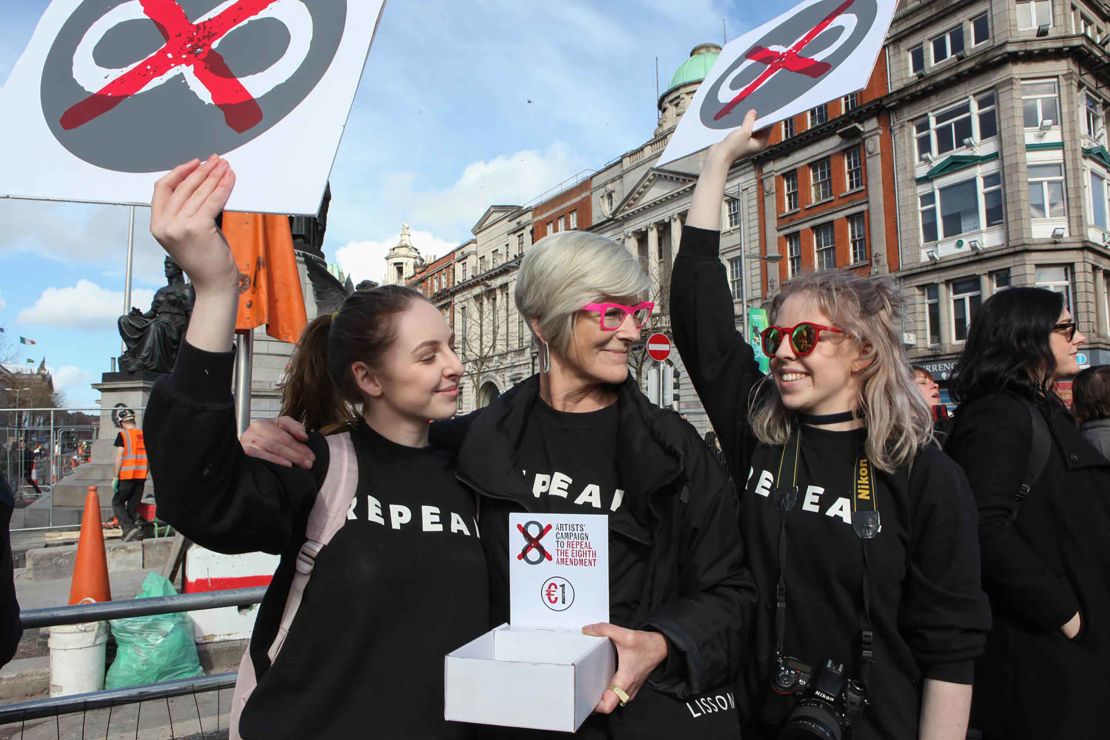 Alice Maher, a 60-year-old artist from Tipperary, pictured here flanked by her godchildren, is part of an artist group that has been campaigning to change Ireland's abortion laws for more than a year.
"This state gives us no agency over our bodies," Maher said. "It has been 33 years since the 1983 decision. Will it be another before this changes? I'd like to see this before I die."
Ciara D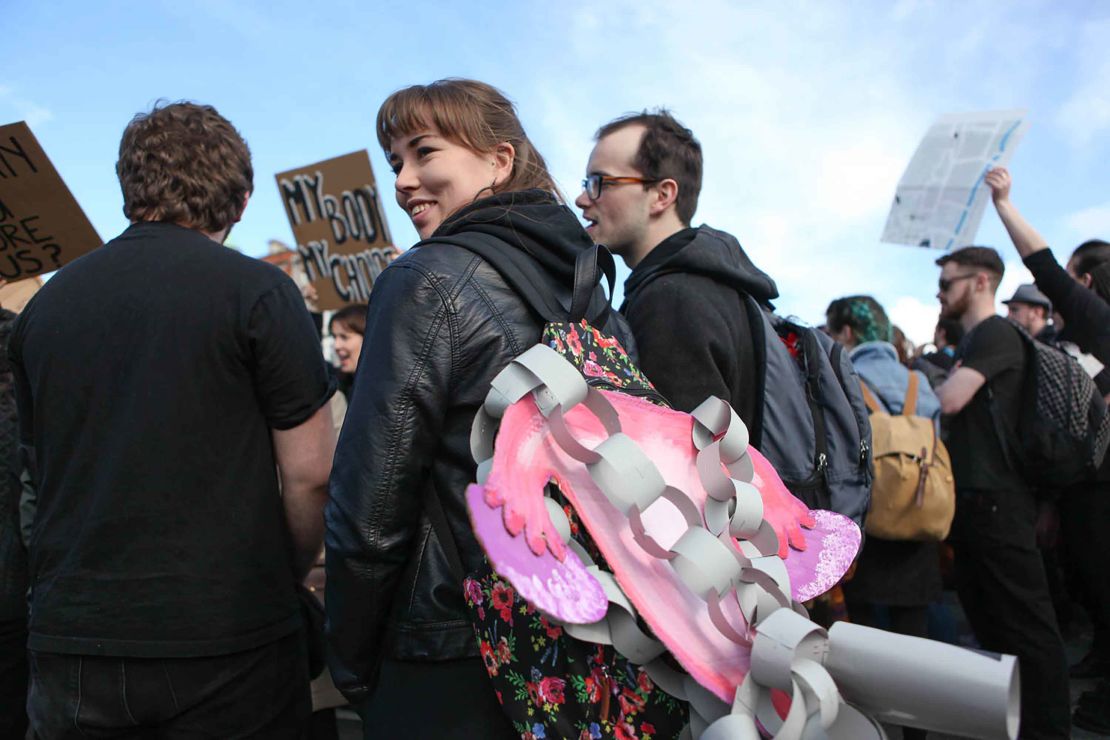 Ciara D, 22, an optician, said she was striking because "it's not just about female liberation, it's a medical need."
Gracey O'Leary and Jack Fullam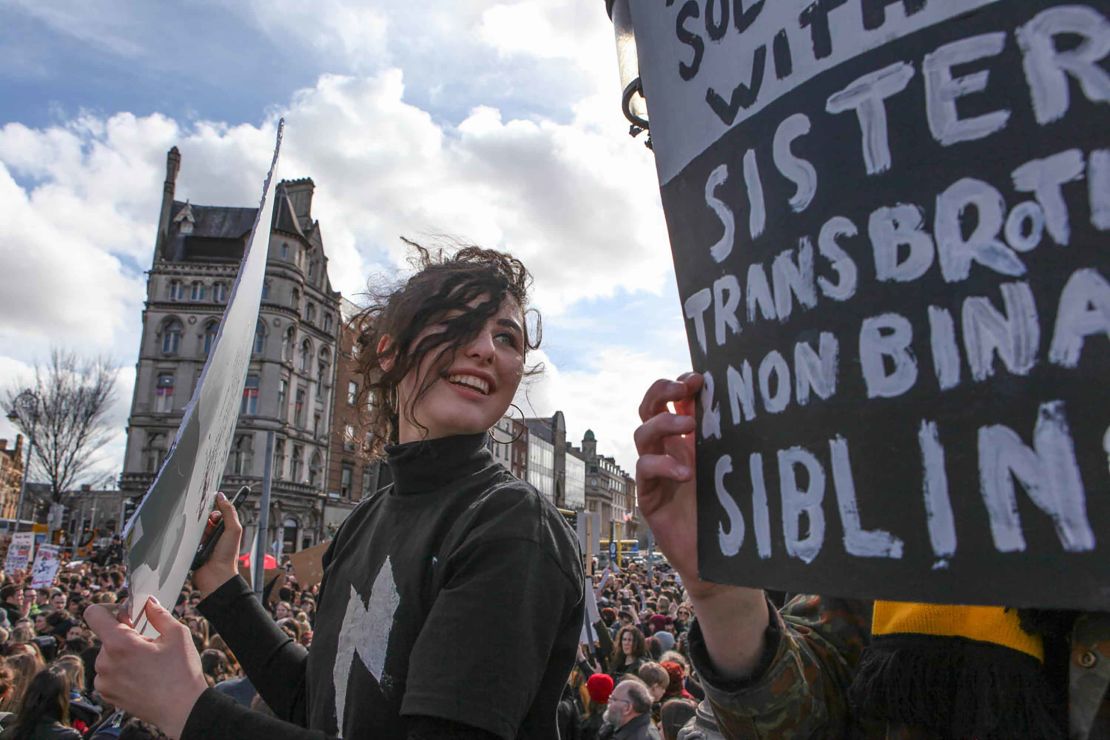 Gracey O'Leary, 19, and Jack Fullam, 18, students at the National College of Art and Design in Dublin, said they were striking because the restrictions on abortion have gone on for too long.
"There hasn't been something like this for a long time in Ireland, I'm hopeful this mass showing will change things today," O'Leary said.
Fullam added: "I'm a man so naturally I have the loudest voice in society. I feel it's my responsibly to be a megaphone for those who need help to blast their opinions and their voice, which has gone unheard for so long."
James Heslin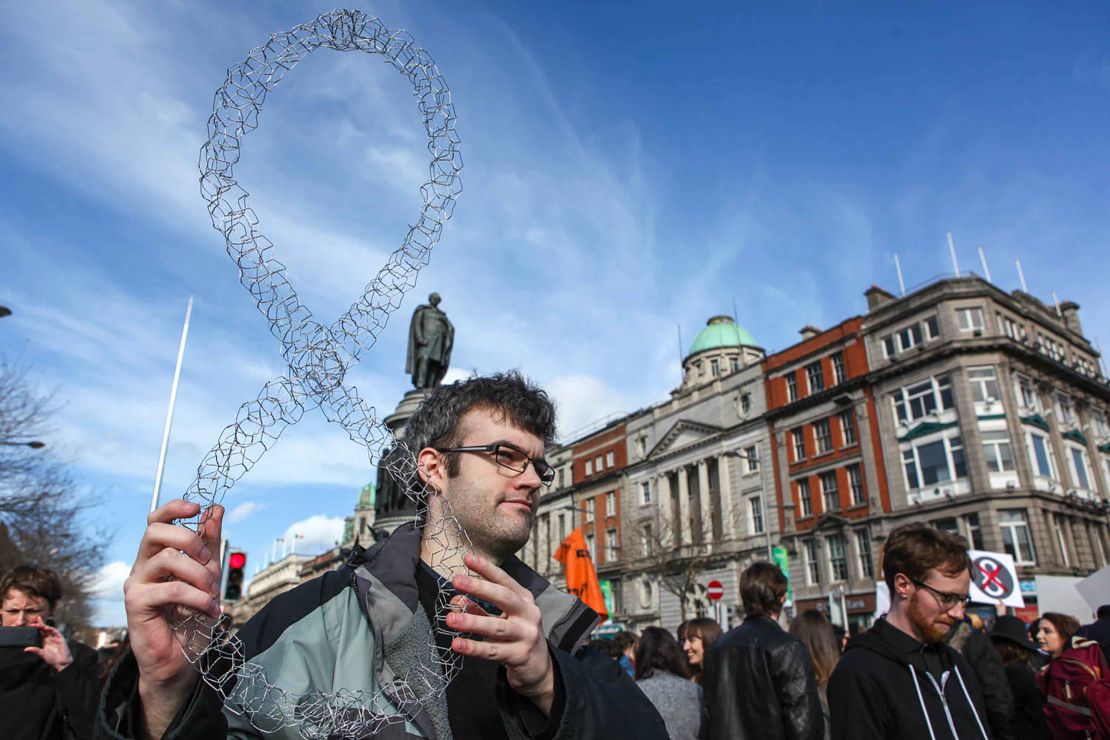 James Heslin, a 24-year-old web developer, made an "8" sign out of chicken wire.
"Everyone in Ireland knows someone or knows someone who knows someone who has gone through an abortion in England. The law (in Ireland) is trapping people into situations they don't want to be in. The wire is symbolic," Heslin said.
Jess Morris
Jess Morris, a 23-year-old student and union leader at the Dublin Institute of Technology, led the dance party that erupted on O'Connell Bridge. Morris said the union often uses a boombox blaring music to get students interested in causes that don't involve drinking or other anti-social activities, so they decided to apply the same ethos to the strike.
"I can't afford the flight, I can't afford an abortion. Anyways, I don't think we should be considered criminals for wanting one," Morris said.
"Repealing the 8th [amendment] hasn't happened because Ireland is controlled by the church. Religion has no place in the constitution. It's so abysmal that this country is allowing this to go on. Women are dying."
Julie and Emilia Rowan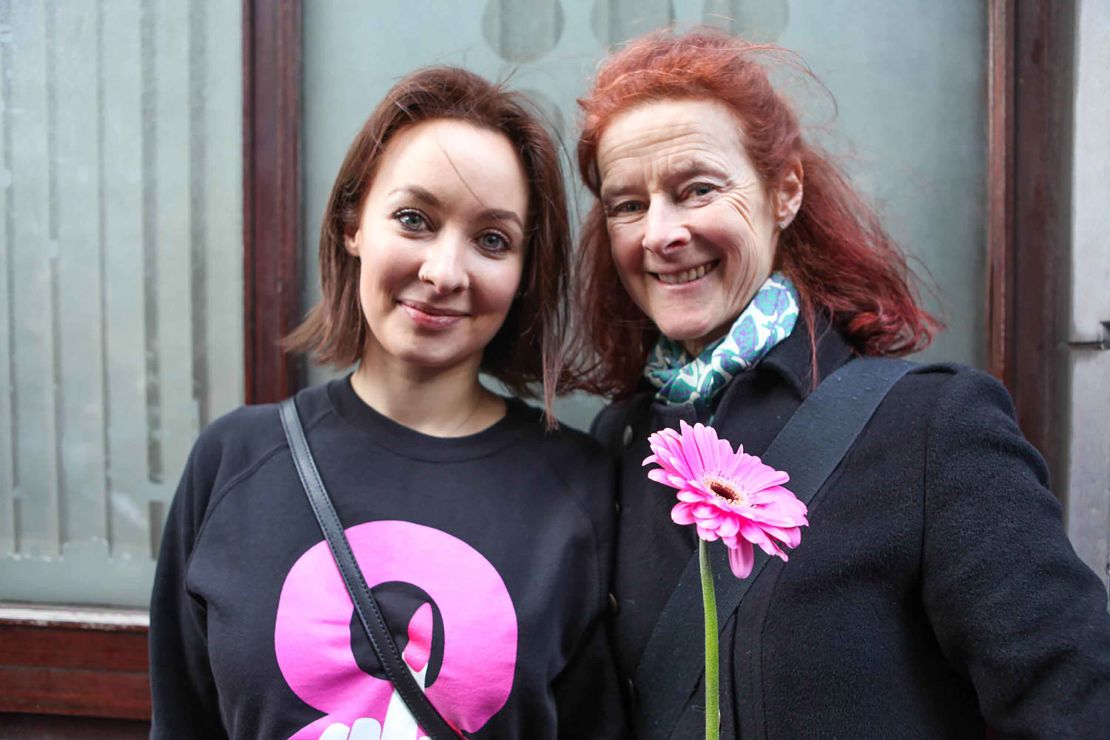 Julie Rowan, a 50-year-old librarian, was joined by her daughter Emilia, a 30-year-old restaurateur, at the demonstration. They said they were protesting over basic health and safety concerns.
Julie, who has been protesting for 30 years, says she would hate for her two daughters not to have the right to choose what's best for their bodies.
Emilia said that she is hopeful the government will listen to the voices of the demonstrators. Both feel the issue speaks to the power that the church still holds over the Irish government.
Sheena Bouchier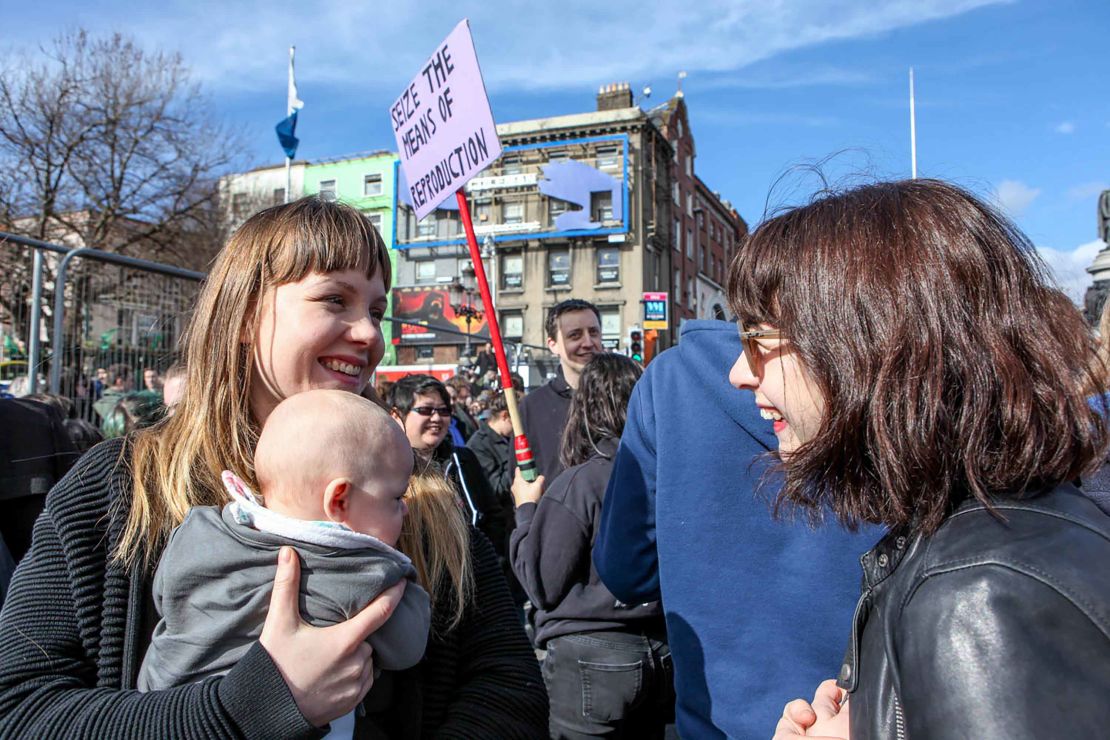 New mother Sheena Bouchier, a 33-year-old user experience designer, said that having a child hasn't changed her feelings on the issue.
"As a mother, as a woman, the strike means the same thing to me. The law needs to change. I want to see a world different for my daughter," Bouchier said.