Story highlights
100 days to Confederations Cup
Tournament a precursor to 2018 World Cup
Concerns over racism, hooliganism, homophobia
Russia spends over $10B on World Cup
Russia hasn't had it easy since winning the right to stage the 2018 World Cup.
The secret ballot it won in 2010 – beating bids from England, Portugal/Spain and Netherlands/Belgium – was mired in controversy, with soccer's governing body FIFA having to investigate claims that bribery influenced the voting process.
Russia's football fan culture has also come under considerable scrutiny due to hooliganism and racist abuse of black players.
With 100 days to go before the start of the Confederations Cup – a FIFA tournament that acts as a precursor to next year's World Cup – just how ready is Russia to host arguably the world's biggest sporting event?
READ: FIFA officials on defense against bribery allegations
READ: FIFA president fails to regain public trust
Is Russia ready to host the World Cup?
A festival of violence or football?
Images of the bloody violence in the French city of Marseille during Euro 2016 put the spotlight on Russian hooliganism, and many fear a repeat of those brutal scenes at next year's World Cup, which will be held from June 14 to July 15.
Russian football fans were blamed for the trouble, which centered around the group-stage match between Russia and England. More than 100 fans were injured, and 30 hospitalized.
Indeed, the lives of five were in the balance following street clashes described by one England fan as a "war scene."
READ: Russia handed suspended ban
READ: England fans sentenced to prison for Euro 2016 violence
READ: Who are Russia's hardcore hooligans?
Igor Lebedev, deputy chairman of the Russian parliament, initially congratulated the attackers for defending their country's honor, and this month he proposed that the solution to Russia's problems was to make hooliganism a spectator sport.
Lebedev, also a board member of the Russian Football Union (RFU), said such a move "could turn fans' aggression in a peaceful direction."
Further highlighting the extent of the problem Russian authorities face was the fighting between hooligans from CSKA Moscow and Zenit St. Petersburg during a Russian Premier League game last weekend.
'Full trust' in Russian authorities
FIFA president Gianni Infantino has said he is "not at all concerned" by the threat of fan violence, while the Russian government has introduced ID cards to discourage hooliganism.
To watch World Cup and Confederations Cup matches, every supporter will need to carry the cards, which consist of a photograph and contact details and also act as visas.
FIFA told CNN that it had "full trust" in the arrangements being made by the Russian security authorities.
It said Russia had been exchanging information with European football's governing body UEFA and organizers of Euro 2016 about the trouble in Marseille.
"Fans from all over the world can surely expect a friendly and festive atmosphere in Russia during the Confederations Cup and the World Cup," a FIFA spokesperson said.
Russian and English football fans clash before match
Mark Roberts, the head of Britain's football policing unit, recently held a meeting with Alexey Sorokin – CEO of Russia's World Cup Organizing Committee – and said "we are ready" for any problems which may arise.
"I am sure that Russia will do everything possible to ensure that the World Cup will be absolutely comfortable and safe for the fans," he said on the Russia 2018 website.
Lawrence Tallis, producer of a film which portrays Russia in a more pleasing light than how the country is often shown, told CNN that the hooligans he had spoken to had predicted a quiet tournament.
"There is always a chance that people who are inclined to cause trouble will use football tournaments as a means to do just that, but everyone we spoke to in Russia – from Local Organizing Committee organizers to ultras to regular fans – were more than confident that the security clampdown is already underway," said Tallis, of UK-based internet channel Copa90.
"The police presence at the tournament itself will ensure that nothing like the scenarios predicted will come to pass."
Russia, an example of global tolerance?
Players and fans from 32 countries will descend on the world's biggest country for the first World Cup to be held in Eastern Europe, but how accepting will Russia be of its visitors?
In recent years, a number of black footballers playing in Russia's top flight have complained of repeated and persistent racism.
Eighteen months ago, Brazil striker Hulk, who now plays in China, said he had encountered racism "almost every game" while playing for Zenit St. Petersburg.
"If (racism) happens in the World Cup, it will be really gross and really ugly," he said at the time.
Zenit, in particular, has come under the spotlight in recent years. In 2012 a group of fans released a manifesto calling for non-white and gay players to be excluded from their team, a notice the club quickly distanced itself from.
The most recent report published by researchers from Football Against Racism in Europe (FARE) and the Moscow-based SOVA Center logged 92 incidents of discriminatory displays and chants by Russian fans in and around stadiums during the 2014-15 season – an increase on the total of 83 for the previous two seasons put together.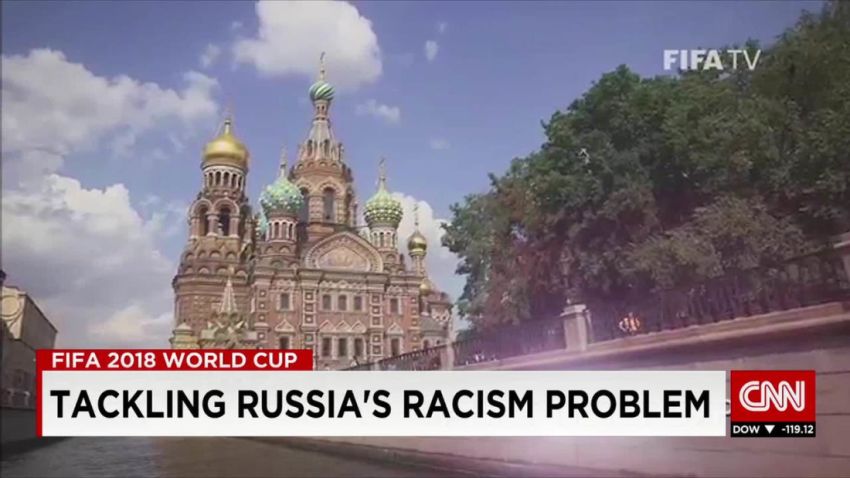 Tackling Russia's racism problem
FIFA said it had been in contact with the RFU since 2015 and was "pleased" that Russian authorities had acknowledged racist incidents in football were "part of a serious issue that needs to be tackled."
"In terms of sensitizing and raising awareness, the hosting of the FIFA World Cup is a great opportunity," a FIFA spokesperson told CNN.
In February, former Chelsea and Russia midfielder Alexei Smertin was named the RFU's anti-racism and discrimination inspector.
In 2015, Smertin denied racism was a problem in Russia, saying the country's fans had taunted black players with bananas "just for fun."
But in announcing the former footballer's new role, the RFU said Russia should be an example of "global tolerance both on and off the football field."
Tallis said Russia should be given the chance to show it can be a responsible host.