Editor's Note: Kelly Wallace is CNN's digital correspondent and editor-at-large covering family, career and life. Read her other columns and follow her reports at CNN Parents and on Twitter @kellywallacetv.
Story highlights
People with learning disabilities, mental health disorders have unique strengths, experts say
More than 6 million children receive special education services in the United States
There are numerous examples of people with learning disabilities and mental health disorders doing extraordinary things: the child on the autism spectrum who is masterful at putting together incredibly intricate Lego creations, the young person with Asperger's syndrome who knows more about presidential history than most adults, the child with dyslexia who is a master chef in the kitchen.
This is not a coincidence, according to a new book that could help turn the stigma associated with these challenges on its head.
What psychiatrist Dr. Gail Saltz reports in her provocative book "The Power of Different: The Link Between Disorder and Genius" is that those same brain differences that cause disorders such as dyslexia, depression and autism can lead to more creativity and artistic abilities, more empathy and an ability to visualize things in a different way.
They can lead to examples of genius, said Saltz, who interviewed over 50 experts in the fields of psychiatry, child development and education as well as individuals who have struggled with various learning disabilities and disorders but who have achieved great success.
"We tend to think of these kinds of issues as nothing but bad … and I don't want to sugarcoat or say obviously that there aren't problems with having a particular diagnosis, but I do want to say that actually there are very particular strengths that come along with these diagnoses, and knowing what they are allows you to look for that and nurture that in your child," said Saltz, who has been in private practice as a psychiatrist for over 20 years and serves as a clinical associate professor of psychiatry at the New York Presbyterian Hospital/Weill-Cornell School of Medicine.
Saltz's interest in this topic came, in part, from her patients, many of whom were high-functioning and doing remarkable things. "I kept noting very particular strengths that people had who had very particular diagnoses that they were seeing me for."
Those patients were the inspiration for a series she developed for the 92nd Street Y in Manhattan, which examined the relationship between brilliance and mental health disorders in some of the greatest authors, artists and figures in history, such as Albert Einstein, Ernest Hemingway and Charles Darwin.
"The biggest names you can think of when you think of any particular area in terms of discovery and changing the world for us … they all had a mental health diagnosis or a learning disability or sometimes both, so I was pretty struck by that," said Saltz, who also hosts "The Power of Different" podcast.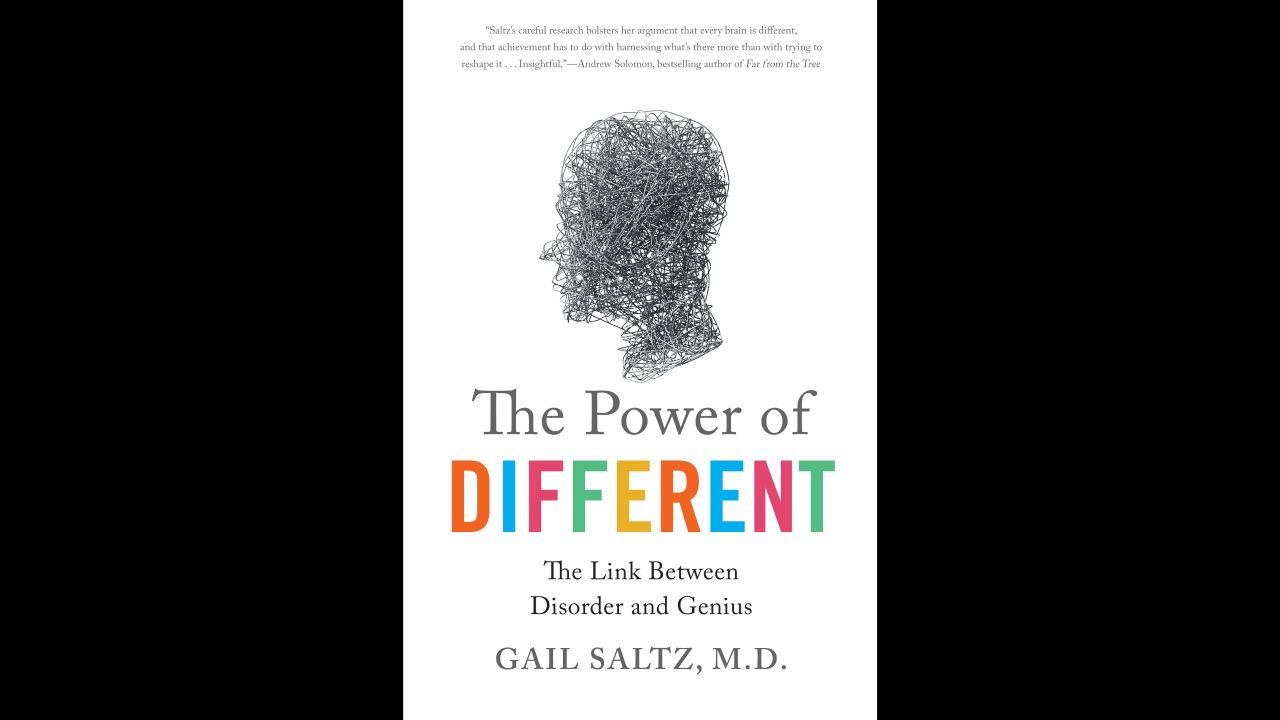 The whole subject of genius has always fascinated her, she says, starting with her younger brother, Johns Hopkins University Professor Adam Riess. He was always unusually creative and skipped a grade in school, she says. In 2011, he became one of the youngest people to ever win a Nobel Prize. (Riess, now 47, won the Nobel Prize in physics for his work with two other scientists showing how the universe is expanding at an accelerated rate.)
"All of these things conspired to make me feel that both I wanted to delve further into the neuroscience behind it and what we know now but I also really wanted to educate the public … to understand the potential," she said.
'You have a lot of entrepreneurs who have ADD'
Saltz points to research including a 10-year study of 30 participants of the University of Iowa Writers' Workshop, which attracts some of the most gifted writers from across the country. Researchers compared the Iowa writers to a group of 30 individuals who were the same age and had a similar IQ but who worked in professions that weren't very creative.
Eighty percent of the writers reported that they had some form of mental illness, compared with just 30% of the other group, according to the study.
Another study, this one by researchers at Northwestern University (PDF), found a creative advantage to impulsivity, according to Saltz. People with low impulse control, as is the case with those who have attention deficit disorder, were more likely to act on their creative thoughts rather than just think about them.
ADD has to do with the "faulty connectivity" switch in the brain in terms of when to pay attention and when not to, said Saltz. That ability to turn on and off attention is "impaired" in someone with ADD, but because of that wiring, there is a "flow of ideas … a number of divergent ideas, unusual ideas" that can lead to creativity and innovation, she said.
"You have a high quotient in there of really creative, innovative ideas, which is why you have a lot of entrepreneurs who have ADD at a high level," Saltz said. "Now, they may not be the best at grasping an idea and bringing it to fruition in an organized fashion, because that requires a different kind of wiring, and that's why it might be great to pair someone in real life, in the business world for example, with ADD … with somebody who might be the mechanical producer."
'She could see something that other people could not'
For people with dyslexia, there is a good probability they have an an "unusual aptitude in visual-spatial relations," Saltz said. "It has to do with the wiring that makes it difficult for (a person) to read and do things in a very particular way. That same wiring permits a certain kind of ability in (a person's) peripheral vision and processing and visual-spatial processing and pattern recognition."
In her book, Saltz profiles high achievers who are severely dyslexic, such as Dr. Beryl Benacerraf, a clinical professor at Harvard University who developed a genetic sonogram that changed Down syndrome screening during pregnancy.
Throughout secondary school, Benacerraf struggled on standardized tests. The only way for her to get into medical school was to target a school that didn't require the Medical College Admission Test. Once there, she managed to win acceptance to Harvard Medical School as a transfer after her father made some calls on her behalf.
It was during medical school that she quickly realized that she was more successful absorbing information by studying charts and graphs than by reading the text.
At the end of a radiology rotation during her residency, her professor told her, "I've never seen a gift in imaging and pattern recognition like you have. It's uncanny," Saltz writes in her book.
That led Benacerraf to enter the field of radiology, where she discovered a critical fetal indicator for Down syndrome.
"She could see something that other people could not see on the visual-spatial perspective, and she explained to me how things kind of jump out at her in a way that almost seems like magic, but she sees them," Saltz said. "She thought everybody saw them until a radiologist pointed out that, in fact, they don't."
'Look for their strength'
Saltz repeatedly stresses that she is not trying to say every illness, which can lead to lifelong struggles and impact a person's self-esteem, is a gift.
"I don't want to say that, but I want to say that it's not as uni-dimensional as everyone assumes." Many people with these difficulties may have more ability in certain areas than a person who does not face issues such as autism and bipolar disorder, she said.
"They have the potential for very particular talents and abilities and genius. That really is the point."
Our default, Saltz says, as a society and even for parents whose child has learning difficulties or mental health disorders, is to focus on the weakness. "We're very invested in fixing, and we tend to be focused on the negative, whatever the negative is. Make it better so everything is good. It's an understandable means of reacting, but it becomes so embedded, and it's not really the best path."
Saltz says she has talked with many experts, such as in autism, who say 20% of time should be spent working on the problem and 80% on exploring and enhancing strengths.
It's no question that some people's issues are so severe, it is hard to find the strengths. However, estimates say that half of all Americans will experience a mental illness at some point in their lives, and about 6.5 million children in the US receive special education services, according to the National Center for Education Statistics. Clearly, recognizing the strength – not just attending to the weakness – can change lives and greatly impact our society.
"I want people to recognize and to treat their children if something comes along, because they can make life more enjoyable and help their functioning, but I want them to look for their strength," Saltz said. "I want them to help them with workarounds for whatever the difficult issues are, and by utilizing their strength along with those workarounds, they are giving their child the opportunity to be highly successful."
Have you seen examples of genius in people who have learning disabilities or mental health disorders? Share your thoughts with Kelly Wallace on Twitter @kellywallacetv.