Story highlights
Five weather-related deaths reported in US and one in Canada
Normalcy trickles back to some areas, but the aftermath is not over
A nor'easter largely spared New York City and Philadelphia but walloped other parts of the region Tuesday with heavy snow and high winds. The storm is moving from northern parts of New England and upstate New York into Canada.
The late-winter storm brought chaos to travel and daily life, forcing cancellations of about 8,800 US flights between Monday and Wednesday. Thousands of schools closed. Connecticut banned highway travel for several hours, and major regional rail traffic was suspended. Five weather-related deaths were reported in three states and in Canada.
Normalcy trickled back to some areas as train service and flights resumed Tuesday evening. Schools in New York and New Jersey are expected to reopen on Wednesday. But blizzard warnings remain in effect for parts of New England until early morning Wednesday.
Freeze watches and warnings from Kansas City, Missouri, to Jacksonville, Florida, were in effect through early Wednesday as well. Temperatures were expected to be below freezing in some areas, while in others, the wind chill could make it feel more like the single digits. Icy conditions could refreeze roads, creating slippery commutes and making clean-up after the storm more challenging.
More than 30 inches of snow were recorded in parts of upstate New York, according to the National Weather Service. Some parts of Pennsylvania, Connecticut, Massachusetts, New Hampshire, Vermont and Maine saw 20 inches or more, the weather service said.
"Areas along the coast from New York to Boston, didn't see as much as expected," said Taylor Ward, a CNN meteorologist. "But some portions of the Northeast have seen more than 30 inches of snow."
Heavier snow inland, coastal flooding
Weather and traffic resources
These federal government resources have maps you can use to check weather conditions, flight delays, traffic and road closures in your area:
WeatherFlight delaysTraffic and road closures
Upstate New York had some of the heaviest snowfall in the region, with more than 30 inches recorded in parts of Broome County, south of Syracuse.
Commuter buses in Pennsylvania and New York canceled service in advance of the storm.
Dr. Marie Keith, who works in New York and lives in the Scranton area, boarded the last bus Monday night leaving for New York City.
"There may be sick kids I need to see in my office tomorrow, so I thought I should be there," she told CNN affiliate WNEP-TV.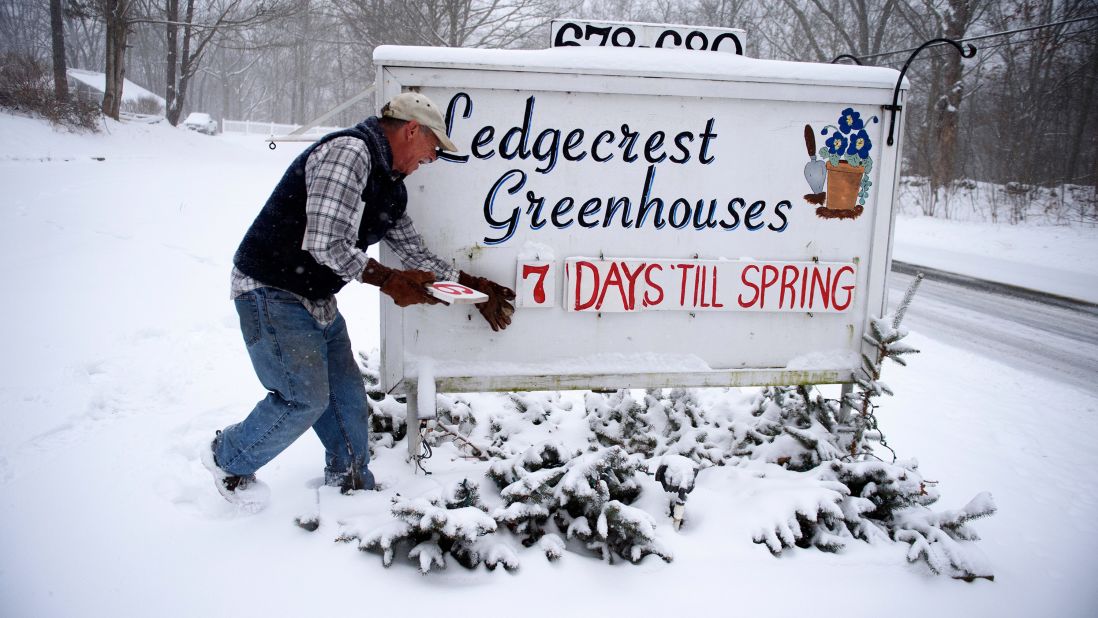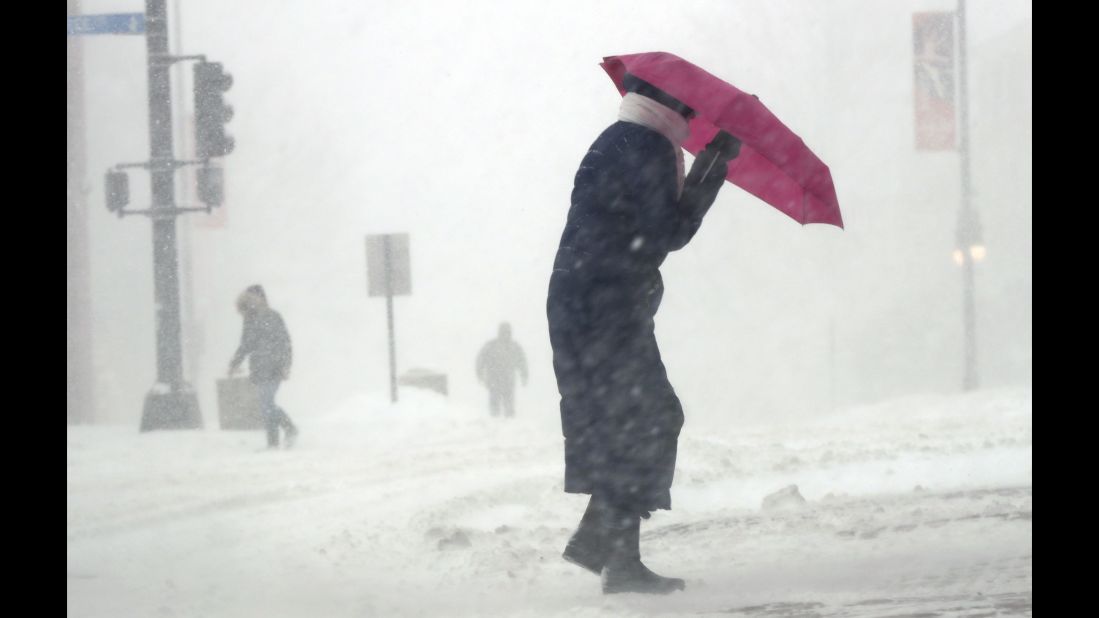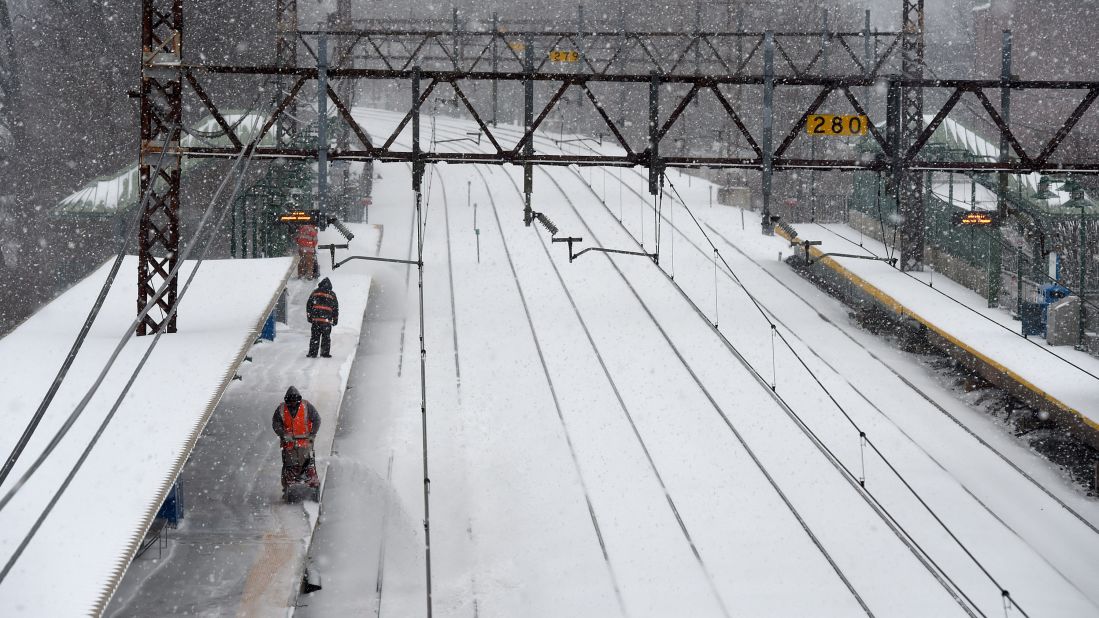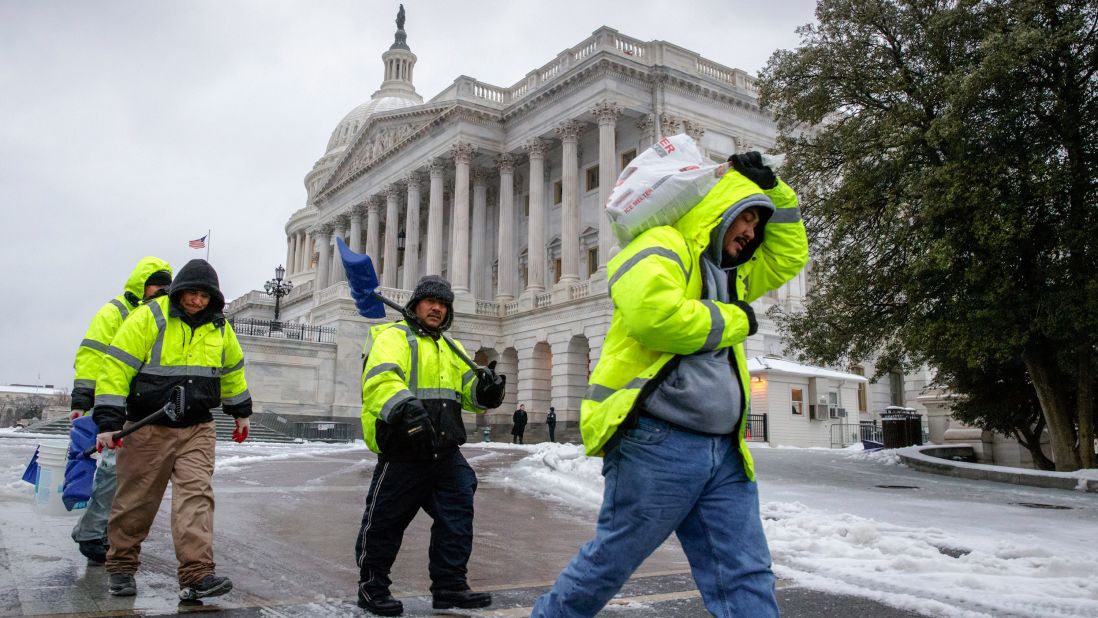 Late winter snowstorm hits Northeast
Along the New Jersey coast, strong winds pushed ocean water into neighborhoods, resulting in coastal flooding and beach erosion. A video posted by Chris Macaluso showed flooding in Atlantic City.
The storm had subsided enough for Gov. Chris Christie to lift New Jersey's state of emergency.
The governor said the storm has been "a tale of three storms," referring to its effect on different regions of the state.
Parts of southern New Jersey saw as little as 2.3 inches of snow. As much as 20 inches was recorded in the northwestern part.
New England
Boston, which expected to be clobbered with snow, was spared. Mayor Martin Walsh said the city received about 6 to 8 inches by Tuesday afternoon.
"This isn't what we expected. We expected up to 18 inches of snow," Walsh told reporters.
A snow emergency was declared in the city, meaning vehicles will be towed if they are parked on roads marked as snow emergency arteries.
Walsh said the storm was expected to continue with high winds, turning into sleet and rain into the night.
"We have less snow on the ground [than expected], but the conditions are as if we are getting 20 inches of snow. The snow is coming down sideways, so it's still a dangerous storm," he said.
Walsh said city public schools will remain closed on Wednesday, but city offices will reopen.
Statewide, about 59,000 customers, mostly in the northeastern part of Massachusetts, were without power Tuesday night, according to the state's emergency management agency.
Temperatures were expected to drop to freezing in the Boston area, leading to slippery conditions on untreated roads and walkways, state officials said.
In Connecticut, a statewide ban on highway travel that went into effect at 5 a.m. ended at about 5 p.m.
The Hartford, Connecticut, area received 12 to 19.5 inches, according to the NWS.
By Tuesday evening, 13 inches had fallen in Burlington, Vermont, according to TV and radio host Lincoln Hayes' measuring system.
He stuck a ruler in the ground. And the snow wasn't letting up, he told CNN.
"My restaurant closed tonight for the first time in years and will probably be closed for lunch tomorrow. My wife's office closed at noon and is closed tomorrow, and I've been out a couple times to stay on top of shoveling," he wrote on social media. "We're staying in and making pizza for #PiDay."
NY, Philly: Sleet thwarts heavier snowfall
In New York and Philadelphia, blizzard warnings were canceled as more sleet or freezing rain fell than expected. The precipitation and wind still had its effects on travel: The New York area's three major airports saw most of their flights canceled.
Train service was hard hit: Amtrak suspended service between New York and Boston and between New York and Albany, New York.
But there were slow signs of recovery. Amtrak said that it planned to operate on a modified schedule on Wednesday. And New York's Metro-North commuter train service, which was suspended after noon, and above-ground subway service were restored Tuesday evening, Gov. Andrew Cuomo said.
A Minneapolis-bound flight took off from John F. Kennedy International Airport as regional flights resumed.
And early Tuesday afternoon, Philadelphia lifted its snow emergency declaration, which meant parking would be allowed on snow emergency routes.
Cuomo lifted a travel ban and tractor trailer ban on Interstate 84, but tractor trailers were still forbidden on other highways, including Interstate 87 from Albany to the Canadian border. The travel ban in Broome County, in upstate New York, remained in effect.
In Pennsylvania, the snow couldn't stop the determined.
Pennsylvania State Police teamed up with the Pennsylvania National Guard and other officials to escort a 23-month-old child from Lehigh Valley Hospital-Pocono in East Stroudsburg to Geisinger Janet Weis Children's Hospital in Danville for an emergency procedure, police said.
Gov. Tom Wolf said state transportation employees led the way with a plow train, CNN affiliate WPVI reported.
Flight cancellations and travel warnings
— Airlines canceled over 6,500 US flights scheduled for Tuesday, according to Flightaware.com.
Warnings to use caution came from public officials up and down the East Coast – including the President.
"Everyone along the east coast be safe and listen to local officials as a major winter storm approaches," President Donald Trump tweeted.
Storm delays Trump-Merkel meeting
See this house completely encased in ice
This storm system already hit the Midwest, claiming two lives in Wisconsin. The victims – both men – died in separate weather-related activities, the Milwaukee County medical examiner reported.
Keep up with the latest cancellations here
A 76-year-old man was operating a snow blower before he died; the second man, 64, was shoveling snow, investigator Jenni Penn said. Both were cardiac-related deaths, Penn said.
In Gilford, New Hampshire, a 16-year-old girl was killed in a weather-related accident, police Chief Anthony Bean Burpee told CNN. The victim is the daughter of a Gilford police dispatcher, according to authorities.
Bean Burpee said the town is experiencing white-out conditions.
A snow-plow driver was killed in a collision with an Amtrak snow plowing train in Longmeadow, Massachusetts.
The victim was struck as the plow crossed the tracks, Longmeadow Fire Chief Andrew Fraser said. The train was working to clear the tracks after roughly 12 to 15 inches of snow fell.
Fraser said he does not believe there was a signal at the crossing and visibility was an issue.
In Canada, a driver of a tractor trailer died from injuries after a multi-car pileup during the blizzard conditions on a southern Ontario highway, said Leeds and the Thousand Islands township spokeswoman Elaine Mallory.
The accident on Highway 401 also triggered a chemical spill from one of the transport trucks, Mallory said in a statement Tuesday.
Several people were sent to local hospitals for potential chemical contact, but have since been released.
CNN's Dave Hennen, Michael Guy, Ellie Kaufman, Mayra Cuevas, Janet DiGiacomo, Dave Alsup, Jay Croft, Azadeh Ansari, Rob Frehse and Samira Said contributed to this report.