Story highlights
Chau Smith, 70, of Missouri, enjoys challenging herself
"All my life ... I always did crazy things," she says
Running four marathons in five weeks wasn't enough. Running 10 marathons in a year wasn't enough. Running more than 70 marathons during her lifetime wasn't enough.
Seventy-year-old Chau Smith wanted to challenge herself even further, so she decided to run seven marathons in seven days on seven continents. In January, the Missouri woman accomplished that goal.
Between January 25 and January 31, Smith ran marathons in Perth, Australia; Singapore; Cairo; Amsterdam; Garden City, New York; Punta Arenas, Chile; and King George Island, Antarctica. Each day, Smith woke up and ran 26.2 miles. Then she'd get on a plane and fly to the next destination to do it all over again.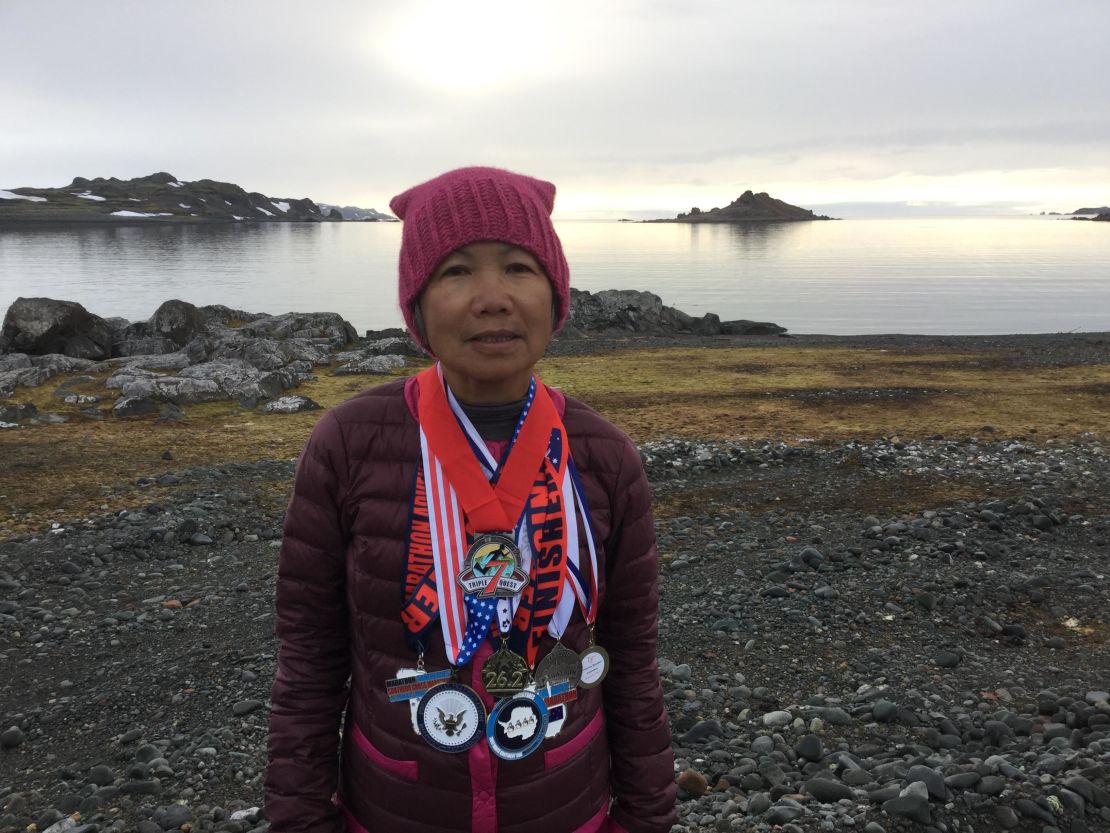 "She didn't want to publicize this before doing it," said Steve Hibbs, owner of the specialty travel company Marathon Adventures, which organized the trip. "She overcame a lot, and it was just really impressive to see her run and complete the event."
Nine other people joined Smith in running on all seven continents. Although she had done many marathons before, training to run seven in a row took months.
"It took me eight months to really train," Smith said. "The last four months, I really put in long, long runs. Every week, I ran from 15 miles to 130 miles."
Running across the world
The challenge, which Hibbs dubbed the Triple 7 Quest, presented a unique set of obstacles. During the first race in Australia, the temperature was above 100 degrees, Smith said. She became severely sunburned.
The most challenging race was in Cairo. The group's connecting flight from Singapore was delayed in Abu Dhabi, so they arrived in Egypt with only a few minutes to change before heading to the race start.
"We have 10 minutes to go up to our rooms to change and don't unpack," Smith said. "The key wasn't working for my room. I almost used up my 10 minutes. I was crying."
Most of the runners had a set time in which to finish each race in order to pace themselves for all seven. Smith had allotted herself seven hours to finish the race in Cairo, but because of the delay, Hibbs told the group to finish in six. Smith was worried about finishing in time, so Hibbs suggested she run the half-marathon instead.
She finished the full marathon in five hours and 51 minutes.
"From that day on, they never asked me about thinking about running a half-marathon again," Smith said.
A lifetime of adventure
Although Smith didn't tell many people about the Triple 7 Quest challenge beforehand, it wasn't her first extreme physical undertaking. A year earlier, she ran a marathon in Tanzania and then hiked Mount Kilimanjaro the next day.
"All my life … I always did crazy things," Smith said. "When I was young in Vietnam, I was a stubborn kid. My family always never knew what I was going to do. I always showed them I can do it, just like boys."
Smith started running marathons in Missouri but quickly sought out races in other states and countries. She ran the Boston Marathon in 2013 but was unable to finish the race because of the bombing. She ran it the next two years.
Last year, Smith ran four marathons in five weeks. She traveled to Southeast Asia for a month and ran a marathon in Myanmar. Six days later, she ran a marathon in New Zealand and then a few days after that in Tanzania.
"We never go someplace without looking for the race," Smith said.
Born in Vietnam, Smith came to the United States in 1972. She owns and operates an alteration and dry-cleaning business in Independence, Missouri. Even though she works long days, running always makes her feel better.
"I live a stressful life. Every day, I work 10 hours a day … but I always feel better," Smith said. "How I feel after I put in my running, I think that's important. It makes you feel good. I can't really put it into words."
Smith often runs with her husband, who has also been running for most of his life. When she brought up the idea of completing the Triple 7 Quest, he was supportive, but worried about her health. Her two adult daughters expressed similar concerns.
"When I told my husband, he said, 'Well, I support you, and I'm always behind you, but the only thing I worry, you get hurt,' " Smith said.
Smith told all three that if she anything happens to her while she's doing something she loves, it would be worth it.
Hibbs has organized only two Triple 7 Quest trips, and he's planning a Triple 8 Quest for the upcoming year involving Zealandia, a microcontinent. He believes these longer challenges can test all aspects of a person's being.
"It's really about challenging both the body and the mind's upper limits," he said. "What can you handle? What upper threshold can you push past?"
For Smith, it seems no challenge is too small. When she retires, she'd like to hike the Appalachian Trail. For now, she's interested in the Triple 8 Quest.