Story highlights
Moneke has lived on five different continents
Nigeria native calls Australia home
It's been a long journey for Chima Moneke, and it's not over yet.
The son of Nigerian diplomats has lived on five different continents. He hasn't seen his parents since 2009, when he moved back to Australia. He considers Canberra his home town.
Now in North America, Moneke is a junior forward at the University of California Davis. For the first time in program history, the Aggies are in the NCAA tournament, the premier college basketball postseason bonanza that can turn obscure student athletes into pro prospects overnight.
On Wednesday, thanks in part to Moneke's game-high 18 points with 12 rebounds and two steals, the 16th-seeded Aggies won their first NCAA tournament game, a 67-63 against fellow No. 16 seed North Carolina Central in the First Four in Dayton, Ohio. The Aggies advance to the round of 64, which is considered the first round, with the win.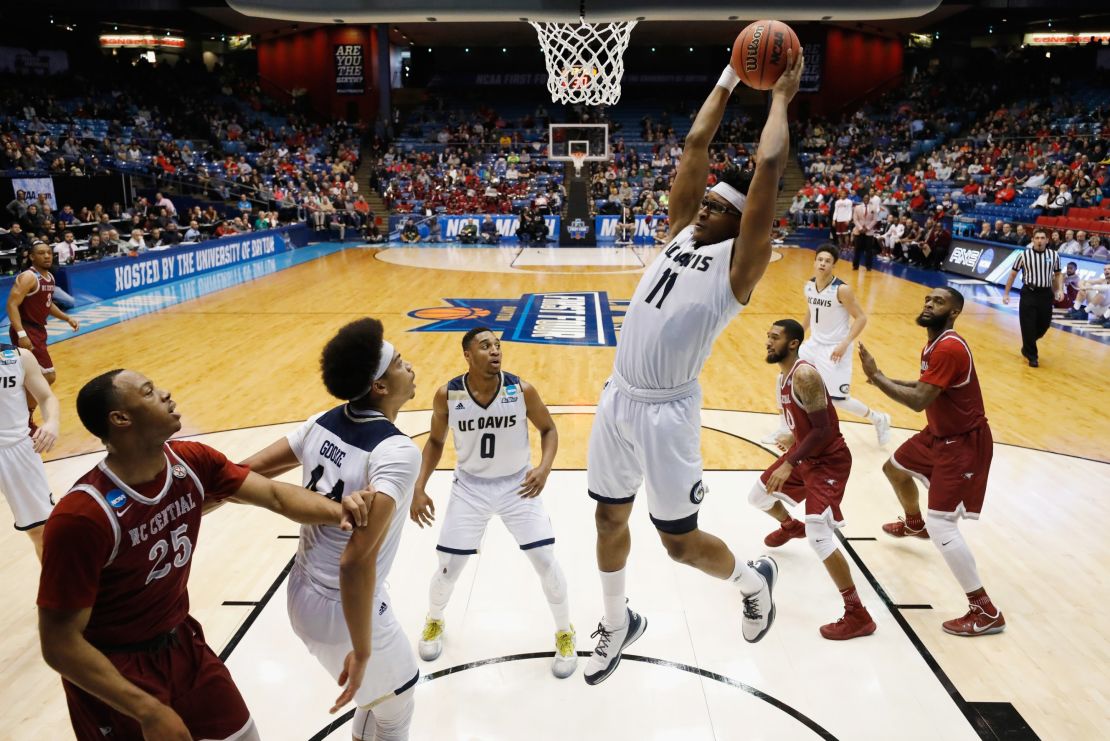 Next up is an even bigger challenge. A No. 16 seed has never defeated a No. 1. in the NCAA tournament, and UC Davis (23-12) will try to become the first. On Friday in Tulsa, Oklahoma, the Aggies will face college basketball powerhouse Kansas (28-4), the top seed in the Midwest region. Tipoff is scheduled for 5:50 p.m. local time (6:50 p.m. ET).
The men's NCAA tournament expanded to 64 teams in 1985. The current format of 68 teams has been in place since 2011. Is this finally the year it happens?
"It's going to happen eventually, that's how I look at it," Moneke said of the daunting task ahead. "We all can play at this level. You know, I don't fear anybody, but I respect everybody, and I feel like the way we play defense we can make any game a game."
Basketball wasn't Moneke's first sport. He told the media earlier this week that he "was a soccer boy" his entire life and didn't play basketball seriously until 2011.
By 2012, at the end of his senior year of high school in Australia, Moneke represented his school in a national tournament that included current Utah Jazz guard Dante Exum. That's when Moneke got his first break, from an assistant coach at a Nebraska junior college.
"He told me that he liked what he saw, and he was surprised that a lot of people weren't helping me out to come to America," Moneke said. "And he found out that it's something that I always wanted to do."
"He was definitely very big-time in helping me get here," he said. "He gave me that offer, and I took the offer because it was the only offer I had."
So Moneke made the move to Northeast Community College in Norfolk, Nebraska. He spent two years there. During that time, in a junior college showcase event in St. Louis, UC Davis head coach Jim Les saw Moneke play. The coach offered him a scholarship to play for his Division I program, which is in the NCAA's top tier.
In Davis, Moneke sat out his first year as a redshirt, meaning he would have an additional year of college eligibility. It appears to have paid off. This season, Moneke leads the Aggies in rebounds and blocked shots and is second in scoring.
"It was a tough transition playing Division I basketball first because it's much faster, much stronger, faster pace and stronger people," Moneke said. "It took me a while to adjust, but I feel like I've adjusted quite well."
With UC Davis earning its first NCAA bid, support for Moneke crosses the globe, from Northern California to Nigeria to Australia.
"My people back in Canberra, Australia, they've been very happy for me," Moneke said earlier this week. "A lot of people have been coming out of nowhere and congratulating me and sending me friend requests on Facebook and stuff like this. It's pretty interesting to get that, but I'm very grateful for it.
"And Davis, it's really interesting because this hasn't happened before so a lot of people – it was very unexpected – but a lot of people are very congratulatory to us. And I'm definitely very excited to do this. This is my first year playing Division I basketball, and it's something I've always dreamed of. So I'm grateful to be here."