The residents of Dawu, in central China's Henan province, say they are being killed by their water.
The Ying River, a major tributary of the Huai River, passes near the village and has been heavily polluted for more than a decade – photos show children playing by mountains of pink foam.
One villager, Wu Zongjun, says pollution has spread to the underground basins and water they use for irrigation.
"(Now) there are people passing away due to cancer every year," he says, adding he personally knew more than 20 people diagnosed in his village since 2010.
It isn't just hearsay – in 2013, the Chinese Center for Disease Control and Prevention issued a report, showing a direct correlation between the Huai's water pollution and cancer risk in nearby villages, nicknamed Cancer Villages.
The plight of Dawu village is just one small part of a massive water crisis unfolding in China.
The problem isn't just the pollution that has contaminated much of northern China's groundwater – there are also chronic shortages in the major cities, including the capital Beijing, that are putting the country's economic growth at risk.
But now China's mammoth bureaucracy has begun to turn its attention to the country's water issues.
Billions of dollars are being funneled into large-scale solutions, trialled in cities and rivers countrywide, while government officials try to rein in polluters with strict new laws. Critics say some of the measures are expensive, too short-term and come with massive hidden costs.
On World Water Day, held by the UN annually since 1993 to promote the availability of clean, fresh water to all people worldwide, we examine three major ways China is helping to solve its water crisis.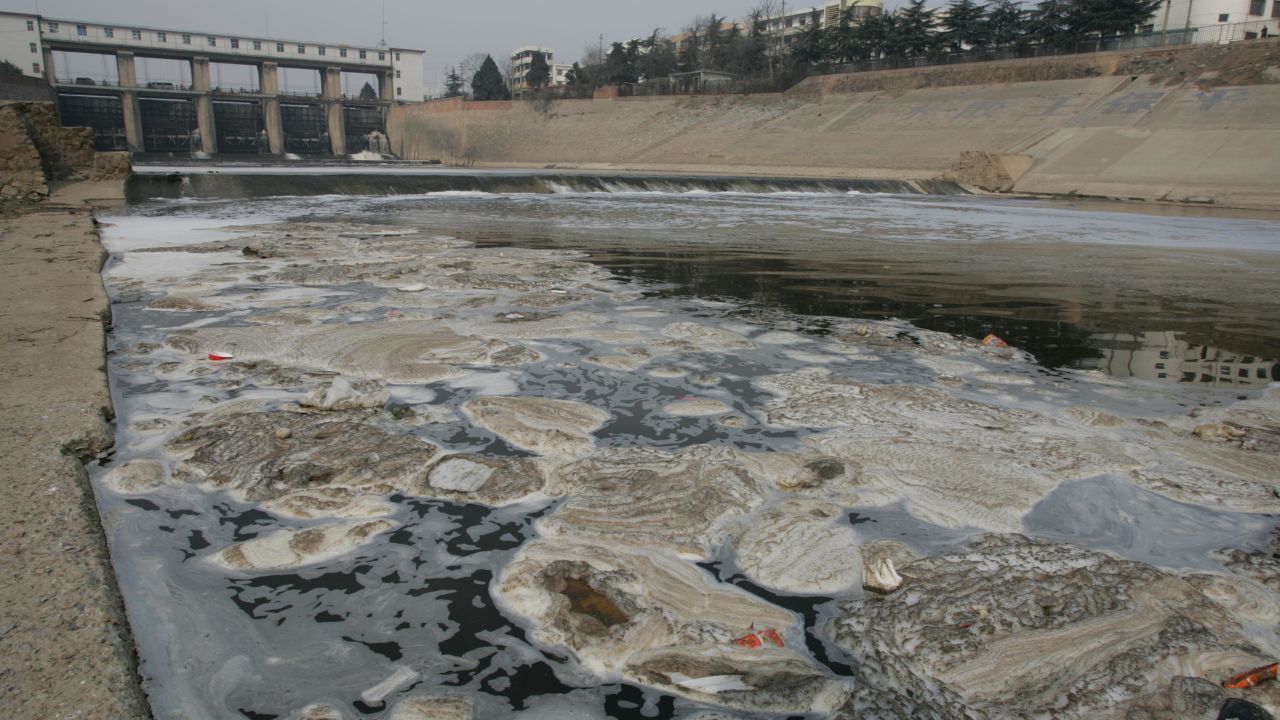 Moving the rivers
China's most spectacular water project has been in the works for years.
It's an idea borrowed from Chairman Mao Zedong, the strongman founder of the People's Republic.
"(The country's) south has lots of water, the north has less, if it were possible, it could borrow a little," Mao said in 1952, according to the South to North Water Diversion project's website.
In December 2014, 62 years after Mao's initial pronouncement, water from China's south began to flow into Beijing, hundreds of kilometers to the north, as part of a enormous canal built from Danjiangkou Dam, in Hubei, all the way to the capital.
The eastern route had ferried more than 6.09 billion cubic meters of water from China's wetter south to the arid north, up until November 24, 2016, the project's website said.
By the time all three routes are finished – eastern, central and western – it could cost more than $80 billion.
It's gone a way to solving the water shortage – but experts doubt it is a long term sustainable solution to China's problems.
Ma Jun, the director of the Institute of Public and Environmental Affairs director and prominent environmentalist, told CNN the immense project had only given northern China a "lifeline" of water in the short term.
"But first we need to recognize that this is not coming without a cost and it is a high cost – environmental and social. And even then it is not enough" he said, adding a Western link was still being built at great cost to the environment.
Ma said it was possible the massive, long-anticipated project had even led northern Chinese water consumers to overuse their resources, always confident of the imminent flood from the south.
"It's not a long term sustainable solution … we need to take advantage of this period of time and try to truly switch our priorities from the expansion of supply to conservation," he said.
Inside some Chinese cities, conservation plans are already underway.
Changing the cities
Too little water isn't always a problem for China's northern urban centers.
In July 2016, Beijing flooded, along with the nearby provinces of Hebei, Henan and Shanxi – all in China's dry north. More than 75 people went missing.
Just four years earlier, also in July, 77 people were killed when China's capital filled with water after a torrential 10-hour downpour.
Rapid urbanization and poor city design has left China's cities prone to flooding, leaving important rain water useless and, at times, dangerous.
"The city's infrastructure basically cannot cope with the runoff … you pave the entire city with concrete so once the water hits the ground it has nowhere to go but down the drainage," says Xuemei Bai, a professor of urban environment and human ecology and Australian National University Professor.
But what if the water could be turned into reusable resource?
China is experimenting with innovative urban design to solve flooding and water shortages. They're called "sponge cities".
Porous concrete, manmade wetlands and green spaces capture and reuse water that previously would have vanished down the drain.
"It's much more economic as well – if you try to upgrade your (sewage) infrastructure that could be quite expensive but then if you use this Sponge City concept, typically the cost will be 5% (of that)," Bai said.
In April 2015, the Chinese government announced 16 cities and districts which would test the "sponge city" program, with a goal to use up to 70% of rainfall.
Bai said already more than $12 billion (86.5 billion yuan) had been spent on the project.
But no amount of drinking water will help China if it totally unusable due to pollution.
Cleaning the swamps
Widespread water pollution is making China's water shortage even worse.
Already limited supplies of fresh water in China's north are growing increasingly polluted from industry and urbanization.
In fact, according to official government statistics, more than half of northern China's groundwater is currently undrinkable because of pollution.
In April 2015 a major action plan was announced by the State Council to tackle water pollution – the Water Pollution Prevention and Control Action Plan, or Water 10.
It was a broad plan focused on specific polluting industries and gave targets to be met by 2020 and 2030 for water quality across the country, among other initiatives.
Ma said the plan could help clean China's water – if it's enforced properly.
"We still have many factories which cannot comply with basic (water) discharging standards … They will still need to find ways to fully enforce (the plan)," he said.
Ma said local governments were carrying out the easier, more obvious aspects of Water 10 rather than tackling more complex issues – for example, cleaning up small, trash-filled urban rivers rather than tackling drinking water problems.
But others were more positive – China Water Risk Director Debra Tan told CNN penalties and factory shutdowns had increased in the new policy's wake.
"Penalties collected last year are over 4 billion yuan ($580 million), up 34% year on year and over 50,000 companies had to either shut down or halt operations," she said.
Tan said polluting textile factories had been the hardest hit by the Water 10. "Enterprises have shut down," she said.
Hope on the river Huai
Photojournalist Huo Daishan told CNN he had returned to the Huai River of his childhood, years ago, to shoot its natural beauty – instead he found it filthy and polluted.
He'd grown up on the river and was stunned to see it so polluted that the fish were left deformed.
Now the river's strongest advocate, he has pushed the local government to clean up the Huai. In 2017, Huo said he had seen a significant improvement.
New water purification devices funded by non-government organizations are helping villagers make contaminated groundwater useable again.
Elsewhere, environmentalist Ma sees tens of thousands of users a year shaming companies which break environmental rules on his organization's pollution mobile app, Blue Map.
"Users can take pictures and upload their polluting rivers complaint reporting directly to the government's platform, through our app, and within seven days they will get a response," Ma said.
"This gives us hope the government really has decided to try harder."