Story highlights
Committee of 1,194 people chooses the Hong Kong Chief Executive
Protests as Carrie Lam selected to succeed CY Leung
Amid protests and poor weather, a tiny election committee drawn mostly from Hong Kong's elite has chosen the city's next leader.
Carrie Lam was selected to be the fourth Hong Kong chief executive, with 777 votes from the 1,194-person committee. A total of 1,163 valid votes were cast.
A former chief secretary and deputy to current Chief Executive CY Leung, Lam will be the first female leader in the city's history.
Pro-democracy members on the committee, around 25% of the total, backed former Financial Secretary John Tsang, while a tiny minority of lawmakers who favor self-determination for Hong Kong spoiled their ballots in protest at the "small circle election."
Reforming the current political system was a key demand of the 2014 "Umbrella Movement," in which tens of thousands of protesters shut down parts of the city for 79 days but ultimately failed to gain any concessions from the government.
Speaking to reporters after the result was announced, Lam thanked her rivals and members of the election committee "no matter who they voted for."
"The first thing I will do is to repair our divided society so we can move forward together," she said, adding that she would uphold "the values of our free society."
"The task in these five years is great," Lam said. "But I will work with everyone to make a better Hong Kong."
Eric Cheung, a professor at the University of Hong Kong, told CNN that Beijing's preference for Lam ahead of the vote was clear.
"It shows how ridiculous our system is," he said. "Opinion polls showed that John Tsang was more popular with the people … but under our system, so long as the message is clear from Beijing, then the pro-establishment camp will (follow it)."
Protests
There were scuffles outside the Hong Kong Convention and Exhibition Center as several hundred protesters attempted to force their way inside.
They called for "true universal suffrage," carrying signs blasting the "scam election" and accusing participants in Sunday's vote of engaging in a whitewash.
Numbers were far smaller than previously expected – around 300 people. Protest organizers told CNN Friday they expected several thousand to turn out, but predicted that poor weather and plunging temperatures may dampen turnout.
"It's a selection rather than an election," Joshua Wong, one of the leaders of the protests, told CNN. He added that the city's leader is "chosen by (Chinese) President Xi Jinping not Hong Kongers."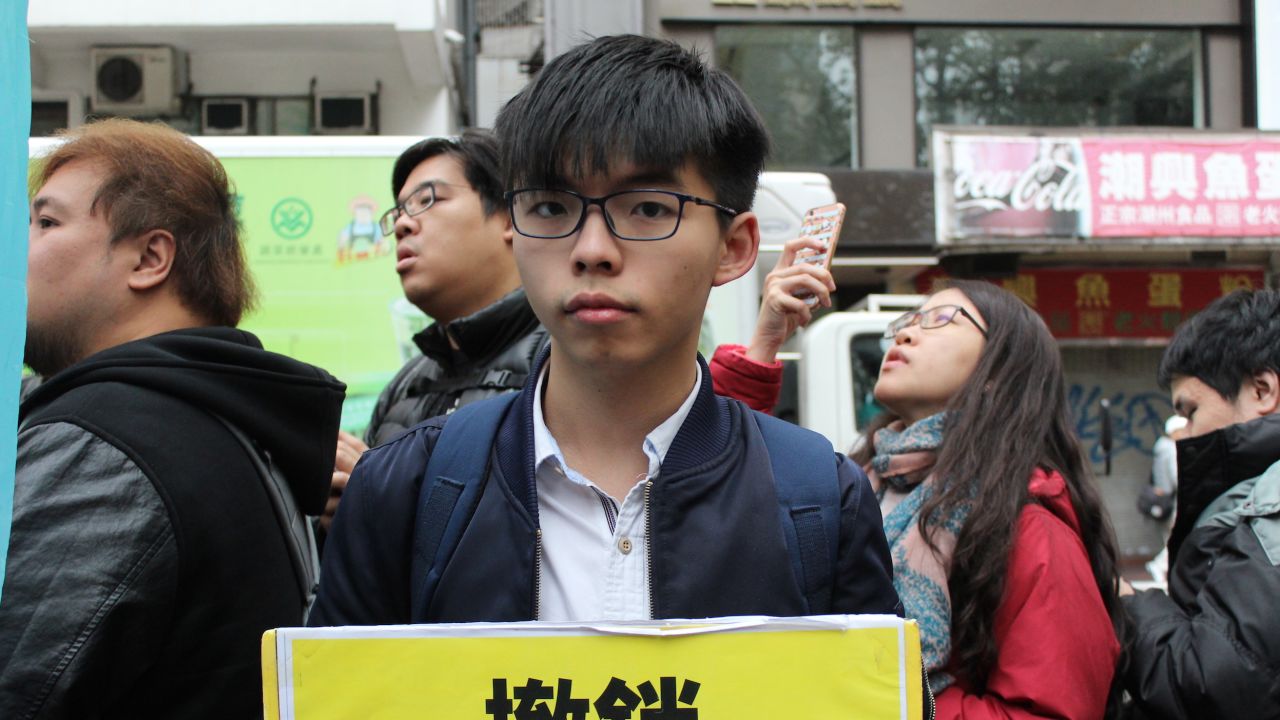 He predicted major protests on July 1, when the next chief executive will be sworn in and the city will mark 20 years under Chinese rule.
According to multiple reports, Xi may also visit Hong Kong for the proceedings, his first time as Chinese President.
Nathan Law, a member of the Legislative Council from Wong's Demosisto party, told CNN he would not cast a ballot for any candidate.
"If you appoint a candidate that is not favored by the people, the response will be larger, I think there will be massive protests on July 1," he said.
"We've got a long road to go. People are persistent, and they will fight for a better society."
Formalities
In a tightly coordinated procedure, the 1,194 members of the election commission began voting at 9 a.m. local time. Polls closed two hours later, after which many electors were seen leaving the convention center, despite there being a potential second round of voting if no winner was declared in the first.
The election committee is described as "broadly representative," but is dominated by pro-establishment voters, who are expected to follow the wishes of the central government in Beijing.
It includes a variety of figures, including Hong Kong's richest man Li Ka-shing, pro-Beijing politician Regina Ip, and veteran anti-establishment lawmaker "Long Hair" Leung Kwok Hung, as well as Hong Kong deputies to China's National People's Congress and the Chinese People's Political Consultative Conference.
The three candidates, Lam, Tsang and retired Judge Woo Kwok-hing, met and shook hands with electors as they arrived.
Woo, a 71-year-old retired judge seen as a moderate candidate, was expected to garner pro-democracy electors' support before they threw their weight behind Tsang.
CNN's Mark Lu, Kristie Lu Stout and Bex Wright contributed reporting.