Story highlights
Hundreds of arrests reported at the Moscow demonstration
Protests come in wake of killing of a vocal Putin critic in Ukraine
Hundreds of people, including a prominent opposition figure, were arrested in Moscow Sunday for participating in unauthorized protests, according to state media and a human rights group.
The demonstrators were attending a large-scale anti-corruption demonstration in Moscow.
State-run news outlet Tass reported that 8,000 people attended the protest in Moscow alone. Similar protests were planned in 100 cities across Russia, according to organizers.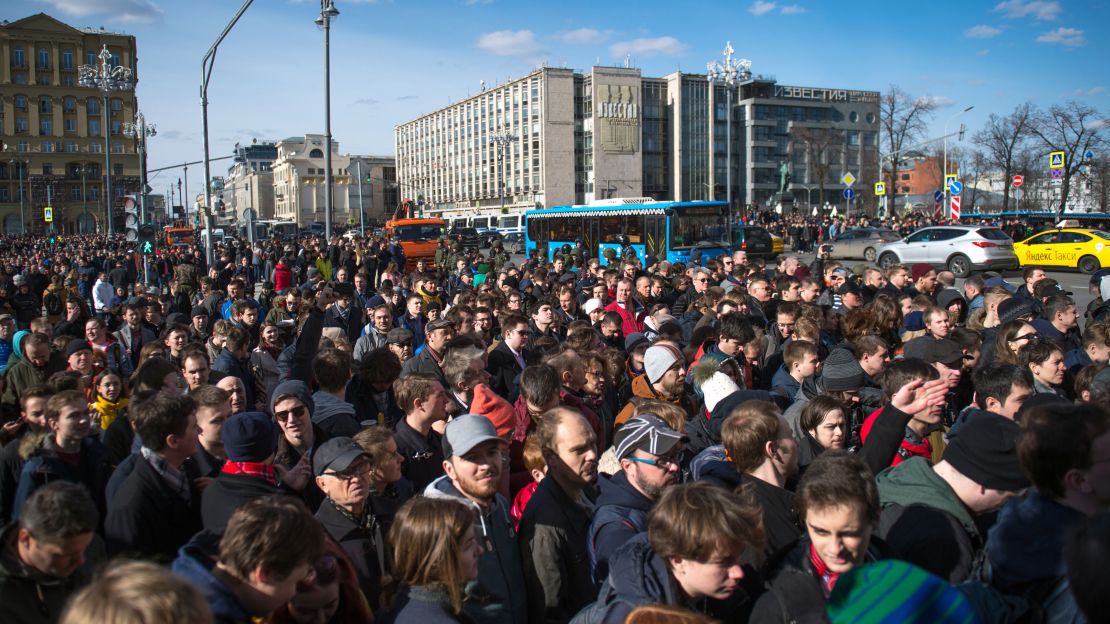 Russian human rights group OVD-Info tweeted that more than 700 had been detained in Moscow – while state-run news agency Ria Novosti said 500 had been held.
Among those detained was Kremlin critic Alexey Navalny, according to tweets by Navalny and his press secretary.
"Today we are discussing (and condemning) corruption, not the detentions. Well, I was detained. So what. It OK. There are things in life that are worth being detained for," Navalny tweeted.
The demonstrations come at a time when the safety of critics of Vladimir Putin is under scrutiny. On Thursday, a former Russian lawmaker and vocal critic of the Russian government, Denis Voronenkov, was shot dead outside a luxury hotel in the Ukrainian capital Kiev.
Navalny has not commented on the killing. CNN has contacted him for comment.
Chilling video shows Kremlin critic's death
Condemnation
The US State Department spoke out against the arrests.
"The United States strongly condemns the detention of hundreds of peaceful protesters throughout Russia on Sunday," acting State Department spokesperson Mark Toner said in a statement.
"We were troubled to hear of the arrest of opposition figure Alexei Navalny upon arrival at the demonstration, as well as the police raids on the anti-corruption organization he heads."
Toner said, "Detaining peaceful protesters, human rights observers, and journalists is an affront to core democratic values."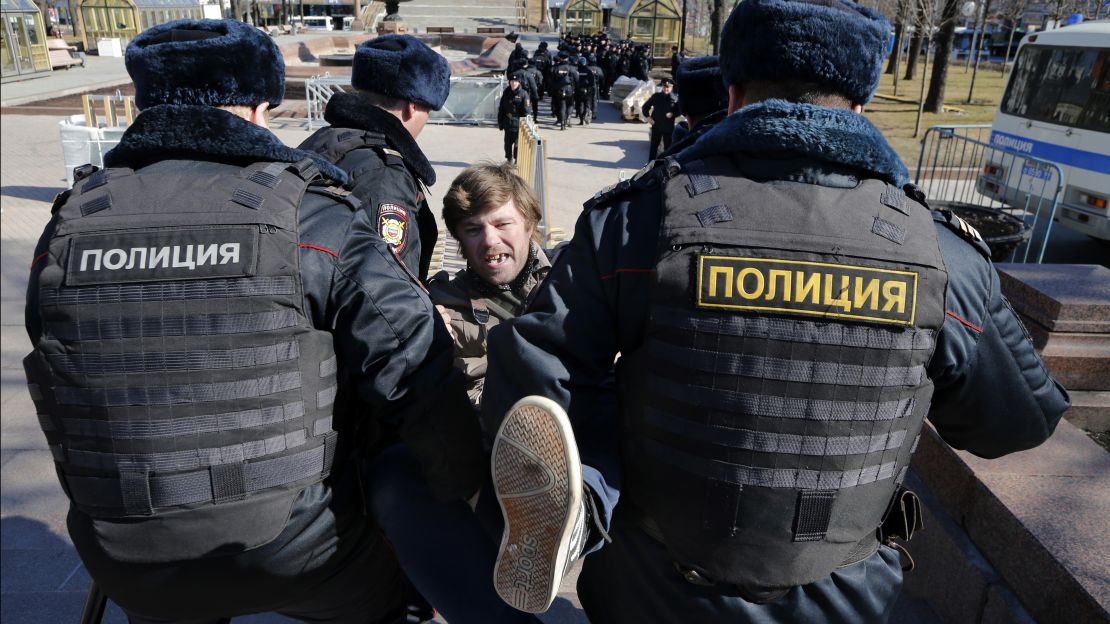 The protest drew a heavy police presence but remained largely peaceful. Riot officers flanked crowds while plainclothes officers moved among the demonstrators. Police told those on the street that the protest was unsanctioned and asked them to move on.
Navalny praised turnouts for the protests in early morning tweets. "Far East started fine," he tweeted, referring to a photo of protesters gathering in the city of Vladivostok, located on Russia's far eastern coast. Navalny also shared photos and tweets from various parts of the country.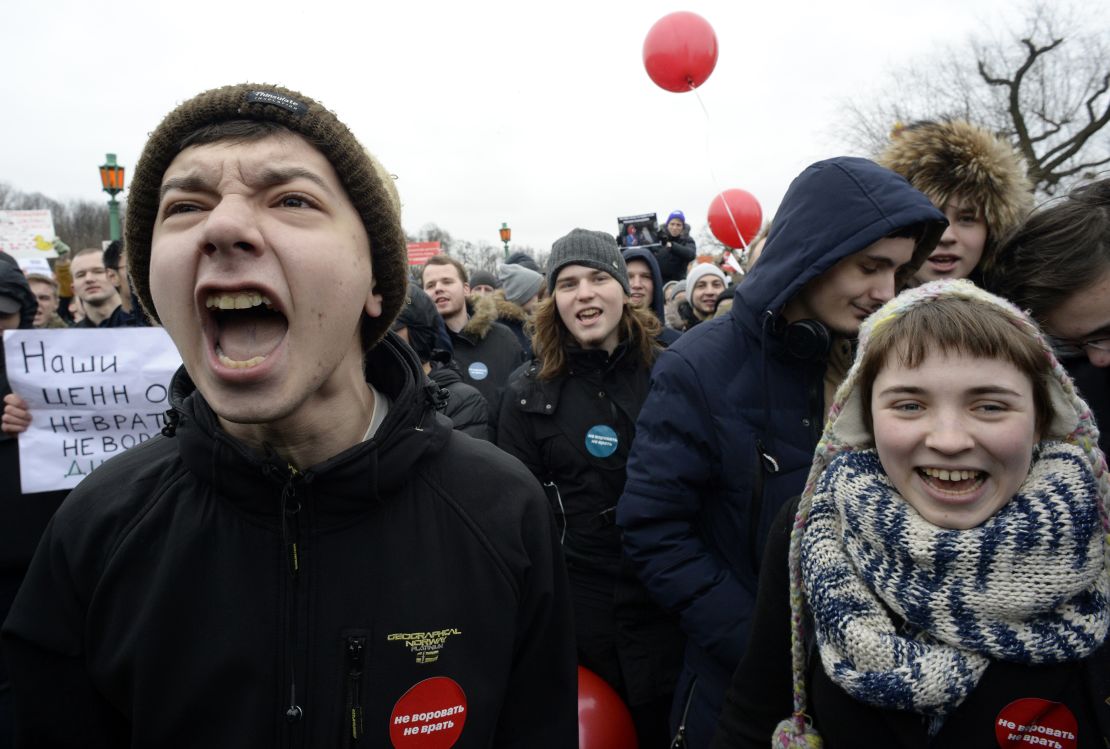 'He is not your Dimon'
The protests are part of a campaign called "He is not your Dimon," which uses the diminutive form of the Russian name Dmitry to refer to Prime Minister Dmitry Medvedev.
Navalny has accused Medvedev of amassing a global property empire through various forms of corruption.
In a report published on March 2, Navalny said Medvedev has a portfolio of assets including "huge pieces of land in the most sought-after regions, yachts, apartments in old mansions, agricultural complexes and wineries in Russia and abroad." Navalny's report claims this was all purchased through "bribes from oligarchs, and state bank loans."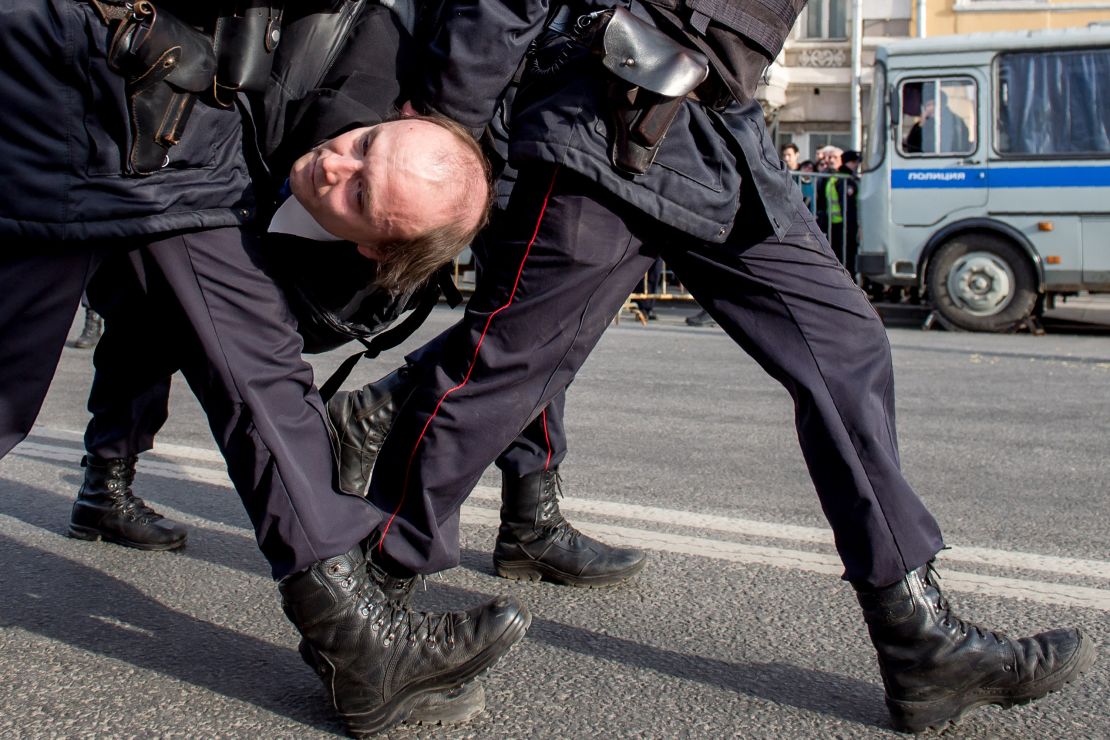 Medvedev's spokeswoman, Natalya Timakova, told state-run news agency RIA Novosti, "It is pointless to comment on the propagandistic outbursts of a convicted opposition figure, who has already announced he is running some kind of election campaign and fighting against the authorities." Kremlin spokesman Dmitry Peskov called the report "not the first creative effort from this well-known convicted citizen," according to Tass.
Moscow protest in sight of Kremlin
Protesters in Moscow walked along Tverskaya Street, one of the city's main arteries that starts at the Kremlin walls. "I can't support our government, really," one protester said. "They steal our money using their power."
The Moscow Police Department put out a statement Thursday urging people not to attend, calling it illegal and warning of a high risk of "provocative acts, designed to violate public order." Police said the organizers of the event were offered an alternative location but declined. The Kremlin said Friday the event was "illegal" and a "provocation."
Navalny, who rose to prominence during the large-scale anti-government protests in Russia in 2011, has announced he plans to run for the Russian presidency in 2018.
In February, he was found guilty of embezzlement in a retrial of a case that dates back to 2013. Russian law prevents convicted criminals running for public office, but Navalny has appealed the verdict.
CNN's Clare Sebastian, Radina Gigova in Moscow, Milena Veselinovic in London and Elise Labott in Washington contributed to this report.