Editor's Note: This story contains graphic imagery.
Survivors of a deadly airstrike in Syria have described chemical bombs being dropped from planes, in accounts that directly contradicted the Assad regime's version of a dawn attack that drew condemnation around the world.
The White House and the UK blamed Syrian President Bashar al-Assad's regime for the attack that struck the rebel-held town of Khan Sheikhoun while many were still asleep.
The strike, one of the deadliest of its kind since the Syrian war began six years ago, killed at least 70 people, including children.
Syria denied it used chemical weapons. Russia asserted the deaths resulted from a gas released when a regime airstrike hit a "terrorist" chemical weapons factory on the ground. But survivors being treated in a hospital on the Turkish side of the border told a CNN team they saw chemical bombs dropped from the air.
The World Health Organization said victims bore the signs of exposure to nerve agents, and Amnesty International said evidence pointed to an "air-launched chemical attack." International agencies are investigating the origin of the agents used in the strike.
At the United Nations, Western powers lambasted Russia for standing by the Syrian regime.
Key developments
Chemical weapons expert: Russia's explanation of events is "highly implausible."

US President Donald Trump said the attack changed his views on Syria and Assad.

Medical experts said the attack was likely the result of a nerve agent, such as sarin gas.

The UN Security Council held an emergency meeting but didn't vote on a resolution.
War of words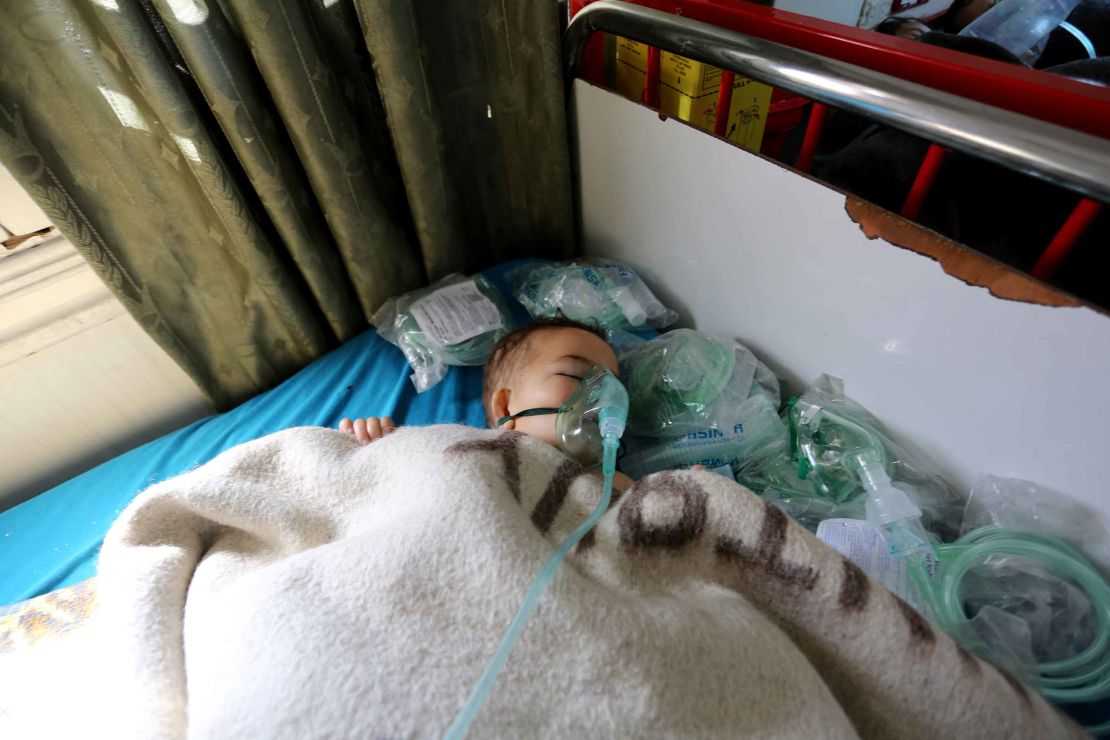 Trump called the attack on innocent civilians an "affront to humanity," saying it had changed his views on Syria and Assad. "These heinous actions by the Assad regime cannot be tolerated," Trump said.
"It crossed a lot of lines for me. When you kill innocent children, innocent babies … with a chemical gas that is so lethal that people were shocked to hear what gas it was, that crosses many, many lines – beyond a red line."
The Russian Defense Ministry said on its Facebook page that a Syrian airstrike hit "workshops, which produced chemical warfare munitions" on the eastern outskirts of Khan Sheikhoun. It said "terrorists" had been transporting the chemical munitions from their largest arsenal to Iraq.
Dan Kaszeta, a chemical weapons specialist, told CNN the Russian version of events was "highly implausible."
"Nerve agents are the result of a very expensive, exotic, industrial chemical process – these are not something you just whip up," said Kaszeta, managing director of Strongpoint Security, a security consulting firm based in London.
"It's much more plausible that Assad, who's used nerve agents in the past, is using them again."
Hours after the attack, several people were injured when an airstrike hit near a hospital in the same town. Survivors of the earlier attack were being treated there, the Aleppo Media Center activist group reported.
The hospital was knocked out of service, said the Syrian Civil Defense rescue group, known as the White Helmets.
Victim: 'I don't know if my family is dead or alive'
Mazin Yusif, a 13-year-old-boy, broke down in tears at the Reyhanli Hospital in southern Turkey near the Syrian border. About 25 survivors of Tuesday's attack are being treated there, and several said they saw a plane drop chemical bombs.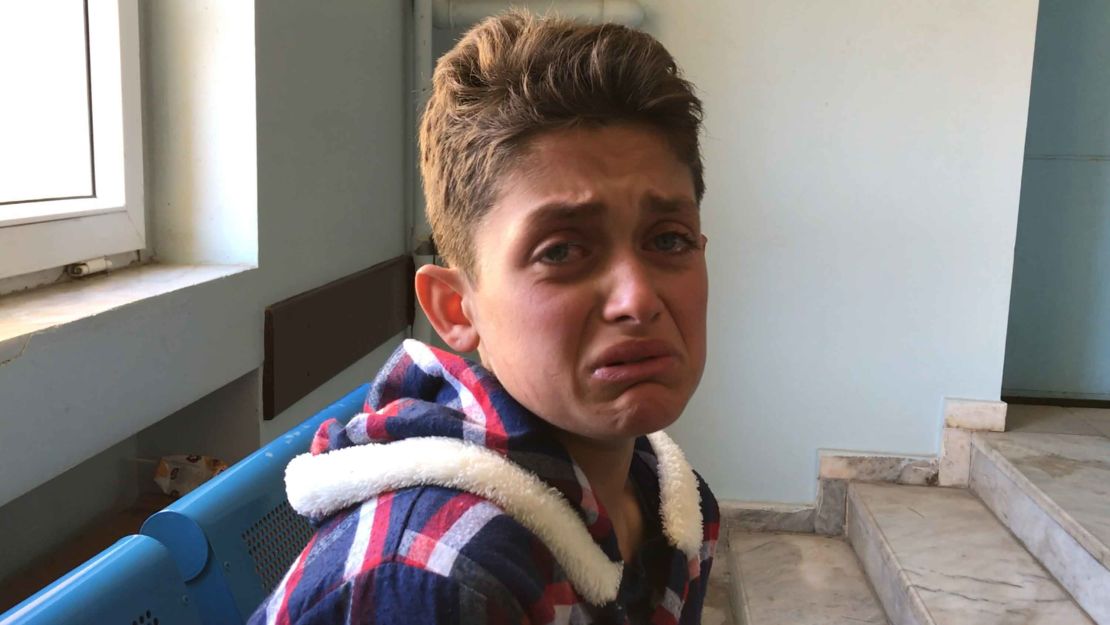 "At 6:30 in the morning, the plane struck. I ran up on our roof and saw that the strike was in front of my grandfather's house," Mazin told CNN.
He said he ran toward his house and found his grandfather slumped over. He ran outside to call for help. "I got dizzy and then fainted in front of my grandfather's garage. I next found myself here in this hospital, naked in a bed."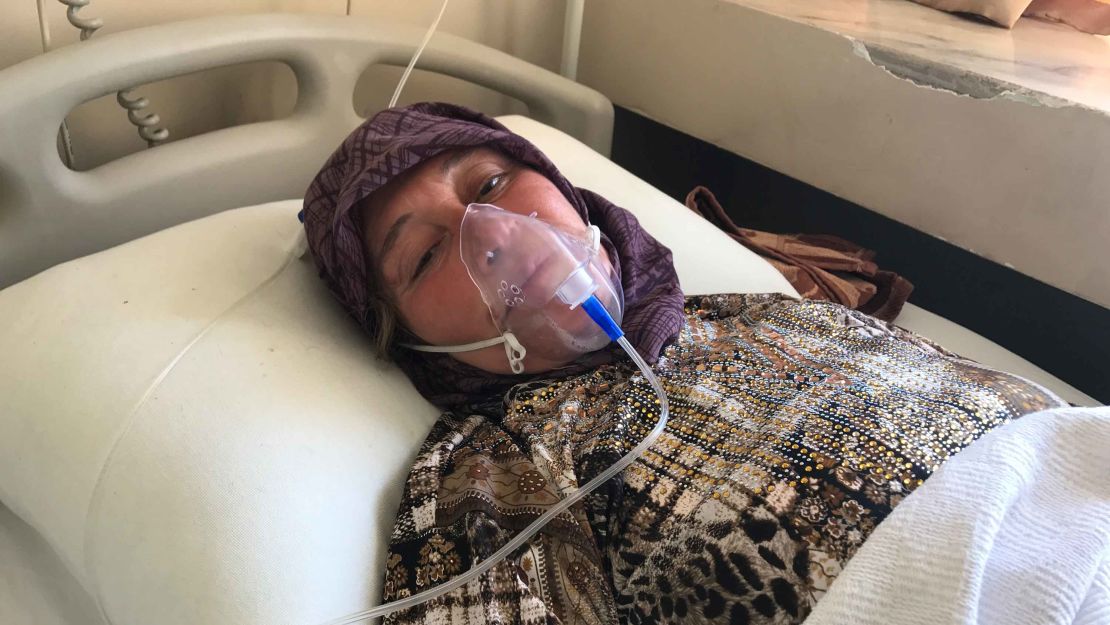 The boy's grandmother, Aisha al-Tilawi, 55, said she saw blue and yellow after the plane dropped a chemical-laden bomb.
"We started choking, felt dizzy, then fainted. Mazin was trying to wake up his grandfather. Three of my family died," she said, lying in bed with an oxygen mask on her face.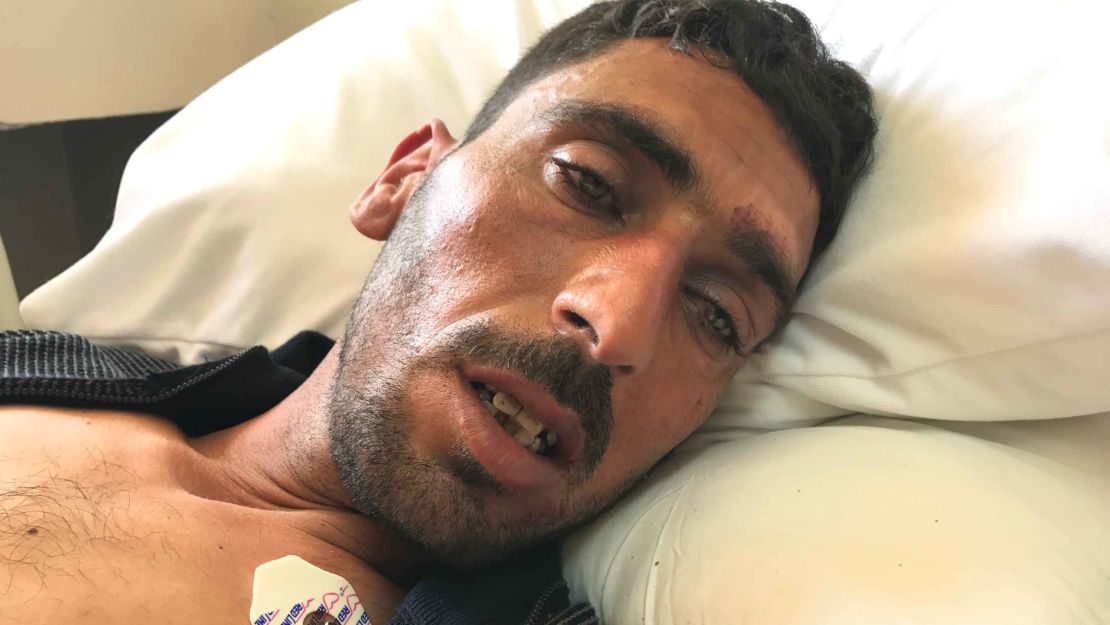 Another survivor, Ahmed Abdel Rahim, 31, stared vacantly from his hospital bed while explaining he was hit with a poisonous substance carried by three rockets.
"I was in my house. I had difficulty breathing, but I feel better now. But I did throw up after getting to the hospital. I don't know if my family is dead or alive. I don't know anything," he said.
Worldwide condemnation
WHO said some victims showed symptoms consistent with exposure to a category of chemicals that includes nerve agents. That conclusion was supported by Amnesty International, which said victims were "very likely" to have been exposed to a compound such as sarin.