Story highlights
Trump, Xi are meeting for their first summit at Mar-a-Lago
Pyongyang is soon expected to conduct a sixth nuclear test
President Donald Trump and his Chinese counterpart have any number of reasons to disagree, but none are more volatile or potentially deadly than North Korea.
As Trump and President Xi Jinping meet for their first summit, Pyongyang's aggressive pursuit of nuclear and missile expertise will top the agenda. US officials warn that the era of what's known as strategic patience is over. Trump recently declared that "if China is not going to solve North Korea, we will."
But that threat of unilateral action glosses over just how complicated the North Korea dilemma is. For decades, the US has sought a way to defang North Korea's nuclear capabilities, but they've only gotten stronger. Experts say it's not going to be any easier for Trump.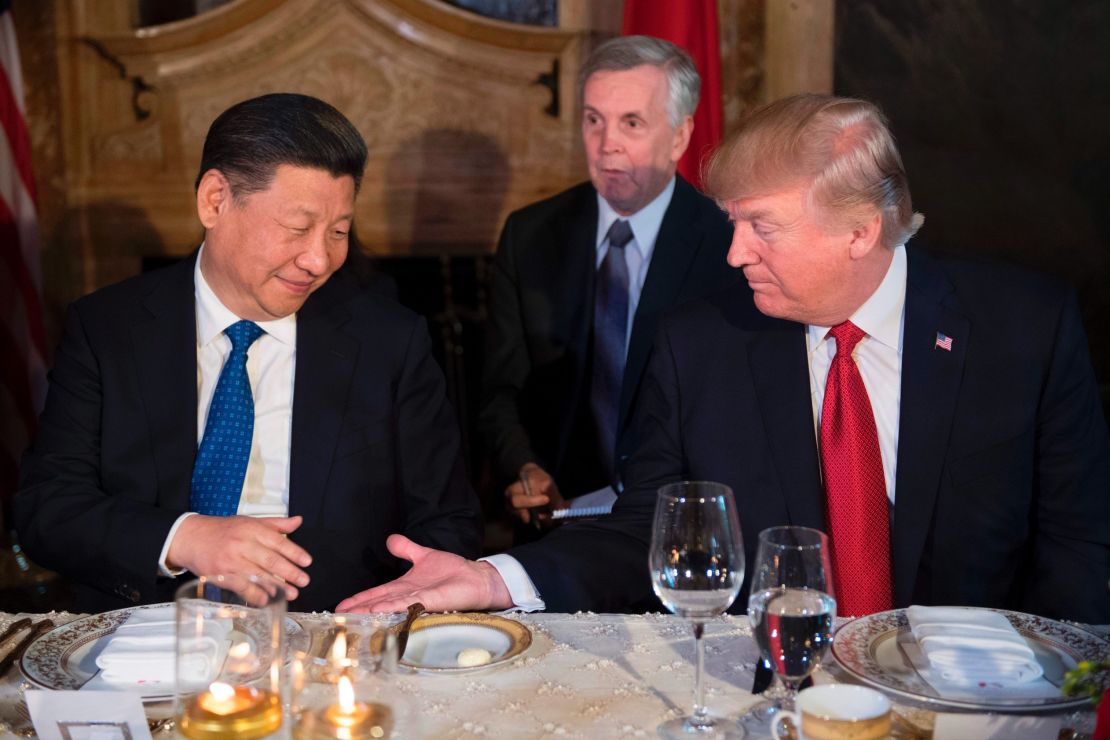 "Every administration has wrestled with this pig, trying to figure out what to do," said Timothy Phillips, a national intelligence fellow at the Council on Foreign Relations.
Experts, officials and lawmakers say there are a number of reasons the North Korean challenge is so thorny. They point to the country's erratic and all-powerful 33-year-old leader Kim Jong Un; to the fact that the ideal outcome for the US would be seen as a disaster in China; to the limited tools of influence the US has and to the cost of a military clash to America's closest Asian allies.
RELATED: White House: 'The clock has now run out' on North Korea nuclear program
'Urgent' threat
"Nobody else has been able to come up with the answer in 20 years," said Scott Snyder, director of the program on US-Korea policy at CFR. "This is a crisis that has catastrophic implications."
It's been brewing since 1995, when the US and North Korea signed an agreement that would freeze and dismantle Pyongyang's old nuclear reactors. North Korea went on to violate a series of pacts meant to shut down its program. It's soon expected to conduct its sixth nuclear test. 
"Since last year, Kim Jong Un has tested more missiles than his father and grandfather combined, while making continued progress toward an ICBM capable of targeting nearly the entire continental US," said Florida Republican Rep. Ted Yoho, who chairs the House Foreign Affairs subcommittee on Asia.
Given the "urgent and global threat" Pyongyang poses, the administration feels "the time for talk is over," acting Assistant Secretary of State for East Asian and Pacific Affairs Susan Thornton told reporters. When Trump sits down with Xi in Mar-a-Lago, Thornton said he'll say that "we will be looking for help from China to increase the pressure." 
Pressure
Analysts say there aren't any really new options for dealing with Pyongyang. "Dialogue, pressure and deterrence, or military measures – it's really just a question of how the Trump administration is going to shuffle the deck they inherited," Snyder said.
The US could apply more pressure on North Korea directly. Yoho suggests using "robust support for injecting outside information" into the closed country, to disrupt its control over its citizens, as well as more sanctions. The administration announced a new round on March 31.
Another option is to pressure Beijing by applying so-called secondary sanctions against Chinese firms that do business with North Korea, which Snyder said will cause friction. "How do you unilaterally impose sanctions on Chinese firms doing business with North Korea without risking the cooperation you need from China to put pressure on North Korea," he asked.
Others argue that this line of approach puts too much faith in the sway China holds over Pyongyang. Experts note that since taking power, Kim has systematically purged and killed rivals, many of whom had been diplomatic conduits to Beijing.
"I think we're putting way too much faith in thinking that China's got absolute control over North Korea," said retired Lt. Gen. Wallace Gregson, a former commander of US Marines in the Pacific. He argues that sanctions on North Korea are undermined by Pyongyang's massive black market profits from businesses like counterfeiting and drug dealing.
"The North Korean leadership sits atop a worldwide global mafia and money flows in channels that are at least difficult to get to, even if we know about them," said Gregson, now senior director for China and the Pacific at the Center for the National Interest.
Engagement
China has been pressing for the US to adopt yet another approach: engagement. Beijing suggests that North Korea freeze its nuclear program if, in exchange, the US halts its military exercises with South Korea. China's "proposal is practical, feasible, reasonable, objective and unbiased," a Chinese embassy spokesman told CNN. "We hope all parties can be level-headed."
Some US lawmakers and experts endorse the idea of direct talks. Sen. Edward Markey, a Massachusetts Democrat, urged Trump Wednesday to start direct talks with Kim in exchange for a Chinese commitment to drastically escalate sanctions against Pyongyang if it fails to negotiate in good faith. 
Harry Kazianis, director of defense studies at the Center for the National Interest, agrees, saying that direct communication is crucial if there's a crisis. "What if a North Korean missile landed in Seoul and killed a lot of people," Kazianis asked. "I don't think anybody wants to see a second Korean War and everything that would happen, so I think it's important to have some sort of communication with them," Kazianis said. "As horrible as it sounds, it is a reality."
The military option
The greatest worry of US allies is if Trump pursues a military option.
"Not one of our allies or friends wants us to start a fight with North Korea because they would take the vast majority of the damage," Gregson said. He noted the "fanciful arguments" about precision strikes on North Korea's facilities.
"There's a reason that North Korea's got more mining equipment than any other country in the world," he said, referring to the regime's massive underground tunnels and facilities, which would make it hard to fully eliminate their nuclear capabilities.
That could be devastating for the region, Kazianis said. "Let's say North Korea has 10 nuclear weapons and you only get 8 of them, what are the North Koreans going to do? They're going to most likely use them," he said.
Phillips adds that the "sad truth is that North Korea doesn't need nuclear weapons to devastate Seoul. They have very credible short and medium range missiles."
Starting a conflict would means owning the outcome. "You're going to have issues with loose WMD," said Kazianis, using the acronym for weapons of mass destruction. "Who controls, not only North Korea's nuclear weapons, but their robust chemical and biological weapons, and all those missiles, and all their artillery that's pointed at Seoul? What do you do with all that if the regime collapses?"
Phillips said the US could boost its capabilities in Asia as a deterrent. That could include moving more US troops, special forces capabilities and assets such as B-52 bombers into the region; giving allies more anti-ballistic technology and increasing surveillance and reconnaissance to better understand North Korea's operational capabilities.
Kazianis thinks broad sanctions are the only way to mitigate the North Korean threat. "You're not going to solve the problem, but you can certainly try to slow them down," he said.
Stability
Trump will try to enlist China's help in slowing North Korea down during his Thursday and Friday meetings with Xi. Yoho noted in a recent hearing that China has some serious leverage as it accounts for "90 percent of North Korea's economic activity."
Trump told reporters on the way to Florida that "I think China will be stepping up on North Korea," but experts say Xi isn't likely to comply. Beijing has repeatedly undermined or not fully enforced US and international sanctions against North Korea, say experts, because Beijing wants "stability above all, not change," said Phillips.
A regime collapse would send millions of impoverished North Koreans across the border into China, creating a crisis there. Beijing doesn't want South Korea, a major trading partner, disrupted either.
But most of all, China doesn't want to see a scenario that the US would consider ideal, said Snyder. "A dismantled regime in Pyongyang and a unified Korean peninsula allied with the US – that's China's nightmare," said Snyder.
While both the US and China want to defuse the North Korean threat, the fact that they want that to happen in different ways will ultimately work to Pyongyang's benefit, Snyder said. China wants stability, while the US wants "to change North Korea's strategic calculus," he said.
"As long as China prioritizes stability over denuclearization, there's going to be a gap with the United States," Snyder said, "and as long as there's a gap, North Korea has a space to survive."
CNN's Zachary Cohen contributed to this report