Story highlights
Trump highlighted the deployment as part of the administration's response to Pyongyang
But when the White House was touting its "armada," the ships were sailing 3,500 miles in the opposite direction
As the White House was talking about sending a naval "armada" to the Korean Peninsula, the very ships in question were on their way to participate in military exercises in the Indian Ocean, some 3,500 miles in the opposite direction.
A senior administration official blamed a miscommunication between the Pentagon and the White House over reports that the aircraft carrier has not made its way to the Sea of Japan, also known as the East Sea, as an expected show of force to North Korea.
The official blamed the mixup on a lack of follow-up with commanders overseeing the movements of the USS Carl Vinson aircraft carrier.
On April 8, US Pacific Command, which oversees military operations in the region, issued a statement saying that the Carl Vinson and an accompanying strike group would leave Singapore and head to the Western Pacific, with a US military official telling CNN that it was a "show of force" in response to North Korea's provocations.
Following the announcement, President Donald Trump and some of his top aides highlighted the deployment as part of the administration's response to Pyongyang's recent missile tests.
"We are sending an armada. Very powerful. We have submarines, very powerful, far more powerful than the aircraft carrier, that I can tell you," Trump said in an interview with Fox Business Network.
Trump: 'Armada' heading toward North Korea
And the announcement that the Vinson had been dispatched to the region increased tensions with Pyongyang, with its official Korean Central News Agency calling the carrier's deployment "nothing but a reckless action of aggression to aggravate the tensions in the region."
But soon after the Pacific Command statement, US military officials clarified to CNN that the strike group would first complete a previously scheduled military exercise with the Australian navy.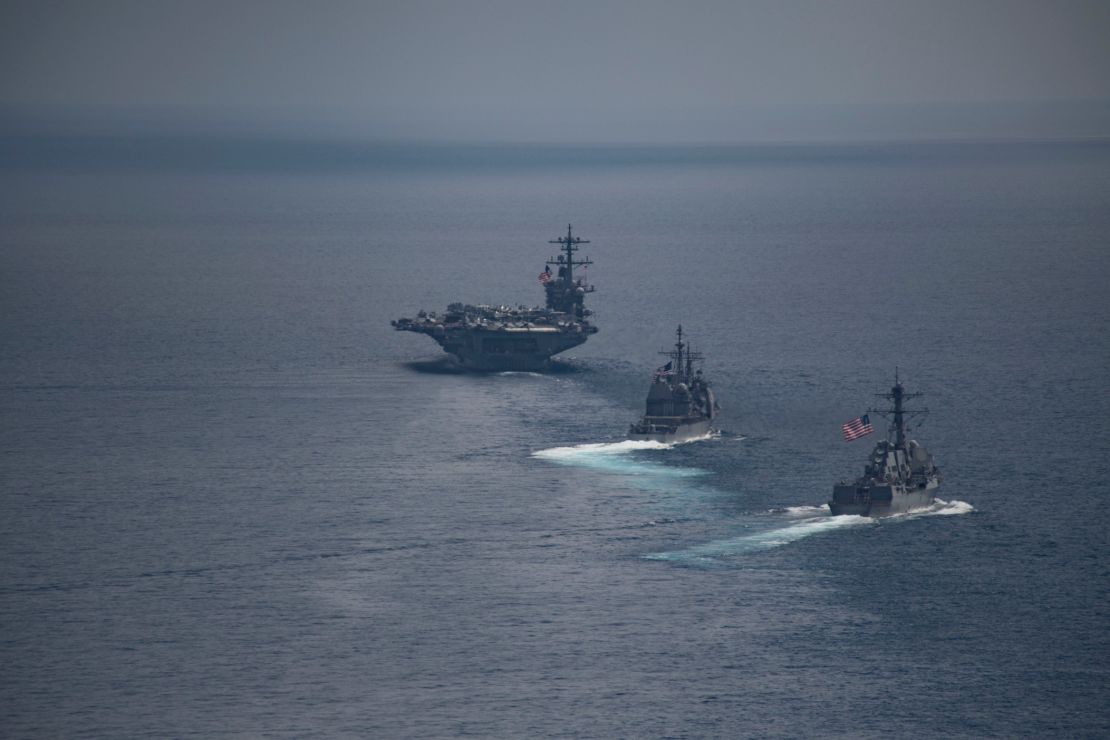 Further confusion was added when Secretary of Defense James Mattis told reporters last week that the exercises had been canceled. Multiple US defense officials told CNN that Mattis had inadvertently misspoke and that it was a port visit in Australia that was canceled to allow for the group's redeployment to the waters near the Korean Peninsula.
The strike group, including the 97,000-ton carrier and its 60-plus aircraft, the guided-missile destroyers USS Wayne E. Meyer and USS Michael Murphy and the guided-missile cruiser USS Lake Champlain, will arrive off the Korean Peninsula by the end of April, multiple US defense officials told CNN.