Story highlights
Barcelona legend Xavi reveals his ultimate player
Which world stars, past and present, make the cut?
Barcelona legend Xavi Hernandez played with Lionel Messi for over a decade, once saying "there is no heir" to the Argentine's throne.
The two won countless honors together, but when CNN Sport asks the Spaniard which world stars he would combine to create his "ultimate football player," the five-time Ballon d'Or winner hardly gets a look-in.
Perhaps it was the pressure of being put on the spot – or maybe Xavi, like many other contemporaries, simply thinks Messi is from another planet.
One thing's for sure, from first touch to personality, Xavi's choices would make one serious footballer.
Scroll down to see the 37-year-old's magic formula – then create your own ultimate player in our interactive and share it with your friends.
First touch - Sergio Busquets (Barcelona)
Alongside Xavi, Busquets is one of only seven players in history to win the treble of domestic league, domestic cup and European Cup twice.
After coming through the Barcelona ranks under Pep Guardiola, the Spaniard has gone on to shine for club and country, winning six La Liga titles, the 2010 World Cup and the 2012 European Championship.
Busquets might not score many goals, but with a deft first touch and superlative football brain, the 28-year-old is rarely guilty of surrendering possession. In Xavi's final season at Camp Nou, Busquets boasted an average pass completion rate of 91.7%.
Xavi's verdict: "Sergio Busquets, for sure. He's the most important player of FC Barcelona in the midfield now."
Technique - Andres Iniesta (Barcelona)
Xavi and Andres Iniesta will go down as one of world football's great double acts.
They dominated the center of Barcelona's midfield for 15 years, embodying the tiki-taka ideology for club and country.
While Neymar was full of praise for Iniesta's personality, telling CNN Sport he's a "natural on and off the pitch," Xavi is captivated by the 32-year-old's technical ability.
Xavi's verdict: "Technique? I think the best player is Andrés Iniesta"
Strength - Cristiano Ronaldo (Real Madrid)
A veteran of countless El Clasicos – from painful 1-4 defeat at the Santiago Bernabéu in 2008, to resounding 6-2 victory a year later – Xavi is keenly aware of the rivalry between Barcelona and Real Madrid.
Still, in the construction of his Ultimate Player, he elects the strength of Los Blancos all-time record goalscorer Cristiano Ronaldo.
Xavi's verdict: "Maybe Cristiano Ronaldo. He's a very physical player. He's an example of it."
Vision - Iniesta & Busquets (Barcelona)
Xavi, dubbed the "Puppet Master" for his control of the game, singles out former Barcelona teammates Busquets and Iniesta for their vision.
Perhaps conscious of accusations of favoritism towards the Catalan club, he also selects two Real Madrid stalwarts.
Xavi's verdict: "Maybe Iniesta or Busquets. I like so much Barcelona - I'm sorry! Also Luka Modric and Toni Kroos."
Sense of humor - Iniesta (Barcelona)
Upon Xavi's departure from Barcelona, Iniesta was at a loss to describe his teammate's unparalleled influence and told reporters he had "run out of eulogies."
It seems the respect is mutual, with Iniesta also making the cut for his sense of humor.
Xavi's verdict: "Pfft, I don't know. Maybe Iniesta as well."
Fashion sense - David Beckham
Who else? Xavi may never have played alongside him, but there's no doubt David Beckham's brand extends far beyond the pitch. With a popstar wife, legions of multi-million dollar endorsement deals and his own menswear range, the former England captain gets the nod.
Becks has inspired a new generation of football fashionistas and Xavi names former teammate Gerard Piqué, 30, as the man carrying the mantle today.
Xavi's verdict: "Before, for sure, David Beckham. He was the first one. Now Piqué. Gerard Piqué."
Personality - Javier Mascherano (Barcelona)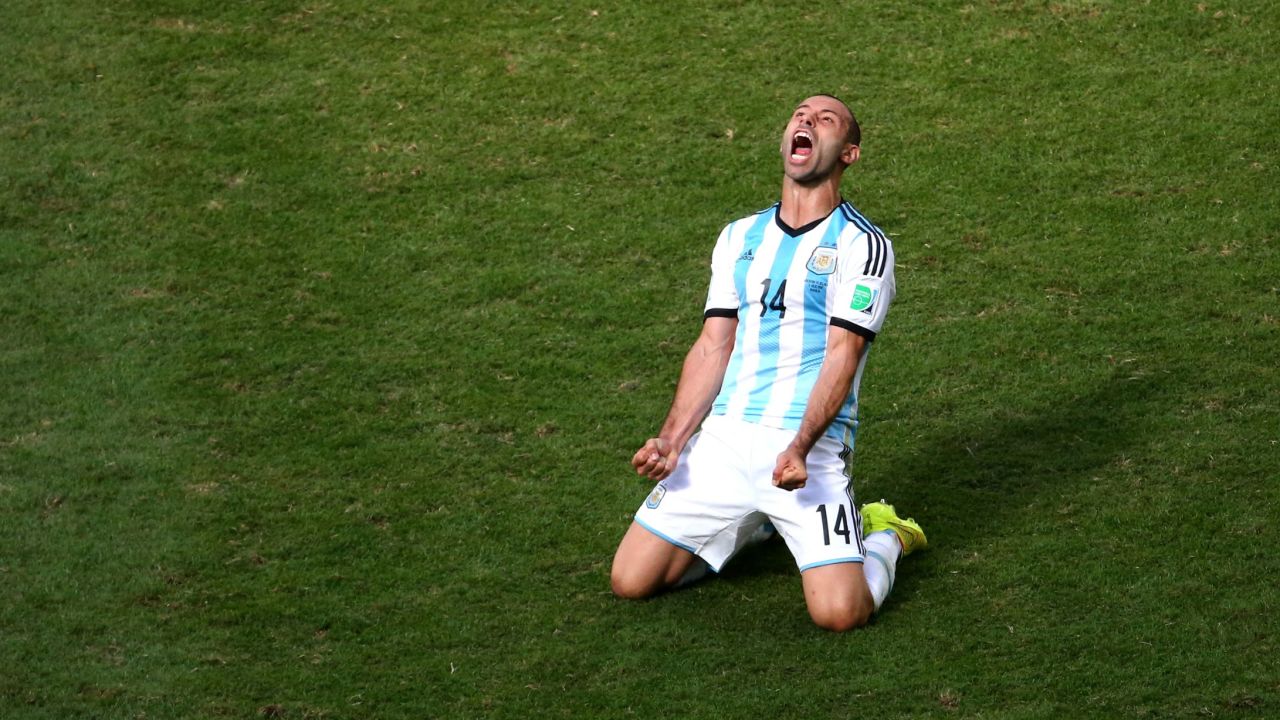 Set to overtake Javier Zanetti as the most capped Argentinian in history, Javier Mascherano has never shied away from a challenge, making over three tackles per game.
The Barcelona star's gritty character saw him named Player of the Year in the club's 2014/15 end of season awards.
Xavi's verdict: "Personality? Maybe Javier Mascherano, I think. He has a lot of personality. A lot."
Hairstyle - Gerard Pique (Barcelona)
It might not be an important attribute in the construction of an ultimate player, but that's not to say footballers don't pride themselves on their appearance.
Neymar went for his own flamboyant style when asked by CNN Sport in 2016, but Xavi was never as flash as his former teammate.
Xavi's verdict: "Hairstyle?! I don't know. Piqué is the fashion victim at the moment. For sure."
Acceleration - Bale, Pedro, Hazard, Messi
Gareth Bale is said to have reached 36.9 km/h per hour this season and the Real Madrid winger is duly given the nod by Xavi as one of the world's fastest players.
Unable to provide a definitive answer, Xavi also lauds the acceleration of Cristiano Ronaldo, Chelsea duo Eden Hazard and Pedro and, lastly, Lionel Messi!
Xavi's verdict: "Gareth Bale, Pedro of Chelsea, Eden Hazard. There are a lot of players with good acceleration. Cristiano Ronaldo also, and Messi."